Aerobic Exercises That Strengthen the Heart, Body & Lungs
By Connie Peete , last updated March 19, 2012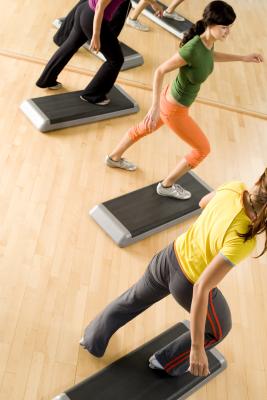 Any type of physical activity that increases your heart rate while challenging your muscles is an aerobic activity. Aerobic exercise improves your heart and lung function, reduces your risk for diabetes, high blood pressure and heart disease, strengthens your immunity, relieves stress and increases your stamina. A well-rounded exercise regimen combines aerobics for improving cardiovascular health and strength training to build muscle and increase strength.
Recommendations
Consult your doctor before you begin any type of exercise program. Aim for at least 30 minutes of moderate aerobic exercise or 15 minutes of vigorous aerobics five a days a week, as recommended by the Centers for Disease Control and Prevention. Beginners should start with two 15-minute intervals or three 10-minute intervals a day and gradually increase the time as their fitness level improves. Choose activities you enjoy so you will more likely stick with it.
Running
Running is an activity you can do anywhere, anytime and anyplace. It raises your heart rate, makes your lungs work harder and engages the large muscles of your legs and buttocks. It's also an effective way to burn calories. According to the American Heart Association, a 150-pound person can burn 660 calories running at 5.5 mph for 60 minutes. A 200-pound person would burn 962 calories. Calorie burn is directly tied to pace. Because of the impact on your feet and joints, running may not be an option for those with joint problems.
Sports Activities
Sports activities like skiing, basketball, softball, soccer or tennis provide an effective aerobic workout for your heart and lungs while engaging the large muscles of your legs and upper body. A 160-pound person can burn nearly 600 calories in an hour of basketball or tennis. These activities may not be the best choice for individuals with knee problems or other joint issues.
Aerobics
High- and low-impact aerobics provide a fun workout for those who aren't into sports activities. Floor aerobics are rhythmic, controlled movements that engage all your major muscle groups and involve considerable jumping up and down on the floor. Step aerobics are similar, except it incorporates stepping up and down on a bench step and reduces wear and tear on the joints. Low-impact aerobics are ideal for individuals with joint problems or those who are overweight because one foot remains on the floor throughout the workout. Walking and cycling are other low-impact aerobic activities that engage your muscles and work your heart without putting stress on your joints.
Swimming
Swimming is a low-impact, nonweight-bearing activity that works your heart, lungs and muscles in your arms, chest, abdomen and legs. It's ideal for overweight or obese individuals, older people and those with joint problems. Water aerobics are also beneficial for people with joint ailments.