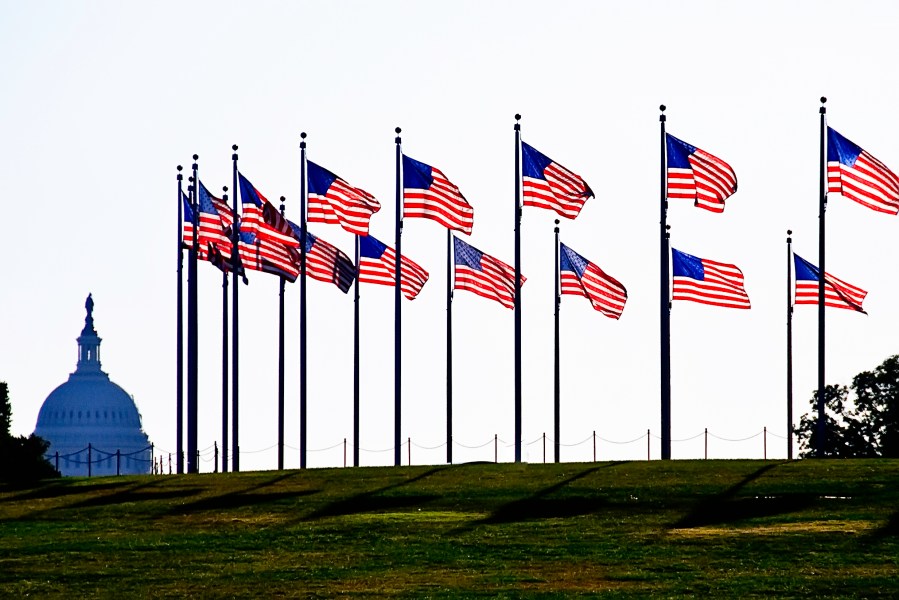 You don't have to wait until Independence Day to show off your love of country. The American flag makes a colorful expression of patriotism. However, make sure you understand the rules set forth in the U.S. Flag Code before you put up a festive flag display.
Put It in the Right Spot
Although it's acceptable to drape the flag over a casket, you should never spread it across a car, train or boat or use it as a tablecloth. You can suspend it from porch beams or hang it on a wall or in a window if you don't want to hoist it up a flagpole. Cities and organizations may also display the flag over streets.
Choose the Right Days
The flag should be on display every day of the year from sunrise to sunset as long as it's not raining or snowing outside, according to The Flag Code. However, if you don't have the time to properly hang the flag each day, you can stick to the most important holidays. These include all major holidays, Inauguration Day, Lincoln's and Washington's birthdays, Armed Forces Day and Constitution Day. The President of the United States may also designate additional days.
Find the Right Position
Just like the guidelines for when and where to display the flag, there are rules about how to position it. When you suspend a flag from the ceiling, hang it on a wall or place it in a window, the blue field of stars needs to face the observer's left. You must position the American flag higher than and to the right of other flags and pennants you group with it.
The Flag Should Be Pristine
Any flag on display should look its best. Not only should it be free of rips and stains, but it also should not have any visible folds or kinks when unfurled. To protect the flag from damage, make sure it doesn't touch the ground and don't use it to wrap or carry other objects. You can dispose of damaged flags through a retirement ceremony, according to Veterans of Foreign Wars.
Keep It Off Your Body
An American flag should be used only as a flag, so don't use the fabric to make clothing, curtains or bedding, even if the flag is too damaged to put on display. Avoid using an actual flag as a tablecloth or bunting for a display. It's perfectly acceptable to show off your patriotic spirit with clothing that features a flag emblem, though, as long as the fabric doesn't come from a flag.