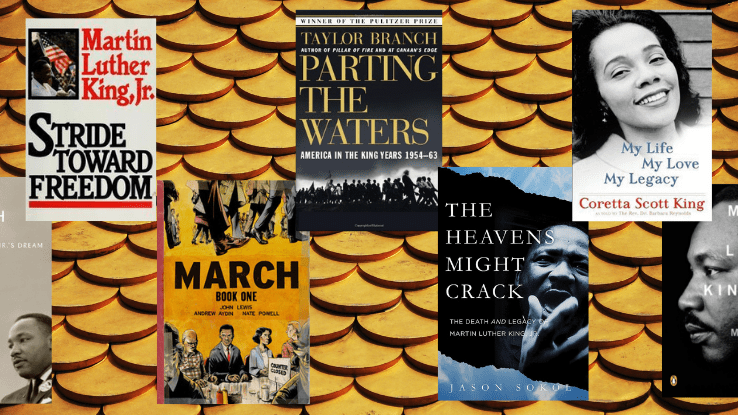 Dr. Martin Luther King Jr. may be the most celebrated figure in American history who never held a political office. The advocate, reverend, husband, and father was assassinated at age 39 in 1968. Since the height of the Civil Rights Movement, King has not only become a prominent figure, but his teachings remain so relevant to today's cultural landscape.
Dozens of books have been written about King's life and legacy; there's something for everyone, no matter what you're hoping to learn. In commemoration of Martin Luther King Jr. Day, we've curated nine monumental books about Dr. King for you to read on this important day as well as all year long. 
Martin Luther King Jr.: A Life by Marshall Frady
Marshall Frady was a journalist who spent much of his career covering the Civil Rights Movement. In Martin Luther King Jr: A Life, Frady explores the FBI's interest in King as well as the reverend's relationships with the Kennedy and Johnson administrations and other civil rights activists. In this biography, Frady's recreation of different events and a different time will feel like a vintage newsreel come to life.
Parting the Waters: America in the King Years,1954-63 by Taylor Branch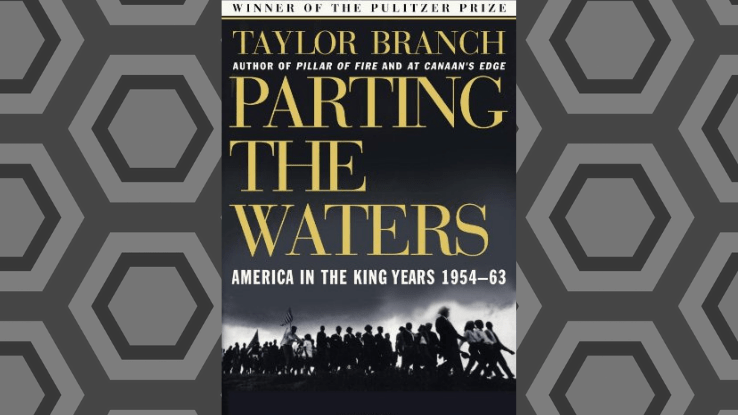 If you're looking for a take on King that's comprehensive, Parting the Waters dives deeper than deep. At over a thousand pages, Parting the Waters covers 1954–1963. The book details the earliest moments — the protests, the boycotts, the secret meetings — of the Civil Rights Movement. Learning about King's earlier social justice work can help you learn how to advocate for your own community and causes. This archival achievement has received numerous accolades, including the Pulitzer Prize.
Becoming King by Troy Jackson
Starting with his early years as a pastor, Becoming King is another comprehensive look at King's life, starting from the beginning. The book offers a comprehensive analysis of King's speeches and how they evolved over the period of time most well-remembered for the Montgomery Bus Boycott. This title also highlights King's working relationships with other icons of the Civil Rights Movement, like E.D. Nixon, Virginia Durr, and Jo Ann Robinson. Becoming King is still a deep dive, but it's only about 270 pages long, which is a more manageable size for some folks.
The Heavens Might Crack: The Death and Legacy of Martin Luther King Jr. by Jason Sokol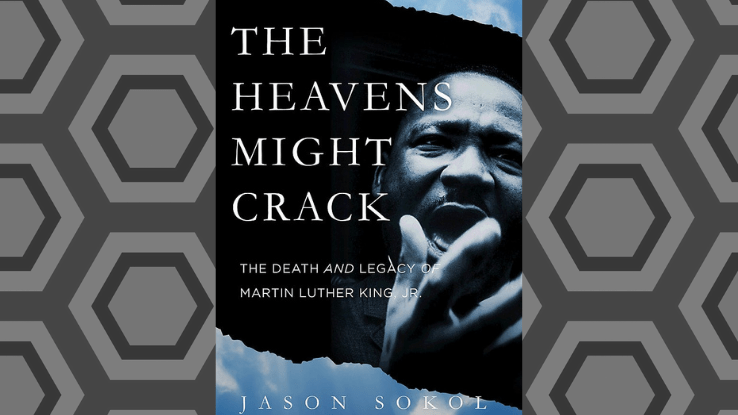 Everyone remembers what they were doing when the news of Martin Luther King Jr.'s assassination broke. The Heavens Might Crack: The Death and Legacy of Martin Luther King Jr. takes readers back to 1968. Sokol sets up the political and social landscape of the time, highlights King's prominence at the time, and covers the many different responses to the aftermath of King's death. The loss of a distinguished activist can be a lot to process, even years later. In addition to providing important details, Sokol's work offers space to heal.
The Speech by Gary Younge
King's "I Have a Dream" speech is often taught to younger students, but have you ever looked at the speech close up? Whether it's been a while since you've heard King's most famous speech in full or if you can recite the lines from memory, we think you'll love Younge's dissection of the speech. And Younge doesn't stop at his framing of the famous oration. The Speech provides details and context from interviews with Clarence Jones, who drafted some of King's speeches, and other people who were out there with King, like Angela Davis and Joan Baetz.
My Life, My Love, My Legacy by Coretta Scott King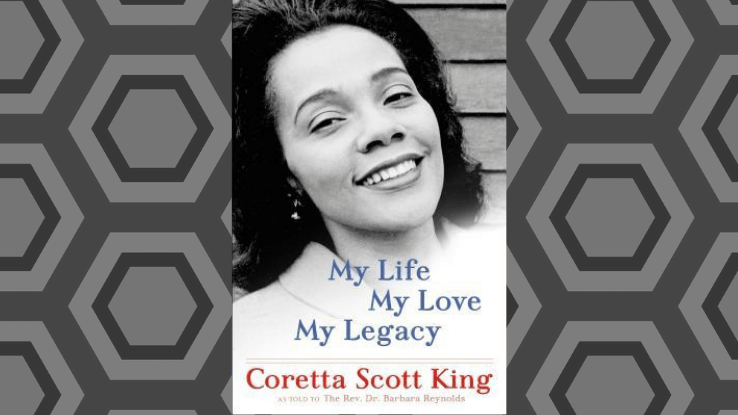 Perhaps one of the most essential memoirs in American literature, My Life, My Love, My Legacy begins at the moment the author's home was burned down by white supremacists in 1942. The book goes on to illuminate the life of the woman by King's side during his ascension into the public eye, but it doesn't stop there. The book also chronicles Coretta Scott King's efforts to keep fighting for the values her late husband held and the action it took to make King's birthday a national holiday; this important work also highlights her passion for women's rights, workers' rights, LGBTQ+ rights and belief in nonviolent protesting.
March: Book One by John Lewis, Andrew Aydin, and Nate Powell
Composed of four books, March is a series of graphic novels that chronicle the life and times of John Lewis, the late congressman and activist from Alabama. The first book in the series highlights Lewis' influential encounter with Martin Luther King Jr. While this series of graphic novels is great for K–8th-grade reading levels, they also offer superb art and tell an important story that all ages can appreciate and enjoy.
A Call to Conscience: The Landmark Speeches of Dr. Martin Luther King, Jr. by Clayborne Carson and Kris Shepard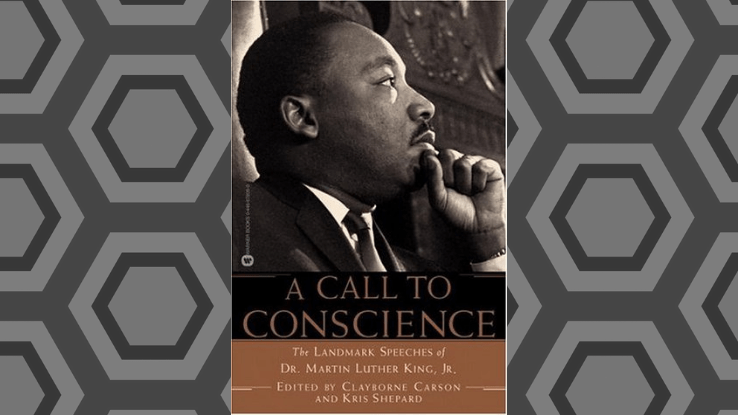 If you're looking to learn about King and celebrate his values but you want a first-hand account, this one is for you. A Call to Conscience is a collection of some of King's most celebrated speeches; his Nobel Peace Prize acceptance speech and "Beyond Vietnam" speech are included among "I Have a Dream" and other noteworthy orations.
Stride Toward Freedom: The Montgomery Story by Martin Luther King Jr.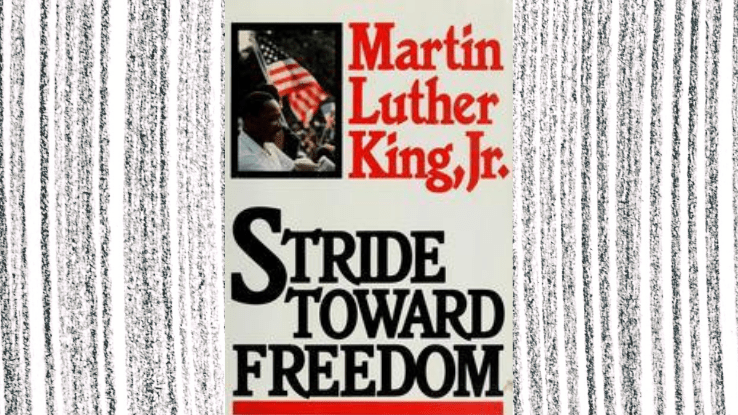 There's nothing more monumental than hearing from King himself. Strike Toward Freedom is a memoir that centers on the Montgomery Bus Boycott, which began after Rosa Parks famously refused to give up her seat on an Alabama bus. Listening to King's speeches, it's easy to forget that he was in his twenties when he started advocating for Black lives and civil rights. This self-portrait reminds readers of the human behind the work and how one can build a legacy.