Thanks to the ever-increasing pace of technology, drones are more affordable and easy to use than ever before. This has allowed artists and entrepreneurs to use drone technology in new, innovative and fascinating ways. One such innovation is aerial photography.
Here we've gathered some of our favorite images captured by aerial photographers. From stunning shots of sunlit glaciers and windswept tundra coupled with crashing waves, to airplane boneyards and vibrant geometric potash ponds, we hope you enjoy this selection of some of the best drone photography out there.
Esperance, Western Australia
Matt Deakin, a photographer based in Western Australia goes by the Intragram handle @fromilesaway. In addition to his photography work, Deakin is a drone pilot and aerial photography instructor with Propeller Project, a drone video and photography instruction program. Deakin's aerial photography focuses on the stunning natural beauty of Western Australia.
This gorgeous pastel-hued shot was taken in Esperance, on the southern coast of Western Australia. The region is known for its gorgeous white sand beaches, untouched coastline and breathtaking scenery.
Eleven Mile Beach, where this shot was taken, is a secluded stretch of sandy coastline with smaller waves than many other Esperance beaches. This is because the coastline is naturally protected by a coral reef and a string of large boulders extending into the ocean.
Potash Evaporation Ponds, Utah
Traveling photographer Zach Testa, @Zachtesta on Instagram, is based out of Phoenix, Arizona. With over 9 years of experience in aerial photography, Testa's specialties are in lifestyle, travel and landscape photography. Testa says that his photography "is meant to evoke a sense of wanderlust, inspiring people to escape their routines, get outside, and experience nature."
An amazing study in contrast, this photograph was taken in the Utah desert. The electric-blue geometric lakes seen in the shot are called potash ponds. Managed by companies that produce potassium chloride, these ponds are artificially colored using dye to speed up the evaporation process. Once the water has evaporated, the salts that are left are harvested and processed.
Tundra, Argentina
Ravi Vora is a director and aerial photographer based in Los Angeles, California. Vora specializes in travel, lifestyle, adventure and landscape photography, with an emphasis on images that tell stories. He has worked with brands such as Microsoft, Disney, Uber and Jeep. Vora also works as a videographer. Find Vora on twitter under the handle @ravivora.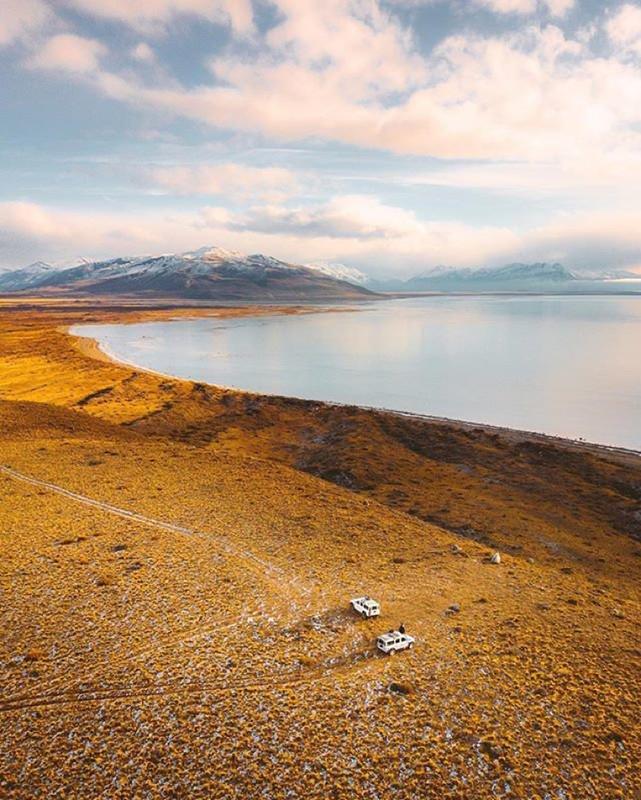 This aerial photograph captures the natural beauty of Argentina perfectly. The wide scope of the photo immediately gives the viewer an understanding of the scale of this magnificent landscape. This isn't surprising, given that Argentina is known for its breathtaking landscapes and natural scenery.
Death Valley, California
Here's another incredible aerial shot from photographer Zach Testa. Death Valley, in California, has the distinction of being the hottest, driest and lowest U.S. National Park. With temperatures at high as 120°F, an average rainfall of 2.36 inches per year, and an elevation of 282 feet below sea level, it's a land of extremes.
This arid landscape still contains a stunning amount of natural diversity, however. At Zabriskie Point, where this photo was taken, the presence of minerals in the rock creates a tapestry of color. From bright peach tones to deep blues, these colors are the most vibrant when the sun is rising or setting.
Sossusvlei, Namibia
Tobias Hägg, known on Instagram as @airpixels, is a 30-year-old drone photographer based in Eskilstuna, Sweden. His aerial photography has been featured in National Geographic, the Daily Mail and The Telegraph, among others. When asked by the online drone community "From Where I Drone" where he finds his inspiration, Hägg stated, "My biggest inspirations are films and nature. Nature alone provides a lot of the inspiration I need and it always surprises me."
This amazing shot of sand dunes as far as the eye can see was captured in the Sossusvlei region of Namibia. Characterized by its impressive red sand ridges and fossilized carmelthorn trees, Sossusvlei contains some of the world's largest sand dunes. Visitors to Sossusvlei often embark on guided climbs of some of the largest dunes. Sossusvlei is a popular aerial photography destination.
Aircraft Boneyard, Davis-Monthan Air Force Base
Faisal Sultan is a travel photographer and product manager based in the San Francisco Bay Area. His aerial photographs often focus on industrial landscapes, such as parking lots, construction sites, container ships and Air Force bases. You can find him on Twitter under the handle @friskygeek.
This incredible aerial photo shows the Aircraft Boneyard at the David-Monthan Air Force Base in Arizona. Officially known as the 309th Aerospace Maintenance and Regeneration Center (AMARG), the Aircraft Boneyard is the largest such facility in the world. Military planes are stored in the Boneyard once they are out of commission. The Boneyard is currently open to the public for tours.
We love how Sultan's photograph provides a totally unique perspective on this already fascinating location.
Bodø, Norway
Frida Xiang, known as @frida_xiang on Instagram, is a self-taught aerial photographer based in the Bodø region of Norway. Xiang is currently an engineering student studying drone technology. Xiang's work is mostly based in her home country of Norway, with an emphasis on interactions between humans and vast natural landscapes.
This serene aerial shot was taken above the forest surrounding the city of Bodø. Bodø is the northernmost point of the Norwegian railway system, and is considered by many to be the gateway to Norway's rugged and gorgeous north. Visitors to Bodø are usually interested in hiking the beautiful forest surrounding the city or exploring the nearby Lofoten Islands.
Hungry Hippos, Tanzania
Martin Sanchez is an award-winning drone photographer and commercial drone operator. He has received awards for his aerial photography from drone communities such as Dronestagram and SkyPixel, as well as from National Geographic, the Smithsonian and Unsplash. His focus is primarily on nature and wildlife photography. Sanchez can be found on Twitter under the handle @zekedrone.
This incredible aerial image was the winner of SkyPixel's 2018 Aerial Photo & Video Contest. Taken in Tanzania, the image shows a group of hippos huddled closely together in a muddy pond. Because hippos do not have sweat glands, they rely on mud and water to keep cool. We love the dense, lush colors in this image.
Fall Foliage, New Jersey
Here's another gorgeous aerial photograph from Martin Sanchez. As part of a photo series, Sanchez traveled through New England collecting aerial images of fall foliage in New Jersey, New Hampshire and Vermont. The result is nothing short of spectacular.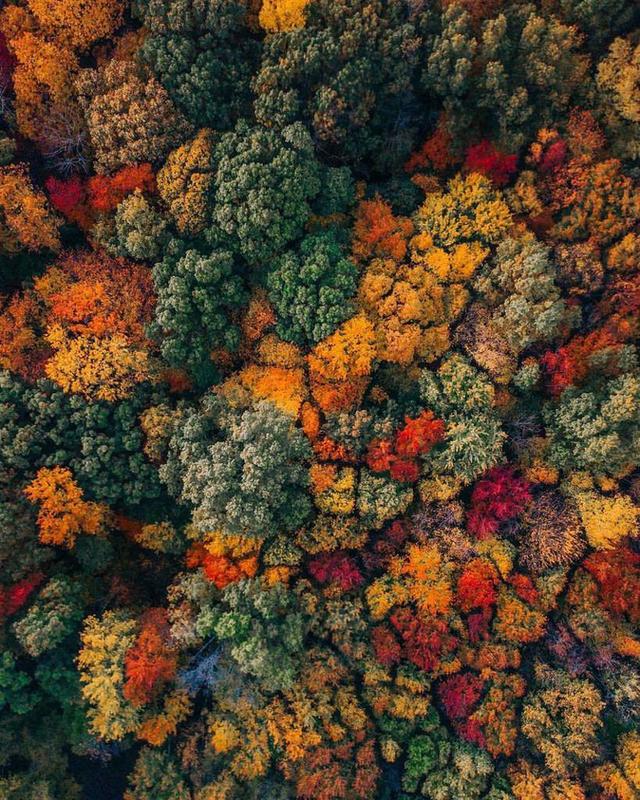 These trees, tightly bunched together, almost resemble broccoli from above. Especially captivating is the gradient of color — from dark purple and lush green to pale yellow and bright orange, all the vibrant hues of fall in New England. Other photos in this series show a similarly arresting range of tones.
Surfing in Perth, Australia
Phil de Glanville is an aerial photographer based out of Perth, Australia. He uses the Instagram handle @phlyimages. De Glanville is also the founder of the graphic design business Phly Design. Drawing on Perth's vibrant surfing culture, de Glanville's photographic work often features surfers, huge waves and gorgeous coastlines. The result is some seriously great aerial photography that allows the viewer a unique perspective on its subject.
What we love about this shot is its beautiful composition. The wave's crest from above provides a perfectly straight line down the center of the frame, with frothy white water on one side and darker deep water on the other.
Christmas Tree Farm, Ohio
Eric Ward, on Twitter under the handle @littlecoal, is a drone photographer and travel writer based in Ohio. He is a member of the Sony-affiliated Alpha Imaging Collective. Ward has captured incredible aerial photographs all over the world using drones. About aerial photography, Ward has said: "Drones have always inspired me to imagine locations from new perspectives. My Mavic goes with me everywhere."
This gorgeous image was captured at the Whitehouse Christmas Tree farm in Ohio. We love the patterning in this shot, from the rows of trees to the interplay of light and shadow on the snow. This shot is a perfect example of how shooting from above using a drone can help you see a familiar landscape in a new and interesting way.
Bondi Beach, Australia
Based in Sydney, Australia, @mymatesphotography is an aerial photography business. Often showcasing images of gorgeous rugged coastlines, huge waves and other coastal scenes, their work is light-filled and reminiscent of summer days spent at the beach.
This aerial shot of bustling Bondi Beach provides a unique perspective on a crowded beach. Bondi Beach is one of the world's most iconic beaches, due to its relatively calm surf and fine sand. The town that's sprung up around the beach is known for its surf shops, restaurants and laid-back beachy vibe.
Camels Crossing the Road, Dubai
Demas Rusli is an accomplished and globetrotting drone photographer and architect. Rusli, whose Instagram handle is @demas, has collaborated with brands such as Nike, Samsung, Adobe and Etihad Airways. Rusli specializes in aerial photos that have been edited, with spectacular results.
We love this shot, which has been edited to show a desert on one side of the street and a snowfield on the other. The image was created to showcase two very different, but in some ways similar, landscapes. It's a great reminder of the breathtaking diversity contained on our planet.
Hong Kong Skyline
Russian aerial photographer and drone videographer Vitaly can be found on Instagram with the handle @Panvelvet. His video and aerial photography work has been featured in promotional materials for brands such as Absolute, Nike, and Converse. Based in Shanghai, China, Vitaly is a travelling photographer. Vitaly's work is often edited to produce fantastical effects and images.
This immersive and spectacular image shows a 360-degree perspective on the city of Hong Kong. Hong Kong, an autonomous region of China, is one of the most heavily touristed cities in Asia, due to its incredible dining, nightlife, and historic gardens and temples.
Grianan of Aileach, Ireland
Tom Archer is a freelance photographer based in London. Specializing in landscape photography, Archer travels the world searching for the most unique and beautiful areas of the world to shoot. His work is expansive and breathtaking, with a focus on sweeping and majestic scenes. You can find him on Twitter under the handle @tomarcherphoto.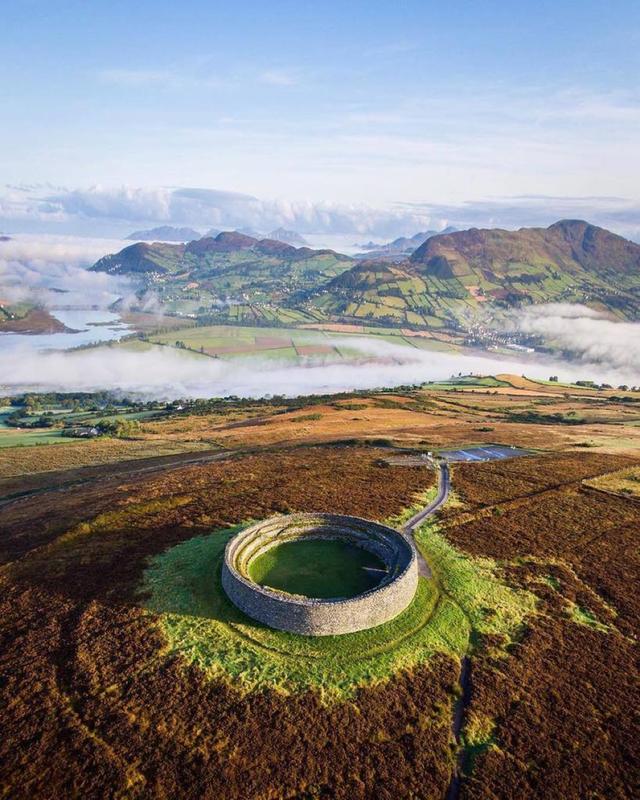 This rich aerial photo captures Grianan of Ailreach, a historic landmark in Ireland. This fort dates back to 1700 BC, and was likely built by the Tuatha de Danann, a group of people who lived in Ireland before the Celts. Stone forts such as this one were likely built on hilltops for protection against enemies.
Stingray, Honeymoon Cay
Pierce Gainey transitioned into drone photography after recording his adventures on a GoPro for several years. After purchasing his first drone, a Phantom 2, he's never looked back. Gainey works as an ambassador for GoWorx, and is the founder of a drone community site called The Drone Disciple. You can see his aerial photography on his twitter: @piercegainey. His focus is primarily on ocean and coastline photography.
This shot of a stingray in Honeymoon Cay, a popular destination in the Bahamas, is stunning. We love the clear blue of the water and the dappling effect of the sunlight as it filters through to the sand below. The stingray's position in the exact center of the shot only enhances the serene mood of this image.
Camels, Port Stephens Sand Dunes
Irenaeus Herok is a drone photographer based out of Sydney, Australia. Herok travels the globe in search of the best landscapes for drone photography. His work has been featured in publications such as Vice, The Guardian and Der Spiegel. In addition to drone photography, Herok also specializes in portraiture, deriving inspiration from cinema and painting.
This shot was taken at the sand dunes in Port Stephens, a popular outdoor recreation area in Australia. Reaching heights of over 100 feet, these dunes are currently the largest coastal moving dunes in the Southern Hemisphere. Visitors to the dunes can enjoy hiking, four-wheeling, and sand-boarding.
What we love about this image are the long shadows cast from the camels as they walk along the dunes.
Mount Tzin, Israel
Erez Marom is a professional drone photographer from Israel. Marom also teaches photography professionally, in workshops and lessons. He leads photography expeditions all over the world, helping teach students of photography how to best capture some of the globe's most beautiful landscapes. His work focuses chiefly on landscape and wildlife photography. You can find his aerial photography on his Instagram, where he posts using the handle @erezmarom.
This gorgeous shot is of Mount Tzin, in southern Israel. Of the shot, Marom said: "The drone proved the ultimate tool for the shoot, as it showed the true shape and beauty of this erosion-created geographic feature. The twilight colors simply stunned me – it looked like something belonging in the American southwest." We're also stunned by the subtle gradient of colors in this shot.
Mountain Loop Highway, Washington
Emily Thomas is a travel photographer, marketing manager, and public relations professional based in Seattle, Washington. Her work is largely focused on the rugged landscapes of the Pacific Northwest. Thomas is also the founder of Seattle Insiders, a curated guide to Seattle and the surrounding area. You can find Thomas on twitter at @emitoms.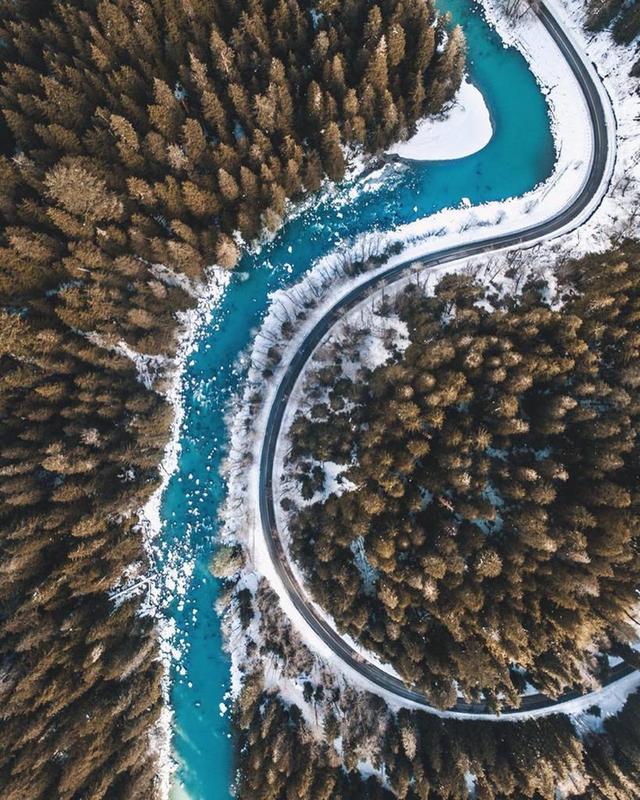 This crisp, aerial shot was taken of a portion of the Mountain Loop Highway in the Northern Cascades mountain range, in Washington state. The Mountain Loop Highway is a 52 mile scenic route that provides incredible views of some of Washington's highest mountain peaks, including Three Fingers, Whitehorse Mountain, and Mount Forgotten. What we love about Thomas's photograph is the beautiful composition and the sharply contrasting colors.
Huntington Beach, California
Jason Peterson is a Chicago-based aerial photographer and Chief Creative Officer for Havas North America. Peterson's signature style is black and white photography, with emphasis on the interplay between light and shadow. Peterson also teaches photography classes in Chicago. Peterson has said "To me, my photos aren't about black and white at all. I am trying to capture human emotion, make the viewer feel something. Black and white helps focus on that emotion — color is one less thing to be in the way of seeing the feeling" about his signature style. You can find Peterson on instagram under the handle @jasonmpeterson.
What we love about this gorgeous, aerial shot is that it's unclear where the land stops and the sky begins. With the one human figure in the shot's middle acting as an anchor, the rest of the photo seems to dissolve in a haze of cloud, water and sky. The photograph is also composed beautifully, with the faintly visible horizon line running through the exact center.