Here's Everything We Know About the COVID-19 Vaccines as of January 2022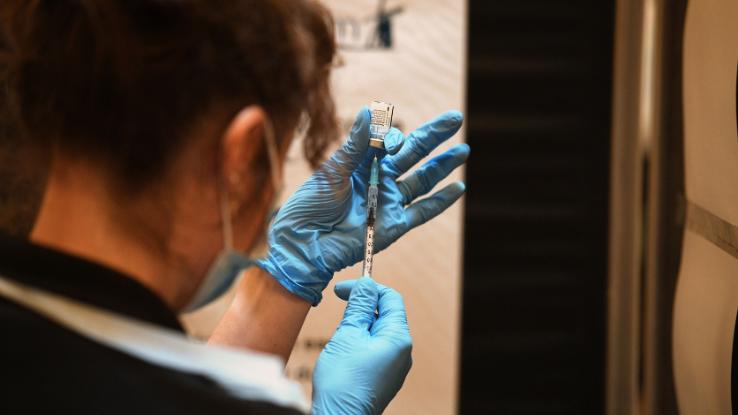 Throughout 2020, the world's leading scientists, virologists and researchers worked tirelessly to engineer safe and effective COVID-19 vaccines in record time. In November of that year, all of that work precipitated some exciting news: Both Pfizer and Moderna revealed that their vaccines had demonstrated remarkable success in protecting against COVID-19.
The U.S. Food and Drug Administration (FDA) approved Pfizer's vaccine for Emergency Use Authorization on December 11, 2020, and, just a week later, the authorization was issued for Moderna's vaccine. A third vaccine, created by Janssen, was given Emergency Use Authorization by the FDA on February 27, 2021. Sometime this year, a fourth vaccine candidate, developed by AstraZeneca, might join them.
In the days immediately following the Pfizer authorization, shots were shipped out across the country and healthcare workers began receiving the first doses of that vaccine. Both the Pfizer and Moderna vaccine formulations require two full doses and, in the end, are remarkably effective, with a 94-95% efficacy rate. The Janssen vaccine requires one dose, and it has an efficacy rate of 66% against moderate COVID-19 cases and 85% efficacy against severe COVID-19.
The Pfizer and Moderna vaccines have also provided significant protection against the Delta strain of COVID-19; Pfizer has a range of 42% to 88% effectiveness while Moderna has a range of 72% to 95% effectiveness. The Janssen vaccine, conversely, is much less potent, totaling around 67%. Research on this particular topic is still ongoing, and each vaccine may prove to be more (or less) effective in time. Health officials are encouraging everyone to get vaccinated – and for immunocompromised citizens to get an additional "booster shot" to protect themselves from COVID infections. Moreover, the FDA fully approves of the Pfizer vaccine and will now refer to it as "Comirnaty".
President Biden also unveiled a new COVID-19 Action Plan in September 2021. This plan includes a vaccine mandate for all federal employees and contractors. Biden also seeks approval for a vaccine mandate specific to the private sector.
Let's take a look at the effectiveness of the vaccine distribution and fact-check some of America's biggest safety concerns regarding immunization.
Editor's Note: As we've witnessed since March 2020, information regarding the COVID-19 pandemic is constantly changing — and the latest on the vaccines is no exception. While we aim to keep our articles as up-to-date as possible, please be sure to check the Centers for Disease Control and Prevention (CDC) website as well for the latest news. Curious about how the COVID-19 vaccines were created? We've covered that in How Was the COVID-19 Vaccine Developed?
How Is the COVID-19 Vaccine Rollout Going So Far?
The vaccine rollout started in the U.S. on December 14, 2020. As of August 31st, 2021, the CDC reported that approximately 174 million people — including both adults and children over age 12 — were fully vaccinated and more than 205 million people received at least one dose. In total, around 358 million doses were administered. In mid-May, the FDA authorized emergency use of the Pfizer-BioNTech vaccine in adolescents ages 12 to 15 — an expansion that FDA Commissioner Dr. Janet Woodcock called "a significant step in the fight against the COVID-19 pandemic."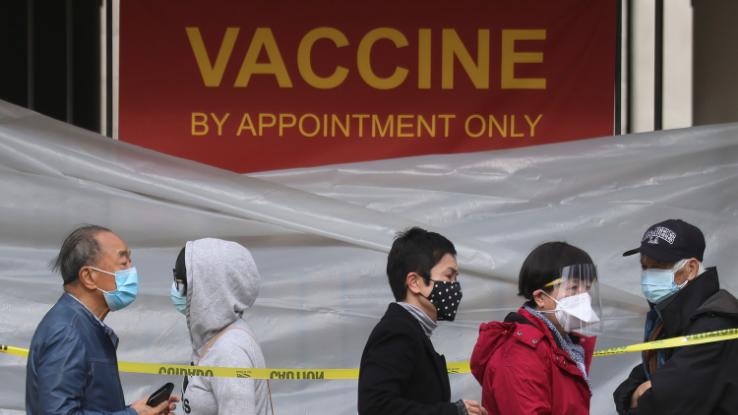 The United States, and indeed the world at large, face an array of challenges en route to reaching herd immunity. The Delta variant spreads at an incredibly aggressive rate; it's between 40% and 60% more virulent than the Alpha strain, and it currently accounts for more than 90% of COVID cases. The American Society for Microbiology has noted that COVID-related hospitalizations have surged due to the Delta variant. "Breakthrough infections" (wherein a fully vaccinated individual still becomes infected with the virus) play a massive part in the Delta variant's virulence, and only serve to complicate matters regarding health and safety.
The vaccine rollout has also experienced a myriad of logistical issues. "The number one bottleneck is probably the incredibly customized and specialized equipment that you need to mix the vaccines," Connecticut Governor Ned Lamont told WTNH. "It is not something you mass produce, we knew that, but we also knew that three months ago." Preparation — and a solid rollout plan —helped to circumvent those logistical challenges for the most part, which allowed Lamont to open new vaccine distribution centers and call upon the National Guard to help keep up with the vaccine demand.
Early on, some states were so underprepared that they ended up wasting vaccine doses, especially the Pfizer version, which doesn't have a very long shelf life. In Florida and New York, there weren't enough doses to go around, which meant a deluge of canceled appointments. In Southern California, Gov. Gavin Newsom tapped Blue Shield to create a centralized vaccine sign-up hub to mitigate the initial chaos resulting from a lack of vaccine supply. With hundreds of millions of vaccine doses available, the onus lies on every individual person to become vaccinated as soon as they can.
Is the COVID-19 Vaccine Safe?
President Biden stated that he hoped to deliver 100 million vaccinations into Americans' arms in the first 100 days of his presidency. He reached that goal and then some. Investing in more doses means that all Americans who want to get vaccinated can. Still, other citizens have expressed some concerns about getting inoculated.
While the rapid development of these vaccines is an unprecedented achievement, a 2020 Gallup survey found that 11% of adults in the U.S. believe vaccines are "more dangerous than the diseases they prevent." Of course, that survey was conducted prior to the pandemic, but it's clear that preexisting vaccine concern, plus this fast-tracked development, might have some folks worried.
In our COVID-19 Vaccine Fact Check, we took a deep dive into some of the most common questions and concerns surrounding the vaccine. But, to keep things short, the vaccine has been deemed both safe and effective. Before a vaccine is deemed safe, it goes through what the CDC calls "rigorous" testing from both developers and the FDA.
Some Americans fear the vaccine will actually make them sick — so what's the deal there? "No matter the vaccine — and no matter what a vaccine is fighting against — injection is often accompanied by mild side effects, including fatigue, swelling, pain, and redness at the injection site, all of which usually clear up within 24 hours," our colleagues at Reference found. "In fact, these types of side effects 'show that the vaccine is working, because it stimulates the immune system and the body forms antibodies against the infection that is only 'feigned' by the vaccination.'"
The bottom line? Getting vaccinated doesn't mean you're completely immune to contracting COVID-19, but it will help build herd immunity — a state at which enough people are immune to the virus that spreading the pathogen from person to person becomes less common. With the FDA fully approving Pfizer, folks who are hesitant to get vaccinated have yet another trusted source encouraging them to do so.
The efficacy rates of the vaccines are impressively high, and the CDC continues to update its guidelines for fully vaccinated and unvaccinated individuals. Fully vaccinated citizens can resume certain activities they enjoyed prior to the pandemic, and travel without the need for a COVID test. However, everyone is urged to follow protective measures to reduce the spread of the virus. Even fully vaccinated individuals "wear a mask indoors in public if you are in an area of substantial or high transmission".
How Are Experts Accounting for COVID-19 Variants?
The emergence of variants isn't surprising: it's well-established that RNA viruses like SARS-CoV-2 mutate frequently. However, just because it's bound to happen doesn't mean it's not a cause for concern. The largest of those concerns? Variants that are more transmissible will undoubtedly lead to more hospitalizations and strain on the healthcare system. The Delta variant, as we've discussed earlier, is proof of that; the CDC has reported that the Delta strain single-handedly caused hospitalization rates to surge around the world. Again, health officials recommend getting a booster shot to help stem the tide of Delta-related COVID cases.
So, what's being done on the vaccine end to account for the latest variants? According to The Wall Street Journal, Moderna has tested its vaccine against several emerging variants, such as those strains that first emerged in the United Kingdom and South Africa. While the company's vaccine appears to be effective against such variants, it may have "a weaker response to the South Africa variant." In an effort to be preemptive, Moderna plans to test whether or not a booster shot can help improve efficacy when it comes to vaccinating against these — and future — variants.
Additionally, researchers appear to be finding that the AstraZeneca-Oxford vaccine, which the World Health Organization granted emergency approval in mid-February, offers "minimal protection" against the South African variant. Details are still emerging, but developers are planning an autumn 2021 rollout for a modified version of the vaccine that's formulated specifically to create immunity against the South African variant. For now, we'll have to wait for more information to come out about this developing story.
Does Getting Vaccinated Mean Life Can Return to "Normal"?
In short, not quite. Vaccines are a tremendous tool against the coronavirus, but they aren't the be-all, end-all. The CDC regularly releases updated guidelines for people who are fully vaccinated, partially vaccinated, and completely unvaccinated. One sentiment remains constant – people must continue to take the recommended protective precautions to reduce the spread of COVID-19. Does getting vaccinated mean you can venture outside, mask-free? Not yet. Does getting vaccinated help our entire society inch that much closer to herd immunity? Absolutely.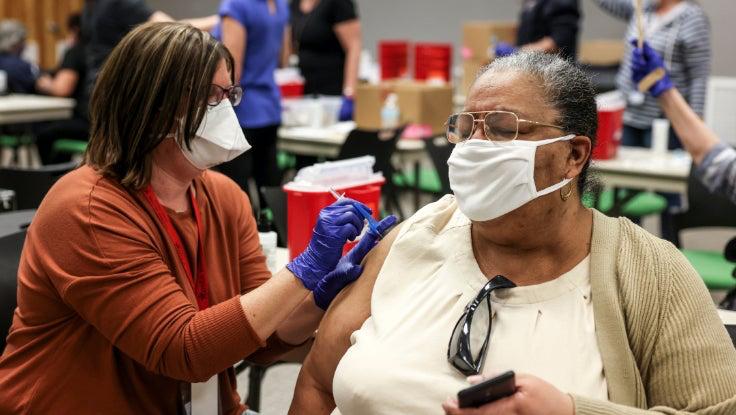 The CDC's current guidelines for outdoor activities are very clear-cut. Fully vaccinated individuals can resume certain pre-pandemic activities. However, everyone is highly encouraged to wear masks when outdoors, regardless of their vaccination status, in areas with high transmission rates and areas "where required by federal, state, local, tribal, or territorial laws, rules, and regulations, including local business and workplace guidance." It's also no longer necessary for fully vaccinated people to self-quarantine or get tested before or after traveling within the United States.
The agency continues to stress the importance of following precautions in certain situations. Mask up when traveling by plane, bus, train, or any other form of public transportation, and it's also essential to look out for symptoms of COVID-19. Vaccination can't always prevent infection, but being fully vaccinated does reduce transmission greatly.
In the end, two huge goals of the vaccines are to help build herd immunity — a state at which enough people are immune to the virus that spreading the pathogen from person to person becomes less common — and lessen the strain on overwhelmed hospitals and healthcare systems. The closer we get to achieving those goals, the more feasible "normalcy" will become.
In April 2021, the CDC & FDA Briefly "Paused" the Johnson & Johnson Vaccine — But Why?
The Johnson & Johnson vaccine has been deemed safe and effective, but there was a brief moment when the administration of this vaccine was halted. On April 13, 2021, the Centers for Disease Control and Prevention (CDC) and the FDA released a joint statement that recommended the U.S. pause its distribution of Johnson & Johnson vaccines.
The now-revoked recommendation came in the wake of six reports of a "rare and severe" type of blood clot that occurred in women between the ages of 18 and 48. These six patients reported symptoms 6 to 13 days after receiving the Johnson & Johnson vaccine. The joint statement also noted that the adverse side effects were "extremely rare" — after all, 6.8 million doses of the Johnson & Johnson vaccine had been administered in the U.S. when the pause occurred.
By April 23, 2021, the CDC and FDA lifted the recommended pause following "a thorough safety review." Moreover, while the risk of developing a blood clot due to the vaccine remains incredibly low, the two agencies have vowed to remain vigilant.
"Safety is our top priority. This pause was an example of our extensive safety monitoring working as they were designed to work—identifying even these small number of cases," said Janet Woodcock, M.D., Acting FDA Commissioner. "We are confident that this vaccine continues to meet our standards for safety, effectiveness and quality."
In the rare case you develop a "severe headache, abdominal pain, leg pain, or shortness of breath within three weeks after vaccination," or if you have any additional questions, the CDC and FDA recommend reaching out to your healthcare provider.
Learn More About the COVID-19 Vaccines
These articles and resources can help you learn more about a variety of topics related to the COVID-19 vaccines.