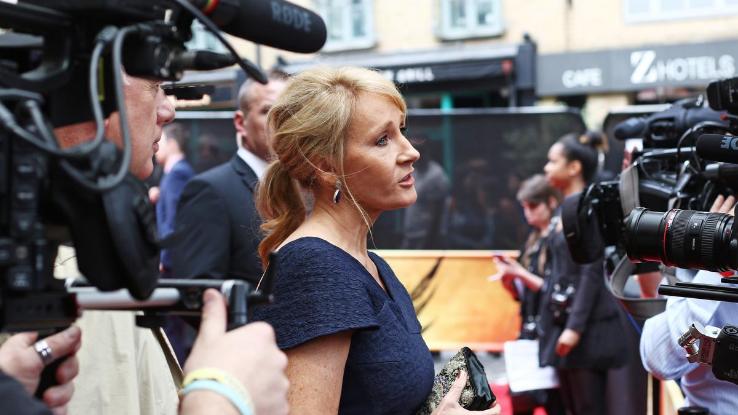 Content Warning: This article contains discussions about, and examples of, J.K. Rowling's transphobic, racist and otherwise bigoted remarks and writings.
With over 500 million copies sold worldwide, Harry Potter is the best-selling book series in history. But it's more than just a chart-topper: The children's book series about the titular Boy Who Lived is a global phenomenon — and has been for over two decades. A generation grew up not just reading the books, but also grew up alongside Harry and his friends. Needless to say, the series holds a special place in fans' hearts.
From the nostalgia to the feeling of belonging to the learning to love reading, there are so many components of the series that make it compelling. Not to mention, the book series spawned a multi-billion-dollar eight-film franchise, a hugely successful two-part Broadway play, a series of spin-off films and books, countless pieces of merchandise and several cutting-edge, wholly immersive theme parks. But, as I mentioned before, the first book in the series is more than 20 years old. At a certain point, it's time to let the past go — and I'm not directing this notion at fans necessarily (though, yes, let's stop comparing every real-world event to a Harry Potter character — thanks, Twitter). This is aimed at J.K. Rowling, who just can't seem to leave well enough alone.
More than that, she's actively eroding all of that goodwill she generated — all of that deep-seated fan admiration. Not only is she constantly retconning information and feeding fans new (unnecessary) tidbits of information every time she's out of the news cycle for too long, but she has also become more aggressive with her personal, bigoted stances, making it near-impossible for millions of fans to separate the upsetting artist from the once-beloved work.
Most recently, J.K. Rowling decided to tweet several anti-transgender tirades and more explicitly aligned herself with fellow TERFs — trans-exclusionary radical feminists. For those paying attention, her transphobia isn't new, but it's certainly gotten more aggressive and, because she has such a large platform, downright impossible to ignore.
Another frustrating factor? She can't take criticism, nor does she show much interest in being held accountable for her harmful rhetoric. Instead, she became vocal about an open letter in Harper's that she and over 100 other public figures and writers signed. Hannah Giorgis of The Atlantic perhaps described it best, writing, "Many prominent writers and thinkers seem invested in the notion that simply facing strong public criticism is a threat to free speech."
Racism, Transphobia and Other Forms of Bigotry Are Ingrained in "Harry Potter"
Of course, these hateful, dangerous messages don't mark the first time the author has done something reprehensible. Part of the reason it's so impossible to separate Rowling from her books is that her point of view feels so ingrained in the text, in how she depicts people of color and queer folks and in how she appropriates cultures she doesn't belong to (and, frankly, shouldn't be writing about).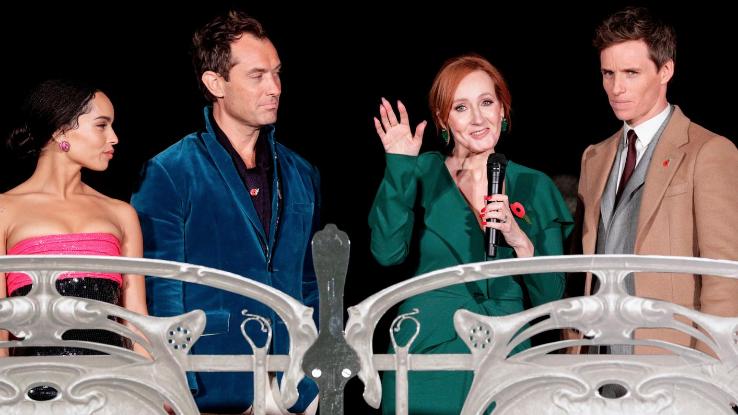 In 2016, Rowling penned a digital short story collection titled History of Magic in North America and, in the Harry Potter add-on, she equated Navajo religious and spiritual beliefs with the fictional Wizarding World. Among other offensive things, Rowling equates "skin-walkers" — the Navajo term for humans who can turn into, possess or disguise themselves as animals — with her invented Animagi (witches and wizards who morph into animals). In an interview with National Geographic, Choctaw Nation citizen and editor Leanne Howe notes that not only does Rowling's attribution of skin-walkers to all Indigenous groups treat them incorrectly like a monolith with a singular set of beliefs, but her text also equates traditions — which are still practiced today — with magic, thus trivializing Indigenous folks and their beliefs. "When native traditions are constantly depicted as relics," writes Becky Little of National Geographic, "it gives the impression that those traditions—and the more than 5 million native people in the United States—don't exist anymore."
But even the mainstays in the Potter series are laced with offensive depictions of characters. For example, in both the books and in the recent Fantastic Beasts and Where to Find Them (2016) film, fatphobia runs rampant; the goblins, who serve as the Wizarding World's bankers, are described in stereotypical, antisemitic ways; and the descriptions of Rita Skeeter — a journalist who lies, sensationalizes and literally disguises herself to spy on kids — in Goblet of Fire are full of transphobia (i.e. she has "large, mannish hands" and a "heavy-jawed face"). Of these passages, Twitter user Bobby Schroeder (@ponettplus) writes, "I wanna remind everyone that [Rowling's] bigotry is neither new nor separate from her work." All of this (and more) from the woman who named the series' sole Asian character "Cho Chang. (Well, until South Korean actress Claudia Kim was cast as the human version of Voldemort's subservient pet snake Nagini — which is deeply racist for several reasons.)
Rowling has also attempted to retcon parts of her book to seem more inclusive: After actress Noma Dumezweni, a Black woman, was cast as Hermione Granger in The Cursed Child stage play, Rowling defended her casting against racist fans (good!), but then went on to say that Hermione had never been white in the first place. This is a real yikes, namely because if Hermione was always written to be Black, the "descriptions of her become worryingly racist," particularly in Goblet of Fire.
Infamously, after the books had been completed, Rowling declared that Albus Dumbledore, the school's prolific headmaster, was always meant to be gay. "For LGBTQIA+ fans of the books, this was in some ways a hugely exciting revelation — but at the same time, it was a bit of a slap in the face," writes Bustle's Emma Oulton. That is, it's not representation if it isn't on the page explicitly. Rowling even went on to bungle a depiction of a young Dumbledore on screen, leaving out his queerness. Instead, readers are left with a stereotype yet again — this time, a repressed gay man who dies alone. Not great. And not particularly welcoming to LGBTQ+ fans.
J.K. Rowling Digs Her Heels Into Violent Transphobia While Other "Potter" Stars Stick Up for LGBTQ+ Fans
Late in 2019, Rowling aligned herself with the blatantly transphobic Maya Forstater, and, since then, the author has dug her heels in, frequently liking and retweeting misinformed posts from harmful TERFs. Amid the COVID-19 pandemic, Rowling retweeted an article with the headline "Opinion: Creating a more equal post-COVID-19 world for people who menstruate." Accompanying that retweet was Rowling's own transphobic commentary: "'People who menstruate.' I'm sure there used to be a word for those people. Someone help me out. Wumben? Wimpund? Woomud?" And Rowling tweeted this amid the Black Lives Matter Movement — just days after a group of men viciously beat Iyanna Dior, a Black trans woman; just days after Tony McDade, a Black trans man, was killed in an officer-involved shooting.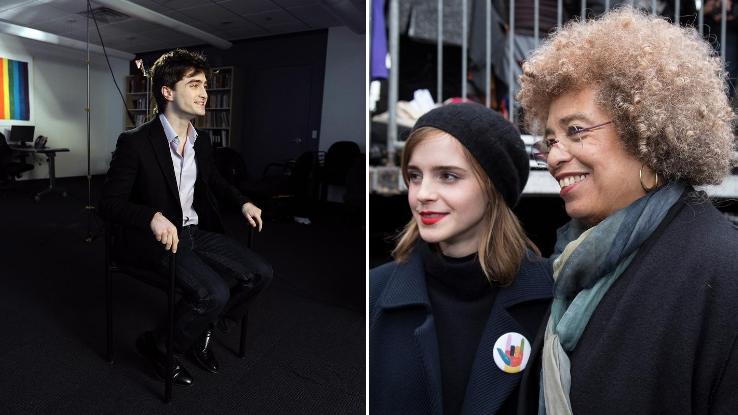 Rowling's anti-trans rhetoric didn't stop there, nor did she seem to respect the opinions of myriad trans folks, queer activists and allies who pointed out the inherent transphobia in her words. All of this is compounded by the fact that she has such an immense, far-reaching platform. "As a YA author, I know books save lives," Kacen Callender writes in their article Harry Potter Saved My Life. J.K. Rowling Is Now Endangering Trans People Like Me. "I also know how dangerous and painful Rowling's transphobia is for millions."
As former fans and writers publicly criticized Rowling, she decided to write what can only be described as an anti-trans screed. The wholly offensive post perpetuated misinformation; ignored scientific fact; and showed Rowling to be someone who aligns herself with anti-trans LGB groups, among numerous other offenses. It was beyond terrible. And with such a pervasive platform — one that she continues to wildly abuse and misuse to spread hate, violence and misinformation — Rowling has done irreparable damage to so many with her words.
Shortly after Rowling released her hateful essay-length post, many former Potter stars — including Bonnie Wright, Emma Watson and Rupert Grint — spoke out to stand in solidarity with the trans community. Daniel Radcliffe, who played the titular boy wizard and who frequently collaborates with The Trevor Project, issued a much-acclaimed statement, writing, "Transgender women are women. Any statement to the contrary erases the identity and dignity of transgender people and goes against all advice given by professional health care associations who have far more expertise on this subject matter than either Jo or I."
"To all the people who now feel that their experience of the books has been tarnished or diminished, I am deeply sorry for the pain [Rowling's] comments have caused you…" Radcliffe continued. "if you found anything in these stories that resonated with you and helped you at any time in your life — then that is between you and the book that you read, and it is sacred." For her part, Rowling did not address Radcliffe's statement — or any of the other cast members' remarks — head-on. Instead, she has continued to spout transphobic commentary every few weeks, all while liking and boosting posts from other TERFs and trying to build something of a smokescreen around the controversy by promoting her children's story, The Ickabog. "I understand that books can save lives, as they have saved mine," Callender writes. "I also understand that, when a powerful author like Rowling spouts the same sort of hateful rhetoric that already kills so many, she is directly influencing the lives of young readers who might have once looked up to her and found safety in her work." When it comes to Rowling and her incessant need to attack trans and non-binary folks, one thing is painfully clear: All is not well.