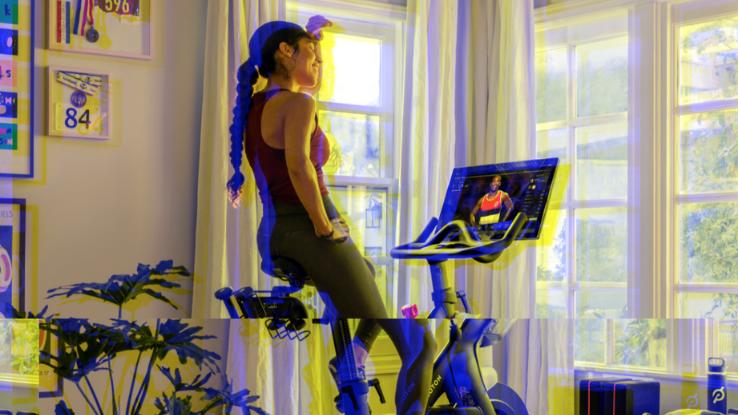 In the wake of the COVID-19 pandemic, gyms have faced a real deluge of challenges. According to Vox, the International Health, Racquet & Sportsclub Association (IHRSA) has estimated that, without financial relief, 25% of gyms in the United States were on track to close down by the end of 2020. Once-popular chains, from 24 Hour Fitness to Town Sports, declared bankruptcy. In some areas, gyms have moved outdoors — making equipment accessible to members in parking lots and on sidewalks — while others have opened briefly, only to close again, with strict guidelines and capacities in place.
The most popular pivot, however, has been to at-home, virtual classes and gym memberships. "When the COVID-19 crisis hit, we transitioned all of our clients to an online format," Nat Huerta, owner of the Oakland-based Queer Gym, told Women's Health Magazine. "And now that our community is more accessible, we have nearly doubled in size. Going digital allows us to expand our mission beyond the four-mile radius of the gym." While embracing this mindset has been crucial for other gyms and community spaces like the YMCA, it also helps illustrate why "smart" exercise equipment and fitness technology are becoming increasingly popular.
One of the most successful examples of this smart equipment trend comes in the form of Peloton and its innovative exercise bike, which allows users to access virtual classes, trainers and a fitness community. Over a year, Peloton's pricey exercise bikes went from meme fodder to an exercise must-have. So, how did the brand amass such a following? And would it have happened without the workout-at-home fallout of the COVID-19 pandemic?
What Is Peloton?
Exercise equipment and media company Peloton was founded in 2012 and, a year later, found success through a Kickstarter campaign. While the stationary bike is the company's most popular product, it also offers high-tech treadmills — and, in both cases, the equipment allows subscribers to participate in classes that are streamed from Peloton's fitness studios.
Even though the company's been around for some time, it first came to mainstream attention when its 2019 holiday commercial, "The Gift That Gives Back," came under fire. If you somehow missed the offensive ad, the story is cringeworthy, to say the least. In it, a man buys a Peloton bike for his partner, implying that he wants her to become more "fit," and she proceeds to make a vlog of her experiences with the bike, proudly stating, "A year ago, I didn't realize how much this would change me." (Yikes.) Ash Bendelow, the managing director of U.K.-based creative agency Brave, told The Guardian that the ad "reminds us of the 'seven tips for keeping your man' notions from the 1950s, rather than where society is today in 2019." Others compared the ad to the opening of an episode from dystopian series Black Mirror.
The unhinged ad wasn't the only thing adding to Peloton's meme-ability. The bike, which comes with a hefty price tag, was clearly aimed at celebrities, influencers — and those with enough money to emulate them. Back in 2014, the first-generation stationary bike sold for $2,245 — and that's without factoring in that monthly subscription cost, which starts at $49. These days, you can hop on the bandwagon (or bike) for either $2,495 — if you want all the bells and whistles — or $1,895, if you're looking to save a few hundred bucks.
Despite all of this, the general public's attitude toward Peloton shifted immensely in just a few months. While it was the meme of the 2019 Christmas season, the company soon benefited from the COVID-19 pandemic lockdown measures that went into place in March 2020. In fact, by May 2020 Peloton's stock had increased by nearly 36%; online searches for the brand tripled; and quarterly sales jumped 61%, pulling in a whopping $420.2 million for the fitness-minded company (via Reuters).
While revenue figures were more than double what was predicted at 2020's onset, Peloton has still faced some challenges. For example, many customers have waited upwards of 10 weeks for their equipment to show up, which has led Peloton to invest $100 million into ensuring expedited deliveries, despite pandemic-caused delays and shortages. So, was 2020 just the perfect storm for Peloton's growth into a $50 billion company — or does it have something else going for it?
Peloton's Sense of Community Goes a Step Further
Instead of going to the gym and navigating feelings of inadequacy, embarrassment and more, at-home regimens and equipment allow folks to feel a bit more relaxed when working out — free from prying eyes, judgment and comparison. However, that experience can feel a tad isolating, even if you're trying to connect with classmates and coaches through Zoom. Without a doubt, part of Peloton's success stems from the sense of community the company fosters.
A communal experience — right in your living room. Seems like Peloton was ahead of the curve, especially given the way we're all craving social experiences while sheltering in place. A large part of that community feel is cultivated by the company's much-loved instructors, like Ally Love, Alex Toussaint, Robin Arzon and Jess King, all of whom have become celebrities akin to Instagram influencers. According to The Washington Post, these celebs "mix tough coaching, self-help, hipness and rabbinic wisdom, all fed through the mantra of 'One Peloton' — one community, bettering each other, working for something bigger than themselves."
At a 2017 presentation, John Foley, Peloton's co-founder and CEO, noted that people still crave the sense of community and purpose they once found in organized religion, and went on to compare Peloton's group classes and fitness instructors to a religious figure standing at a pulpit, delivering a sermon to their congregation. "In the '70s or '80s, you'd have a cross or Star of David around your neck. Now you have a SoulCycle tank top," Foley said in reference to health and wellness at large. "That's your identity, that's your community, that's your religion."
Is that what people are searching for — a near-spiritual fitness experience? Well, the company does boast an impressive 3 million active subscribers, and, on live rides, thousands of people join in all at once. Built for social interaction, the bike's interface allows riders to share virtual high fives, chat and use hashtags. Writing for The Washington Post, Michelle Boorstein notes that, "taking a Peloton class is like simultaneously having a hyper-fit, in-your-face gym trainer pushing you to the max, while also listening to a mega-pastor or TED Talk life coach urging you to stare your life's purpose in the face."
Boorstein's article also digs into the less secular aspects of Peloton's program and how Christianity seems to be seeping into some instructors' classes, leaving riders divided. So, while people might want something spiritual and collective, they might not want it to look (or sound) too much like existing organized religions. Various publications have pointed out Peloton's cult-like following, but it remains to be seen if the company can sustain its 2020 momentum — or if, like so many fitness regimens, it will become a mere fad.