Nielsen Music reports that the consumption of Korean music in the U.S. has doubled over the past three years. Thanks to social networking platforms, user-generated content sites like Tumblr (R.I.P.) and South Korean promoters' loose perspective on copyright, Korean bands, TV shows and more began seeping into America's pop culture consciousness in a whole new way at the beginning of the last decade.
The term "Korean pop," most often abbreviated as "K-pop," originated in the 1990s but gained widespread popularity in the early 2000s, replacing the term "Gayo," which was used to refer to pop music created in South Korea. This more modern form of South Korean pop music has been influenced by numerous genres — hip hop, gospel, folk and so on — and musical styles from around the world. Apart from celebrating its hybridity, K-pop also leans heavily into sleek fashion, mesmerizing audiovisual content and — perhaps above all else — incredible dance and choreography.
These days, K-pop boy band BTS has taken the world by storm: The group's first stadium concert in the U.S. sold out within 20 minutes, which is quite a feat for a non-English-speaking musical act. But how did K-pop go from being celebrated by one pocket of the internet to mainstream darling? Well, there are quite a few factors at play, but there's one pop culture touchstone that we probably all remember well: "Gangnam Style."
"Gangnam Style" Helps K-pop Break Into the Mainstream Globally
In 2012, PSY's "Gangnam Style" hit YouTube and, soon after its release, the music video began garnering 5 million views a day. Not only was this a huge moment for K-pop, but it was also a huge moment for music in general as "Gangnam Style" became a viral phenomenon — and became the first YouTube video to hit 1 billion views.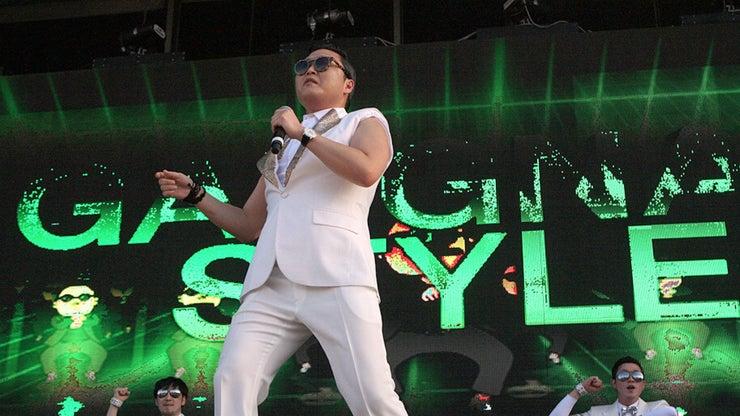 The song reached #1 in over 30 countries, went 10x Platinum in Australia and 5x Platinum in the U.S., and holds the record for the "most liked" video on YouTube with over 16 million "thumbs up." Although the video now has upwards of 3.3 billion views, it's thought of as a bit of a one-hit wonder in the States. Regardless, "Gangnam Style" undoubtedly helped K-pop break into the mainstream.
And K-pop has continued to thrive in — and thanks to — digital spaces. K-pop fans are incredibly active online; Billboard reported that "[in] 2018, K-pop artists and related content were referred to in 5.3 billion tweets globally." Additionally, Spotify reports that the number of folks listening to the genre has grown since 2015, with K-pop's share of listening increasing by roughly 65% annually for the last four years.
K-pop Becomes a Valuable Resource to the South Korean Government
Before PSY and BTS, there was the boy band H.O.T., which rose to international fame in 1996, launching an entire subculture referred to as K-pop "idol" culture — wherein a group has a very active and dedicated fanbase. At first, H.O.T. seemed like something of an anomaly — that K-pop's popularity outside of South Korea was destined to remain a blip. In 2003, TVXQ and BoA proved that K-pop was anything but a trend, popularizing the genre in Japan and parts of East Asia.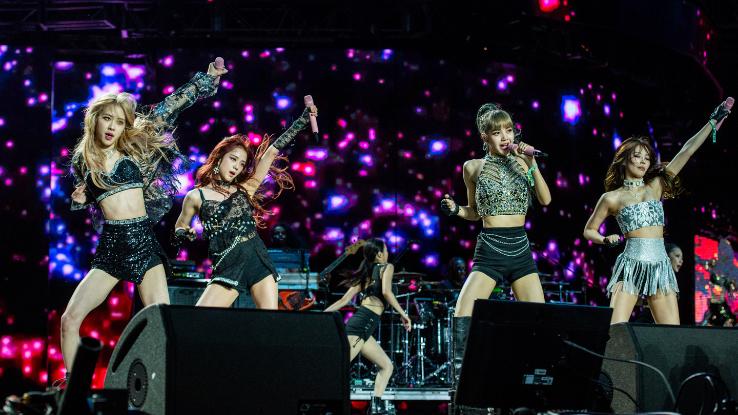 Over the last decade, the larger "Korean Wave" — or the spread of Korean entertainment, from TV shows to music — has helped K-pop find footholds in the U.S. and Latin America. Thanks in large part to social media platforms like Tumblr and Twitter, as well as sites like YouTube, Korean music was able to gain fans across the globe. Moreover, the South Korean government, excited by the financial benefits of the Korean Wave, has taken steps to subsidize entertainment endeavors.
According to Digital Chosun Inc., revenue from the country's music exports jumped an incredible 113% between 2010 and 2011 — and that was at the start of the decade, a full year before the explosion of PSY's "Gangnam Style." (More on that later.) The Ministry of Culture, Sports and Tourism, for example, has helped expand the popularity of K-pop by establishing Korean Cultural Centers and, with the help of South Korean consulates, organizing K-pop concerts in other countries.
K-pop has also had a hand in shaping the government's cultural diplomacy — what researcher Milton C. Cummings describes as "the exchange of ideas, information, art and other aspects of culture among nations and their peoples to foster mutual understanding." By celebrating K-pop on the international stage, the government helps shape the country's image and reiterates the value of this beloved cultural export. In a show of this "soft power," well-known South Korean musicians were called upon to perform in North Korea in 2018 at an event attended by none other than Kim Jong-un.
From Fandom Community to Platform for Activism, K-pop Contains Multitudes
Another asset? K-pop is extremely accessible, thanks to sites like YouTube and various social networking platforms. Unlike American record labels, Korean entertainment companies are deliberately open when it comes to distributing content and not so stringent when it comes to copyright issues. That is, the mentality is to cast a wide net — to give folks the ability to easily access, and fall in love with, the music and K-pop groups.
Additionally, management agencies contract potential artists, often at a young age, and put them through intense "training" wherein the young stars learn not only how to sing and dance, but also how to speak foreign languages and dress fashionably. For these agencies, it's all about creating a complete package, so much so that The Wall Street Journal reported that the cost of training a soon-to-be Korean music idol averages a whopping $3 million. After each group is given a concept — kind of like a marketing hook — these regimented trainings often culminate in debut showcases, which allow new acts to reach a larger audience right off the bat.
From harnessing the power of social media and streaming platforms to creating a unique culture around the very concept of fandom, K-pop is a genre that's very of the moment. At the same time, it's not a trend, but a genre with real lasting power — one that has even become a global political movement.