Ah, the humble sandwich — a classic staple at office parties and in kids' lunchboxes since time immemorial. Although it may seem like they're, well, kind of basic, there's a lot to love about sandwiches. They can get as complex and flavorful as you want them to be, and they're endlessly customizable. And therein lies their beauty: Anything goes when it comes to whipping up a sandwich, and as a result, regions around the country have transformed them into stellar representatives of local traditions and cultures.
If you didn't think sandwiches could get that deep, you're in for a treat. Join us as we slice into some renowned regional favorites from across the United States and celebrate their ingredients and origins.
Philadelphia's Fabulous Cheesesteak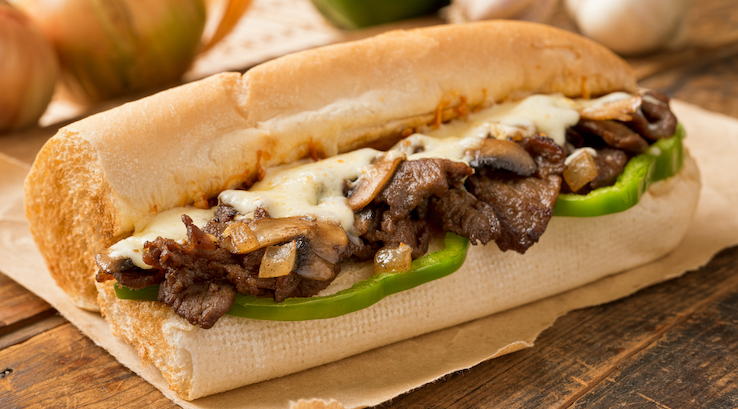 Philly may be famous for many things — you know, important cultural touchstones like the Liberty Bell and Rocky — but we'd be amiss not to include cheesesteak near the top of the list. The city and the sandwich are so intertwined that you'll probably hear people ordering Philly cheesesteaks even if the restaurant you're visiting is nowhere near Pennsylvania. But have you ever wondered where this delightful combo of hot beef, flaky bread, sauteed veggies and melting cheese originated — and why we associate it with the City of Brotherly Love?
It turns out that the credit goes to Pat Olivieri, a hotdog vendor who tossed some beef on his grill to heat up for a sandwich he planned to eat for lunch. A cab driver who was passing by found himself unable to resist the delicious smells wafting from the cart and asked if he could have one of the sandwiches too. Word of the wondrous handheld creation spread, and Olivieri, along with his brother, ended up opening one of Philadelphia's most iconic cheesesteak restaurants, Pat's King of Steaks, in the 1940s.
Chicago's Iconic Italian Beef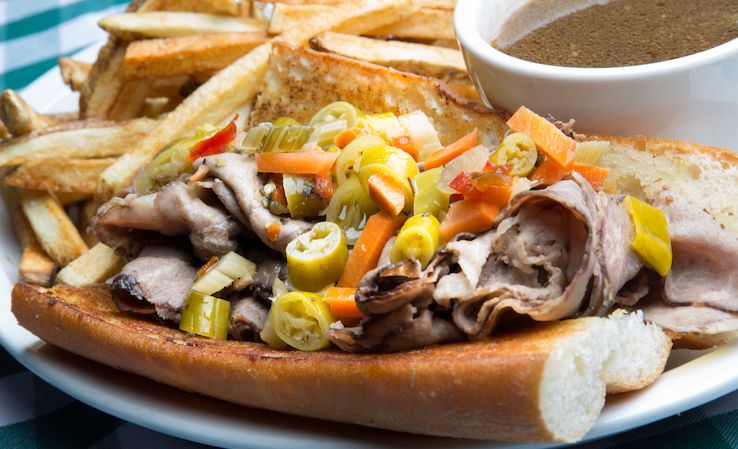 The Windy City has a decidedly tangy (but equally delightful) take on the cheesesteak. In Chicago, the iconic Italian Beef sandwich features slow-roasted beef tucked into a bun and topped with giardiniera, an Italian relish made of various pickled vegetables. The whole thing is then doused with beef juice, making for a fantastically messy feast.
Ready to experience an authentic Italian Beef in Chicago itself? You'll want to head down to Al's #1 Italian Beef. While no one knows for sure, many claim this classic was invented by the restaurant's founder, Al Ferrerri, back in 1938. As the story goes, Al created the sandwich to stretch enough beef to serve a 150-member wedding party. Little did he know his innovation would prove to be the stuff of Chicago culinary legend. For the most authentic experience possible, be sure to eat your Italian Beef properly, too. Not only does Al's claim it invented the sandwich, but it also asserts it invented the correct "stance" for eating the meal while standing at a counter.
Florida's Great Cuban Sandwich Debate
Delicious though it may be, the Cuban has perhaps inspired more spirited debate than other iconic sandwiches across the United States. Popular in Florida, legend says that the Cuban was originally popular lunchtime fare among workers in cigar factories and sugar processing mills in Havana. Things get a bit uncertain however, when it comes to the question of where in Florida the sandwich first took off after it arrived from Cuba — and what fillings it should include.
The citizens of Tampa argue that Cuban immigrants brought the celebrated sandwich to their city first and insist that salami is among its essential ingredients. However, Miami residents also claim responsibility for the Cuban's popularity. Those in the Miami camp find the added salami a sacrilege and insist that a pure Cuban stick to the traditional ham, roast pork and mustard. The one thing we can all agree on is that an authentic Cuban in either form is delicious piled with Swiss cheese and pickles and toasted.
Louisiana's Legendary Po' Boy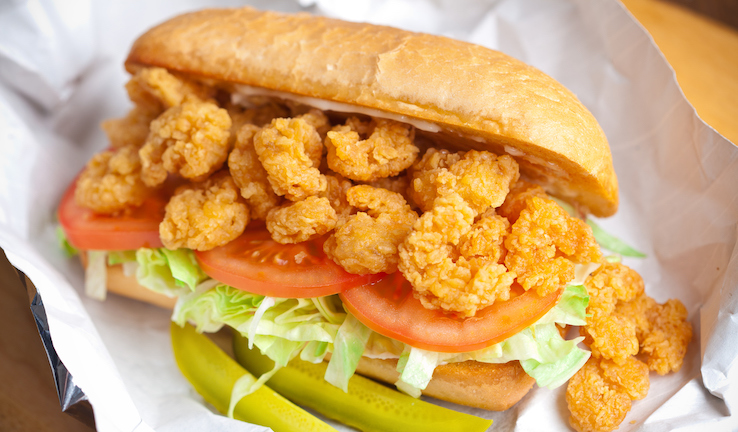 If you ever visit New Orleans, do yourself the favor of sticking around until you experience a po'boy sandwich. A Louisiana classic, the po'boy consists of two long pieces of French bread stuffed most commonly with roast beef or fried seafood, like shrimp or even oysters. Throw on some lettuce, pickles, mayo and tomato, and you've got a true delicacy on your hands. 
But what's with the name? According to local lore, the po'boy was first invented during a streetcar strike back in 1929. The Martin Brothers Restaurant wanted to show support by feeding the strikers for free, so it developed a sandwich that was filling yet cheap enough to hand out at no cost. Whenever another striker would arrive to cash in on the deal, the kitchen was alerted by the front staff, who would say, "Here comes another poor boy."
L.A.'s Famed French Dip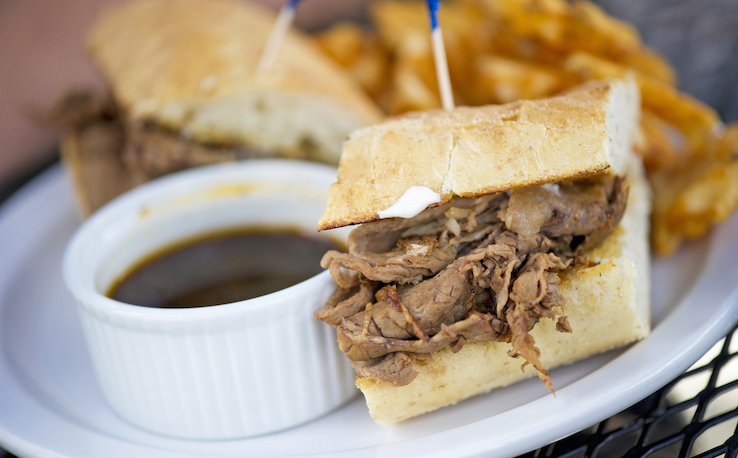 A French dip sandwich might seem simple at first glance: The basic combo consists of sliced roast beef on a French roll bun. Sometimes, Swiss cheese or onions make an appearance to shake things up. But the dip's true trademark is that you dunk it into a container of beef broth before taking each bite. And, despite its name, the French dip wasn't actually invented in France at all, but in Los Angeles. Apparently, the moniker stems from the type of bread the sandwich is usually made with.
It all began back in 1918 when Philippe Mathieu, the founder of the historic restaurant Philippe the Original, was preparing a sandwich for a customer. During the course of his preparation, fate intervened, causing Mathieu to drop the sandwich into a roasting pan full of juices. Luckily, the customer was a good sport and said he'd eat it anyway. He was rewarded as being the first person on record to experience the wondrous taste of the original French dip.
Maine's Luxurious Lobster Roll
Who says you can only enjoy lobster at fancy dinners? The crave-worthy crustacean is a lot more ubiquitous in the Pine Tree State, and that's resulted in an iconic sandwich you can find just about anywhere there. Maine's famous lobster roll takes all the fun of New England seafood and crams it into a buttered split-top bun. The bread itself doesn't matter so much (even a hotdog bun will do), as it's mostly a handy way to deliver mayo-tossed lobster to your watering mouth. 
But something about the ability to enjoy such high-end food in everyday sandwich form makes the whole experience especially enticing. The fun doesn't stop there, as Maine isn't known as one of the seafood capitals of the world for nothing. There are also crab rolls, shrimp rolls and pretty much any other seafood you could think of, all tucked into a basic bun. 
Northern California's Delightful Dutch Crunch
Unlike many filling-centric sandwiches, the Dutch Crunch is all about a unique bread that's hard to find outside of the San Francisco Bay area. The secret to the signature bread is a special coating made from sugar, rice flour, oil and salt applied before baking. The bread features a crackly top with a fresh, distinctive taste when it comes out of the oven. 
While the filling can vary according to, well, basically whatever you're craving, popular favorites include stacked cold cuts, cheeses and vegetables. The bread's crispy texture, combined with the fact that a similar bread originated in the Netherlands, led the sandwich to be dubbed the Dutch crunch.