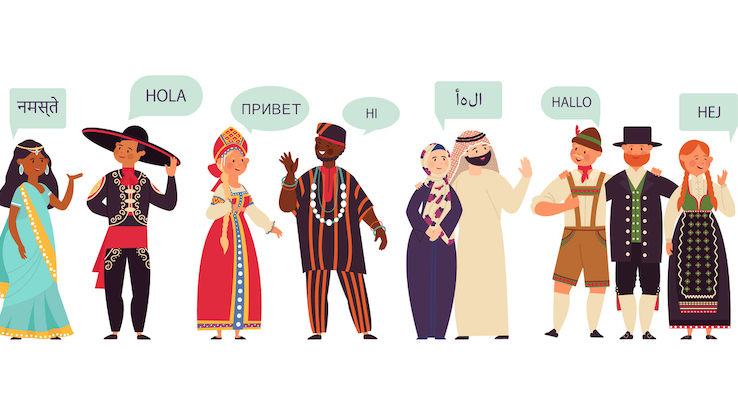 As anyone who has ever learned a language knows, translation between languages is difficult. Words that don't have a direct equivalent in another language are often considered "untranslatable." While these words often get lost in translation, they can have fun, strange, or beautiful meanings, making them worth learning. Here are 25 of our favorite untranslatable words from other languages.
Nunchi
Korean (n) The art of gauging the mood of others, reading the situation, and reacting appropriately. Don't be that friend who doesn't have nunchi.
Meraki
Greek (v) Doing something with soul, creativity, or love; when you put something of yourself into your work.
If you're working on something special, add your personal touch to it.
Jayus
Indonesian
(n) A lame joke that is so poorly delivered, you can't help but laugh.
When someone tells a joke that is so bad, that it's actually pretty funny.
Mångata
Swedish (n) The glistening, roadlike reflection the moon makes on water. Now you know a word that describes that beautiful view in a poetic way.
Iktsuarpok
Inuit (n) The feeling of anticipation when waiting for someone and often going outside to check for them. This word perfectly sums of that feeling when you're waiting for your friend to come pick you up or you're waiting for a package to be delivered.
Fernweh
German (n) An intense desire to travel; longing far off places you've never been. Warning, seeing all your friends' traveling pictures may trigger fernweh.
Kilig
Tagalog (n) The sudden feeling of butterflies, shivers down the spine or blushing as one encounters something romantic. This word flawlessly describes the moment your crush first looks at you, when you first hold hands with someone you're attracted to, or even when you watch a romantic scene in a movie.
Mamihlapinatapai
Yagán
(n) The special look between two people, each hoping the other person would start something they both desire, but both are unwilling to initiate.
That moment when you both are craving for junk food, but you're trying to be healthy and waiting for the other person to suggest it first.
Pábitel
Czech (n) A person who is uncouth yet deeply in love with life and proves life is worth living. This person finds beauty in everything and may speak senselessly.
Voorpret
Dutch
(n) A sense of joy or pleasure before a fun event.
Yes, we're all eagerly anticipating the big party this weekend too.
Laotong
Mandarin
(n) A friendship bonding two girls for eternity as kindred sisters.
Ever seen a long lasting and strong bond between two women who are super close? This is the word for women friends for life.
Retrouvailles
French
(n) The happiness of reuniting with someone after a long time of being apart.
Reunited and it feels so good. This goes to all the people who scream with joy when they see their friends again after a long separation.
Yuan bei
Chinese (n) A sense of complete and perfect accomplishment. Here's a word for when you feel absolutely proud of your best work and you can't make it any better because it's that good.
Parea
Greek (n) A group of friends who regularly come together to enjoy each other's company, to share life experiences, their philosophies, and ideas. Building long-lasting friendships that also enrich your quality of life is good for the soul. This type of friendship will make you feel like your skin is clear and the sun is always shining.
Sobremesa
Spanish
(n) Time spent at the table conversing and relaxing with people after eating together.
The best conversations are the ones right after eating tasty food with good company.
Lagom
Swedish
(n) Just the right amount
. Not too little, not too much. Now, that's a motto we can get behind.
Shemomedjamo
Georgian
(n) That feeling when you can't stop eating because everything tastes so delicious.
We've all accidentally been there when our stomach tells us no, but our tastes buds are screaming yes.
Komorebi
Japanese (n) When sunlight filters through the leaves of trees. We can gaze at this spectacle for hours.
Mudita
Sanskrit
(n) The pleasure that comes from delighting in other people's well-being.
Mudita describes the joy you experience when others around you are happy. The opposite of this word is schadenfreude.
Ilunga
Tshiluba (n) A person who is ready to forgive any wrongdoing for the first time, tolerate it a second time, but never the third time. Linguists consider this the most difficult word to translate.
Heimat
German (n) A place you call "home" because it fulfills a sense of belonging and safety creating a deep emotional connection to the location. Heimat can be a warm and loving place where you lived the longest, where your family is, or wherever makes you feel at home.
Sisu
Finnish (n) Extraordinary strength and persistent determination to continue overcoming adversity. Finnish history and culture show that during challenging moments that seem impossible to handle an attitude of sisu will help you endure it to the end.
Resfeber
Swedish (n) The restless feeling before a journey begins; a tangle of anxiety and anticipation. Ever felt your traveling heart race after booking a plane ticket because you were scared and excited at the same time? Resfeber will help explain that nervous energy you're experiencing.
Feieradbend
German (n) The celebratory mood you get when it's the end of the working day. Cheers! It's time for the getting off work dance.
Forelsket
Norwegian (n) The electric euphoria one experiences at the beginning of falling in love. Ever been lovestruck? This word will melt your heart.