Breakfast is regarded as the most important meal of the day. However, sometimes you're in a hurry and don't have time to cook breakfast. Luckily, there's fast food.
However, not all fast food is created equally. Check out this ranked list of the best fast food breakfast items to ensure your day starts off right.
30. Bojangles' Famous Chicken 'n Biscuits: Cajun Fillet Biscuit
If you live in the South, you have probably been to Bojangles' Famous Chicken 'n Biscuits. The good news is that you can order the chain's flaky, handmade biscuits all day long — not just at breakfast time. That's even better, isn't it?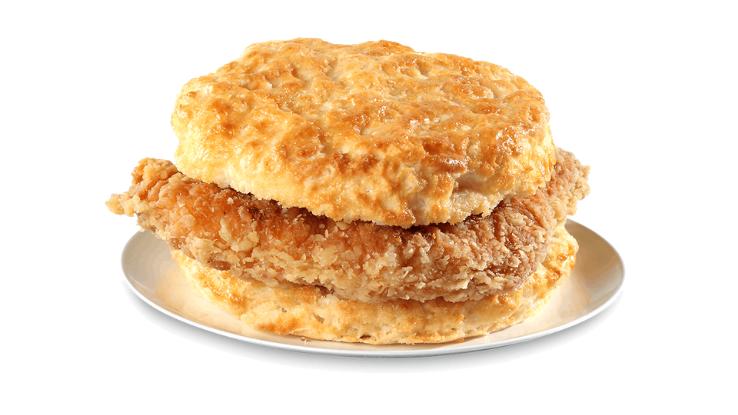 These buttermilk biscuits are light, fluffy, and tasty on their own. However, the fast-food restaurant's signature breakfast menu option is the Cajun-spiced chicken breast filet biscuit. Slide a piece of the tender fried chicken between those butter-buns and you're ready for a monster of a breakfast meal.
29. Carl's Jr.: Breakfast Burger
Also known as Hardee's depending on your location, Carl's Jr. is already known for its meaty, cheesy hamburgers. However, their breakfast burger (which isn't available at Hardee's) takes things to a whole new level.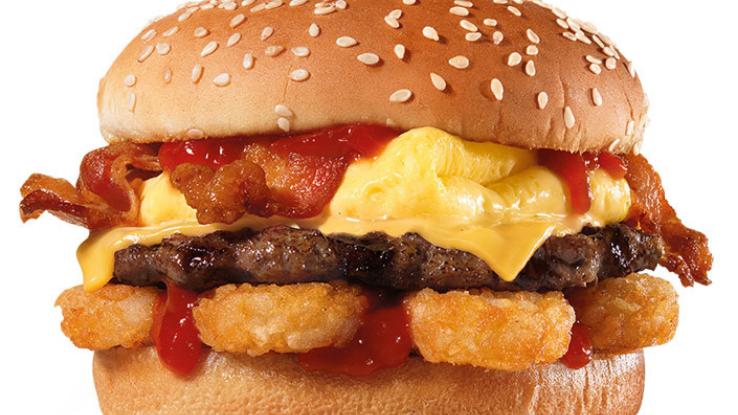 The burger begins with standard breakfast fixings: fried egg, bacon and cheese. Then, the burger is stacked with hash-brown nuggets and a charbroiled all-beef patty. If you love to eat hamburgers in the morning, you'll enjoy this appetizing experience. Your coworkers will undoubtedly want you to share a bite with them.
28. Wendy's: Breakfast Baconator
Wendy's is one of the more traditional fast-food restaurants you'll find on this list. It's not particularly known for its breakfast menu, but the restaurant's Breakfast Baconator should be something everyone tries at least once in their life. Who can say no to bacon?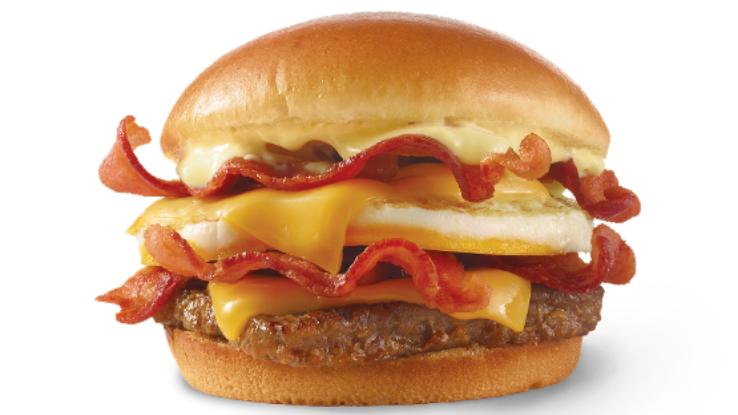 With grilled sausage, American cheese, Applewood smoked bacon, eggs and Swiss cheese sauce, this sandwich isn't your typical breakfast. Pair this with the chain's signature Redhead Roasters coffee and natural-cut, skin-on seasoned potatoes, and you'll have a good start to the day.
27. Subway: Bacon, Egg and Cheese Sandwich
Subway is good to eat any time, but the sub king's breakfast sandwiches are an especially great wake up call in the morning. There are many options available, including a toasted flatbread sandwich with sizzling bacon, egg and melted cheese. You can pile on your favorite vegetables and sauce, too.
While you're at Subway, go ahead and pick up an extra sandwich and cookie (because the cookies are too delicious) for your lunch break. Subway can keep you satisfied all day long.
26. Jack in the Box: Loaded Breakfast Sandwich
Primarily located on the West Coast, Jack in the Box is known for its specialty hamburgers and chicken. Luckily, the fast-food chain also offers breakfast all day long. Its most popular morning meal is the loaded breakfast sandwich. It's something you'll want to order again and again.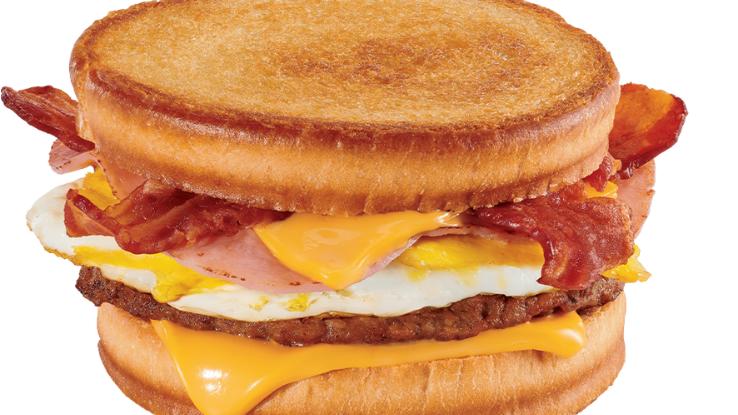 With cracked eggs, hickory smoked bacon, ham, sausage and melted American cheese on toasted sourdough bread, it's not your typical breakfast sandwich. It might not be as popular as other breakfast sandwiches at the chain's competitors, but it's a great meal to kickstart your day.
25. Starbucks: Spicy Chorizo, Cheese and Egg Sandwich
You normally don't associate Starbucks with breakfast food. You might stop by the coffee chain on your way to work to pick up a much-needed cup of coffee, but have you ever tried the chain's breakfast sandwiches? Well, what are you waiting for?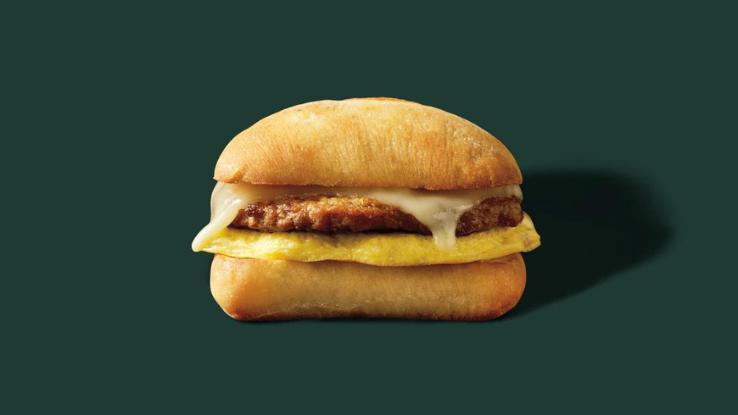 Try the spicy chorizo, cheese, and egg sandwich. Served on an herbed potato roll, the sandwich includes spicy and sweet chorizo, a layer of Monterey Jack cheese, caramelized onions and a fluffy egg. If you don't like a breakfast sandwich, you can still get muffins, biscuits, or bagels.
24. Tim Hortons: Hot Breakfast Sandwich
Located in Canada and primarily the New England region of the United States, Tim Hortons has gained popularity in recent years as the perfect place to grab breakfast. Not only is the coffee the boost you need to get through the day, but the chain's hot breakfast sandwich puts others to shame.
This delectable sandwich includes an omelet-and-cheese combination with sausage, bacon, or turkey sausage served on either a homestyle biscuit, a toasted plain bagel, a buttery croissant or an English muffin. The choice is yours, which is what you want in your breakfast meal.
23. Dunkin': Sausage, Egg and Cheese Croissant
Dunkin' (formerly known as Dunkin' Donuts) is Starbucks' biggest competitor, and it's easy to understand why. The coffee chain serves great coffee and donuts, but its breakfast menu is also top-notch. From wrap sandwiches to hash browns and more, you can't get enough.
As tasty as everything is, the chain's sausage, egg and cheese croissant sandwich is perhaps the most iconic. Doesn't that sound good to you? Pair the breakfast sandwich with your favorite flavored iced coffee, and you're ready to start your day.
22. Carl's Jr.: Big Country Breakfast Burrito
Carl's Jr. might be known for its breakfast sandwiches and burgers, but there's another menu item you need to consider: breakfast burritos. The fast-food restaurant offers many different options, including a loaded cheese burrito, bacon and egg burrito, steak and egg burrito, and chorizo and egg burrito.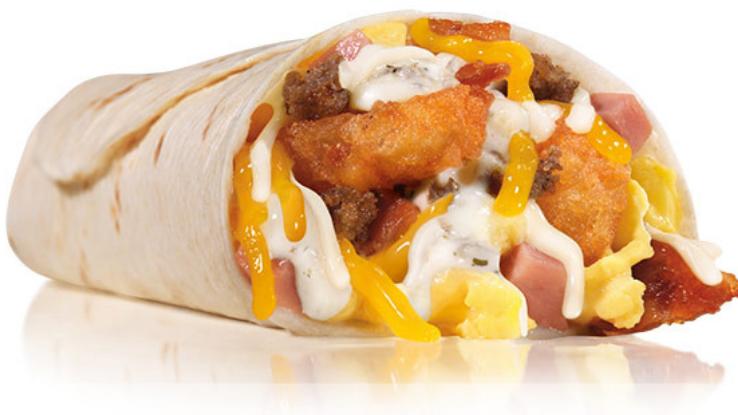 The big country breakfast burrito is a particular standout. It has warm sausage gravy smothered over scrambled eggs, sausage, ham, bacon bits, hash browns and shredded cheese. Of course, it's all wrapped in a warm flour tortilla — it wouldn't be a burrito without it.
21. Dunkin': Donuts
Dunkin' has great coffee, and what goes better with coffee than donuts? The coffee chain has a kaleidoscopic array of donuts available in every shape and size. There are numerous flavors: strawberry-frosted with sprinkles, cherry blossom, apple crumb, chocolate crème, blueberry glazed, vanilla crème and many more.
As you can see, there's a donut for everyone. Grab a single one without much frosting for a (somewhat) responsible treat, or get a giant box of sugary goodness to share with the office or hoard for yourself. Don't judge!
20. Wendy's: Honey Butter Chicken Biscuit
Wendy's doesn't get enough credit for its breakfast menu. Of course, the fast-food restaurant offers the sausage biscuit, the Breakfast Baconator, seasoned potato wedges, breakfast burritos and more. However, you can't forget about the chain's honey butter chicken biscuit.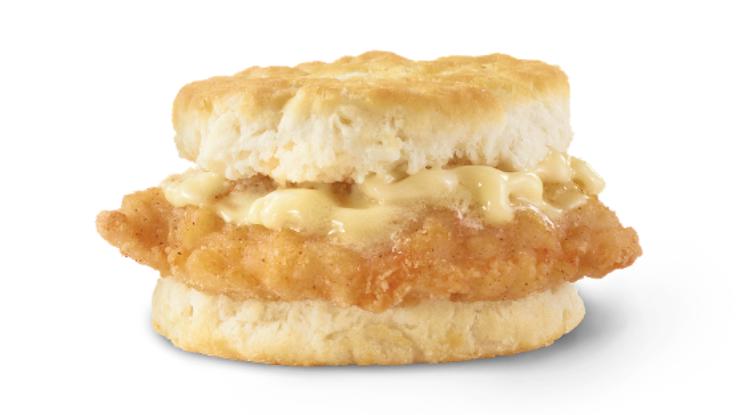 The sandwich features a crispy chicken breast fried to juicy perfection and drenched in sweet honey butter. A buttermilk biscuit tops it off. Other restaurants offer a honey butter chicken biscuit (which is featured later in this list), but you should still give Wendy's a try.
19. Taco Bell: Grilled Breakfast Burrito
No matter what you think of Taco Bell, you can't deny that the fast-food restaurant's breakfast menu is one-of-a-kind. Launched in 2014, the menu combines traditional breakfast food (pancakes, sandwiches, etc.) with its famous Tex-Mex meals. Skip the cereal and try a breakfast quesadilla, soft taco, Cinnabon Delight, Crunchwrap or (of course) a breakfast burrito.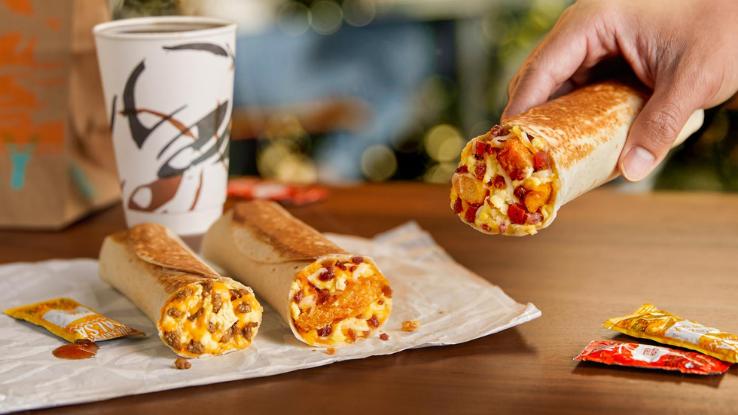 Featuring crunchy bacon, scrambled eggs and a specialty nacho cheese sauce, this burrito is a fireball of flavor for your first meal of the day. You can also add potatoes and steak to take things up a notch, or go even further by pairing the burrito with creamy jalapeno sauce, guacamole, pico de gallo and sour cream.
18. Sonic Drive-In: Breakfast Toaster
You can have plain toast for breakfast at home, but it's probably not as good as Sonic Drive-In's Breakfast Toaster. A Texas toast sandwich packed with eggs, American cheese and your choice of ham, bacon or sausage — the breakfast sandwich elevates any standard breakfast meal.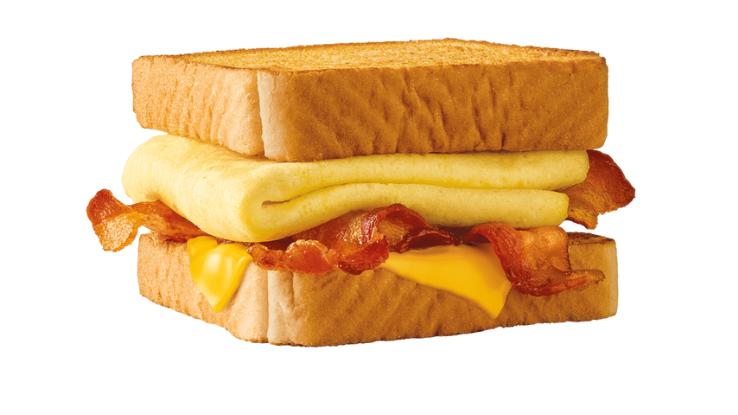 However, there are many other breakfast options (available all day) you can order at Sonic. There's the Cinnasnack Bites, French toast sticks (for those of you with a sweet tooth), a CroisSONIC sandwich and egg and sausage burritos.
17. Chick-Fil-A: Chick-N-Minis
Chick-fil-A's Chick-n-Minis might seem small, but don't let them fool you. Good things come in small packages, including miniature chickens. The chicken sandwich king's Chick-n-Minis are bite-sized chicken nuggets nestled in warm, miniature yeast rolls topped with a sweet honey butter spread.
If you're craving chicken in the morning, look no further. This meal is sure to satisfy your cravings before you head to work, leaving you full until lunchtime. You can fit the miniature chicken sandwiches in the palm of your hand. They're cute to look at, too!
16. Hardee's: Honey Butter Chicken Biscuit
Wendy's honey butter chicken biscuit is good, but Hardee's version is even better. Only available at Hardee's locations (sorry, Carl's Jr. fans), the biscuit is a crispy buttermilk chicken fillet sandwiched between made-from-scratch biscuit halves. Then, the biscuit is topped with a sweet honey butter made with real honey.
The restaurant takes the biscuit sandwich very seriously, offering them with sausage, pork chops or even chicken-fried steak. If you love to start the day off with a sweet and savory treat, stop by Hardee's on your way to work.
15. Burger King: Egg-Normous Burrito
Burger King invites you to wake up on the right side of the bed with its Egg-Normous Burrito. This breakfast burrito has it all: savory sausage, fluffy eggs, thick-cut smoked bacon, shredded cheddar cheese, hash browns and a spicy, creamy sauce all wrapped in a warm flour tortilla.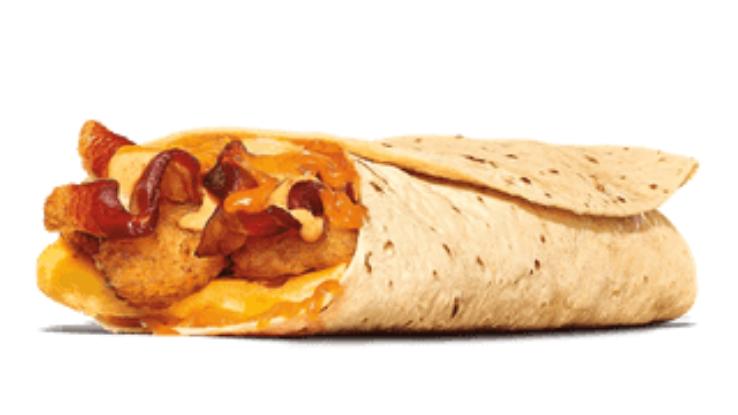 The burrito is also served with a side of picante sauce. Combined with the savory filling, the mildly spicy sauce adds a zing without being overpowering, giving you a tiny surprise as you enjoy your breakfast.
14. McDonald's: Big Breakfast
McDonald's is probably the first fast-food restaurant you thought of when you saw this list. It's known for its full, satisfying breakfast menu. Before you order the McMuffin or McGriddle, keep it simple with the chain's Big Breakfast meal.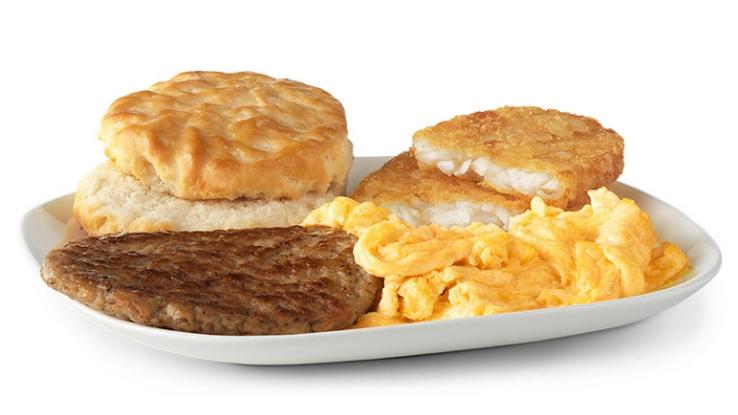 The meal features all of your favorite breakfast foods, including a warm biscuit, tasty scrambled eggs, savory sausage and crispy golden hash browns. You can also order this breakfast with McDonald's signature golden brown hotcakes served with a side of real butter and maple syrup. This breakfast will satisfy your sweet and savory cravings.
13. White Castle: Belgian Waffle Slider
You don't normally associate White Castle with breakfast food, but that should change. The restaurant's breakfast menu is inventive and flavorful. The Belgian waffle slider, for instance, has a freshly cracked egg served with hickory-smoked bacon or sausage. You have your choice of American, jalapeno or smoked cheddar cheese. All of this is sandwiched between two soft Belgian waffles.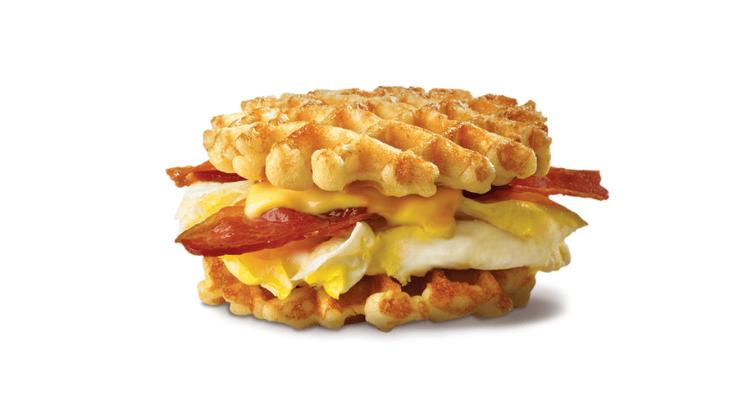 There's also a chicken and waffles slider. With a crispy fried chicken breast, creamy country gravy and bacon crumbles sandwiched between two Belgian waffles, it gives the Belgian waffle slider a run for its money.
12. Carl's Jr: Sourdough Breakfast Sandwich
You can eat breakfast sandwiches at any fast-food restaurant. That's been pretty much established at this point, but Carl's Jr.'s sourdough breakfast sandwich is extra special. It comes with not just the usual eggs, but also ham and melted American and Swiss cheeses on two slices of perfectly toasted sourdough bread.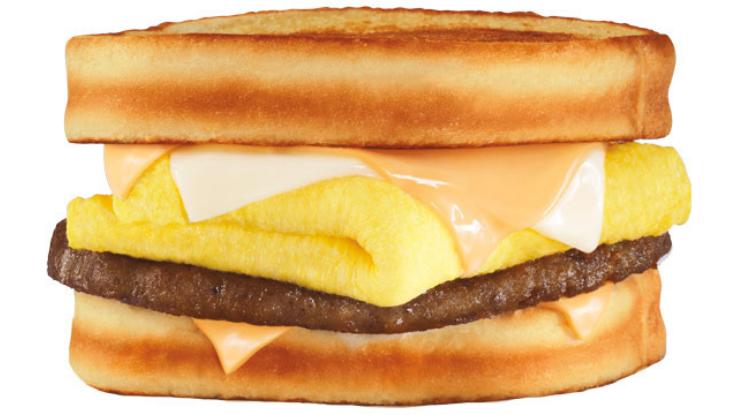 Only available at Carl's Jr. (it's your turn to be disappointed, Hardee's fans), this sandwich is everything you want in a good breakfast. If you're going to eat a sandwich for breakfast, you might as well do things right.
11. Taco Bell: Breakfast Crunchwrap
There are many available breakfast options at Taco Bell, but nothing is better than the fast-food restaurant's signature Breakfast Crunchwrap. It makes for a massive breakfast featuring sausage, bacon, eggs, hash browns, cheddar cheese and creamy jalapeno cheese.
As its name suggests, the breakfast is served as a handheld wrap, but you'll need both of them for this one. It's a messy breakfast, so be careful while you're on your way to the office. Then again, you probably won't regret getting a little greasy while eating this delicious Crunchwrap.
10. Carl's Jr: Mile High Bacon, Egg and Cheese Biscuit
Carl's Jr. doesn't mess around with breakfast, especially when it comes to offering you a hearty, satisfying meal that'll keep you full until lunchtime. The Mile-High bacon, egg and cheese biscuit is a heaping mountain of crispy bacon, folded eggs and American cheese stuffed into a fresh biscuit.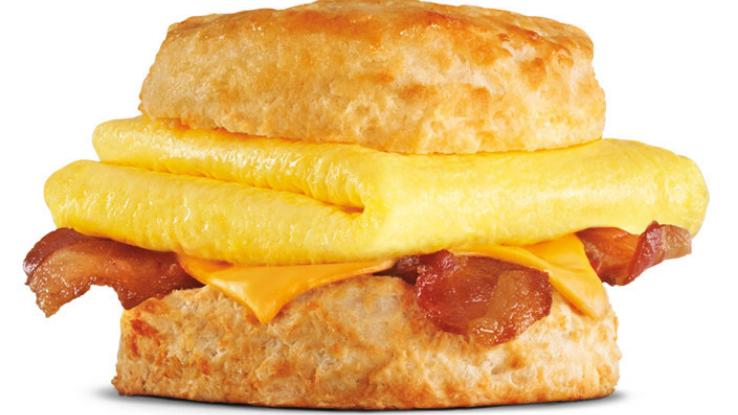 The sandwich packs enough flavor to fulfill your cravings just when you need it most. It's also available at Hardee's locations, so everyone can enjoy this delicious sandwich. Your morning just got a whole lot better.
9. McDonald's: Hash Browns
McDonald's breakfasts are famous for their hash browns. You can eat them by themselves or pair them with a classic breakfast sandwich. These shredded potato patties are specially prepared to be crisp and toasty on the outside but soft on the inside.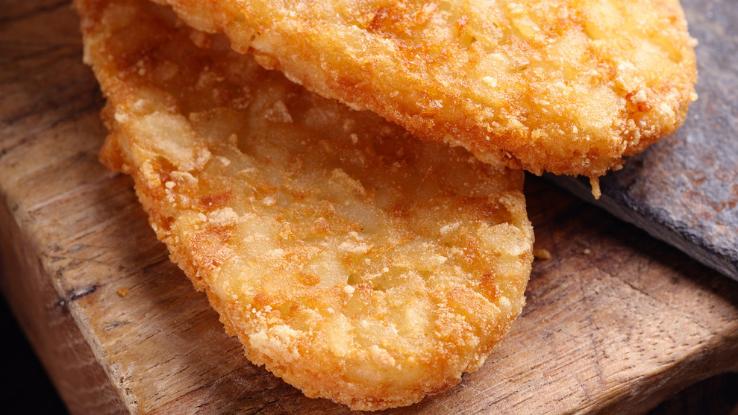 On top of their taste, they're also convenient; you can easily eat these hash browns in the car as you drive to work. Considering that most McDonad's breakfast sandwiches are also easy to eat one handed, a breakfast from McDonald's can be great for when you're on the go.
8. McDonald's: Sausage McMuffin With Egg
While you're eating McDonald's hash browns, go ahead and order the fast-food chain's classic breakfast sandwich, the McMuffin This breakfast item comes with delicious sausage, slices of melted American cheese and an egg on a freshly toasted English muffin. Add a bit of salt or pepper for extra flavor and you're set.
McDonald's has expanded its breakfast menu over the years — more on that later — but even if other breakfast sandwiches can compete with it in flavor, none are as iconic as a McMuffin with sausage and egg.
7. Burger King: Fully Loaded Croissan'wich
Burger King's Fully Loaded Croissan'wich includes the usual fast-food breakfast sausage, smoked bacon, scrambled eggs and melted American cheese. However, what makes it better than most sandwiches is the addition of sweet black forest ham and a crumbly croissant bun.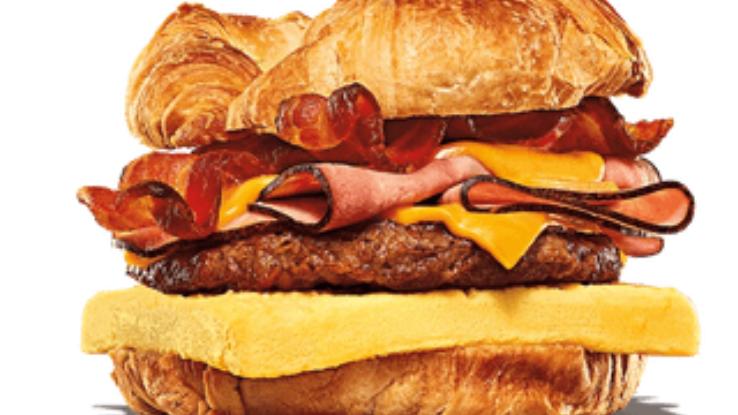 Advertised as being made with 100-percent real butter, the sandwich has a heavenly taste brought about by the combination savory meat, goey cheese and buttered croissant goodness. If you want a hearty meal first thing in the morning, it's hard to go wrong with the Croissan'wich.
6. Chick-Fil-A: Chicken, Egg and Cheese Bagel
If you love bagels, you're in luck. Chick-fil-A's chicken, egg and cheese bagel features the fast-food restaurant's famous boneless chicken breast, folded egg, and melted American cheese on a toasted sunflower multigrain bagel.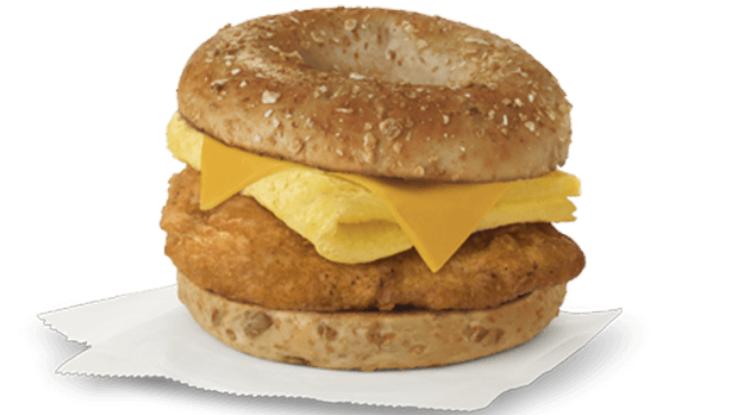 Multigrain bread is very popular right now for its health benefits over white bread. As fast food, it's probably still not the healthiest thing in the world, but the multigrain taste nonetheless adds a savory undertaste to support the sweetness of the chicken and cheese.
5. Burger King: French Toast Sticks
Is there anything better than French toast sticks for breakfast? Burger King is known for its French toast sticks, and it's not hard to understand why. They're too good to pass up! The chain's sweet, golden-brown French toast sticks come with sweet syrup for a one-of-a-kind flavor.
If you're in a hurry in the morning, the French toast sticks are the perfect treat. You can eat them while driving to work or even at your work desk. There's nothing better than eating fried dough in the morning.
4. McDonald's: Egg McMuffin
You have probably been waiting for us to mention McDonald's famous Egg McMuffin, the only sandwich on this list that can compete with its younger sausage counterpart in terms of fame. The sandwich comes with lean Canadian bacon, cracked egg and melted American cheese, all served on a toasted English muffin. The egg pairs perfectly with the melted cheese.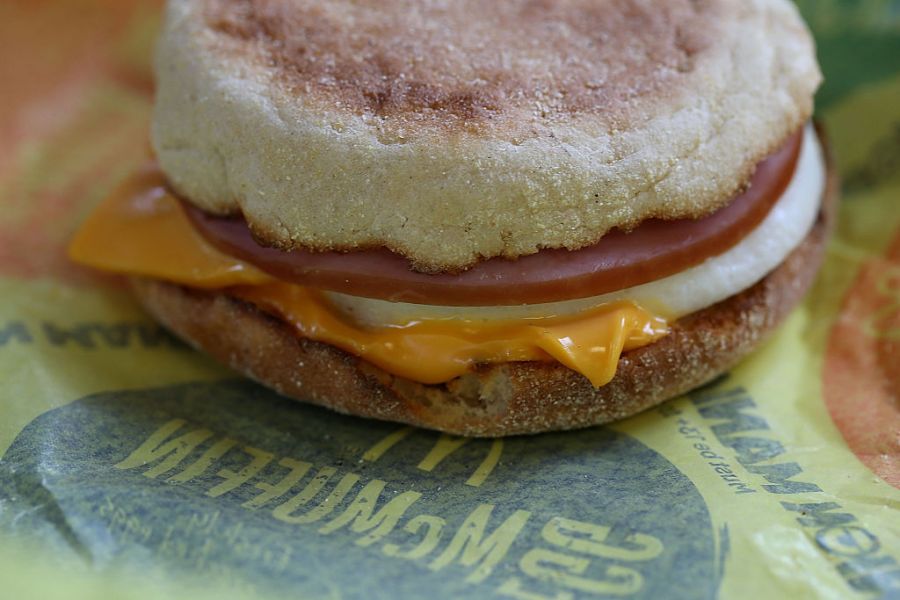 In addition, the English muffin is toasted just right to give you a slight crunch with every bite. If you're searching for a breakfast sandwich that provides plenty of protein but also mouthwatering flavor, look no further. However, it's still not the best thing available on McDonald's classic breakfast menu.
3. McDonald's: Bacon, Egg & Cheese Biscuit
McDonald's makes better breakfast sandwiches than most fast-food chain restaurants, and the bacon, egg, and cheese biscuit is no exception. The sandwich features thick-cut Applewood smoked bacon, folded egg, melted American cheese and a buttermilk biscuit brushed with real butter.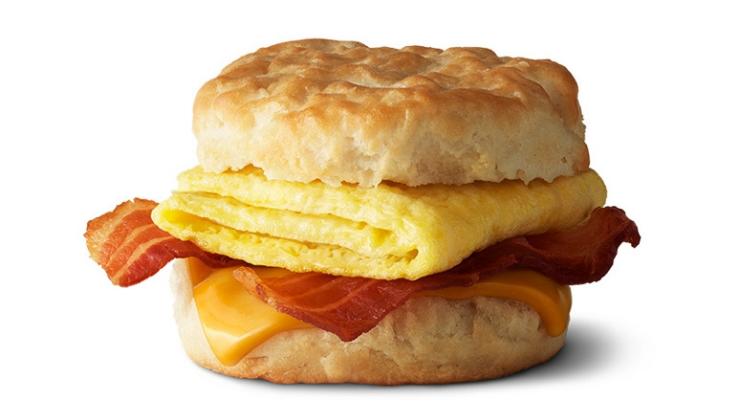 This delicious biscuit sandwich is made-to-order. With that in mind, you know you're being served a fresh sandwich, even if you're ordering it later in the day or in the evening. It may be a newcomer to the McDonald's breakfast menu, and some readers may disagree with this assessment, but it's the second-best McDonald's breakfast sandwich.
2. Whataburger: Honey Butter Chicken Biscuit
Located primarily in the South, Whataburger is a close competitor to McDonald's. Options on its breakfast menu include a breakfast burger, pancake platter, taquito with cheese, biscuit sandwiches, biscuits and gravy and more. But nothing is better than the restaurant's sweet honey butter chicken biscuit.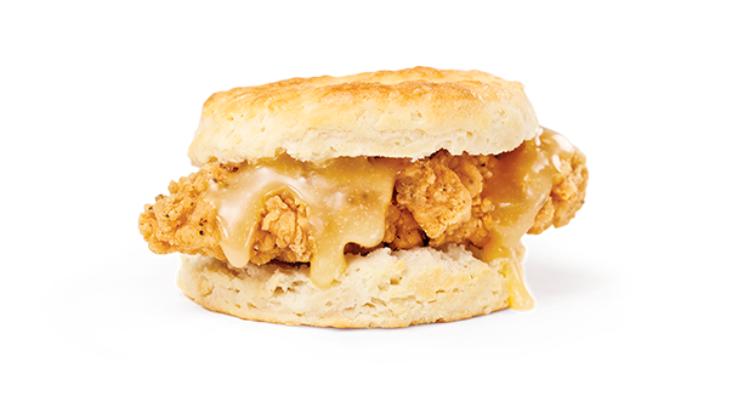 Served on a warm buttermilk biscuit, you'll find a crispy chicken strip drizzled with honey butter. You'll want to visit the South just to try one of these sandwiches served with hash brown sticks and hot coffee.
1. McDonald's: McGriddle
You didn't think we were going to leave out the McDonald's McGriddle, did you? It's the best thing at McDonald's — except the McFlurry, of course. The signature McGriddle buns are actually griddle pancakes with maple syrup flavoring, which help capture the entire sweet-savory breakfast spectrum all at once.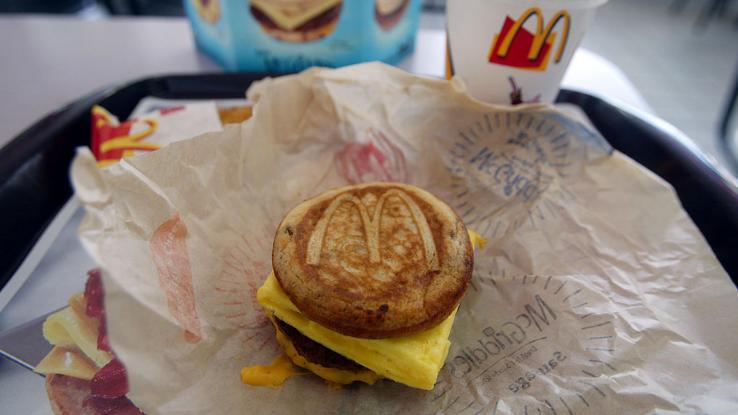 In fact, while the sandwich was originally excluded from the McDonald's all-day breakfast menu, its popularity was so great that it was added anyway in 2016. While opinions about the best breakfast sandwich of all time are no doubt diverse, even cynics must respect the majesty of the McGriddle.