Bob Dylan is often referred to as the voice of a generation. Throughout his career, which has spanned more than half a century, his lyrics have touched the hearts of millions. And his impact on the musical landscape has only become more undeniable. March 19 marks 60 years since the release of his first album, the eponymous Bob Dylan, and he's still enchanting audiences with his "freewheelin'" performances and the independent perspective that's defined his body of work. 
This icon has lived many lives in his decades-long career, and Dylan truly does "contain multitudes," as expressed on his 2020 studio album Rough and Rowdy Ways. Throughout his many reincarnations, he's also remained a symbol of spirited provocation. From bringing awareness to injustice around the world to encouraging people to look beyond themselves in the turbulent 1960s and today, Dylan continues to deliver authenticity and invite curiosity on tour and at rest. In celebration of these and other notable contributions he's made to the worlds of music, civil rights, politics and even morality itself, we're taking a look at The Bard's enduring legacy.
Dylan's Humble Beginnings Led Him to the Big Apple
Born Robert Allen Zimmerman in 1941, Dylan's love affair with music began during his childhood in Minnesota. Early on, legendary artists like Little Richard, Hank Williams and Woody Guthrie captured young Dylan's attention and led him to explore music more seriously. Throughout high school, he played with various bands, performing covers of Elvis and Little Richard songs while honing his skills on the guitar and piano.
In 1959, while studying at the University of Minnesota, he started to introduce himself as Bob Dylan, a name he chose after discovering works by the Welsh poet Dylan Thomas. By 1960 he'd become fully invested in learning more about Beat poetry and folk music, so he left school to pursue a new life in New York City — and hopefully connect with his ailing idol, Woody Guthrie, who was hospitalized nearby in New Jersey. 
Like many young artists, Bob Dylan was inspired by the rich culture of New York and began to connect with other musicians while developing his own style. After settling in the city, he started performing at folk clubs in the Greenwich Village neighborhood and was eventually spotted by a talent scout who signed him to Columbia Records.
In 1962 he released his debut self-titled album, which drew largely from the many influences he'd encountered up to that point. Unfortunately, it wasn't a commercial success — but it was an important stepping stone. His second record, 1963'sThe Freewheelin' Bob Dylan, was where his voice truly emerged, and it would be this album that started to solidify his presence as a protest singer fighting for change. Long before the days of social media awareness campaigns, Dylan had begun to cast a glaring light on individual instances of injustice and racist violence while providing a soundtrack for a populace committed to changing the status quo. 
Dylan Became a Dynamic Force for Justice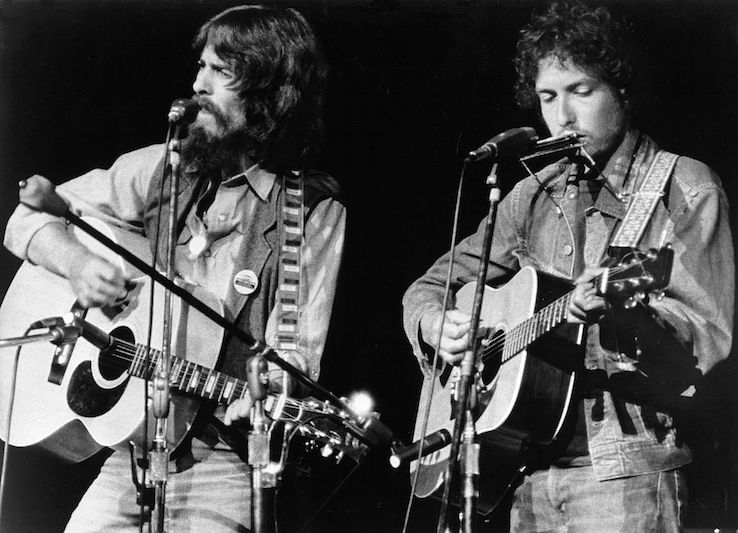 Bob Dylan boldly stood against oppression as an individual and an artist, and this reputation defined much of his career. Through anti-war anthems like "Masters of War" and provocative inquiries like "Blowin' in the Wind," Dylan cemented himself as a thoughtful songwriter who refused to shy away from controversy. He performed at the 1963 March on Washington, and though he has never been interested in audience reverence for his positions on moral topics, his involvement in anti-war protests and the Civil Rights Movement helped to move the needle toward progress. "You couldn't help but feel the wheel of history turning," Peter Koper, who saw Dylan perform live at the March on Washington, told The New York Times.
Always an innovator, Bob Dylan also changed the landscape of folk music in addition to challenging the establishment. His early rock influences and tendency toward innovation led him to create music that expanded the folk genre. In just one example, his experimentation with the electric guitar in 1965 was met with a mixed reception by the Newport Folk Festival crowd. But that didn't stop him from pushing boundaries and creating music that authentically represents who he may be at any given moment, "whoever that is."
The Artist Remains a Living Legend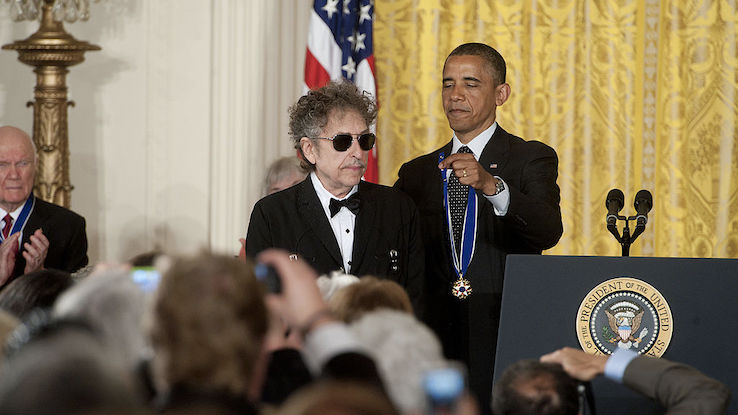 Though he famously rejected the title of poet — "I think of myself more as a song and dance man, y'know," he once told reporters at a press conference — and initially even rejected his Nobel Prize for Literature, his artistry seemingly knows no bounds. In addition to winning countless Grammy awards, this ever-evolving creative force is also an accomplished visual artist. Some of his pieces, which range from paintings to sculptures, can be found on his personal website; The Guardian's Jonathan Jones has described them as "evocative celebrations of life itself." The largest collection of his drawings, paintings and sculptures to date, totaling over 100 original works, can be found at the Patricia & Phillip Frost Museum in Miami, Florida. 
Since his first record debuted six decades ago, Bob Dylan has released nearly 40 albums and shows no signs of hanging up his guitar. And he's not just a musical legend. Though he is a well-decorated musician with such accolades as a Presidential Medal of Freedom, a Nobel Prize and countless other high honors, he's not defined by awards or his reputation. He continues to unfold and discover himself, even as the 60th anniversary of his time in the spotlight passes.
Bob Dylan truly embodies the idea of "loving the art in yourself, not yourself in the art" championed by the famed theater artist Konstantin Stanislavski. His willingness to explore new artistic ideas and embrace curiosity — and even chaos — highlights the power of the impulse to create, while his personal convictions celebrate the brilliance and beauty of everyday people. As he continues his Never Ending Tour — which began in June of 1988 — we'll keep waiting to see what "complete unknowns" Dylan surprises us with next.