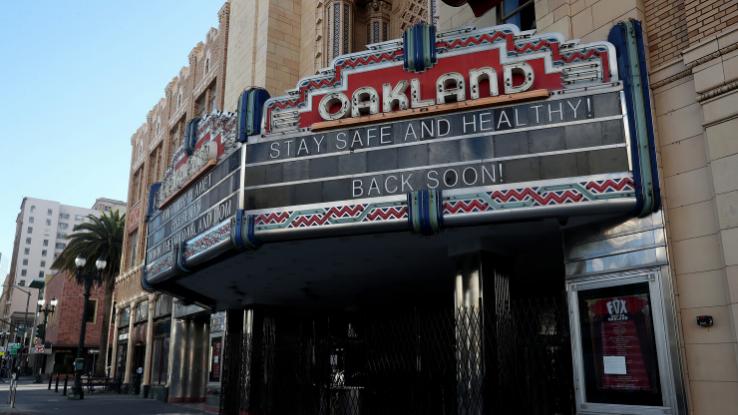 As the COVID-19 pandemic continues, the number of record-high days for case counts in the United States has also increased. In the wake of the initial record-breaking days that took place in late June, the San Francisco-based music festival Outside Lands announced that folks could buy three-day passes to its 2021 lineup, which will potentially be headlined by some of music's biggest names — Lizzo, Tame Impala, The Strokes, Kehlani and Vampire Weekend. However, as the pandemic continues to necessitate event rescheduling, it's near-impossible to assess if even that game plan is too optimistic.
While some states started their slow phased reopenings, others postponed their phased reopenings in favor of taking things even slower. Of course, some states are barreling ahead — Florida is even reopening theme parks — only to see cases spike, especially when masks are a mere suggestion instead of a mandate. Needless to say, our ability to enjoy live music — particularly because the negative impacts of COVID-19 on the entertainment industry are likely to last at least until winter, if not longer — is up in the air. And it may remain there for the foreseeable future.
From South by Southwest to Coachella: How the COVID-19 Pandemic Is Changing Outdoor Music Festivals
In early March, the annual Texas-based South by Southwest (SXSW) — a festival full of movie premieres, live music and more — was one of the first big events of 2020 to cancel, leading the city of Austin to lose out on the hundreds of millions of dollars in revenue the yearly festival generates. As shelter-in-place directives continued and cases of COVID-19 in the United States climbed higher, other once-far off live events followed suit. Coachella — Indio, California's, yearly music and arts festival in the desert — was pushed from April to October 2020 before being postponed to April 2021.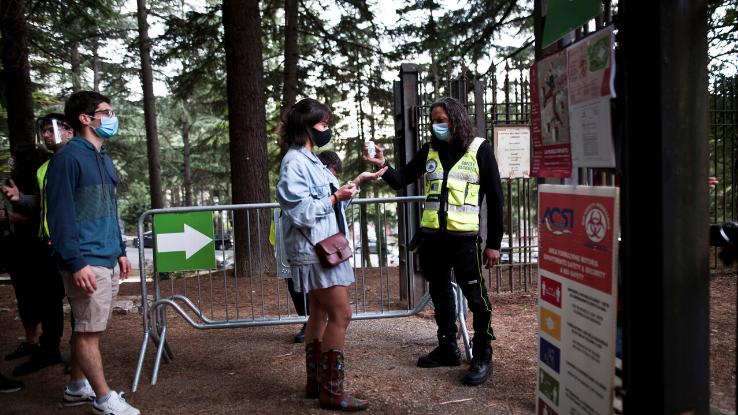 While blanket canceling music festivals in the U.S. for all of 2020 is far and away the best move for public health and safety, it does have far-reaching ramifications. This year, a three-day pass to Coachella came in at a steep $430 — that's the standard, general admission ticket, before fees. According to Visit Palm Springs, per-day attendance during the six days of Coachella is roughly 99,000 people. While some of those festival-goers "rough it" in the desert, plenty of others spring for hotels and patronize other businesses in the area.
In Aisha Harris' opinion piece for The New York Times, "The Fragile Festival Economy," the writer interviewed Lela Meadow-Conner, the executive director of the nonprofit Film Festival Alliance, about the state of festivals, especially in a year marred by COVID-19. According to Meadow-Conner, most festivals, regardless of size or notoriety, have already spent money on venues, merchandise and contracts. She goes on to liken festivals to start-ups, saying "You raise the money that you need to put on your festival, and then you put on your festival and you have to start all over again."
That said, one bad year can send festival organizers scrambling to recoup their losses. In places like Indio, and the nearby Palm Springs, canceled festivals mean the loss of an entire tourism boom the area depends on annually. In L'Aquila, Italy, World Music Day festivities, which occurred on June 21, give a glimpse into post-COVID-19 live events: security checkpoints with mandatory temperature checks, socially distanced "crowds" and, of course, masks. So, when can we expect festivals to feel safe again? It's hard to say. Likely, they won't be feasible stateside until a vaccine becomes readily available to the public, something that's still months off at least.
From Empty Stadiums to Shuttering Indie Venues, Performance Spaces Have Taken a Huge Hit During the Pandemic
The photograph below shows a Charlotte, North Carolina, standby, the Neighborhood Theatre. The marquee outside of this indie venue reads, "F U COVID-19," followed by "STAY SAFE CLT [Charlotte] WASH THEM HANDS" and the promise that they'll be "BACK AT IT SOON Y'ALL MUCH LOVE." That image was captured on May 16, 2020, and, as of now, most venues across the country are still shuttered — some permanently.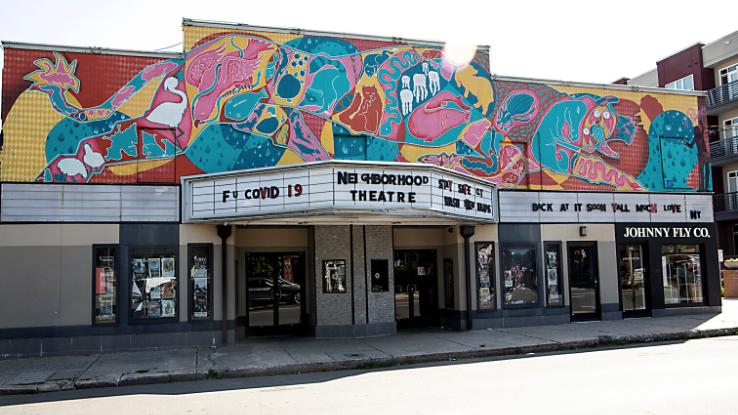 According to a survey conducted by the National Independent Venue Association (NIVA), an organization that was formed in response to the pandemic, 90% of its members say they will be forced to shut down permanently if COVID-19 closures extend beyond the six-month mark. For some indies, the deadline is even sooner. For context, NIVA is made up of 2,000 members across all 50 states.
As reported by Alex Young at Consequence of Sound, NIVA called upon "Congress to adjust the existing Paycheck Protection Program so that it caters to the needs of independent venues. Specifically, the NIVA is seeking the equivalent of six months' worth of payroll, benefits, and fixed operating costs such as rent/mortgage, utilities, taxes, and insurance that still need to be covered, even when venues are not permitted to be open." While there's bipartisan support for NIVA's demands in Congress, it's unclear whether or not adjustments will be made, so it may be up to local governments — and venue-organized GoFundMe pages — to keep theaters afloat during the shutdown.
In San Francisco, Mayor London Breed announced in late March that a $2.5 million Arts Relief Fund had been established, but, in the end, the fund primarily served nonprofits and artist cooperatives. For smaller venues in SF, banding together and forming the Independent Venue Alliance seemed like the right path forward. "For the bars and venues of the city that don't have big money from a multinational corporation, it's a struggle," Parker T. Gibbs, a talent buyer at the Makeout Room and executive producer at Bayview's Light Rail Studios, told The San Francisco Chronicle in March. "Being independent is part of what the city is. It's in our DNA."
And the indie nightlife scene is also a vital part of San Francisco's DNA — a vital part worth $6 billion a year. Still, months later, there's no solid timeline for reopening. For their part, the Independent Venue Alliance, which is composed of SF-based venues with 50- to 800-capacity rooms, have established the four-hour streaming event "Because the Night," which has featured artists such as Isabella Rossellini, Chris Robinson, Yo La Tengo and others. Through events like this one, the Alliance hopes to raise $2 million to cover rent and staff paychecks through at least October.
So, What Does the Future Look Like for Venues and Musicians?
As far as festivals go, it seems that larger ones, like Coachella, will be fine — even if this year's revenue loss impacts local businesses. For larger venues, this could be a make-it-or-break-it scenario, as is the case with any startup. For indies, there's been a swell of support from would-be concert-goers thanks to the success of GoFundMe initiatives and the like.
Still, audiences who are struggling to support themselves during the pandemic can't keep every indie venue afloat, too. As KQED points out, this may mean more corporate takeovers of indie music bastions. Take, for example, the fact that Live Nation now operates two of San Francisco's most historic venues, The Fillmore and The Masonic, while Goldenvoice, the group behind Coachella, owns the Great American and other Bay Area venues. On one hand, it's a near-guarantee that these historic spaces will weather the pandemic closures, but, on the other, these once-counterculture strongholds are deteriorating in a very different way.
In addition to impacting event spaces, COVID-19 shutdowns have undoubtedly altered how performers are making ends meet. While many musicians have taken to the virtual stage, hosting DJ sets and performances over Facebook and Instagram Live or on Zoom, the inability to travel and gather in public spaces will ultimately upend so many careers. On March 12, musician Mal Blum posted in the wake of the SXSW cancellation, saying "we kept all our other (smaller) tour dates and assessed. Conversations have been about health risk and also financial risk. If venues and other festivals cancel our events, will we be paid? Largely, no." In the end, Blum decided that touring "felt irresponsible."
In addition to selling "tickets" to virtual events, many musicians are boosting their Bandcamps and Patreons or trying to drum up sales on new and old merch. Unfortunately, the reality remains that most musicians don't make money from song and album sales or streams; instead, they rely on tour income and money generated from merch sales. And it's not just your favorite frontperson who's struggling — it's their band, their backup vocalists, their dancers, their agents. For now, the only certainty is uncertainty: The pandemic has disrupted the live-music ecosystem — there's no "going back to normal," even after cases subside.