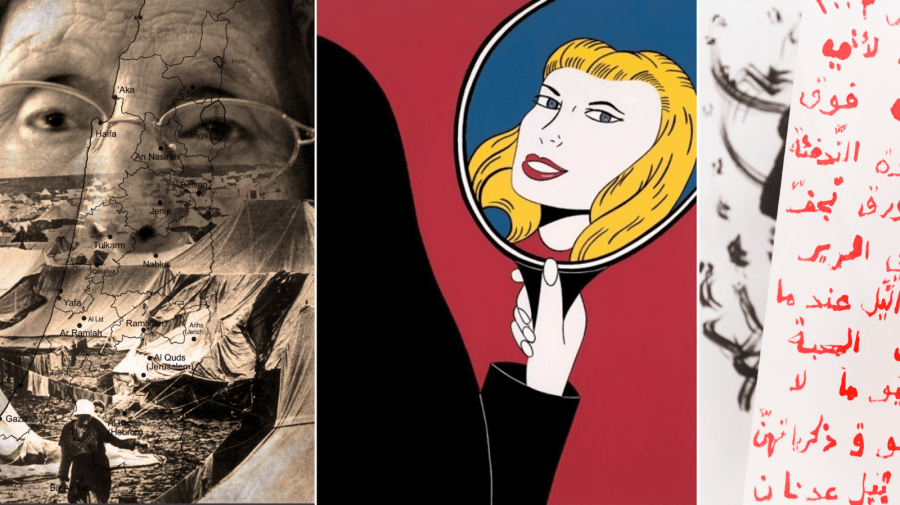 Whether they're based in Sudan or Michigan, Arab American artists have shaped the world of fine art in meaningful ways, bringing perspectives and lived experiences to their work that other artists simply can't. Not only does this underscore their importance in the art world, but it reaffirms the need for an array of different makers to add their points of view to the larger canon of art history.
In celebration of National Arab American Heritage Month (NAAHM), we're spotlighting 10 of the most influential contemporary Arab American artists. Although their mediums vary greatly, these creators — artists, filmmakers, writers and activists — continue to use their artistry to bring awareness to our ingrained cultural perceptions of religion, gender, race and more.
Abdelali Dahrouch
Abdelali Dahrouch was born in Tangier, Morocco, but grew up in Morocco and France before emigrating to the United States in 1984. He graduated from the Pratt Institute in New York City with a Masters of Fine Arts (MFA). Later, Dahrouch was a fellow in residence at a handful of places, including the Medamedia Center for the Arts in Plasy, Czech Republic, and the Whitney Museum of American Art Independent Study Program in New York.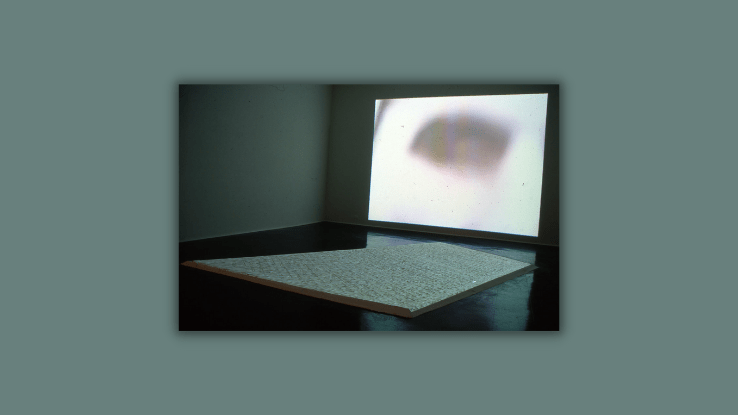 As an artist, he covers a variety of mediums and could be described as a writer, activist, and video installation artist. By using his artwork to interface between ecology, Buddhism, and Postcoloniality — and how it has affected transnational migration concerning North Africa and the Middle East — Dahrouch is, undoubtedly, an artist to know.
Athir Shayota
In one interview, Athir Shayota expressed that the state of contemporary international art exists in at least two forms. He says that one is a market-driven product that reflects on benign notions and doesn't challenge the observer — and the other is a politically conscious, relevant and interventionist one. Shayota is skeptical of the market-side of things — after all, art (and artists) shouldn't be a trend.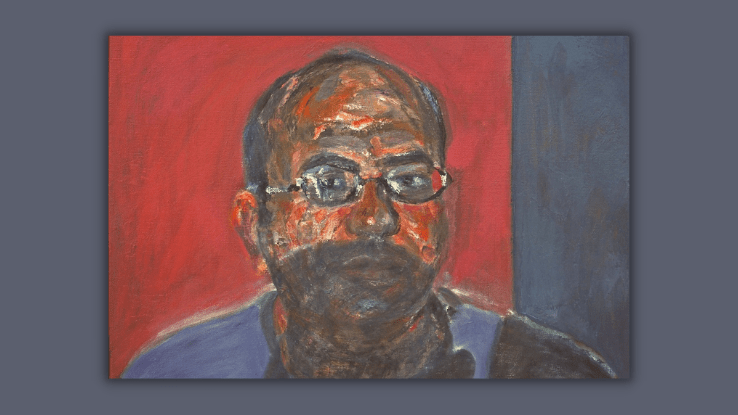 Currently a painter based in New York, Shayota attended the College of Creative Studies in Detroit before going onto Washington University in St. Louis, Missouri, where he received an MFA. While his education as an artist was Western-centric, Shayota made a concerted effort to learn about art from other non-white, non-Eurocentric cultures, which has undoubtedly informed his work.
Etel Adnan
Etel Adnan was a queer Lebanese American visual artist, poet, and essayist born in Beirut, Lebanon in 1925. She grew up speaking Turkish, Greek and Arabic in Lebanon, and studied English during her youth. In 2003, the Multi-Ethnic Literature of the United States (MELUS) named Adnan the most-celebrated and accomplished Arab American author writing at the time.
But Adnan is also an accomplished visual artist, who's known for applying oil paint to canvas with a palette knife. During her lifetime, she received a Lifetime Achievement Award from the Radius of Arab American Writers (RAWI). Although she passed away in 2021 at the age of 96, Adnan was survived by her longtime partner, fellow Lebanese American artist Simone Fattal.
Helen Zughaib
Born in Beirut, Lebanon, Helen Zughaib has lived in the Middle East and Europe, but eventually came to the U.S. to study art at Syracuse University, where she earned a BFA. A painter and multimedia artist, Zughaib works primarily in gouache, ink on board, and canvas — though her mixed-media installations also involve wood, cloth and even ready-made objects, like shoes.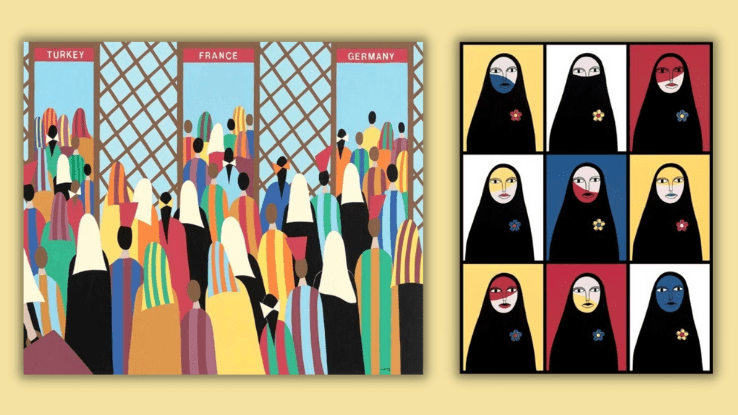 Zughaib's work has been exhibited in galleries in Lebanon as well as throughout Europe and the U.S. Many of her works are also featured in both private and public collections, including those of the White House, the Library of Congress, and the American Embassy in Baghdad, Iraq.
Huda Fahmy
Growing up in Dearborn, Michigan with a Syrian mother and an Egyptian father, Huda Fahmy spoke Arabic at home and went to a private Islamic school. When she started public school, she didn't know any English, but learned to do so by reading comics like Garfield and Calvin and Hobbes. These works also taught her how to tell a story — and certainly inspired something in her.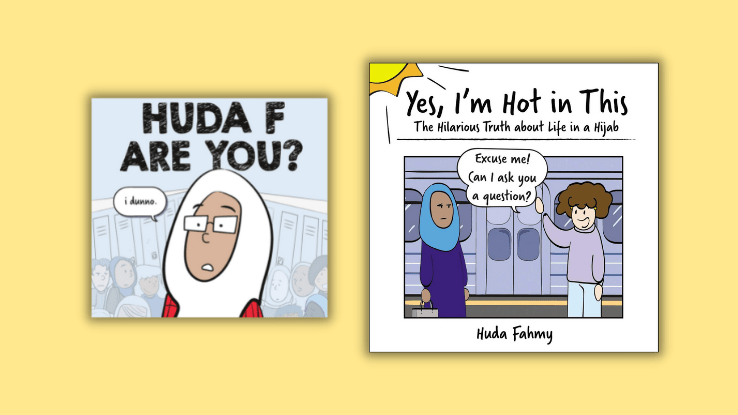 A former middle and high school teacher, Fahmy never took formal art lessons before becoming a published artist and writer. While on leave from work with her infant son, she felt motivated to create comics in response to the United States' bigoted "Muslim Ban" in 2017. Since then, Fahmy has used humor in her comics to address stereotypes and other difficult situations that Muslim people face while living in the U.S.
John Halaka
An artist and film producer, John Halaka's work raises questions about personal, political, and cultural concerns, particularly about cycles of repression and displacement. His recent documentary investigates the construction of identity from familial, political, and personal perspectives.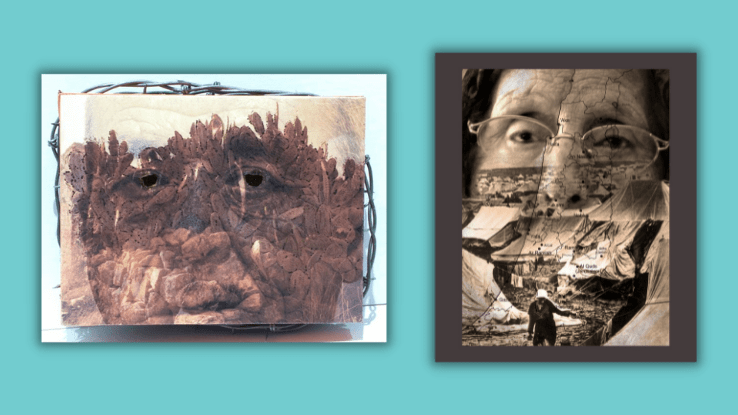 But Halaka is also known for memorializing the diaspora of the Palestinian people, which brought to his mind the Trail of Tears — the U.S. government-organized genocide against several Indigenous tribes who lived on land east of the Mississippi River. One of his series, Landscapes of Desire, was inspired by the ruins of homes and villages in Palestine, which have been actively destroyed since 1948.
Mariam Ghani
Born in New York, Mariam Ghani is an Afghan American teacher, filmmaker, photographer and activist. But that's not all that's on her resume; Ghani also works as an archivist, writer and lecturer.
While growing up, Ghani couldn't travel to Afghanistan. Finally, she was able to visit in 2002. Since 2004, she's worked on a multimedia project called Index of the Disappeared, a record of the detention of immigrants by the United States after 9/11 and an exploration of the public's treatment of immigrants.
Mohammed Omar Khalil
Born in Burni, Sudan, Mohammed Omar Khalil is a printmaker and painter. He was educated in Khartoum and later studied fresco painting and printmaking at the Academy of Fine Arts in Florence, Italy, before becoming a resident artist at Darat Al Funun in Amman, Jordan in 1993.
In the 1970s, Khalil came to New York's art scene. Since then, he's been considered one of the most significant artists of his generation. Although a flood in Khartoum destroyed much of his early work, a few pieces from his pre-1988 period survived.
Rheim Alkadhi
Rheim Alkadhi was born in New York to an American mother and Iraqi father, going back and forth between Baghdad and New England as a child until the Iran-Iraq War. At that point, her family moved to the U.S. full time. Nonetheless, Alkadhi has continued to travel for her work, which uses images, text and objects.
One example of her work, Night Taxi, includes a video accompanied by a route, meter, and a fare that counts down the milliseconds leading up to crossing a geographical border. Other well-known works include Picture City Body, which depicts the visual poetry of everyday life, and the above installations from the Majnoon Field exhibition, which refers to an oil field in Iraq.
Yasmine Nasser Diaz
Born to Yemeni parents in Chicago, Yasmine Diaz creates mixed-media collages, fiber etchings and immersive installations. Although it varies greatly in terms of aesthetics, her work carries a thematic thread, often focusing on the ideas of soft power, growing up as a Yemeni American and third-culture identity.
In 2021, she exhibited a bedroom installation called For Your Eyes Only (above), which explored the systemic oppression of women and third culture identity in the Global South. "Freedom and rights movements do not exist in a vacuum and are often informed by one another," said curator Lila Nazemian when writing about Diaz's work and how it relates to diasporic communities. "Diaz's installation [For Your Eyes Only] presents a layered constellation of interrelated realities across borders, identities and eras that have the potential to align along intersectional and transnational movements of solidarity."