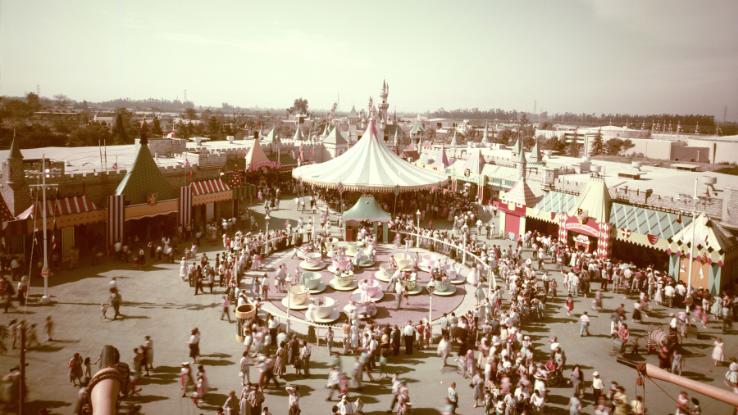 As the COVID-19 pandemic swells in Florida, what we're told is pixie dust is still spreading smiles (and maybe something else) to eager guests visiting Orlando's Walt Disney World Resort, which recently reopened after a four-month closure. Is the situation in the Sunshine State really that bad? Well, as of Tuesday, July 15, roughly 19,334 people are hospitalized across the state — beds are full and resources are strained — and, on that same day, a record 132 COVID-19 patients died, making it the single deadliest day in Florida so far.
Meanwhile, cases of COVID-19 are spiking again in Southern California as well, delaying the reopening of Anaheim's Disneyland. Coincidentally, Walt Disney's first-ever theme park turns 65 on July 17, 2020 and, normally, guests streaming into the park to celebrate the anniversary would be greeted by a plaque that reads: "Here you leave today/ and enter the world of/ yesterday, tomorrow, and fantasy." In the wake of the pandemic, the inherent escapism in the words takes on a more foreboding tone, especially as guests queue up for hours and hours for the chance to purchase anniversary-themed items from the World Of Disney Store, a shop located just outside of the park's locked gates.
As Walt Disney World Resort teeters on the precipice of near-disaster, and as fans risk it all for Disney-themed face masks nearby California's landmark park, we can't look back at Disneyland's opening day without discussing the parks' current climates too. Have your FastPasses (and E Tickets) ready as we take a look at some of the parks' not-so-magical moments. 
Building the "Happiest Place on Earth": Walt Disney's Ambitious Theme Park Project
Like every good legend, there's the version of the story that plays better to a crowd and one that's a bit slower, but potentially more truthful. According to Disney historians, Walt Disney had long dreamt of owning an amusement park — as a kid, he was amazed by the electric lights at the local trolley park — but he was also determined to make a place for the whole family to enjoy. The Disneyfied version of things? Walt was sitting on a bench in Los Angeles' Griffith Park, snacking on some peanuts while his young daughters rode the carousel, and, there, he dreamt up the idea for his theme park.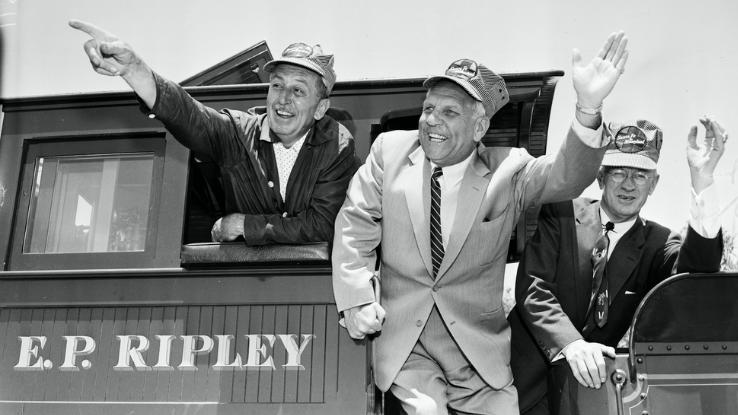 When those long-tended seeds finally blossomed in Griffith Park, Walt toyed with a few different ideas. Like all rich folks, he had a peculiar hobby — a love of trains. As such, he built a miniature railroad around his Holmby Hills home, dubbing the engine Lilly Belle after his (beyond) gracious wife. Everyone from Disney animator Ward Kimball to surrealist genius Salvador Dali stopped by for a train ride, but, try as he might, Walt couldn't have everyone over to his home — nor could his personal railroad adequately capture the movie magic he hoped to share with the general public.
In the end, he decided to go full steam ahead with the amusement park idea. At first, it was called Mickey Mouse Park, and it was meant to be built on land adjacent to the Walt Disney Studios in Burbank. But, unsurprisingly, Walt's big idea outgrew the small space, causing him to turn his attention to farmland in Anaheim, a little-known town in California's Orange County. In addition to buying up orange groves, Walt formed WED Enterprises (later, Walt Disney Imagineering) in the early 1950s. This separate company would deal with all things theme park-related and keep the Studios' finances safe from any potential folly.
Additionally, Walt gained an investment partner in the newfangled television network ABC, which, for a stake in the park and an anticipation-building, Disneyland-themed TV show, gave Walt $500,000 to make his dream a reality. Of course, that was just a small fragment of the total $17 million the park's initial construction cost. What could possibly go wrong? Enter: "Black Sunday."
Everyone Thought "Snow White" Would Be Disney's Folly, But Opening Day at Disneyland Takes the Apple
After years of hard work, things weren't exactly ready for opening when the time came. In fact, July 17, 1955, was meant to be an invitation-only press opening, but Disney had done such a good job getting folks excited about Disneyland — thanks to that TV series on ABC — that everyone wanted a glimpse. Unfortunately for the employees stationed at the entrance, invites were easily forged and, to make matters more complicated, a quick-thinking farmer had even set up a ladder on their farmland, which abutted the park, so that folks who were caught in the seven-mile backup on the Santa Ana Freeway could pay them a small fee to hop the fence.
All those bootleg tickets and overly eager park-goers resulted in a much larger crowd than what had been anticipated: In total, capacity surged to 30,000 guests in a park that just didn't have the acreage to accommodate so many people at once. This meant that what few rides did exist (and function) on opening day were well over capacity — and breaking down.
During the park's construction, there had been a plumbing strike, meaning Walt and co. had to choose between installing bathrooms and water fountains. Figuring guests could simply buy beverages from food stalls, they opted for bathrooms, but, as fate would have it, it was a scalding hot day in Southern California, and, with double the anticipated guests, the park quickly ran out of not just bottled drinks, but food and napkins as well. How could things get worse? Well, all that heat was causing the newly laid asphalt on Main Street, U.S.A., near the park's entrance, to soften — guests' high heels sank into it, making for a rather sticky situation. (And not exactly the kind of Cinderella moment they'd been hoping for.) Additionally, a bunch of trees had withered and, instead of finding time to replant them, Walt suggested employees paint them green to give them the illusion of perfection.
Best of all, this disasteriffic opening was all being broadcast on live TV. The event was star-studded after all, with the likes of Frank Sinatra, Sammy Davis Jr. and other celebrities joining program host (and then-actor) Ronald Reagan. Despite all of the chaos happening at the park, the broadcast garnered the attention of a staggering 70 million excited viewers. "Probably for the first time in his career, Disney disappointed thousands of youngsters," the Associated Press reported that day. All of this is to say, the "Happiest Place on Earth" didn't quite live up to its now-ubiquitous nickname.
"Neither One Prepared": Walt Disney World Reopens Parks Despite the Growing Number of COVID-19 Cases in Florida
These days, it's become clear that Disneyland's opening, what employees dubbed "Black Sunday," won't be the Disney theme parks' only folly. Despite novel coronavirus cases reaching more-than-alarming levels in Florida, the Magic Kingdom and Disney's Animal Kingdom parks both reopened on July 11, welcoming an untold number of guests. (Disney doesn't actually release attendance numbers for its parks.) On July 15, Disney's Epcot park and Hollywood Studios joined the fray and, faster than you can say "When you wish upon a star," guests flocked to these parks too.
As if reopening theme parks during an ongoing pandemic couldn't get more dystopian, the official "Disney Parks Jobs" Twitter account posted a video to commemorate the momentous occasion. In it, footage of the Resort's iconic rides was intercut with shots of cast members (lingo for Disney employees) in surgical masks saying, "Welcome home." Yikes. Needless to say, the video went viral and was given (even more) haunting treatments: One version has the video set to music from Jordan Peele's Us, while another replaces Disney's upbeat orchestral swell with the "Threnody for the Victims of Hiroshima."
While Forbes optimistically reported that parking passes weren't sold out over the weekend, meaning attendance was not at its maximum, viral first-hand accounts told different stories. On July 10, artist, writer and teacher Jonathan H. Gray (@jongraywb) retweeted a Gizmodo article about Walt Disney World's troubling reopening with the caption, "Disney World reopening given the state of the virus in Florida is the absolute height of privileged capitalist madness & gross negligence. They wont even provide COVID testing for their own employees. You go there to party & get sick, that's 100% on you."
Missing the Parks During the Pandemic? Try to "Let It Go"
But concerned fans and tweeters aren't the only ones who think Disney's made a poor choice. Elaine Low (@elainelow), a senior reporter for Variety, found that the epidemiologist she spoke to echoes this sentiment, calling a theme park reopening both "irresponsible" and a "terrible idea." On the other hand, a cast member Low interviewed claimed to feel confident about the safety measures — requiring masks, implementing more stringent sanitation standards and harnessing the power of socially distant queues and limited entry. That's all well and good, but it's certainly difficult to trust.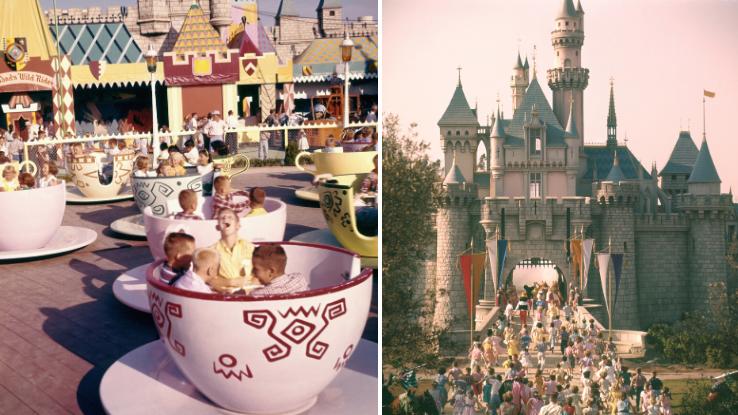 As one would expect, a lot of quotes have been misattributed to Walt Disney over the years. However, according to The Walt Disney Family Museum*, Walt once said, "A man should never neglect his family for business." For a company that prides itself on being "family friendly," this mantra doesn't seem to extend from paper to practice. After all, this "concern" about pandemic safety measures is coming from a company with a net worth of roughly $130 billion — from a company that routinely refuses to pay customer-facing employees a livable wage. In 2018, the Chicago Tribune reported that a staggering 73% of Disneyland employees could not afford basic living expenses. And that was well before the pandemic, which caused the company to miss out on $1 billion in operating income this first quarter (ending March 28) due to theme park closures alone.
Although Disneyland itself will remain shuttered for its 65th Anniversary, there's no doubt that Disney diehards will flock to all places Disney-themed, namely Orlando, to celebrate the occasion — especially if the Walt Disney World Resort parks are the ones that remain open. That means the "Most Magical Place on Earth" will no doubt add to the spread of the novel coronavirus in a state already overwhelmed with cases. And no spoonful of sugar makes that truth easier to swallow.
*Note: The Walt Disney Family Museum is a nonprofit institution and separate from The Walt Disney Company. Still want to celebrate Disneyland's 65th Anniversary? Check out the museum's (safer) virtual offerings.