Want to give your friends and family members truly unique gifts this holiday season — and help them feel extra-appreciated in the process? Everyone loves a great handmade present, especially when it's clear how much time, effort and love you put into it. No two DIY gifts are ever really the same, which makes them one-of-a-kind keepsakes loved ones can cherish for years to come.
Even if you don't envision yourself as a master craftsperson, rest assured that the goal here isn't perfection — it's to present your loved ones with DIY Christmas gifts you really put your heart into. You don't need fussy materials or expensive equipment to whip up these cool crafts, either; with a few key tools and common household supplies, you'll have your own winter workshop up and running in no time. Whether you need something special for that recipient who already has everything or you're looking to create batch gifts for a larger group, you're sure to find the perfect option in this collection of custom holiday present ideas.
Customized Ornaments to Get Those Trees Twinkling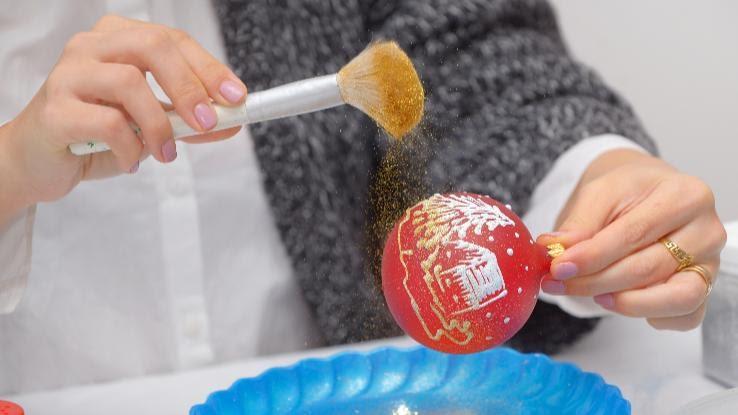 You know those clear Christmas tree ornaments you always see for sale by the bushel each year? They're a DIY Christmas ornament crafter's goldmine. Just think about it: They're the perfect little blank slates — or orbs, really — that you can customize and decorate in any way you see fit.
Your imagination is the limit when it comes to turning plain Christmas ornaments into unique gifts tailored for each recipient, and these fun ideas can get your creative gears turning:
Take off the tops and fill them with faux holly leaves and berries, holiday candies, or even photo cutouts.
Use acrylic paint to create images of Santa, reindeer faces or other fun holiday motifs.
Don't fancy yourself an artist? Use a paint pen to write a name, year or special message on each ornament.
Cover each ornament in holiday stickers — kids will love helping out with this one!
Fill larger clear plastic ornaments with ingredients to make a cup of hot cocoa, and tie a little tag with preparation instructions to each one.
These are just the tip of the iceberg when it comes to the possibilities. Prep couldn't be simpler, either. Just remove any price stickers from the ornaments, give them a quick wipe with rubbing alcohol to remove any sticky residue and let your creativity take over.
Homemade Jam to Make Mornings Merrier
As long as you're not Frank Shirley in National Lampoon's Christmas Vacation, homemade jams and jellies really do make for great gifts, whether you use fruits and herbs you harvested from your own garden or you pick out the prettiest produce at the farmers' market. Although it might sound pretty involved, making jam is actually quite simple and requires little more than fruits or berries, canning jars and an afternoon in the kitchen.
Want to give it a try? We recommend this easy jam recipe from Martha Stewart. The basic process goes a little something like this: You'll stir together fruit, sugar and salt in a heavy-bottomed pot and bring it to a boil, breaking up the larger pieces with a potato masher as they heat through. Once the sugar dissolves, you'll add lemon juice and keep cooking down the mixture. After the jam reaches the right texture and cools off, you'll simply pop it into jars and add the lids. The whole process takes about an hour, and you can refrigerate the finished product for up to a month.
If you're still feeling the creative spirit after this cooking adventure, have some fun creating custom label stickers for each jar. Every time your recipient tucks into a piece of toast, they'll think about how thoughtful you are — a definite Christmas win.
Embroidered Handkerchiefs for Personalized Panache
If you know how to embroider or cross-stitch, 'tis the season to put your needleworking skills to good use. We'll let you in on a little secret: Those of us who don't know our way around colorful thread and needlepoint canvas find these fabric embellishments pretty impressive, and presenting someone with a personalized, hand-stitched gift is a surefire way to show them how much you care.
To get started, stock up on handkerchiefs (or your preferred fabric) and embroidery thread in a rainbow of colors if your craft cabinet isn't already sufficiently filled. Then, decide on some designs. From a few small poinsettias and your recipient's initials in one corner to a large wreath centerpiece if you're feeling ambitious, you can embroider on a motif that you know your giftee will love or one that commemorates this Christmas specifically.
This craft is one of the easiest to personalize, but if you're looking for some inspiration in the meantime, visit Sewing.com. Here, you'll uncover plenty of thorough tutorials by skilled stitchers.
Handmade Soap for a Crisp, Clean Christmas
Few people on your list are likely to be thrilled to unwrap a bar of drugstore soap. But receiving a bar (or several) that you actually made yourself? That's another story entirely — and in this day and age it's a gift that's as practical as it is delightful.
One great thing about making soap yourself is that you have so many options when it comes to customization. You can mix in your loved ones' favorite essential oils, mold the soaps into fun shapes or make your own bath bombs. You can even take the "sudsy scientist" approach and turn your kitchen into a scent-mixing laboratory, figuring out the right blend of fragrance oils to create a piney Christmas tree scent or that of freshly baked sugar cookies.
If you're new to the soap-making game, don't worry; there are plenty of tutorials out there for beginners. To get things going right away, you can even buy everything you'll need in a handy soap-making kit. Yes, there are such things, and they come in both adult and kids' versions.
Teacup Candles to Brighten Cozy Nights
Candles make excellent gifts for everyone from teachers and coworkers to that distant cousin who always shows up to Christmas brunch late. To boost your candle-gifting game this year, look no further than the DIY teacup candle. Not only is this idea utterly charming, but it's also easy to make — and a great way to upcycle that dinnerware collection you inherited but have no idea what to do with. Here's what you'll need:
Old teacups — if you don't have any around the house, check out local thrift shops and flea markets, where you'll likely find plenty to choose from
A bag of candle wax, which you can find at your local craft store or on Amazon
Candle wicks, which are also available at the craft store and on Amazon
Candle fragrance oils, which are optional but definitely add extra appeal
When you're ready to get started, glue or stick the metal tab of the wick to the center of the teacup to keep it in place. Wrap the top of the wick around a pencil or popsicle stick, and balance it across the rim of the cup to keep the wick centered.
Then, melt the wax down on your stove using a kitchen pan. At this point, you can also add in an unwrapped crayon for a bit of color. Once the wax is melted, remove it from the burner and add in your essential oils or candle fragrances. Let the freshly melted wax cool just a bit, and then pour it into the teacup (using a funnel here is a great way to cut down on unnecessary splashing). After the wax hardens, trim the wick, and voila! Your heartfelt and heartwarming teacup is ready for gifting.
One more thing: You're not limited to teacups here, either. Have a blast filling all the flame-safe vessels you can get your hands on, from intricate vintage gravy boats to bright brass trinket boxes.