It don't mean a thing if it ain't got that swing. For decades, doo-wop music has been bringing smiles to people's faces all over the world. The word doo-wop, which refers to a subgenre of rhythm and blues with roots in the 1930s and 1940s, is an expression more so than a specific reference to something.
Doo-wop music came about when Black American blues artists began to mimic the sounds of the string and reed instruments in their songs. Instruments were expensive and music lessons were hard to come by in the post-Depression United States. Replacing instruments with vocals that mimicked those sounds made a musical career path more viable for Black artists and enchanted the ears and bodies of those that listened.
A song that's considered doo-wop will typically be sung by a group of people — a wide range of voices that starts low and ends high and are accompanied by little to no instrumentation. But the onomatopoeia of the term "doo-wop" is not the only fascinating part of the subgenre. Artists who fought tooth and nail to perform their music were treated with disrespect even after finding mainstream success. Here's how doo-wop became an essential chapter in American history, civil rights, and pop culture at large.
What is Doo-Wop? The Subgenre's History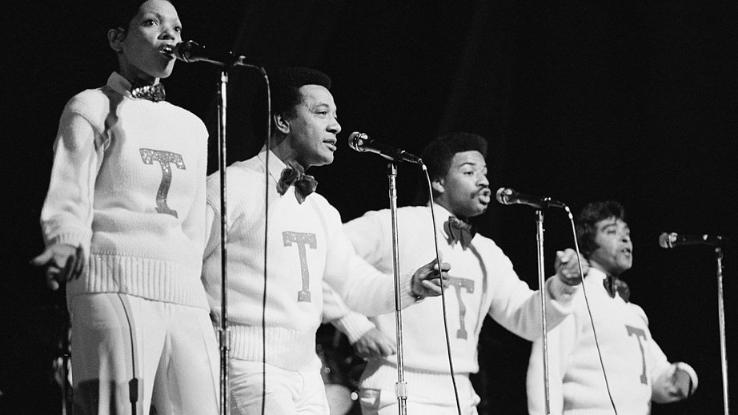 The 1950s were the golden age of doo-wop music. Yet, the word doo-wop had not made its way to print until 1961 in a Chicago-based newspaper, The Chicago Defender. The paper gave credit to radio DJ, Gus Gossert, but Gossert mentioned that others had already been using the term.
Many accredit Duke Ellington with inventing the mood and vibe of doo-wop, even if he didn't intend to do so. His 1932 hit for Ella Fitzgerald, "It Don't Mean a Thing If It Ain't Got That Swing," has been covered countless times over the years. In lieu of a string section, most people add their own "doo-wop, doo-wop, doo-wop" to the chorus.
Some early doo-wop hits include "Count Every Star" by the Ravens, "Crying in the Chapel," by The Orioles, Billy Ward and his Domines' "Sixty Minute Man" and "Goodnight Sweetheart, Goodnight," by the Spaniels. The songs offer lyrics that are straightforward but filled with heart, love and maybe even a little innuendo. Love is a common theme among doo-wop songs, so you aren't alone if listening to doo-wop makes you feel like you should be on a date while listening to it.
The genre quickly spread throughout the East Coast, Midwest and West Coast, erupting in places like Baltimore, Chicago, Los Angeles, New York, Philadelphia — and even abroad in places like Jamaica. Doo-wop's geographical reach mirrored that of The Great Migration, a period of history that lasted from 1910-1970. Black Americans moved from the South to the Midwest, East Coast, and sometimes all the way out West, which meant that Black American culture and music spread too.
Doo-Wop Concerts: Mainstream Success, Jim Crow Realities, and Appropriation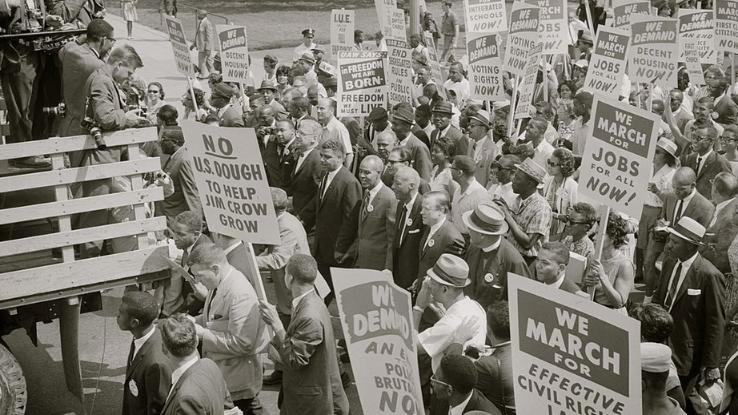 As doo-wop concerts hit the road, the realities of racism in the U.S. were inescapable. Terry Johnson of The Flamingos told Rolling Stone that at many nightclubs his band played, club staff would tell them never to look white guests in the eye. Black and white guests were segregated, often being sent to different floors. Other times a velvet rope down the middle of the stage would divide an audience into two halves. Johnson went on to say that his band couldn't stay in hotels in many of the cities they toured and were often served rotten food.
Despite prejudice in every corner of the country, doo-wop groups found mainstream success. Songs like "My Girl" by The Temptations and "Blue Moon" by the Marcels reached #1 on the American charts. Many of these doo-wop tracks were composed by Jewish songwriters, and there was a strong Jewish presence in the making of doo-wop records in general. Record labels like Fortune Records and Scepter produced a lot of doo-wop music that we still listen to today.
As doo-wop became more and more mainstream, it fell victim to appropriation by white acts. Much like the Lindy Hop before it, doo-wop was being replicated and basterdized by white performers. Elvis Presley was notable for stealing doo-wop and other rock and roll elements from Black artists. For example, Preseley covered "Crying in the Chapel" by The Orioles, but Presley's cover hit #1 on the charts.
Elvis Presely was not the only white dude knocking off doo-wop. The Monkees, for example, had success covering The Temptations' "My Girl." As time went on, it was less about covering specific doo-wop songs, but capturing the doo-wop sound that might make listeners feel nostalgic for that era. The Beach Boys had doo-wop influence in a lot of their music, like in their hit "Surfer Girl." Even Billy Joel incorporated doo-wop into his classic "For the Longest Time."
With such popularity, doo-wop was everywhere. Popular films and and shows from the time like Happy Days, Grease, and American Graffiti all boasted doo-wop songs on their soundtracks. Still, it must be noted that while all this success was going on, Jim Crow laws were still affecting doo-wop concerts and Black artists in incredibly harmful ways.
Doo-wop concerts were inspiring people to do more than replicate the sound. It also inspired people along their own personal paths. Rock legends like Lou Reed and Tommy Ramone might not seem like fans of doo-wop, but they loved it. Would we have punk and other music genres that have little-to-no instruments without the risks Black doo-wop artists took by singing the music parts? Probably not.
Doo-Wop Today: Concerts, Covers, and Tours
Today, putting on a classic doo-wop track often transports people to another time. Sometimes, images of soda fountains, sports cars and poodle skirts are a part of that image. Because of doo-wop's fast rise — and how it evolved even faster into genres like rock, pop and maybe even disco — the blues subgenre is emblematic of the 1950s.
Doo-wop is still widely celebrated today; artists like Bruno Mars, Boyz II Men and Megan Traynor all reference it in their work. There are also more musical acts specifically making doo-wop music or covering today's hits in the doo-wop style. The Doo-Wop Project does just that, and travels around the U.S., all while being led by stars from Broadway's Jersey Boys and Motown: The Musical or Postmodern Jukebox. There is even a burger chain, Johnny Rockets, that boasts a 1950s theme and is heavily influenced by doo-wop music.
Doo-wop is covered by local and regional bands across the U.S., but most of those groups are all white. It is often groups that were marginalized the least during a particular time period who become nostalgic for that era. That doesn't mean it's not okay to add some doo-wop songs to your driving or exercising playlists. Better yet, find a jukebox and play some doo-wop for an entire room. There's a reason that archival footage of Baby Boomers dancing to doo-wop looks like so much fun: it is. Just make sure that your way of celebrating this timeless music isn't leaving anyone out of the action or erasing the genre's history.