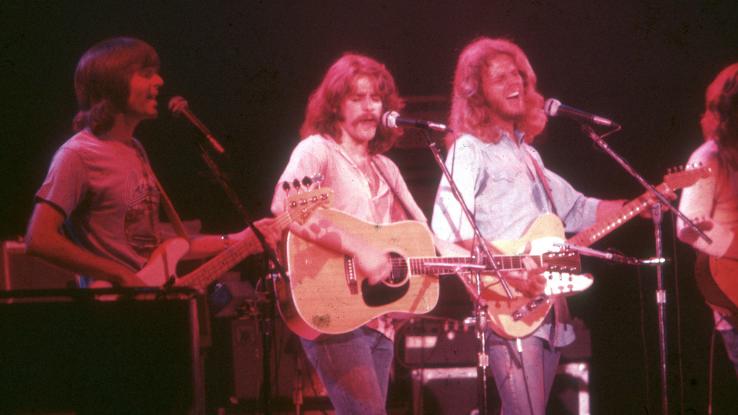 You'd be hard-pressed to find music lovers who agree on what album deserves to be called the greatest of all time. Some might say The Beatles' Abbey Road, while others might rally behind Prince's iconic Purple Rain — or the best thing to come of Fleetwood Mac's offstage angst: Rumours. If you want to go by record sales alone, Michael Jackson's Thriller was the best-selling album of all time from 1982 to 2018, according to the Recording Industry Association of America (RIAA).
And that brings us to the topic at hand. In 2018, the Eagles' 1976 album, Their Greatest Hits (1971-1975), replaced Thriller as the best-selling album of all time. But do record sales really equate to greatness? We're investigating just how the Eagles claimed the top spot — and what the accolade means for their legacy.
How Are Album Sales Calculated?
These days, how people listen to music has reshaped the industry. Unsurprisingly, fans are turning to digital streaming services, including subscription-based ones, and foregoing physical albums. Because of this, the RIAA changed its criteria and classifications for what it means for an album to be certified gold or platinum. For example, streaming sales now figure into the process, whereas, in the past, these certifications were based solely on point-of-sale data from music retailers.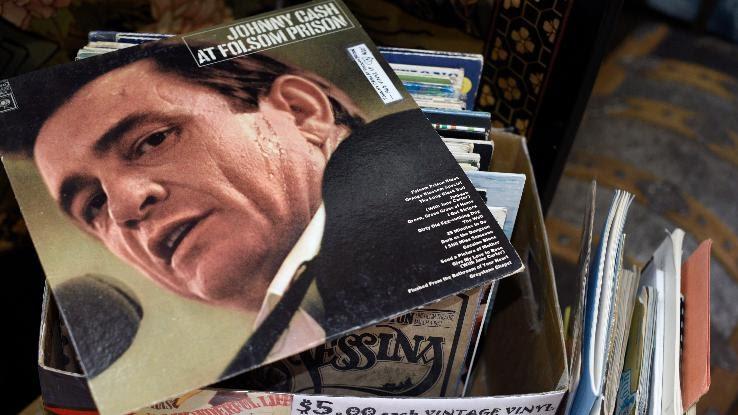 So, how do streams get counted? As you may know, the RIAA refers to album sales as "units." A record must have 500,000 units sold to earn gold status, and, to be certified platinum, an album must have 1 million units under its belt. However, when it comes to digital streams, one listen doesn't equate to one unit. Instead, the classification system specifies that 150 streams of a song — anything played on YouTube, Spotify, Amazon Prime Music and so on — equates to one paid download. However, 10 "paid" downloads equates to one album sale. In other words, an artist's music must be streamed 1,500 times for one album sale to be counted. Another caveat? Only sales and on-demand streams from the United States help a record qualify for these accolades.
Do Album Sales Even Matter?
In the past, album sales determined a musician's popularity and success. The more albums they sold, the more success they garnered. However, in today's age of on-demand streaming, album sales might not hold as much value. Even Billboard, which once helped determine an artist's success based on physical sales, has adapted to the digital age with paid digital downloads figuring heavily into its notorious ranking system.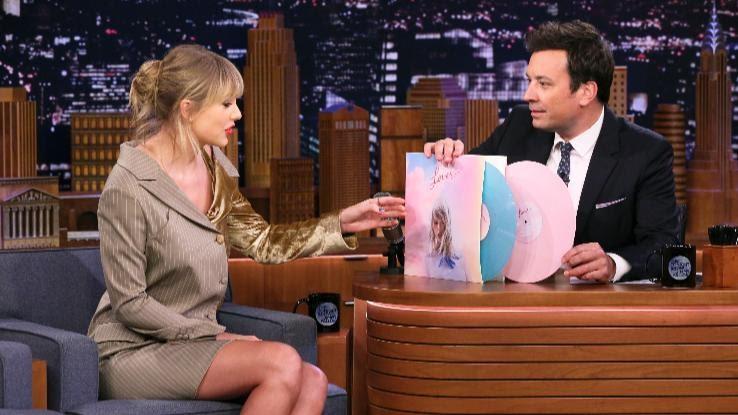 Gone are the days where albums soared due to word-of-mouth. Like anything else, an artist's popularity is ruled by the internet — by how often their music is streamed online, by their social media following and by their tendency to go viral. For example, in 2019 Taylor Swift's Lover was the only album to sell 1 million "pure copies" — a figure that refers to physical and digital album sales only, not album-equivalent units derived from streaming and downloading data (Chart Data). Given her enormous fanbase, Swift's success here isn't too surprising, but she certainly isn't the only popular artist to have released an album in 2019, so what gives?
As Forbes points out, "Swift continues to move huge amounts of physical albums with the help of numerous deluxe editions and extensive merchandise bundling." In short, Swift found a way to tap into her audience and find success with physical albums in a way not many other artists can these days. Going by the "pure copies" model, Swift was also the only musician to release a certified platinum record in 2019 — and that's where things feel a tad murky and make the equivalency between streams and sales feel a bit misaligned. All of this to say, while it's still nice to have a platinum album, it's no longer the crowning achievement for artists who are trying to make it big in the music industry.
What's the History of the Eagles' Best-Selling Album?
In 1976, the Eagles released a compilation album entitled Their Greatest Hits (1971-1975). The record features some of the most popular songs from the Eagles first four albums, including, "Take It Easy," "Desperado," "Already Gone," "Witchy Woman," "Lyin' Eyes," "One of These Nights," "Tequila Sunrise," "Take It to the Limit," "Peaceful Easy Feeling" and "Best of My Love." All of this, of course, came before the band's most famous song, "Hotel California."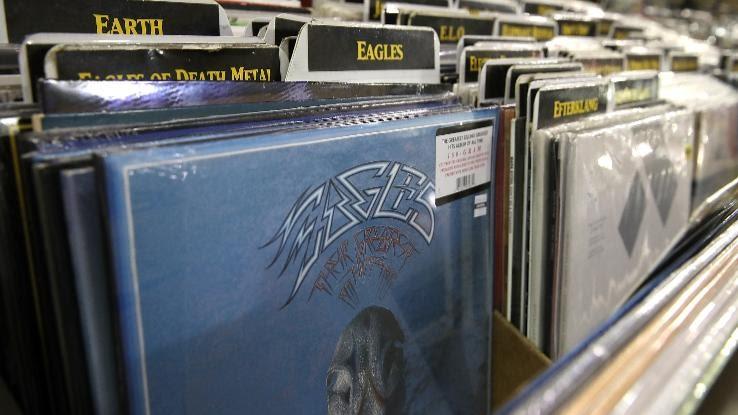 Celebrating this many early-career hits with a compilation album should've been exciting, but, in actuality, the band's members were disappointed with the record. In Mark Eliot's 2004 book The Untold Story of the Eagles, it's revealed that the band feels that the album was "nothing more than a ploy by the record company to sell product without having to pay additional production costs." In fact, guitarist Don Henley thought the album ruined the nature, quality and meaning of the band's original music. But, now that the album is a huge success thanks to a resurgence in popularity, are the Eagles singing a different tune these days?
How Did "Their Greatest Hits" Become the Best-Selling Album of All Time?
In 2018, the Eagles' album hit 38-times platinum, which means a staggering 38 million copies of Their Greatest Hits were sold worldwide. Upon the impressive certification, RIAA also proclaimed that the album had become the best-selling album of all time. Funnily enough, this wasn't the first time the Eagles and Jackson clashed in terms of record sales: For a while, Hotel California was certified 26-times platinum, placing it just behind Thriller. And while it wasn't Hotel California that dethroned Thriller, the 2018 news was certainly exciting.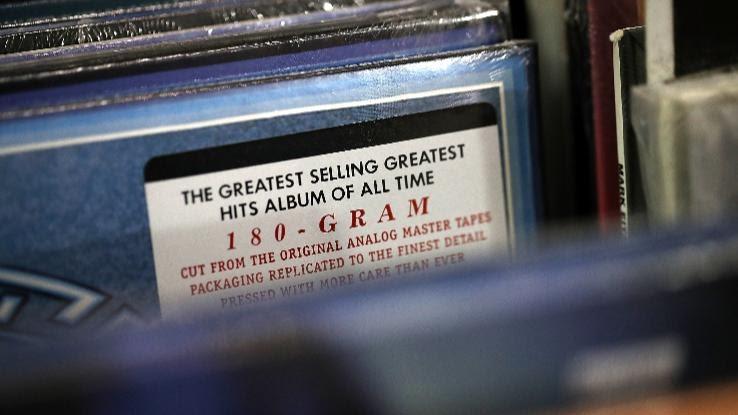 "I'm thrilled for them — no pun intended — that they've beaten Thriller out and hopefully, more people will listen to the music as a result," History Of the Eagles documentarian Alison Ellwood told NPR. "Those songs came to define moments in our lives. They evoke memories. That band had something very magical and the music captures it." Even though the band initially dismissed Their Greatest Hits, they were also appreciative of its eventual monumental achievement. "We are grateful for our families, our management, our crew, the people at radio and, most of all, the loyal fans who have stuck with us through the ups and downs of 46 years," Henley told The Hollywood Reporter. "It's been quite a ride."
Will Another Album Dethrone This One?
The Eagles shouldn't get too comfortable with being record-holders, because, in all likelihood, it won't last long. Excluding Thriller, other top-selling albums that have sold over 40 million copies include AC/DC's Back in Black, Pink Floyd's The Dark Side of the Moon, Whitney Houston's The Bodyguard, the Bee Gees' Saturday Night Fever, Meat Loaf's Bat Out of Hell, Fleetwood Mac's Rumours and Shania Twain's Come On Over.
Of course, not all of those sales are technically "certified," which explains why just Thriller and Their Greatest Hits have been duking it out for the top spot. Still, the Eagles have some stiff competition. "That list is going to be competitive," RIAA spokesman Jonathan Lamy told WMUK. "You've got to stay tuned […and] keep an eye on it because I have no doubt [that] it's not going to be the exact list it is now in five years." For now, the Eagles are flying high — and they won't be checking out of the top spot for at least a little while longer.