Updated | January 22: As of now, all of the following races have been decided after the Georgia Senate runoff elections — one between Republican David Purdue and Democrat Jon Ossoff, and another between Republican Kelly Loeffler and Democrat Raphael Warnock — took place on January 5. Both candidates' races were called on January 6, and they were sworn in as Senators on January 20, the same date as the presidential inauguration. These victories created an even 50-50 split in the Senate but ultimately gave Democrats control, with Vice President Harris — who administered the oath of office to Warnock and Ossoff — serving as the tie-breaking vote.
The battle for control of the United States Senate has been fierce, to say the least. According to Whit Ayres, a Republican pollster interviewed by Vox, "There are numerous Senate races that are essentially margin of error races right now." Of course, how Americans feel about these hotly contested Senate seats — and how they ultimately cast their votes — is informed by several key events, including the continuing police brutality and murder of Black Americans as well as state and federal responses (or lack thereof) to the ongoing COVID-19 crisis, which has claimed over 211,000 American lives thus far.
Moreover, the Senate majority could turn from red to blue if Democrats manage to flip a few seats — but on the other hand, Republicans have a real shot at taking back seats in historically red states like Alabama. Oh, and there's the matter of the Supreme Court (lifetime) appointment on the line. All of this to say, this election matters — a lot. Americans need to go to the polls, or the mailbox, feeling sure of their candidates. With this in mind, we're taking a look at the closest Senate races and comparing the candidates who have a shot at flipping those highly sought-after seats.
Georgia Senate Race: David Perdue (R) & Jon Ossoff (D)
The Cook Political Report says this race is leaning Republican, but that doesn't mean it won't be a tough race, especially given the political shift that's formed in Georgia over the last few years. See: Stacey Abrams' 2018 gubernatorial run, which saw the state turning a shade of purple, despite Abrams' loss. When it comes to the heated Senate race, Georgians will be choosing between incumbent Senator David Perdue, a former businessperson who was elected in 2014, and former congressional candidate Jon Ossoff.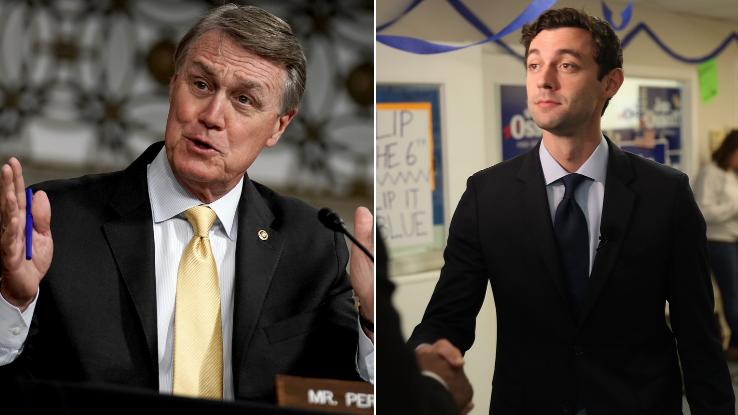 With more and more Georgians voting in a way that runs contrary to the state's red leanings, Perdue has recently scrambled to rebrand as a bipartisan problem-solver. However, the facts show otherwise: Perdue has voted with the president 95% of the time. For his part, Ossoff is driving home the mishandling of the COVID-19 pandemic as a reason for changing up the state's elected officials. At the end of the day, like so many other Senate races, voters' decisions may, in fact, be more closely tied to their view of the presidential election than ever before.
Winner: Democrat Jon Ossoff
Maine Senate Race: Susan Collins (R) & Sara Gideon (D)
Fun fact: When it comes to the presidential race, Maine and Nebraska are the only states that can split their electoral votes. This is indicative of just how contentious the Senate race is as well. In a recent poll released by Maine's Colby College, speaker of the Maine House and Democratic hopeful Sara Gideon leads Republican incumbent Susan Collins by just 4%.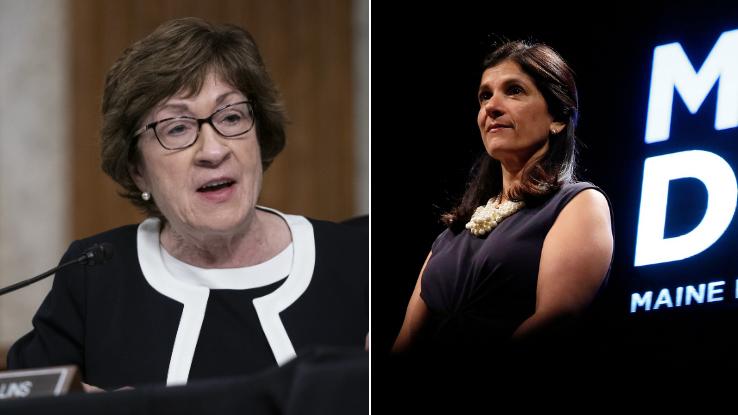 Although Collins was once seen as one of the GOP's most moderate voices, she has made some recent choices that have made her "the most unpopular senator in the country," according to Morning Consult. One of those decisions? She was instrumental in securing Brett Kavanaugh's seat on the Supreme Court. Still, Collins has a real staying power that shouldn't be underestimated. For her part, Gideon has worked with both Republican and Democratic governors in the past and has made affordable healthcare and tackling Maine's opioid crisis priorities in her platform.
Winner: Republican Susan Collins
North Carolina Senate Race: Thom Tillis (R) & Cal Cunningham (D)
In the Tar Heel State, things are, perhaps surprisingly, quite contentious. The incumbent is Thom Tillis, who was elected to the Senate six years ago. Facing off against Tillis is Cal Cunningham, who, despite not having the same federal-level experience, served in the North Carolina State Senate. As of now, this one's been denoted a toss-up.
When it comes to the presidential election, North Carolina has emerged as a real swing state, a sentiment that's reflected in the tight Senate race as well. Right now amid the ongoing COVID-19 pandemic, many North Carolinians, like many Americans, are grappling with unemployment and healthcare concerns. Recently, Tillis has opposed Medicaid expansion and been open about wanting to reduce unemployment benefits. Cunningham, an Iraq war vet, will likely drive home these points — and attack Tillis' close relationship with Trump, something that, at this point, could truly sway voters. Back in 2014, Tillis won the race by a single percentage point, so anything can happen.
Winner: Republican Thom Tillis
Iowa Senate Race: Joni Ernst (R) & Theresa Greenfield (D)
Veteran and former state senator Jodi Ernst will go head-to-head with community planner-turned-politician Theresa Greenfield in Iowa. Six years ago, incumbent Ernst won her seat by nine points, but, in the wake of the COVID-19 pandemic, any sort of upper hand she had seems to be diminishing. Why? Ernst claims to be "so skeptical" of the reported COVID-19 death toll in the United States; meanwhile, as Labor Day weekend neared, Iowa became the state with the third-highest rate of new cases in the country.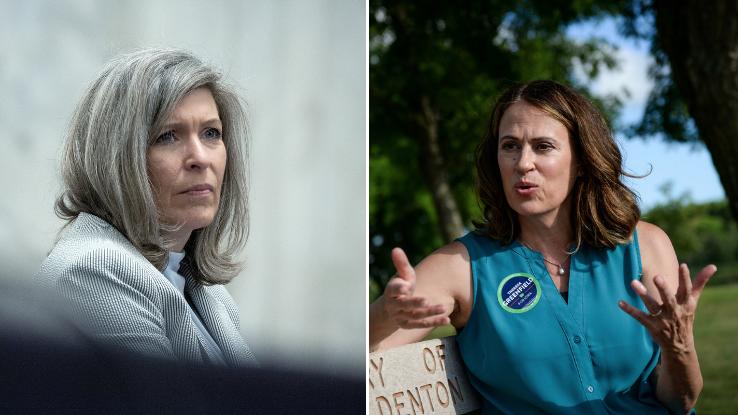 Apart from Ernst's COVID-19 thoughts potentially swaying her longtime advocates, Greenfield is also driving home a relatable narrative. That is, both candidates came from similar humble beginnings — they grew up on Midwestern farms — but when Greenfield was 24 her husband was killed in a work accident, leaving her and their children to survive off of union benefits and social security. All of this to say, Greenfield is hammering home the need for a safety net for all Iowans (and especially during the pandemic), while Ernst hasn't quite walked that walk while in Washington for the past six years.
Winner: Republican Joni Ernst
Colorado Senate Race: Cory Gardner (R) & John Hickenlooper (D)
Currently, Colorado is leaning toward Democratic challenger John Hickenlooper, that state's former governor, but the race could still go either way. Why the close race? Although incumbent Cory Gardner, who was elected in 2014, often sides with the Trump administration on hot-button issues, he does stray when it comes to topics like marijuana decriminalization — something that, given marijuana's legalization in Colorado, is near-and-dear to the Rocky Mountain State's constituents.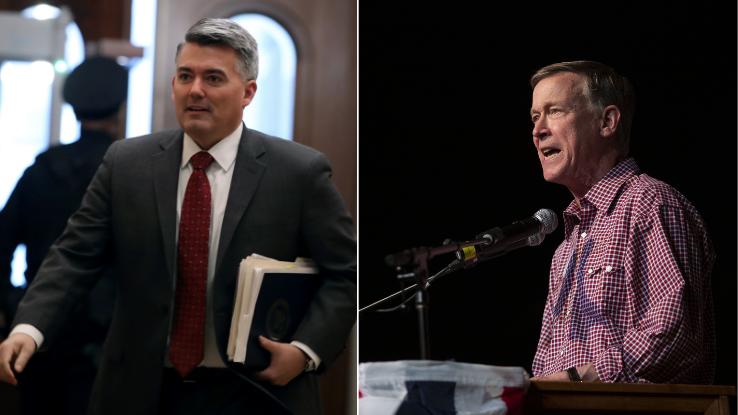 Nonetheless, Gardner's allegiance to the president will likely impact his own race since a majority of Coloradans disapprove of Trump's actions. In the wake of the 2014 races Colorado has shifted gears, becoming a reliably blue state, which has led election forecasters to posit that this senate race will be the most likely pickup for Democrats looking to flip some seats.
Winner: Democrat John Hickenlooper
Montana Senate Race: Steve Daines (R) & Steve Bullock (D)
Much like Colorado's former Governor John Hickenlooper, current Montana Governor Steve Bullock announced a presidential run, leading many of his constituents to wonder why he didn't just try for a Senate seat. In 2020, things are looking a bit different with the sitting governor heeding the advice of both his voting base and the Democratic party by taking on Republican incumbent Steve Daines, who has held his seat since 2014.
Bullock's gubernatorial win in a deeply red state certainly made waves, but, more recently, he's been making waves for a completely different reason: Montana's response to the novel coronavirus health crisis. Unlike virtually every other tight race, which is dogged by poor COVID-19 responses, Bullock is seeing the highest approval ratings of his career for how well he managed the state's response. Meanwhile, Daines has been a fierce supporter of President Trump on most accounts, noting that the president has "led boldly" in the face of the pandemic — a view that isn't shared by the majority of Americans.
Winner: Republican Steve Daines
Alabama Senate Race: Doug Jones (D) & Tommy Tuberville (R)
In 2017, Doug Jones eked out a surprise victory in a special election against Republican Roy Moore in the historically red state of Alabama. His challenger in 2020's race? Ex-football coach Tommy Tuberville. In many ways, the outcome of this Senate race will prove as a more accurate litmus test to determine if Democrats are truly gaining momentum in the South or if Jones' victory was an anomaly.
Tuberville's platform is built around being staunchly pro-life and pro-Second Amendment; he also wants to further dismantle the Affordable Care Act and reform the state's education system. Jones, on the other hand, touts wanting "One Alabama, for everyone," and cites his bipartisanship and investment in education, healthcare and "rural issues" as evidence of putting this slogan into action. According to Vox, "the president's net approval rating has been higher [in Alabama] than any other state." For Republicans, this race could be a key pickup.
Winner: Republican Tommy Tuberville
Arizona Senate Race: Martha McSally (R) & Mark Kelly (D)
In 2018, Senator Martha McSally lost to Democrat Kyrsten Sinema, but, later that year, she was appointed to fill the late Senator John McCain's vacant seat. Now, in a special election, McSally will have to prove that she can win a race outright — and the competition has been fierce. Her challenger is Mark Kelly, former U.S. astronaut and husband of former U.S. Representative Gabrielle Giffords, who, after surviving an assassination attempt, became an outspoken gun control activist.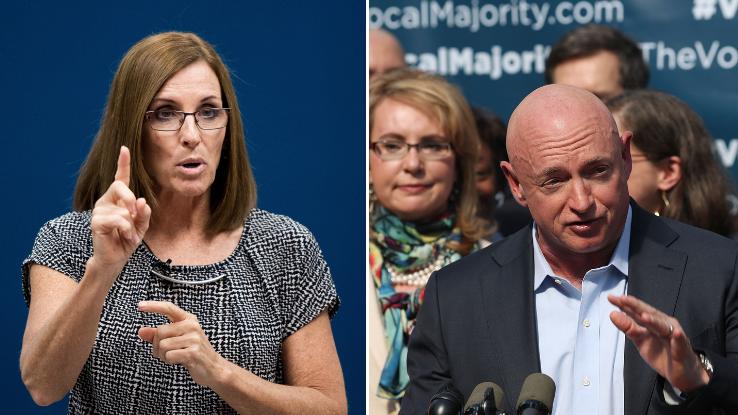 Without a doubt, Arizona's Senate race is one of the tightest — largely because the presidential race is within the margin of error. All of this to say, if there's a state that personifies "undecided voters," it might just be Arizona. So far, Kelly has raised an impressive amount of money, giving him the cash advantage, while McSally told supporters to "fast a meal and give what that would be" — an alleged joke, but still an indication of just how heated things are in the Grand Canyon State. Additionally, McSally has doubled down on her support of Amy Coney Barrett, which could either dissuade unsure, liberal-leaning voters or work to intensify support amongst conservative voters.
Winner: Democrat Mark Kelly
South Carolina Senate Race: Lindsey Graham (R) & Jaime Harrison (D)
Incumbent Lindsey Graham handily won his reelection bids in both 2008 and 2014, outpacing the competition by an impressive 15%. While another win in 2020 seemed on-track, Graham didn't anticipate a challenger like Jaime Harrison, who has built the largest Senate campaign South Carolina has seen in quite some time. Needless to say, there's no resting on one's laurels this election cycle.
Over the weekend of October 10, Harrison set a record by raising $57 million from supporters. To put this achievement in perspective, The New York Times has noted that this amount marks the "highest quarterly fundraising total for any Senate candidate in U.S. history." While money isn't everything in a campaign, it certainly denotes voters' passion and support and adds to the candidates' momentum. Meanwhile, Graham has come out as a staunch supporter of Amy Coney Barrett's nomination to the Supreme Court, something he likely hopes will reaffirm the support of his voting base.
Winner: Republican Lindsey Graham
Michigan Senate Race: Gary Peters (D) & John James (R)
Finally, Michigan's Democratic incumbent Gary Peters, who was elected to the Senate in 2014 and served in the House before that, will face off against Republican businessman and vet-turned-politician John James. Like Alabama, Michigan went red for Trump during the 2016 presidential election — moreover, both states, with their Dem Senate incumbents, face the highest likelihood of turning red. So, will Michigan's seat flip?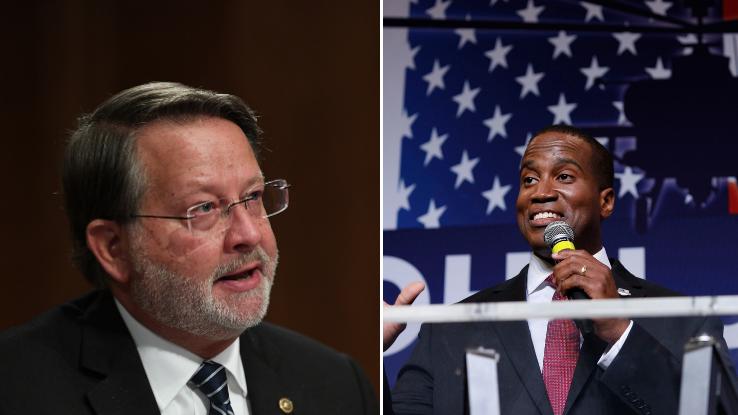 It's hard to say as of late. Sure, Trump won Michigan four years ago, but it was by the smallest margin of any state. This fact makes the Great Lakes State one to watch — and it means Senate candidates will have to kick campaigns into high gear over the few remaining weeks. On the trail, Peters is touting his alleged productive bipartisanship, while, according to mLive, James is focusing on describing himself as the "personification of the American dream, retelling his family's generational triumph over slavery, sharecropping and segregation to eventually build a business in Detroit." The one thing the candidates seem to agree on? The need for a solid, long-term COVID-19 relief plan is long overdue. Current polls have found Peters with a slight edge over James, but a large number of Michiganders remain undecided.
Winner: Democrat Gary Peters