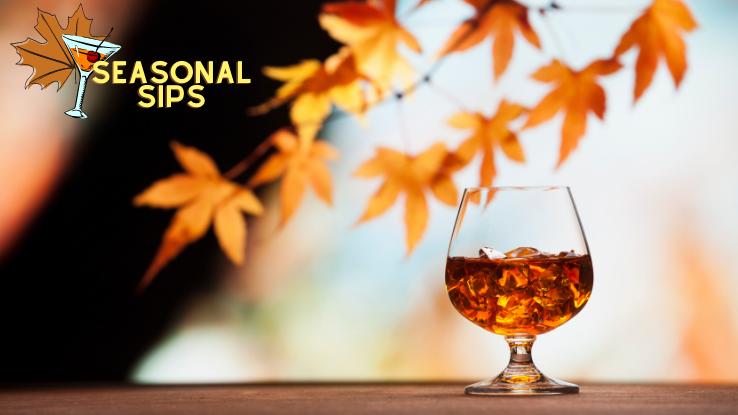 As pumpkin spice latte lovers will tell you (even if you didn't ask), fall is a great season for beverages. Marked by harvests as well as treat- and feast-centric holidays, the flavors of fall are pretty much unmatched. From apple and pumpkin to cinnamon and maple, there's really an autumnal taste for everyone.
And with so many distinct, seasonal flavors, fall-themed cocktails and mocktails certainly have a lot to offer. Great for parties, happy hours, or even those days when you just want to get a taste of the season, these recipes will have you living deliciously all fall long.
Flavorful Fall Ciders
The word "iconic" is certainly overused — but, like pumpkins, apples are an undeniable symbol of fall. This incredibly versatile fruit lends its flavors to donuts, pies, and, of course, cider. Here we've rounded up some must-try drinks that make apple cider the star.
Maple-Bourbon Cider by Martha Stewart: This cocktail features bourbon, lemon juice, maple syrup, apple cider, and a pinch of cayenne pepper. In addition to the on-brand flavors, the spicy warmth of this drink really embodies everything fall. Plus, the recipe is super straightforward. Simply mix all of the drink ingredients in a cocktail shaker and then strain the mixture into a glass filled with ice. Finally, garnish each glass with cayenne pepper to taste.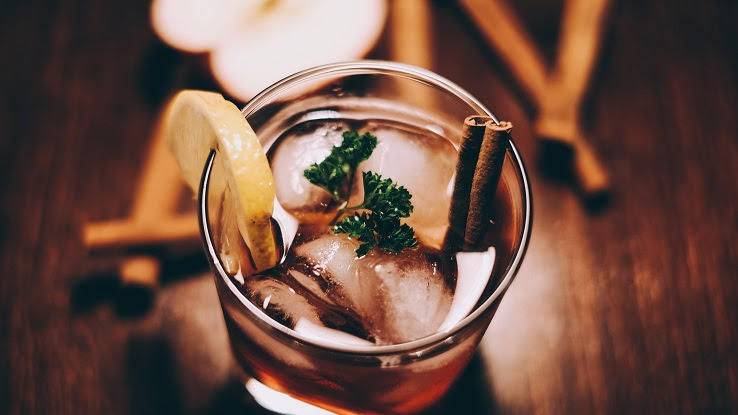 Warm Cider and Rum Punch by Martha Stewart: Apple cider and rum form the base of this spiked punch, but all the extras add an enormous amount of additional flavor. After pouring apple cider into a pot, pour in thinly sliced orange, apple, and ginger slices. Then, add two sticks of cinnamon. Bring the brew to a boil — and then lower it to a simmer. To make the drink even more flavorful, try simmering it on low heat for up to two hours. When you're ready to serve it up, add the rum. (Remember: Unless you want the alcohol to cook off, you don't want to add the rum in during the boiling process.)
Cider Sangria by Martha Stewart: Who says ciders need apples? Well, this cider does have apples, but it's also chock-full of other fresh fruits. While sangria might sound like a summer drink to you at first, the combination of apple brandy, apple cider, and white wine will turn it into an autumnal delight. For garnish, try grapes, slices of kiwi and, you guessed it, apple wedges.
Creamy Fall Drinks for Those Brisk Days
What would fall be without delicious pies, donuts, and pumpkin spice lattes? If you're into all things sweet, these cocktails, which skillfully blend alcohol with dessert-appropriate flavors, might just win you over.
Drunken Pumpkin Latte by Delish: Here, you'll want to start with the garnish. Mix sugar and pumpkin pie spice together. Then, rub lemon around the rim of the glass, so that the mixture of spices will stick to it. Once your glasses are prepared, mix hot water, espresso powder, sugar, pumpkin pie spice, rumchata, and pumpkin pie vodka together. Once you pour the concoction into the pumpkin spice-rimmed glasses, top each with a dollop of whipped cream.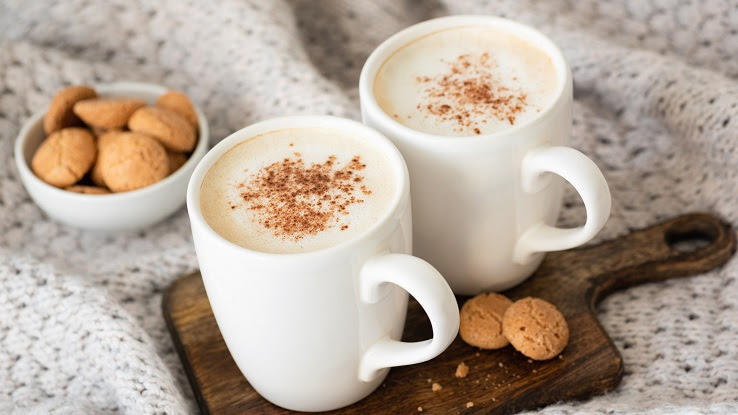 Pecan Pie Martini by Delish: By having you chop pecans, this drink will test your knife skills. First, you'll want to rim the glass in caramel and then roll it through those chopped pecans to create a tasty garnish. Next, mix rumchata, chocolate liqueur, and bourbon in a shaker. Add ice, shake, and strain the mixture into that pecan-rimmed glass. For extra sweetness, add a dollop of whipped cream and (whole) pecan on top.
Dalgona Martini by Delish: This recipe puts a boozy twist on the TikTok-famous whipped coffee. Whisk instant coffee, sugar, and cold water into a paste-like consistency. In a martini glass, mix vodka, Bailey's Irish cream liqueur, and ice. Then pour the dalgona mixture on top. Fall never tasted so good!
Fall Mocktails You Won't Want to 'Leaf' Out
Mocktails are a great way for everyone to taste the flavors of fall sans alcohol. In fact, stirring up these bold flavors and tasty seltzers will make you feel like a true mixologist.
Kumquat Spritzer by Kitchn: This is the kind of mocktail you'll want to make to impress your brunch buddies. It's also a refreshing reminder that not all fall drinks have to hinge on apple or pumpkin flavors. Kumquat, a type of citrus fruit, is also harvested in the fall, making it seasonally appropriate. To start, boil sugar and water to make simple syrup; just as the mixture starts to boil, add in pink peppercorns. Next, remove the concoction from the heat and let the syrup cool. Once it's cool, muddle the syrup and kumquat slices at the bottom of each glass, fill with ice and seltzer water, and add some peppercorns for garnish.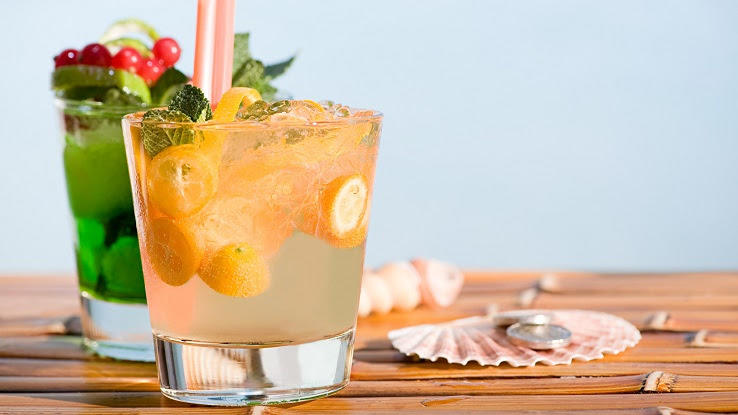 Pear Cinnamon Mocktail by Marie Claire: Tired of apple and cinnamon? This mocktail is a great alternative. Start by muddling about a quarter of an Anjou pear at the bottom of each glass. (Although there are special tools for muddling, any kitchen instrument that allows you to mash the pear will work.) Then, pour ice, sparkling water, and lemon juice over the muddled pear. Stir coconut sugar into the drink to give it just a hint of sweetness. Bring out a touch of undeniable fall flavor by adding a cinnamon stick to each glass. For added flavor, thinly slice the remaining pear and toss it in. Finally, garnish each glass with rosemary to make things both autumnal and classy.
Melting Monster Punch by The Speckled Palate: In addition to good, spooky tunes, every Halloween party needs great, themed drinks. So, why not pair the sweet sounds of "Monster Mash" with this Melting Monster Punch? Start mixing lemonade with your favorite lemon-lime-flavored soda. Then, add a scoop of lime sherbet.
Plunk two (or more) candy eyeballs into the drink. Yes, you can find these sweet treats in supermarkets around Halloween, but, if you're feeling adventurous, you can make candy eyeballs with some marshmallows and food coloring. And, if you want to make the mocktail especially ghoulish, add another splash of soda and watch the sherbet fizz. This effect, along with those floating eyes, will create the illusion that a monster really is melting in your cup.
Hopefully, this list has inspired some ideas for your fall festivities or even pending winter gatherings.