It's no secret that flowers make the perfect gift for any occasion. However, sometimes it can be challenging to find a local florist who can deliver the goods on short notice. That's where online flower delivery services come in handy! This article will review the best online flower delivery services for 2022. These services offer fast and reliable delivery and beautiful arrangements that are sure to please any recipient!
UrbanStems
UrbanStems is one of the best online flower delivery services out there. With an easy-to-use website, they offer a wide variety of fresh flowers and arrangements and same-day delivery in some parts of New York and Washington DC! However, they offer next-day delivery to other states across the country. Apart from just flowers, UrbanStems also delivers unique gifts such as plantable paper products, succulents, vases, candles, and candies.
Prices start at $40 for a small arrangement, making UrbanStems an excellent option for budget-minded shoppers. Frequent or seasoned buyers can also choose to subscribe to one of their subscription plans. Their plans include; the Classic plan, which goes for $55, a Seasonal plan is $75, and Luxe is $105 per delivery.
Farmgirl Flowers
Farmgirl Flowers is the best flower delivery service for shoppers looking for unique and playful arrangements. They specialize in coast-to-coast delivery services of fresh floral arrangements from farms across South America at a shipping price of about $25. With a price range of $59 to $250, you could get various flowers, from dried, preserved bouquets to fresh flowers wrapped in eco-friendly rustic burlap made from coffee sacks. Aside from making unique arrangements to match your taste, Farmgirl Flowers also has a dedicated website section for flower, vase arrangement, wreath, preservation, and plant care.
Alternatively, if you'd like to make your own 'DIY' home arrangements, you could place an order for 100 flower stems, blooms, bits, or greens at the starting price of $220. As the pioneers of avoiding single-use plastic, Farmgirl Flowers is an excellent choice for those looking for sustainable floral online shipping services with beautiful, unique arrangements.
Floracracy
Specializing in meaningful custom arrangements is Floracracy's greatest strength. Whether you're placing an order to mark life's greatest moments, be it birthdays, mother's day, or valentine's day, Floracracy will help you curate personal, special messages to share with your loved ones.
With a price range of $95 to $350, Floracracy tells you what each flower means to help you build an authentic bouquet. And if you're stuck on designing your custom arrangement and message, you can take a quiz to share your context and your desired style, then Floracracy will help you select the flowers based on their meanings, style, and occasions. These styles include ordering tea roses for sorrow or carnations for love. After that, you can include a message written by you or Floracracy's in-house writers and have them shipped to you overnight across the lower 48 states.
Ultimately, instead of a pre-designed bouquet, you could design an authentic, beautiful floral arrangement that carries a special meaning and message through an easy-to-use step-by-step design process.
East Olivia
With East Olivia, shoppers looking for a long-term solution to floral arrangements can stop here. Specializing in large-scale floral installations, East Olivia is also a go-to online shipping service for their 'Forever Florals' that are dried and preserved. You need not worry about how to take care of them as East Olivia takes a step further to recommend proper care so they have longer lifespans. Through their uniquely seasonally styled arrangements, you can get inventive colors and textures in your chosen size, color, and vase.
Further, these colors and textures are normally unavailable when using traditional fresh bouquets. So, whether you'd like large-scale installations or simply need one-of-a-kind, long-lasting preserved and dried flowers, East Olivia is the best online flower delivery service to order from. Their 'Forever Florals' prices range from $55 to $225 plus shipping fees of about $13. You could also ship 'Fresh Florals' directly to your home at $145 with the option to pay it down in four interest-free installments, though keep in mind that orders could take five business days to arrive.
1-800-Flowers
For over three decades, 1-800-Flowers has offered flower delivery services of a wide variety. From pre-designed flower arrangements to gift baskets to household plants, keepsakes, and gourmet food items, they've been shipping across the country since the early 1980s using the toll-free number 1-800-. While the company has had its fair share of ups and downs, they offer an extensive, long-lasting flower selection of fresh flower bouquets, corporate gifts, and flower arrangements for large-scale events like weddings and funerals.
You could choose to browse through their online floral arrangements and gift baskets, make customization to suit your preferences, and place an order, or you could order through local florists. Prices range from about $30 to $85, depending on the size of the bouquet. You could also request to add gourmet chocolates, balloons, ot stuffed animals at an extra charge of about $15 to $50. Keepsakes like friendship candles and birdhouses range from $20 to $250. Once you're comfortable with your order, you then checkout with varying shipping fees depending on the size of your order. So you could pay as low as $3 for same-day delivery to as high as $20 for orders between $80 and $100.
Due to their innovative collaboration with local florists, 1-800-Flowers is known to ensure quick delivery of fresh flowers that lasts for days. With these great reviews, you'll likely enjoy their extensive online flower delivery service that suits every budget.
Surprise Your Loved Ones Today!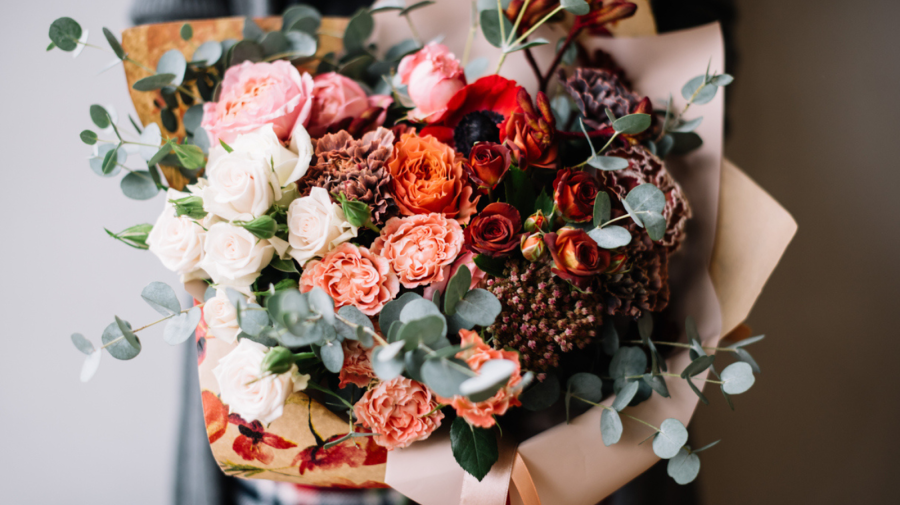 These five online flower delivery services serve a wide variety of needs. If your goal is to get unique flower arrangements with sustainable wrapping, Farmgirl Flowers has got you covered. However, if you'd like to make a one-stop order of floral arrangements with as many accompanying gifts as possible, you may want to check out 1-800-Flowers. Ultimately, your interest, budget, and how fast you'd like your shipping made will determine which company works best for you and, in turn, help assure you of guaranteed satisfaction.