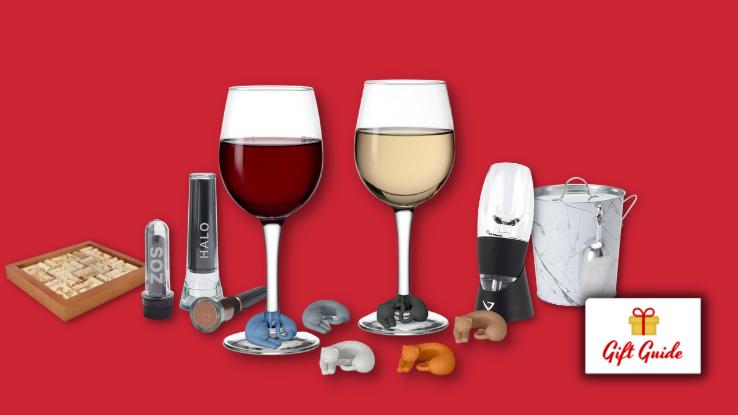 We're all familiar with bringing wine to someone's house as a gift for their hospitality, but, sometimes, it's important to go that extra mile. Whether you're trying to express your gratitude or just find the perfect gadget for the aspiring sommelier in your life, we've got some grape ideas. Sip back, relax and check out these must-have items that every wine-lover needs in their home.
Let Your Wine Breathe With an Aerator
If you've ever been to a wine tasting, you've probably heard some strange terminology — like "let your wine breathe." Though it may sound strange at first, exposing your wine to air for a short period of time pre-drinking allows it to oxidize, which, in turn, softens the wine's flavors and lets it release its aromas. TL;DR: Your first sip will both taste better and smell richer.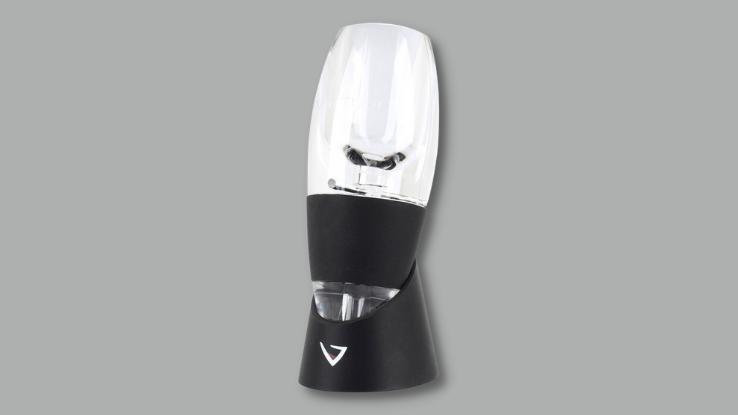 If you don't want to spend a ton of time messing with decanters, you can now aerate your wine in the amount of time it takes to pour a glass. In a matter of seconds, the Vinturi Wine Aerator mixes your pour with the right amount of air, making for a better bouquet, a richer flavor and an undeniably smooth finish. Looking for more bells and whistles? Try the Coravin Aerator, which turns an hour of decanting into a quick, minutes-long process with even more satisfying results. However, this aerator must be used with the Coravin Wine System: While pricey, the device allows you to pour wine without removing the cork, meaning there's no need to finish a bottle in one sitting.
Start the Party Right With Some Bar-Grade Corkscrews
There's no greater tragedy than having a perfectly good bottle of wine and no way to open it, which is why everyone needs one great — or several great — bottle openers. If you're looking for a great value, the basic Waiter's Corkscrew is the answer: Sleek, no-frills and pocket-sized, this corkscrew is ideal for picnics and backyard parties alike.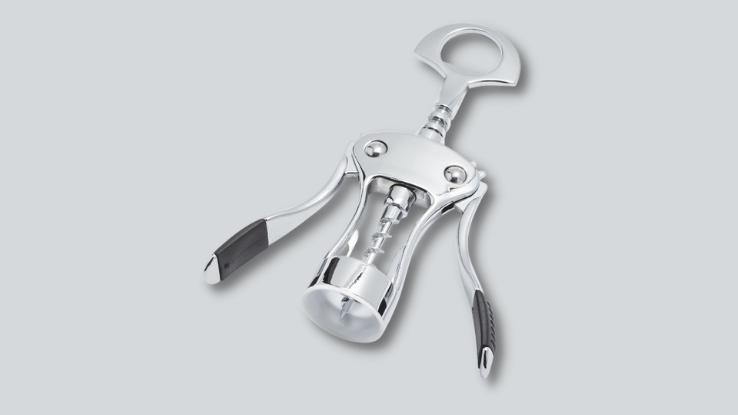 If you're looking to up your game a bit, the Crafthouse by Fortessa Corkscrew features a lovely black walnut handle. This foldable, portable corkscrew also features a hinged lever — to prevent cork breakage — and a small serrated knife for cutting foil from champagne bottles. If the traditional corkscrew has given you trouble in the past, we also recommend a basic Winged Corkscrew, which allows you to remove the cork in one swift motion. Pair any of these with a Foil Cutter, which strips the foil crown from any wine bottle without the mess and hassle of a knife.
Raise a Drink to These Double-Insulated Stemless Wine Glasses
Undoubtedly, the sommelier-in-training in your life has quite a few wine glasses, both stemmed and stemless, but we think they could stand to add a few more to their collection. The Zwilling J.A. Henckels Sorrento Stemless Wine Glasses are the best of both worlds thanks to their double-wall design.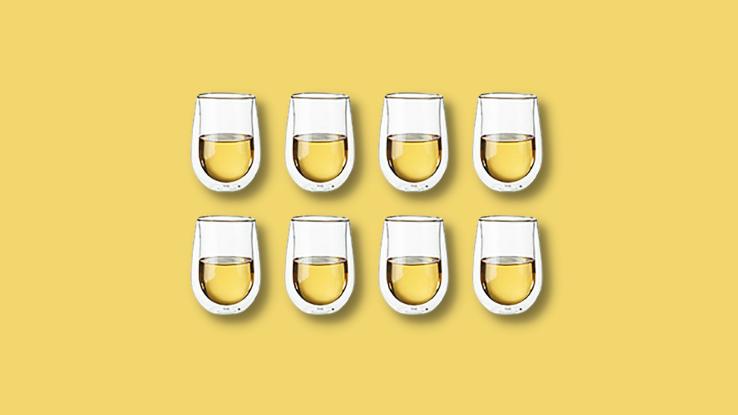 How so? Well, stemmed wine glasses can be more accident-prone — easier to knock off a tabletop or chair arm — but, meanwhile, a stemless glass can be affected by the temperature of your hand because you're holding onto the base. The double-wall insulation keeps the outer glass free of condensation, so, whether you're pouring a red or a chilled white, these glasses are a game-changer.
Try Out a Cooling Wand to Keep Things Chill
If the friend on your gift list is a white wine drinker, then we've got a must-have for you (and them): this 3-in-1 stainless steel wine bottle cooling stick. Without a doubt, this is one of our favorite gadgets. Not only does it chill, but this convenient item also aerates and filters your wine, helps you pour a glass steadily and perfectly and acts as a reusable cork for preservation. Simply pop it into the freezer two hours before you pop a bottle, and it'll be ready to go.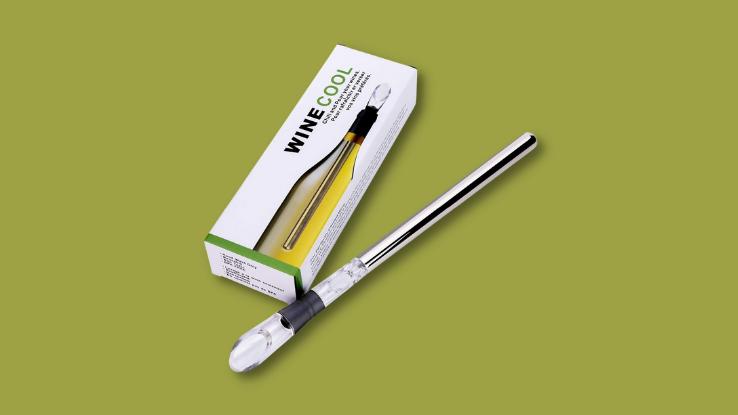 The best part? This chilly rod completely eliminates the need for an ice bucket in which to chill your wine. The fluted end also reduces drips while you're pouring, and the BPA-free rubber stopper seals in the coolness. Your recipient can just sit back, even on a hot summer day, and keep the bottle on hand — without the fear of their wine warming.
Keep Things Fresh With a ZOS Halo Wine Preserver
If you enjoy sipping a different wine here and there — or have no interest in finishing a bottle in a single sitting — the greatest obstacle can be finding a way to preserve the remaining wine for the next time you pour it. Luckily, the ZOS Halo Wine Preserver makes things easy.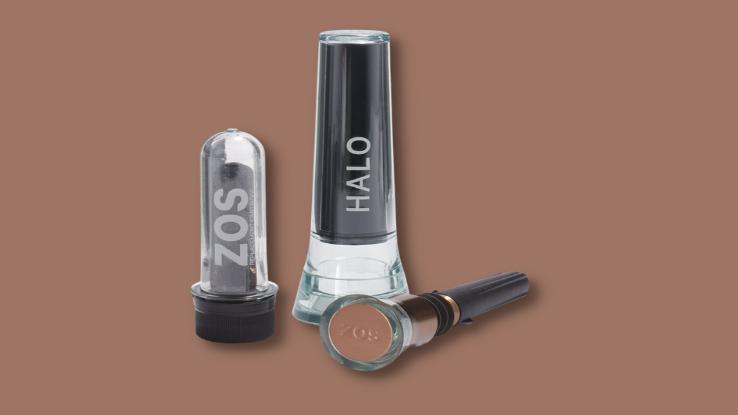 Simple yet elegant, the ZOS Halo Wine Preserver uses advanced technology to preserve opened bottles of wine: A non-toxic, absorbent cartridge removes 100% of the oxygen in the opened bottle, allowing you to sip still-fresh wine even days later. A single cartridge can preserve up to 15 bottles, meaning it doesn't need as much replacing as other models.
Looking for something more low-tech? The affordable Vacu Vin Wine Saver — a manual hand pump — allows you to vacuum seal your unfinished bottle with ease.
Make Sure You Always Have the Right Tool for Any (Wine) Problem
If the sommelier-in-training is also a fan of entertaining, then they'll need all the latest tools and gadgets to complete their at-home bar. Sometimes, simpler is better, which is why we suggest gifting them the basics — a really classy version of those basics. Enter: the Vinturi Essential 7-Piece Wine Tool Set.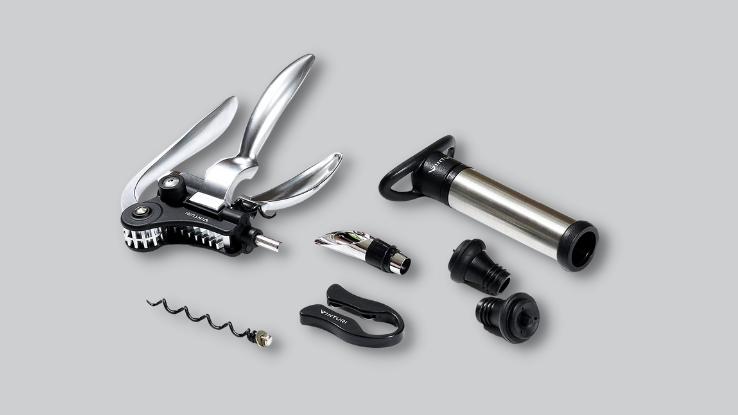 Perfect for newbie bartenders and longtime wine connoisseurs alike, the Vinturi toolset has a gadget for every situation. The foil cutter makes slicing through fancy label decor a breeze, the metal-alloy lever corkscrew is perfect for natural and synthetic corks and the dripless pourer ensures that each glug will be perfect. The set also includes a replacement screw, preserver and two stoppers.
Can't Remember Whose Glass Is Whose? These Can Help
We've all been there: Everyone is mingling at a party, leaving their wine glasses scattered around the dinner table, living room or patio. And, to make matters worse, every glass looks exactly the same. Well, continue to mix and mingle without mixing your drinks up thanks to these adorable Fred Wine Lives Charms.
Shaped like cats, these six silicone charms snuggle the foot of your wine glass, making the purrfect pour even better. Not a cat person? There are also charms for the dog lovers among us. If charms aren't the right fit for your personal style, try these Wine Glass Writers, which allow you to write on glass, glazed ceramic or plastic — and then wipe away your guests' names once the party's over.
Keep the Party Refreshed With an Ice Bucket
Looking to chill a bottle of champagne or keep the rosé cool all day? One thing's for sure: If you're into entertaining, having ice on hand is a must — and we're anything but on the rocks when it comes to loving the Swig Life Marble Ice Bucket.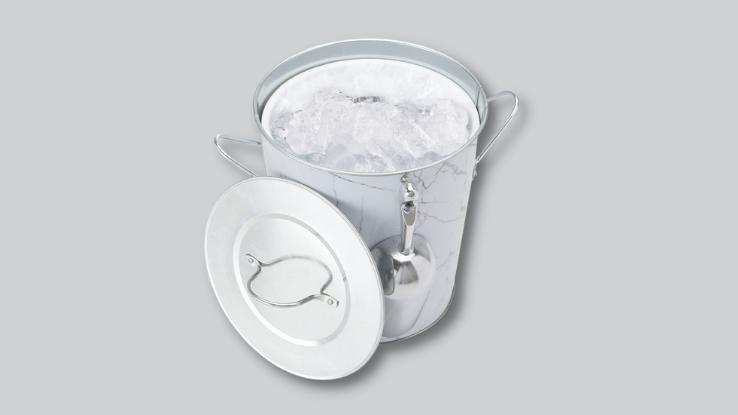 Whether you're toting ice outside or setting up a bar indoors, a nice-looking ice bucket can complement any setup. The bucket comes with a handy ice scoop, which hangs conveniently from its side, and the tight-fitting lid ensures that the bucket will beat the heat. And, yes, if your guests want to splash a few ice cubes into their white wine on a summer day, they can do so discreetly.
Display Your Finest Wine in Style
No matter if you're a longtime wine lover or a sommelier-in-training, displaying your favorite wine is a must. One great option? This Reclaimed Walnut Wine Rack by LadyBagsSF. As the title suggests, it's charmingly built from reclaimed wood and, in addition to holding four bottles of wine, the rack also has room for four stemmed wine glasses.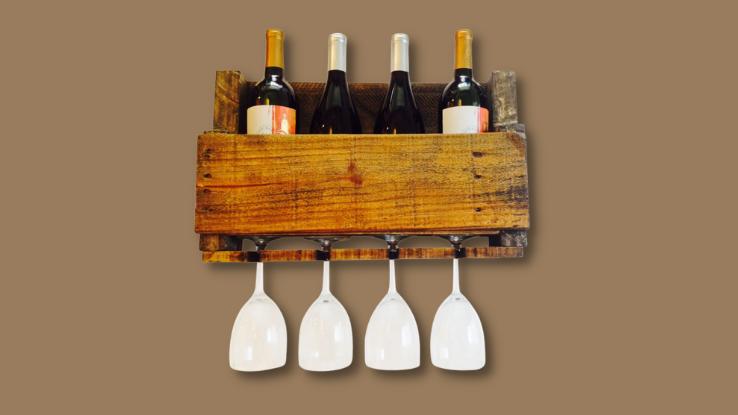 If a hanging rack isn't quite your friend's (or your) style, the Home Zone Kitchen Tabletop Wine Storage Rack is a no-assembly-required option. Capable of holding six bottles, this horizontal rack is crafted from sturdy black steel — it's durable enough for use in commercial kitchens, so you know it'll keep your recipient's bottles cradled safely.
Finished a Bottle? The Fun Goes On
Who says the fun has to stop when the drinking does? The String Light Bottle Stopper keeps things lit — long after you've finished your bottle of wine. If you've drunk a particularly special bottle, saving it is a must, and these LED lights can transform any empty into an eye-catching lamp. An alternating fade effect allows for natural illumination, and the string of lights can be conveniently charged via a USB port.
A DIY lamp isn't the only post-wine craft worth your time. If you're a fan of saving corks from vacations or special events, turn those mementos into something useful with a Wine Bottle Cork Patchwork Trivet Kit. A great addition to any countertop, this 9×11-inch pine trivet frame comes with glue to hold the corks in place and allows you to display your passion for all things wine even when you aren't sipping a glass.