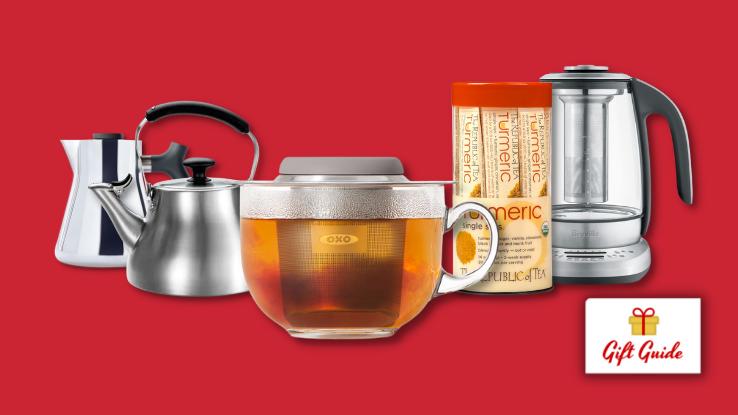 Although coffee connoisseurs seem to get all the attention these days, tea drinkers are just as prevalent. In fact, for many, sipping tea is a daily practice — it calms the body and mind, has medicinal properties and, heck, it goes really well with a shortbread cookie. Needless to say, there's probably someone in your life who enjoys a cup of Sleepytime or Earl Gray on the daily, so sip back, relax and let us infuse your tea-lover gift ideas with some real inspiration.
Just Your Cup of Tea: Form and Function
While finding the perfect teacup often boils down to personal preference, there's nothing wrong with adding a few standout cups to someone's collection, especially when said cups beautify your recipient's entire tea-drinking experience. Here, for instance, we have the gorgeously rustic Hinomaru Minoyaki Set of Traditional Japanese Tea Cups.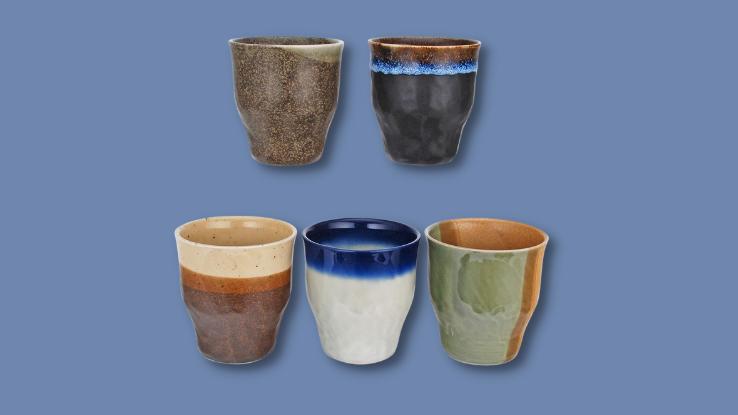 Made in the Japanese city of Mino, these cups are skillfully handcrafted by experienced artisans. They're designed specifically to keep green teas hot, aided by the porcelain coated in traditional earthenware glazes that give each cup a homespun charm. Each cup is different, and the set comes in a decorative box that's all ready to gift to your favorite tea lover.
Whistle While It Works: Forget the Fancy Electric Kettle
Looking for something that reminds you of making tea on the stovetop of a cabin in the Vermont woods? Well, the OXO Stainless Steel Tea Kettle is the one for you. Affordable and convenient, this top-tier kettle's stainless steel design means it won't rust, making it the perfect choice for tea drinkers who want to invest in a lifelong companion.
The kettle's large lid opening makes both filling and cleaning a breeze — as does the rotating handle. Can't take the heat? No worries. This model comes equipped with a heat-resistant silicone handle and knob to keep your unprotected hands safe. When the water's ready, this kettle lets out a loud whistle — just like in the movies. The only drawback is that it's gas stove-compatible only.
A Smart Tea Infuser for the Person Who Loves Gadgets
If the person on your gift list has a penchant for both quality tea and quality gadgets, then the Breville Smart Tea Infuser is a great purchase. This product isn't just about nailing down the art of tea-making; it's about perfecting the science behind it too. So, you might be wondering, what makes this product so smart?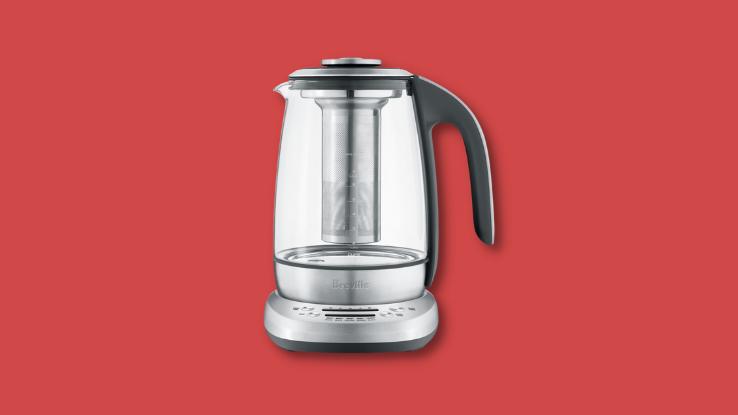 Well, it knows the right temp and steep temp for whatever variety of tea you throw at it. (Or, you know, gently fill it with.) With five unique settings to bring water to the right temp for green, black, white, oolong and herbal teas, this steeper is also perfect for folks who want to play around with flavor strength and learn how even the slightest temperature variance can greatly impact the way a cup of tea tastes. Best of all, there's no rush: This Breville product will keep your tea warm as you fix the rest of your breakfast.
One Stop Shopping: A Top-Notch Tea Kettle and Steeper Combo Kit
If you've read over our coffee lovers' gift guide, then you probably remember how much we loved Fellow's pour-over-friendly electric kettle. The Fellow Raven Stovetop Tea Kettle, which comes complete with a steeper, takes that same top-notch quality and optimizes the experience for tea-makers. Namely, you'll notice the spout is a more traditional, carafe-like design.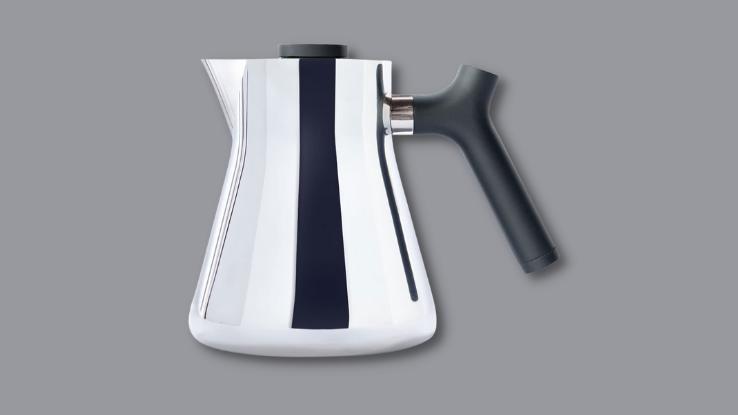 What you might not notice by just looking at the kettle? It features an integrated tea filter, allowing not only for precision heating, but also for the perfect steeping — all in one convenient vessel. A user-friendly thermometer allows you to adjust — and easily ascertain — the appropriate temps for green, black, oolong, white and herbal teas, meaning no matter your leaf of choice, this sleek, stovetop kettle is a must-have for those who want the perfect cup of tea every time.
Just Your Cup of Tea: For the Tea Lover With a Great Eye for Beauty
If a more modern, all-glass aesthetic isn't really your friend's cup of tea (sorry, we couldn't resist), then you may want to check out these equally elegant Japanese-Style Ceramic Tea Cups. This set of four cups is inspired by traditional Japanese crockery and emphasizes simplicity without sacrificing beauty.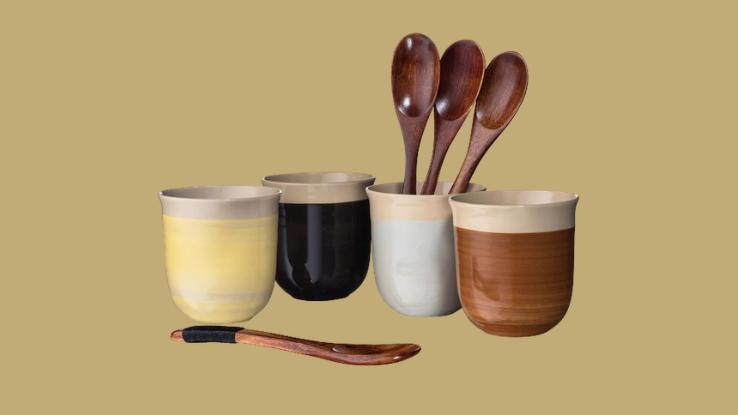 Apart from looking lovely on any shelf or table, these cups are also convenient and easy to handle: Despite being made of ceramic, they aren't too hot to touch once you've poured your tea — and they're dishwasher- and microwave-safe. Customers also love the fact that this set comes prepackaged in a gorgeous little gift box, meaning they're ready to give from the get-go.
Take the Traditional Tea Pot to the Next Level
If your friend isn't into gadgets or fancy temperature functions and wants to get back to the basics, we recommend the Staub Round Teapot. Although a bit pricier than your average stovetop teapot, this one is, well, not your average pot. The unique, round kettle borrows from the distinctive design of traditional Japanese teapots, but the material — enameled cast iron — adds some new benefits.
Not only does the cast iron pot boil water more quickly, but it also retains heat longer than a traditional ceramic teapot or a stainless steel one. With a smooth base, this pot is compatible with all cooktops, including induction, which makes it a great, versatile option. The only drawback? Cast iron is heavy! And if you've never used it in the kitchen before, learning to care for cast-iron products comes with a slight learning curve.
"Special-Tea" Blends for Folks Looking to Stay Healthy
Part of the fun of being a tea aficionado is trying out new varieties. The possibilities are virtually endless, so you really can't go wrong. However, we've found a few unique ones that make great standalone gifts or add-ons to a larger purchase. First up, The Republic of Tea's Double Green Matcha Tea: This balanced blend of organic green tea leaves and matcha powder creates a smooth, springtime blend that can be enjoyed hot or iced alongside both sweet and savory treats.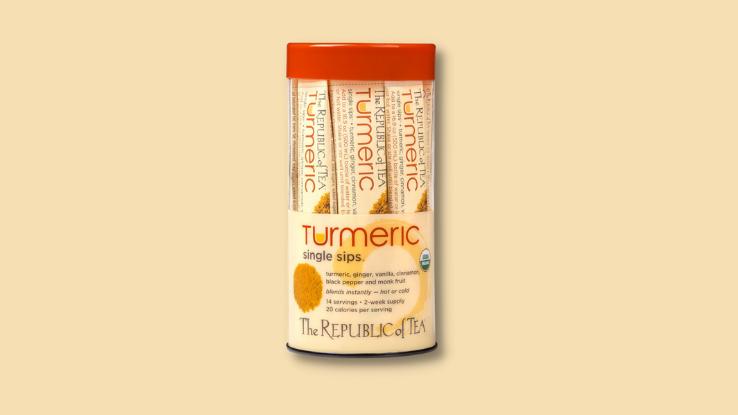 Additionally, when it comes to health-forward teas, The Republic of Tea doesn't disappoint. Bring balance back to your body with The Republic of Tea's Get Wellness Stackable Tea Tins: The Get Immunity green matcha provides a spark of energy and wards off illness; the Get Elderberry boosts your body's defense mechanisms; and, finally, the caffeine-free Get Wellness helps end your day on a high note.
Looking for more of an add-on to your morning cup of tea than a new regimen? We recommend The Republic of Tea's Organic Turmeric Single Sip Tea, a turmeric powder that can be blended into a hot (or cold) beverage so that the drinker can enjoy the ingredient's antioxidant and anti-inflammatory benefits.
The Best "Novel-tea" Infusers (and Some Great Traditional Ones Too)
Now for the cute stuff: tea infusers! Like tea varieties, infusers seem to come in endless variations. There are, of course, the more traditional kinds, like the ever-practical (and super inexpensive) Mesh-Ball Tea Infuser, which has been used for ages, to great effect, to hold both loose-leaf teas and mulling spices.
Another great, albeit traditional, option is the Oxo Brew Tea Infuser Basket. Much like the mesh-ball infuser, this loose-leaf tea holder is proven and, as a bonus, the large size of the basket allows the leaves to expand for maximum flavor extraction. Looking for something a little more memorable? Your buddy will love this adorable, and punny, Manatea Silicone Infuser — or this paws-atively adorable Fred Purr Cat Tea Infuser, because nothing says cozy like a cup of tea and a cat on your lap (or, you know, in your hands).