Throughout 2020, folks faced what The Cut aptly described as "compounding crises." In addition to the devastating COVID-19 pandemic — which has disproportionately impacted Black, Indigenous and Latinx folks and resulted in the deaths of over 587,000 Americans as of May 19, 2021 — people have been grappling with high unemployment rates.
As a result, many folks have been unable to afford their rent, mortgage payments, medicine or food, among other essentials. And, in the wake of the police murders of George Floyd, Breonna Taylor, Tony McDade and other Black Americans, people became more involved in organizing and activism, making the resurgence in Black Lives Matter protests the largest social movement in U.S. history.
As we discussed in our article about ways individuals can support the #StopAAPIHate movement, the community support we've seen over the last year hasn't been confined to protests and marches. "Against this backdrop, where large swathes of the country feel abandoned by the government, the concept of mutual aid is quickly gaining mainstream recognition," The Cut notes.
So, what is mutual aid? And how are fundraising platforms, like GoFundMe, and payment platforms, like Venmo, PayPal and Cash App, making funds more accessible — and visible?
Mutual Aid Efforts Address the "Real Material Needs" of Folks in Our Communities
Mutual aid isn't a new concept by any means — and it certainly isn't just a response to crises. In fact, chances are you've participated in some sort of mutual aid efforts, even if the term sounds unfamiliar to you. Individuals who participate in mutual aid voluntarily exchange resources. They take care of each other as a community. "It's not community service — you're not doing service for service's sake," Mariame Kaba, a prison abolitionist and grassroots organizer, told The New Yorker. "You're trying to address real material needs."
And, more often than not, supporting mutual aid and community-led fundraising initiatives is the most effective way to donate your money and share resources. Interestingly, mutual aid, which is tied to the concept of "community care," has brushed up against the concept of "self-care" in recent cultural conversations. In some ways, the increasingly more mainstream awareness of community care has revealed some of the limitations of the self-care movement.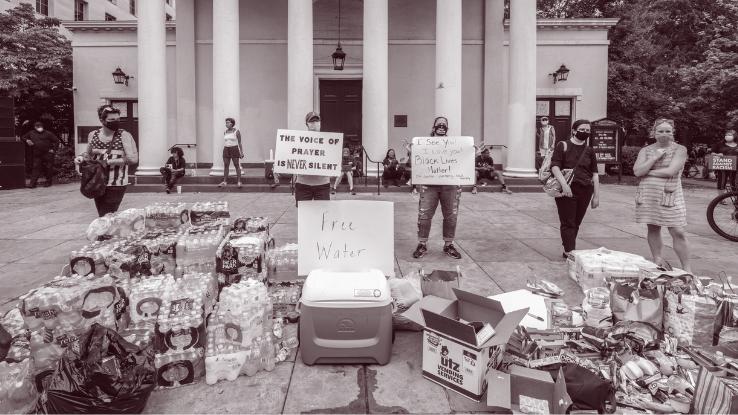 "Self-care rhetoric teaches us to not be a burden on others," Abeni Jones wrote in an article for Autostraddle, "because it's almost entirely focused on what we can do for ourselves." While community care can be about organizing and protesting and creating change, it's also about supporting others in a material way.
But these interpersonal acts of care aren't all "one hand washes the other" — sometimes, there won't be a balanced give and take, because what one can give and what one needs hinge upon each individual's privilege, access and resources. "Community care means liberation for those of us who struggle alone, fearing the burden we place on others," Jones writes. "It means we can receive the support that we need, the support that keeps us alive."
In an interview with Mashable, Canadian writer and community organizer Nakita Valerio echoed these sentiments about community care. Valerio explained the difference between self-care and community care, noting that the latter involves "People committed to leveraging their privilege to be there for one another in various ways."
While community care and mutual aid can't undo systemic oppression alone, they are essential acts of solidarity, especially in a world where we're taught to look out for ourselves. "Community care is a better stepping stone [to justice] than self-care," Valerio told Mashable. "…We're doing it together and trying to survive in a system that's built against us."
When It Comes to Mutual Aid, What Roles Have Platforms Like GoFundMe & Venmo Played?
So, how do crowdfunding platforms and mobile payment services support mutual aid and community care efforts? In less "mainstream" areas — in social movements, in the world of nonprofits, in tight-knit communities — community care has existed for ages, as we've established. By that logic, raising funds or finding ways to exchange goods and resources aren't new practices either. However, it's clear that the ways we organize — or seek support — have changed as our points of access and resources change.
While technology certainly has its downsides, we've also seen the unique ways in which social media has amplified social justice movements in the last few years. As we noted in our coverage of 2020's Black Lives Matter (BLM) protests, "the fact that social media makes live, raw information and narratives more accessible (and, sometimes, visceral), has been a crucial development in getting both fledgling and long-standing activists alike to rally around the fight for justice."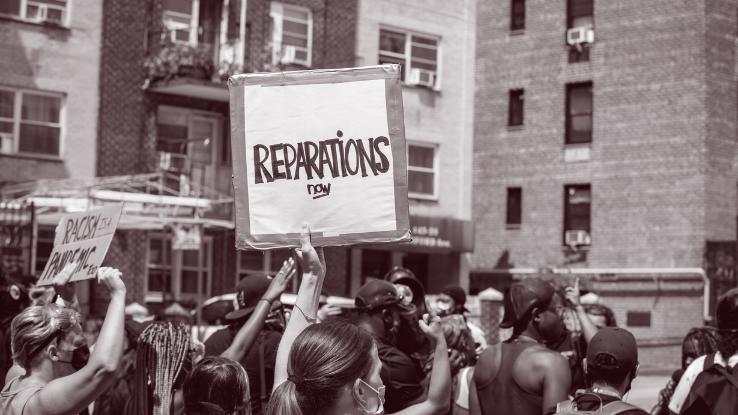 But it's also no secret that social media has let some folks repost and move on — the infamous "black squares" mess on Instagram is one such example of folks hopping on a social media trend without really understanding the implications or taking action beyond those low-effort posts.
On the other hand, Instagram, Twitter and other platforms have allowed for educational opportunities, information and resource sharing, and more. "Having the technology to where we're able to actually create international conversation around how race affects each of us is something I'm very proud of," T. Sheri Amour Dickerson, executive director and core organizer of BLM Oklahoma City, told NBC News. "This movement has really moved the needle."
As a crowdfunding platform, GoFundMe's link to mutual aid funds is clear. From helping folks in India during an "untenable" COVID-19 surge and crisis to raising funds for independent businesses, like Harriet's Bookshop in Philadelphia, to lending support to people who've been displaced by disaster to providing mental healthcare access to Asian American and Pacific Islander (AAPI) journalists dealing with the trauma of reporting on hate crimes, the GoFundMe community category is full of opportunities to lend assistance and help create equitable change.
But what about Venmo and Cash App, which are simply ways of exchanging money? In some ways, these platforms provide more comprehensive aid, insofar as there are fees associated with GoFundMe, a for-profit business. For aid efforts like @BlackTransRentRelief, which raises funds for Black queer people, or Red Canary Song, which supports migrant and Asian sex workers in New York City, Venmo and PayPal have been the primary donation avenues.
Thanks in part to more visible and accessible means of donating, organizations are able to redistribute huge amounts of money and resources. For example, the Black Visions Collective Movement and Legal Fund, a Black-, trans- and queer-led organization based in Minnesota, has reallocated $8.9 million to community members, organizations and other groups in less than a year. By providing everything from grants to legal aid, the Collective has undoubtedly changed lives — and they aren't alone.
So, whether you're fostering a community garden; providing food and groceries to folks; or donating funds to individuals who need help with rent, medical expenses, legal fees or anything else, it's essential to support your neighbors. After all, doing so can help strengthen our communities.