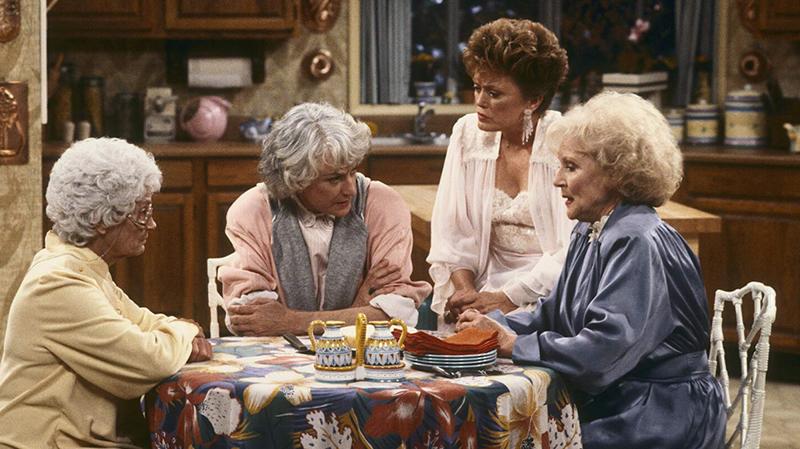 On September 14, 1985, The Golden Girls pilot debuted, kicking off a seven-season run that would garner Emmys, Golden Globes and legions of dedicated fans. But, 37 years later, the show continues to resonate with so many generations of viewers — all over the globe.
So many elements have fed into the show's lasting legacy, from the unforgettable cast and their characters to the witty writing that, in the '80s, felt forward-thinking, making it ever-pertinent today. Nonetheless, even the sitcom's most devout fans don't know everything about what went into making The Golden Girls such a success. Read on to learn behind-the-scenes tidbits about everyone's favorite Miami ladies.
The Part of Dorothy Was Written for Bea Arthur
After hits from the 1970s like All in the Family, The Mary Tyler Moore Show and The Bob Newhart Show ended, television's so-called comedy drought ensued. Garth Ancier, who served as NBC's vice president of current comedy development in the '80s, noted that The Golden Girls marked a big risk because "It broke a lot of rules."
One of those rules? The show centered on four older women — simply unheard of then (and, sadly, now, save for Netflix's Grace and Frankie). Although an ensemble show, The Girls were (arguably) led by salty substitute teacher Dorothy Zbornak, conceived of by creator Susan Harris as a "Bea Arthur type." However, despite serving as the role's inspiration, Arthur wasn't NBC's first choice.
Rue McClanahan Pressed Bea Arthur to Take the Job
At first, creator Susan Harris and execs at NBC were interested in casting comedic greats like Elaine Stritch and Lee Grant in the Dorothy role. NBC was on the fence about Bea Arthur because of her alleged low "Q score" — because Arthur was best known as the rather liberal titular character on Maude, the network feared she wasn't loveable enough.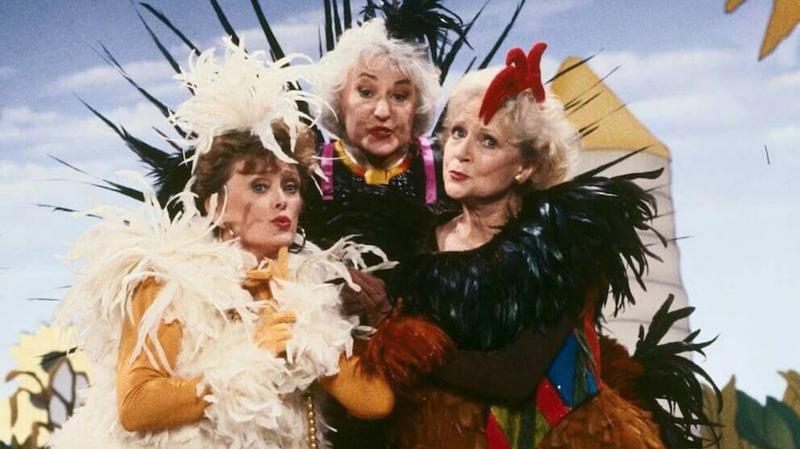 Eventually, the part was offered to its inspiration. According to Rue McClanahan, she had to put some pressure on Arthur to accept the role. "Why are you going to turn down the best script that's ever going to come across your desk as long as you live?" McClanahan allegedly said to Arthur. For her part, Arthur remembers things a bit differently, claiming she was immediately impressed by the pilot script.
Queen Elizabeth II Is a Huge Fan of the Show
When it debuted in 1985, The Golden Girls premiered at number one — something that's always been considered a rare achievement in television — to an estimated 44 million viewers. And those diehard fans kept the show in the top 10 for six of its seven seasons. Among those fanatics? Queen Elizabeth II.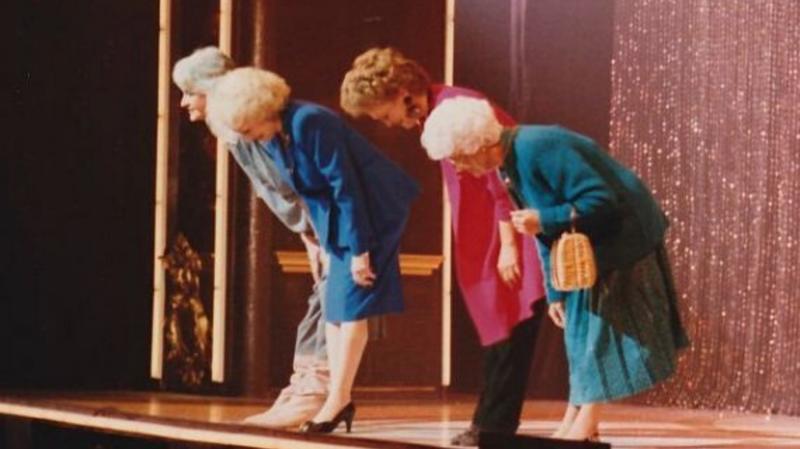 In 1988, the Queen invited the show's stars to perform live at the Royal Variety Performance in London. Although some of the jokes were censored, writers kept a more risque bit intact. Sitting around the kitchen table, Dorothy (Bea Arthur) asks Blanche (Rue McClanahan) how long she waited to sleep with a man again after her husband died. Sophia (Estelle Getty) interjects, saying, "Until the paramedics came" to much laughter from the audience.
Estelle Getty Was Actually One of the Youngest Golden Girls
As Dorothy's ever-salty mother, Sophia Petrillo, Estelle Getty won audiences over. However, despite playing the oldest of the four Miami ladies, Getty was actually one of the youngest in real life. Betty White — who played Rose Nylund and is the only Golden Girl alive today — is the oldest, followed by Bea Arthur.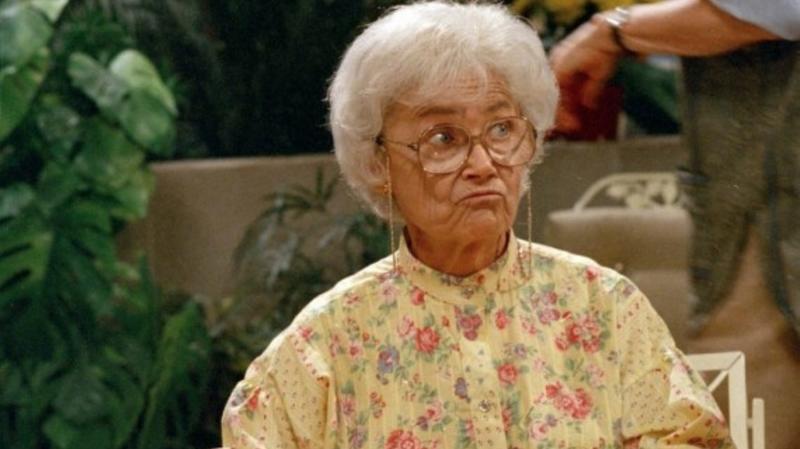 While both White and Arthur were born in 1922, Getty was born the following year in 1923. Despite all the jokes about Blanche Devereaux not admitting her real age, Rue McClanahan, born in 1934, was actually the youngest of the bunch. That said, it took the makeup department roughly 45 minutes to convincingly transform Getty into Sophia.
The Miami Home Was Actually in Los Angeles
In the show, the Girls lived at 6151 Richmond Street in Miami, Florida. However, the exterior shots of Blanche's house were taken — at least originally — at a home on North Saltair Avenue, in the heart of Los Angeles' Brentwood neighborhood. Valued at over $3 million, the house is still visited by fans on Golden Girls pilgrimages.
In 1989, Walt Disney World opened its third Orlando-based theme park, Hollywood Studios (then known as Disney-MGM Studios Theme Park). On the Studio Backlot Tour, visitors could glimpse Residential Street, an area of the park lined with facades used for filming TV shows, commercials and movies. A recreation of The Golden Girls house stood there for years — until all the facades were demolished. These days, Residential Street is known as Galaxy's Edge, the new Star Wars-inspired area of the theme park.
Rue McClanahan Got to Keep Her Wardrobe
Rue McClanahan is more than just an iconic comedic actress. In fact, she should be known as an iconic negotiator. Although all of the Girls had some winning signature looks — from Dorothy's endless flowy shirts and shoulder pads to Rose's knit sweaters and comfy bathrobes — Blanche's wardrobe definitely had a lot going for it.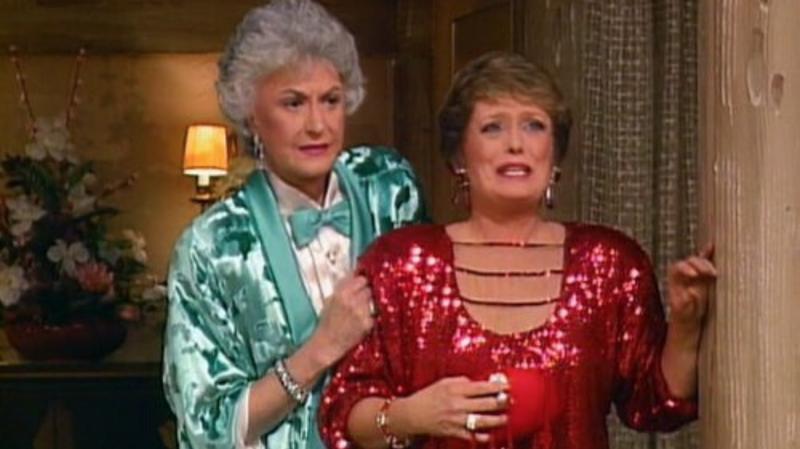 Whether she's getting dressed up for (yet) another date, dressing for an event at her museum job or singing tunes down at the Rusty Anchor, Blanche always opts for glamour. In TV's best negotiating move, McClanahan asked for a clause in her contract that would allow her to keep all of her character's clothing.
Rue McClanahan & Betty White Would Play Word Games Between Scenes
Over the course of the show's seven seasons, the cast filmed a whopping 180 episodes, including 11 one-hour episodes. That's a lot of time on set. According to ABCNews, Rue McClanahan and Estelle Getty claimed it took an incredible nine hours to rehearse an episode. Needless to say, between rehearsing, prepping and filming, the stars had to contend with some downtime.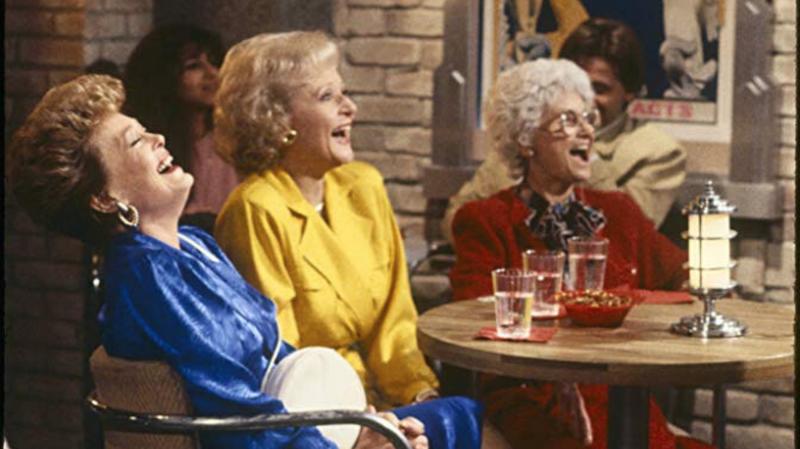 Known for being the unofficial first lady of game shows, Betty White had a lot of experience playing hit games like Password, The Match Game and What's My Line? And White brought some of that competitive spirit to set. She and McClanahan would reportedly play word games to pass the time between takes.
Estelle Getty Was Nearly Petrified by Her Stage Fright
Despite all of her stage experience, Estelle Getty was the least experienced of the four stars when it came to working in television. Getty admitted that her lack of TV experience unnerved her. Working with the likes of Bea Arthur scared her, as she felt fans would "find out" she wasn't as good as her co-stars.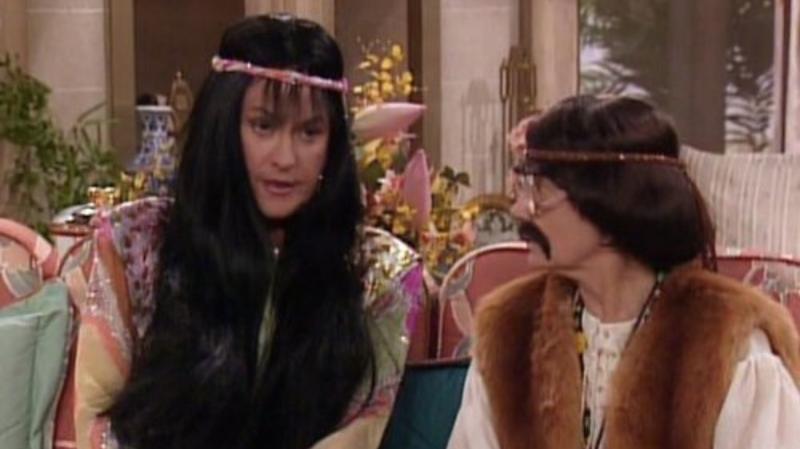 When recalling the filming process, Rue McClanahan noted that Getty, a Broadway vet, would have a "black cloud" hanging over her head at Thursday dress rehearsals. And at Friday tapings? Getty would often freeze up, cameras rolling. "Though the three other actresses…were far more established," Playbill noted, "Ms. Getty's non-stop barrage of peppy, often- off-color zingers quickly grabbed viewers' attention."
"Miami Nice": Doris Roberts and Selma Diamond Skit Serves as Inspiration
In the mid-1980s, Everybody Loves Raymond star Doris Roberts appeared in NBC's Remington Steele. Meanwhile, Selma Diamond was on another NBC heavy-hitter, Night Court. The actresses were asked to perform a skit to promote the network and, although not the most ambitious crossover in history, it spawned the idea for The Golden Girls.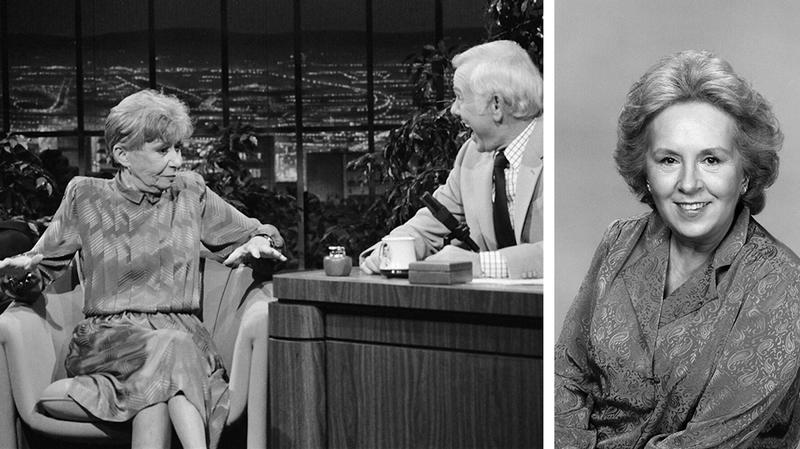 In the skit, Roberts and Diamond mishear the name of the popular cop show Miami Vice. Instead, they think the program is called "Miami Nice" and stars a bunch of retired folks. "Miami Nice" flipped a switch for Golden Girls creator Susan Harris, something Roberts later tweeted about in 2016, confirming the story.
Bea Arthur's Extravagant Earrings Were Clip-Ons
Dorothy Zbornak's wardrobe could only work in the '80s. From boldly colored sweaters and nightgown-like shirts to flowing skirts and oh-so-many collared/velvet top combos, Dorothy is certainly a fashion icon. To complete the various looks, she often wore some chunky jewelry — namely, earrings.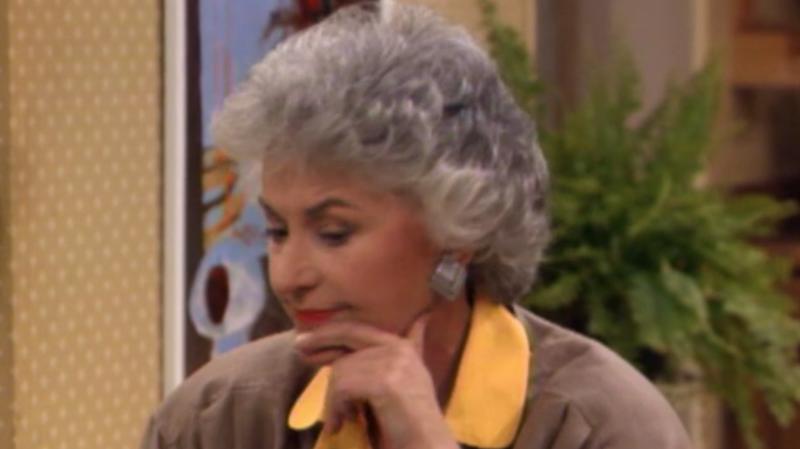 But those earrings were about as real as Dorothy's ex-husband Stan's hair. Which is to say, the legendary earrings were all clip-ons. In fact, Bea Arthur's ears weren't pierced. Arthur said that the "crazy earrings" gave a wonderfully dramatic look to her character — though she didn't exactly love that they numbed her ears by the end of the work day.
A Bette Midler Tune Was the Original Choice for the Show's Theme Song
If you've ever watched an episode of The Golden Girls with a fellow fanatic, one thing's for certain: You will both sing the entirety of the theme song. Loudly and passionately. There are few TV show theme songs more wholesome and catchy and perfect.
But the now-beloved tune wasn't the producers' first choice. In fact, the execs over at NBC wanted to use Bette Midler's "Friends" as the show's theme song. As fate would have it, Midler's song was too pricey, so producers settled on Andrew Gold's "Thank You for Being a Friend," which was sung for The Golden Girls' opening by Cynthia Fee.
There Are Only Ever Three Chairs at the Kitchen Table
When they're not on the lanai or gathered in the living room, many of the Girls' best conversations — and saltiest digs — happen around the kitchen table. (Often over coffee and cheesecake.) Despite accommodating four women, Blanche's house gets a bit tight when it comes to the kitchen space.
What some fans may not realize: There are only ever three chairs around the kitchen table. This setup proved best for filming — otherwise the women would be squeezed too close together because no one's back could be toward the camera. Interestingly, the taller Bea Arthur is often sat in the center chair, which is fine by us — we don't want to miss any of Dorothy's signature glares.
Betty White & Rue McClanahan Auditioned for One Another's Roles
Initially, Rue McClanahan was set to play the wide-eyed Minnesotan Rose Nylund. And Betty White was keen on playing the vivacious Blanche Devereaux — until the pilot's director, Jay Sandrich, suggested White play Rose instead because Blanche was quite similar to White's character of Sue Ann Nivens on The Mary Tyler Moore Show.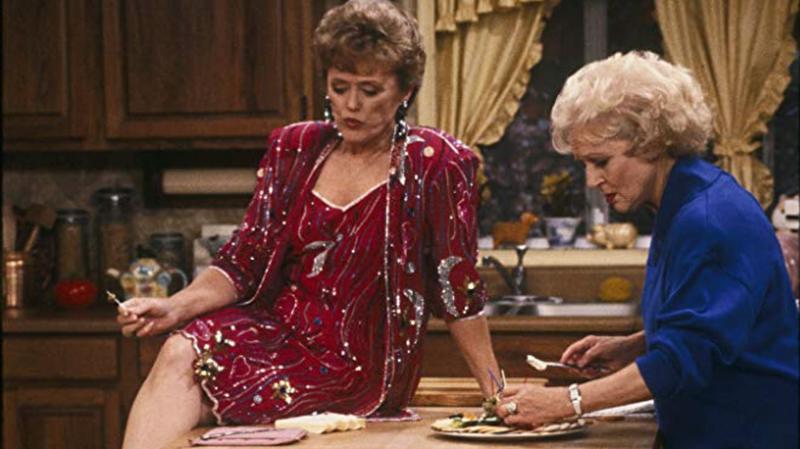 At the time, McClanahan was best known for her scatter-brained Vivian Harmon on the sitcom Maude. To avoid being typecast, the two actresses switched roles. We truly can't imagine them playing one another's roles — and, evidently, neither could Bea Arthur. In addition to McClanahan's supposed words of encouragement, another factor that sold Arthur on the show was the final casting of her co-stars.
The Kitchen Set Was a Hand-Me-Down
Not only was the kitchen set — with its strict three-chair limit — made for television, it was, in fact, created for another TV show. Designed for the short-lived sitcom It Takes Two, Blanche's iconic kitchen once belonged to a doctor (Richard Crenna) and lawyer (Patty Duke Astin) couple and their two teenagers. While most short-lived sitcoms see their sets tossed, this kitchen was just moved to creator Susan Harris' newest show.
The kitchen set remained mostly untouched for the show's seven-year run. The wallpaper was changed to something more Florida-appropriate, shelves were added near the doorway and decorative baking molds were hung on the wall. Most notably, the exterior backdrop — as seen through the kitchen window — was changed from Chicago high-rises to a palm tree-laden, suburban view.
Bea Arthur & Rue McClanahan Shared the Screen on Maude
First billed as a spin-off of All in the Family, Maude centered on the titular character who had appeared briefly as Edith Bunker's outspoken, liberal cousin. Maude, played by Bea Arthur on both shows, was never afraid to speak her mind and fight for equality, traits similar to Dorothy's character. However, Rue McClanahan, who appeared on Maude as Vivian Harmon, had a role more akin to that of Rose Nylund.
When Jay Sandrich, the director of The Golden Girls pilot, suggested that McClanahan play Blanche instead of Rose, McClanahan was sold. She didn't want herself and Arthur to replicate their Maude characters' relationship to a "T." Billed as "more Southern than Blanche DuBois," Blanche was brought to life by McClanahan's deliberately exaggerated accent, making her new role something completely different from the character she was known for on Maude.
Betty White & Rue McClanahan Worked Together on Mama's Family
During the ninth season of The Carol Burnett Show, producer Joe Hamilton wanted to make a spin-off sitcom based upon one of the show's most beloved sketch characters, Mama, who was portrayed by Vicki Lawrence. Initially, Lawrence turned down the idea, uninterested in playing the character on a weekly basis — especially without Carol Burnett, who played her daughter.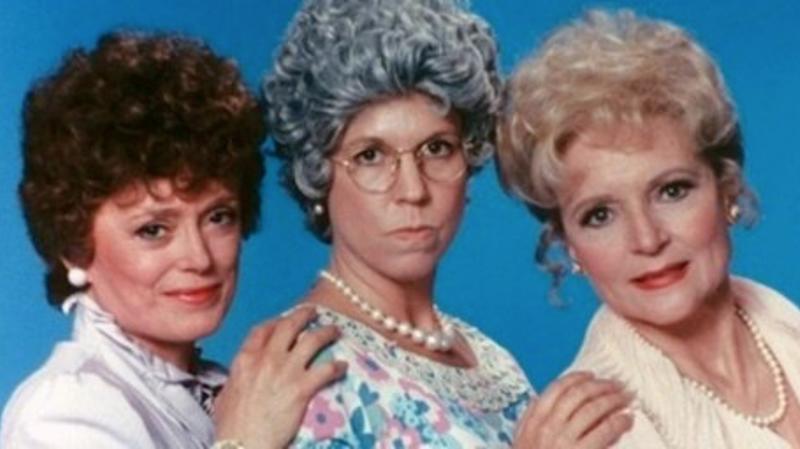 Nonetheless, the show finally debuted in 1983, only to be canceled after two seasons. During the show's short run, Rue McClanahan played Mama's uptight spinster sister Fran. Meanwhile, Betty White guest starred as Mama's other (non-Carol Burnett) daughter Ellen. The show's cancelation in 1984 worked out, allowing McClanahan and White to pursue starring roles on The Golden Girls.
Bea Arthur Once Phoned a Disparaging Fan
"No, no, I will not have a nice day!" reads the caption on one of Bea Arthur's most gif-able (and meme-able) Dorothy moments (pictured above). Little did internet users know, this comedic moment from the show also resonates with an infamous phone call Arthur made in real life. As the story goes, a woman told TV Guide that The Golden Girls was no longer as good as it had been during its first season.
The "fan" went on to say Dorothy "wasn't interesting." According to TV Guide head writer Mort Nathan, the publication mentioned the woman's full name and hometown, which meant Arthur had no trouble getting said woman's number from information. "This is Bea Arthur," the star said, "and I want to talk to you about what you said in TV Guide." Allegedly, the woman told Arthur she'd been misquoted.
Estelle Getty Is Responsible for Sophia's Iconic Straw Purse
In preparing for her audition, Estelle Getty found herself shopping around in Los Angeles' Fairfax District for props. As fate would have it, she found Sophia Petrillo's now-iconic straw purse, which she looped over her arm for the audition. Was the straw purse the key to Getty securing the role?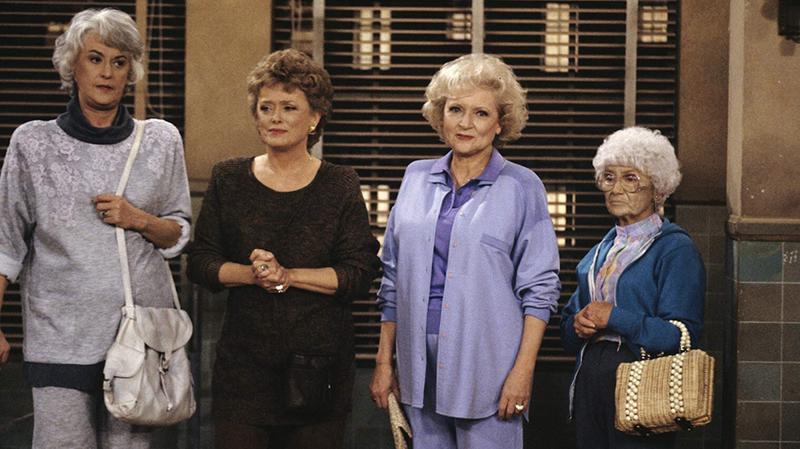 Well, there was surely more to it than that. But finding this prop sure didn't hurt her odds. The very same purse Getty bought in LA would go on to be used for the entirety of the show's run. And maybe it was something of a comfort to Getty while suffering from extreme stage fright during the filming of The Golden Girls.
Princess Diana & Freddie Mercury Were Big Fans of the Show
While Queen Elizabeth II was a well-known fan of the show, even inviting the stars to perform a few scenes live in London, she may not have been the only royal to love "Miami Nice." Reportedly, Princess Diana was a huge fan of the show — as was her pal, Queen frontman Freddie Mercury.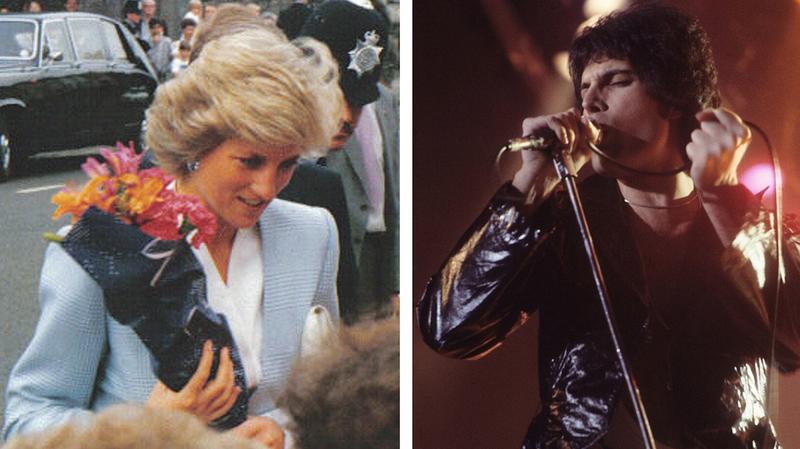 According to Cleo Rocos, a comedian based in the U.K., Princess Di and Mercury spent an afternoon watching reruns of The Golden Girls. While they watched, the duo sipped some champagne and ended up turning the volume down so that they could improvise some more outlandish lines for the Girls.
Originally, the Fourth Main Cast Member Was Meant to be Coco — Not Sophia
When the show was initially conceived of, writers and producers had meant the show's fourth principle character to be Coco, a gay man who worked as a cook in the Girls' home. Coco is seen in the pilot, having some great back-and-forth banter with Bea Arthur in one of the show's opening scenes. However, that banter wasn't enough.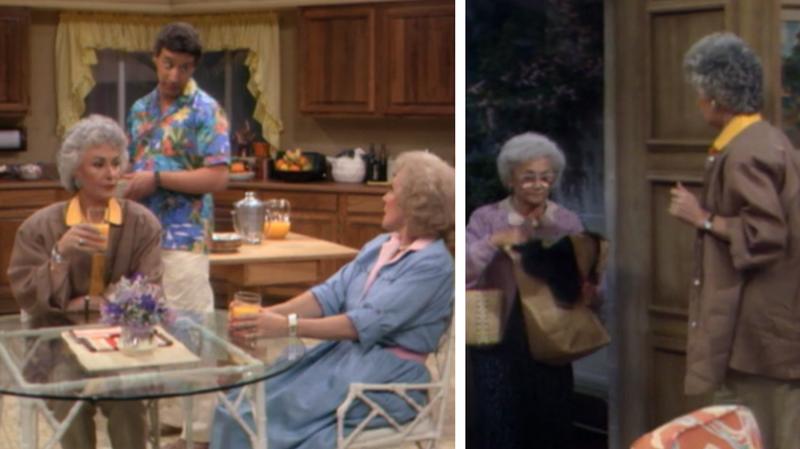 While Coco did test well with audiences, there was another character who played even better: Sophia Petrillo. Both charming and salty, Estelle Getty cemented a permanent place for her character on the sitcom from the word "action." And Coco? He vanished after the pilot — and was never mentioned again.
George Clooney Guest Starred on the Show for a Very Practical Reason
When looking for your next job — or gig — very few things sweeten the deal like a solid paycheck and, if you're lucky, some health benefits. While actor George Clooney may have a net worth today of a whopping $500 million, that wasn't always the case. In fact, back when The Golden Girls was airing, Clooney was still a struggling actor in some respects.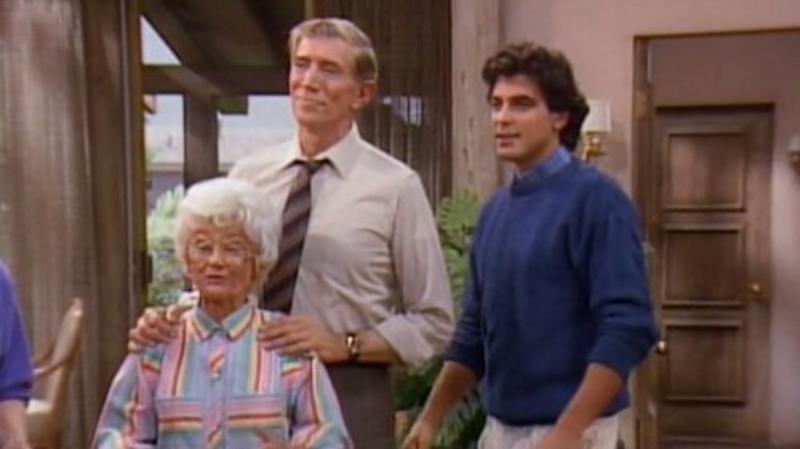 In 1987, the actor wasn't worth half a billion dollars, and his agent was eager to get him a guest-star spot on Golden Girls. In the episode, Clooney plays one half of a police duo who use the Girls' home during a stakeout. The big motivator behind the agent's insistence? It wasn't just that the show was huge and that the leading ladies were incredible actors — Clooney needed the gig in order to maintain his health insurance.
Estelle Getty Was an Outspoken Ally of the LGBTQ Community
When the writers wrote the first draft of "72 Hours," an episode meant to humanize those with HIV/AIDS and raise awareness about the country's epidemic, the first draft of the script didn't play so well. At the table read, Estelle Getty put her foot down: She was an ally of the LGBTQ community through and through and didn't want to see any jokes made at the expense of queer folks.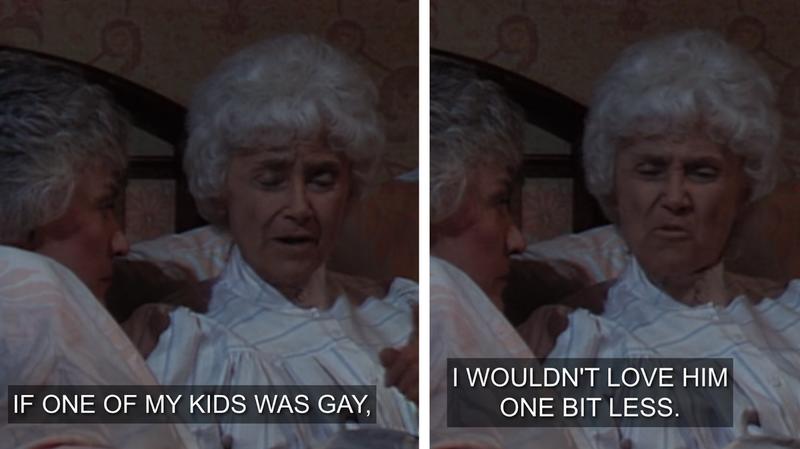 When asked about the topic in an interview, Getty explained that she would never do any gay-bashing jokes, nor would she kid about domestic violence. Getty was close to many of the openly gay writers on the show — and would even try her hand at setting them up on blind dates, which seems like a very Sophia thing to do.
The Show Had Countless Incredible Guest Stars
In addition to a young George Clooney, The Golden Girls was rife with celebrity guest appearances and cameos. Betty White, who was friends with Bob Hope, was asked by producers to call up the famous comedian and invite him onto the show. Although nervous, White did just that and Hope gladly accepted.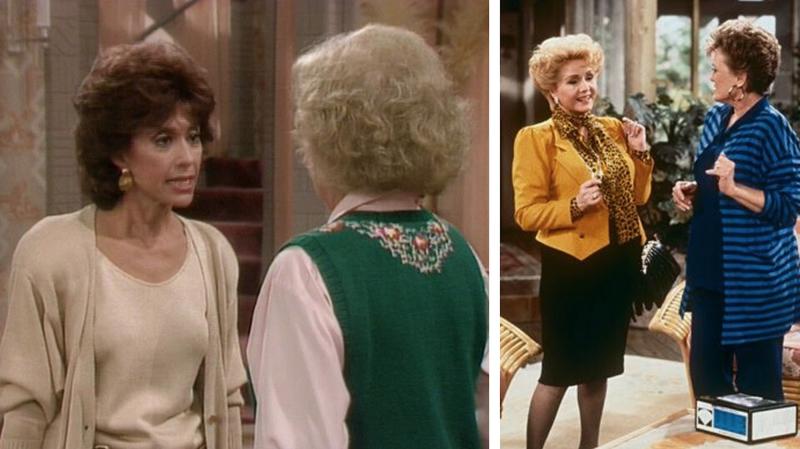 Other notable appearances include Leslie Nielsen, who played Lucas Hollingsworth, an uncle of Blanche's whom Dorothy marries in the series finale; Emmy-, Grammy-, Tony- and Oscar-winning actress Rita Moreno; and, playing himself, musician-turned-Palm Springs mayor Sonny Bono. Even Hollywood legend Debbie Reynolds turned up — and almost became the Girls' newest roommate.
Despite Their Alleged Feud, Betty White & Bea Arthur Would Carpool
While they're no Joan Crawford and Bette Davis, Betty White and Bea Arthur have notoriously been pigeonholed as two co-stars who never quite got along. When speaking to the Village Voice several years ago, White noted that "[Bea] was not that fond of me…. She found me a pain in the neck sometimes. It was my positive attitude."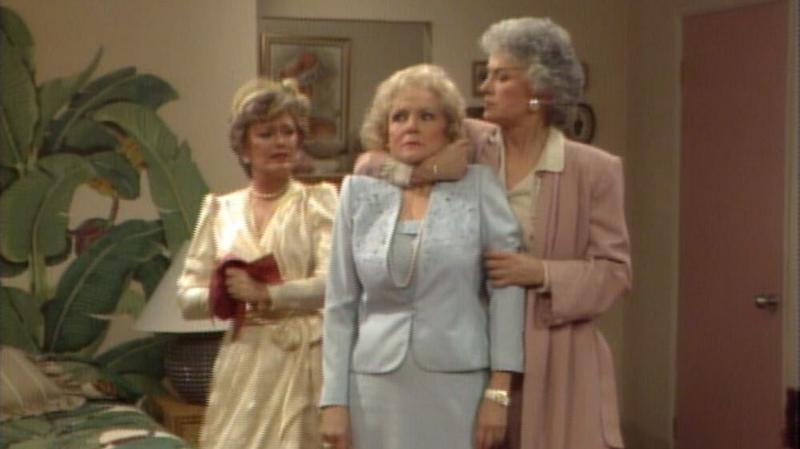 The actors came from different schools of thought: On Maude, Arthur learned to treat a sitcom much like a stage play, whereas White, an alum of The Mary Tyler Moore Show, enjoyed breaking character between takes and interacting with the live studio audience. Regardless of how things ended up, it wasn't always tense. Early on, Arthur and White would commute to set together and, according to Rue McClanahan, Arthur wouldn't go to lunch with her unless White joined too.
Bea Arthur Actually Hated Cheesecake
One of the show's most beloved rituals? The Girls gathering in the kitchen — sometimes late at night, unable to sleep off the day's trials — to share some late-night wisdom. More often than not, someone would grab a cheesecake out of the fridge and the Girls would enjoy a few slices and share advice.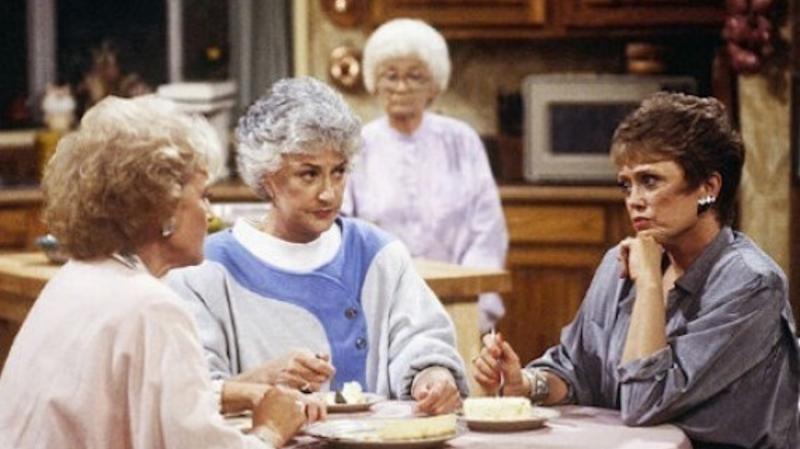 The Huffington Post estimated that Bea Arthur and her castmates ate cheesecake on the set of the show over 100 times. Shockingly, Arthur hated every minute of it. Though she'd stomach the dessert for filming, she actually despised cheesecake in real life. And that's not all: According to her son, Arthur hated birds, chewing gum and wearing shoes — so much so that, in accordance with her contract, she walked around barefoot in-between takes.
Writers Spoke to HIV Experts Before Working on an Episode About the AIDS Epidemic
The Golden Girls never shied away from tackling issues and storylines that other sitcoms would deem too "controversial." The show featured episodes about coming out and same-sex marriage, U.S. immigration policy, homelessness, elder care, assisted suicide and, during the height of the AIDS epidemic, the way in which folks with HIV/AIDS were discriminated against.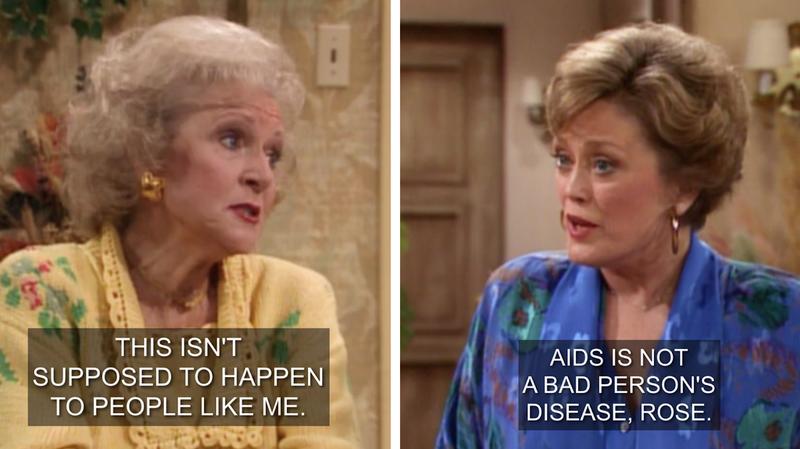 According to Vulture, writers Tracy Gamble and Richard Vaczy wanted to "bring humanity to the AIDS epidemic, and [bring] that crisis to our attention in our living rooms." The Golden Girls made history for being one of the only shows to mention HIV and AIDS and to show that it impacted the LGBTQ+ community as well as others. At the first table read, things were tense; Estelle Getty, who was an AIDS activist, refused to engage in any jokes surrounding the epidemic. This attitude led writers to contact medical experts and advocates so that they could get things right for the historic "72 Hours" episode.
A Handful of Other Countries Have Adapted the Show
In the U.S., The Golden Girls has been played in syndication on a variety of networks, including NBC, Lifetime, Hallmark Channel, WE tv, TV Land, Logo TV and, as of 2017, on the streaming service Hulu. Internationally, the show plays daily in syndication in Canada, the U.K., New Zealand, Australia and across Southeast Asia.
But the show has also inspired quite a few international remakes. In Chile, it's called Los Años Dorados; the Greek version is known as Chrysa Koritsia; and in the U.K. Brighton Belles airs alongside reruns of the original Golden Girls. The show has also been remade under various names in Israel, the Netherlands, the Philippines, Russia, Spain, Portugal and Turkey.
Bea Arthur Wanted the Show to End After 7 Seasons
After six consecutive seasons in the top 10, two Primetime Emmy Awards for Outstanding Comedy Series and three Golden Globe Awards for Best Television Series — Musical or Comedy, The Golden Girls ended its run in the seventh season. Although the last season didn't crack the top 10 (it peaked at number 30), the finale made waves.
The hour-long series finale debuted in May of 1992 and was watched by a whopping 27.2 million viewers, making it the 17th-most-watched TV finale in history. But why did the Girls bow out after seven seasons? Ultimately, Bea Arthur didn't want to do the show anymore — she wanted it to go out on top. This, of course, explains Dorothy's absence from the main cast in the sequel spin-off, The Golden Palace.
Estelle Getty Played Sophia Petrillo on Four Shows
Sophia Petrillo quickly became a fan favorite, even ousting the Girls' original fourth roommate, Coco. But Estelle Getty's character was so popular and brought such a great dynamic to The Golden Girls that producers couldn't help but write her into several Golden Girls-adjacent shows and spin-offs.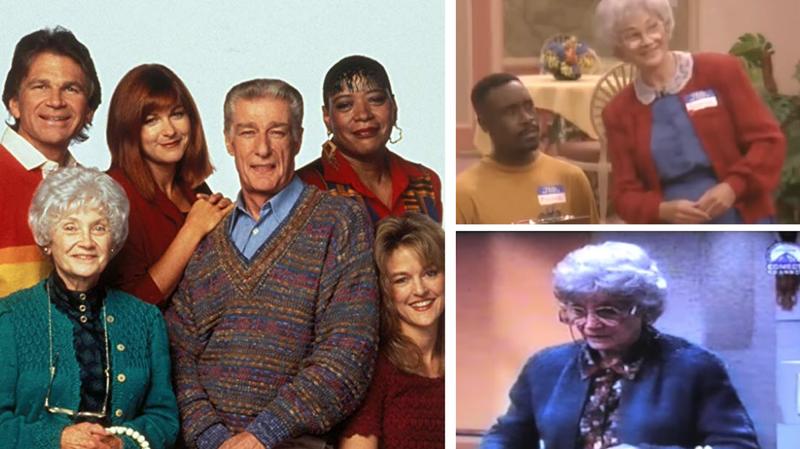 In total, Getty portrayed Sophia in four shows: The Golden Girls; its one-season spin-off sequel The Golden Palace, which sees Blanche, Sophia and Rose buying a hotel; Empty Nest, a spin-off that premiered during one of The Golden Girls' season finales and centered on a recently widowed pediatrician and his adult daughters; and Nurses, an Empty Nest spin-off that focused on five women who worked as RNs in Miami.
Each of the Actresses Won an Emmy
The Golden Girls carved out a space for women in comedy in a new, innovative way. Bea Arthur, Rue McClanahan, Betty White and Estelle Getty proved that older women were funny, intelligent and completely capable of being stars — even though women over 40 were (and are) typically written off by Hollywood.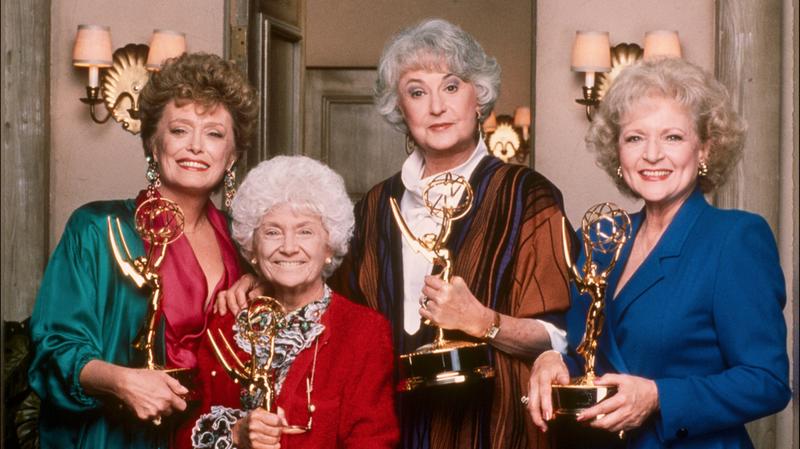 In 1986, White became the first of the cast to win a Lead Actress Emmy; the following year, McClanahan won the award. Finally, in 1988, both Getty and Arthur took home prizes of their own for Best Supporting Actress and Best Actress, respectively. This marked the second time in Emmys' history that an entire cast won acting awards — shoutout to All in the Family — but this feat made history because of the show's all-women cast.