Gourmet baskets are a bit of a well-kept secret. Sure, people know about them — getting one feels like you've won the treat lottery. But it can be easy to forget that they're such an excellent option for giving during holidays and celebratory events. Gift baskets aren't just presents to pick out at the last minute when you're unsure what to get someone, either. They're truly thoughtful options, particularly because you can tailor their contents to reflect your recipient's personal preferences when it comes to goodies and delicious things to eat. Plus, nothing says "I'm thinking about you" better than a gift that's packed with old favorites and new things to try.
The option to customize their contents is just one of a gift basket's many benefits. These treasure troves are also often packed with so many items that it's like giving many gifts in one — and many delicious gifts if you opt for a food-themed basket. Another totally satisfying aspect of gift baskets? They're ideal for any occasion you want to mark, and their presentation is beautiful and celebratory (which is excellent news if you're not exactly proud of your wrapping skills). Ready to send out some bountiful baskets to your loved ones? We've rounded up options to suit everyone you want to spoil, from aspiring bakers to soup lovers.
For the Cheese Lover: Country Handcrafted Cheese Gift Basket
Would it be cheesy to say that this Country Handcrafted Cheese Gift Basket is a really Gouda choice? Don't just take our curd for it — the Fontina fanatic in your life will find themselves filled with joy upon opening up this snacktacular gift. The charming, picnic-worthy basket is stuffed to the brim with an assortment of tasty cheeses, including aged cheddar, buttery Carmody and an exclusive Monterey Jack. To top it all off, your recipient will also get some delicate olive oil and sea salt crackers that make the perfect partners for sampling their new cheese selection. This gift basket is every fine antipasto platter they've wanted to order but have always been too shy to try. Supplement this basket with a bottle of wine to elevate your gift even more.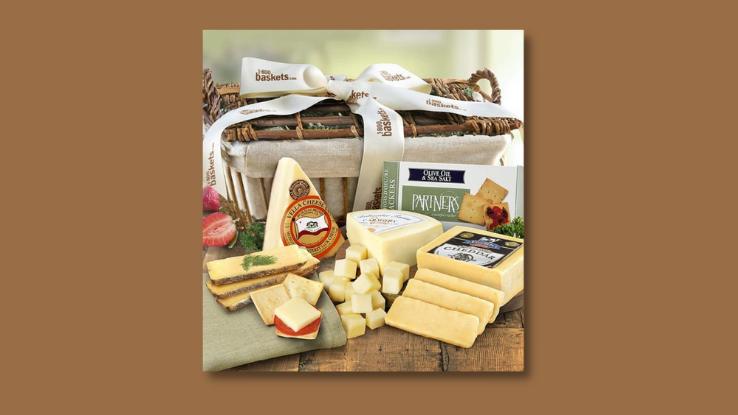 For the Coffee Connoisseur: Coffee Gift Basket
Though the coffee vs. tea debate is likely to wage on for a long time, any coffee-loving pal, parent or partner in your life is already confident in their stance on the matter — and there's no better way to delight them than with this amazing Coffee Gift Basket. Not only do its goodies arrive in a reusable Paulownia wood crate, but it also contains Moose Munch ground coffee and an array of cookies, giving them everything they need for a cozy winter morning with a special someone. What's Moose Munch, you ask? It's a special milk chocolate-and caramel-flavored coffee blend that takes this basket's sweetness to a whole new level. Who knew coffee could be so decadent?
For the Breakfast Champ: Hearthside Classic Breakfast Gift Basket
Breakfast is the most important meal of the day, so it stands to reason that a breakfast-themed basket might just be the most important gift your recipient gets for the holidays — especially when it's as indulgent as the Hearthside Classic Breakfast Gift Basket. It may look simple and homey, and that's definitely part of its charm, but this basket has some seriously sweet flavor going on. While unwrapping this rustic, wreath-style basket, your recipient will find all the mixes and syrups they need to create glazed apple cider fritters and farmhouse-style pancakes topped with the included caramel apple butter, orange marmalade and pecan praline spread. To round it all out, this gift even comes with a cute wooden mixing spoon your giftee can use for years to come.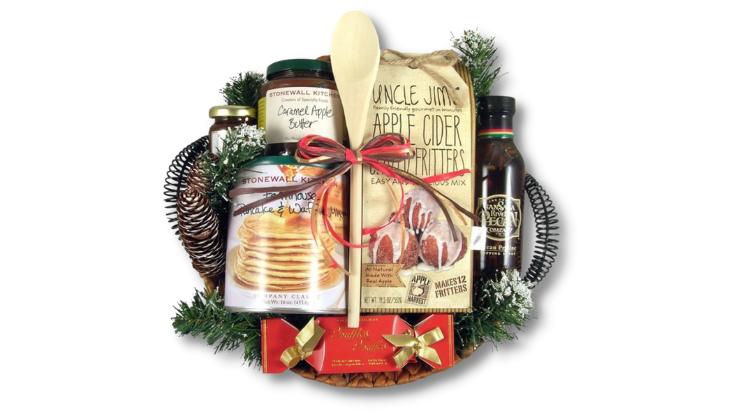 For the Loved One With a Sweet Tooth: Distinctive Delights Gift Basket
If you thought the breakfast basket was brimming with sweetness, take a look at this ode to candies and confections. Perfect for the recipient whose sweet tooth knows no bounds, the Distinctive Delights Gift Basket is seriously grand. Its reusable silver basket — it's more of a bucket, really, considering how much is in here — overflows with salty and sweet delights, from snickerdoodle cookies and sea salt caramels to spicy chipotle peanuts and snackable kettle corn. As an added bonus, the basket comes in two sizes if you really want to go all-out in spoiling your favorite treat lover.
For the Soup Lover: Soup Gift Basket
Here's where things get specialized — yes, there are soup-themed gift baskets out in the world, and they're truly the perfect gifts for the loved one who's all about complete coziness. This Soup Gift Basket in particular is bound to bring a touch of healing, warming comfort to the heart and stomach of a special someone in your life thanks to its classic flavors. With a sleeve of light water crackers and three delicious blends — chicken noodle, chili and potato-corn chowder — to enjoy, this basket is the perfect invitation for your giftee to snuggle in at home and watch the wintry weather pass by.
For the Health Fanatic: Parisian Terrace Fruit Gift Basket
It's no secret that holidays and special occasions are perfect opportunities to indulge — maybe a little more than we all plan to. But if you have a pal who's already looking towards their New Year's resolutions or maybe just isn't a big fan of sugared snacks, this Parisian Terrace Fruit Gift Basket will be right up their alley. Your favorite healthy eater will appreciate this pretty wire basket that comes filled with a variety of fresh fruits (and some extra cheese-and-cracker trimmings to take those flavors to the next level). Giving the gift of guilt-free munching has never been so beautiful!
For the Cookie Monster: Entertainment Gift Basket – Grand
There's something to be said for cakes and cookies — and that thing is that they're delicious. Some of us out there seem to enjoy cookies more than any other type of sweet or dessert. If your recipient is a notorious cookie monster, they'll love nothing more than gobbling up the adorable sweets in this mini bakery of a basket. The Entertainment Gift Basket – Grand from the famed Cheryl's Cookies offers a satisfying selection of treats and flavors, including classics like butter shortbread and chocolate chip and new varieties like cocoa sugar marshmallow swirl cookies — who could resist?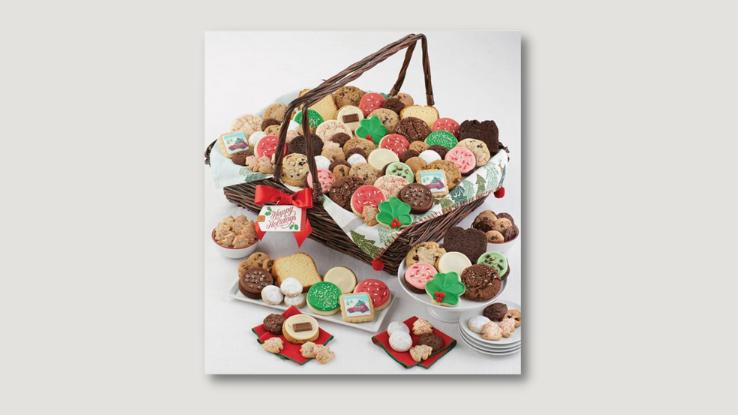 For the Baking Enthusiast: Wolferman's Bakery Gift Basket
Whether your recipient picked up a new baking hobby while sheltering in place or they've always been a fan of kneading bread and stirring up scones, you can help them indulge in their passion with Wolferman's Bakery Gift Basket. There's nothing quite like the smell of baking bread and other oven-fresh treats during winter, and the baker in your life will relish even more opportunities to try something new. But this time, they can sit back and relax while doing so. That's because this bakery gift basket comes with a sampling of already-baked snacks, including gourmet English muffins, scones, cinnamon rolls and flatbreads, along with flavorful jams and jellies for slathering. To round it all out, the basket includes robust coffee and a cute kitchen towel they'll love using to cover bowls of proofing bread dough.
For the Family With Kids: Deluxe Christmas Party Gift
Do you know someone who seems to live for Christmas? Have they filled your holidays with joy and cheer? Return the favor to this special person and their family members by sending over the massive selection of Christmas-themed snacks in this Deluxe Christmas Party Gift from Harry & David. This unbelievable collection of goodies is almost too extensive to even try to list, but think of it as the grandest nesting doll of gifts: There are bags and boxes within baskets within even more baskets, and opening everything up will be a treasure-hunt activity in and of itself. Kids and adults alike will enjoy the delightful surprises that range from cookies, truffles and dried fruits to meats, cheeses and even baklava.
For the Foodie: Classic Luxury Gourmet Gift Basket
Have a foodie friend who's known for their refined palate? You won't have to worry about whether your gift will impress them when you opt for a Classic Luxury Gourmet Gift Basket. This fantastic selection of high-quality, savory snacks makes it easy for them to throw their own tasting party right in the comfort of home. Packed with salamis, cheeses, pickles and smoked salmon, this classy (and even a little bit regal) basket even comes with rich chocolate cake. Harry & David really thought of everything when packing this one, and your recipient will feel the same way about you when this appears on their doorstep.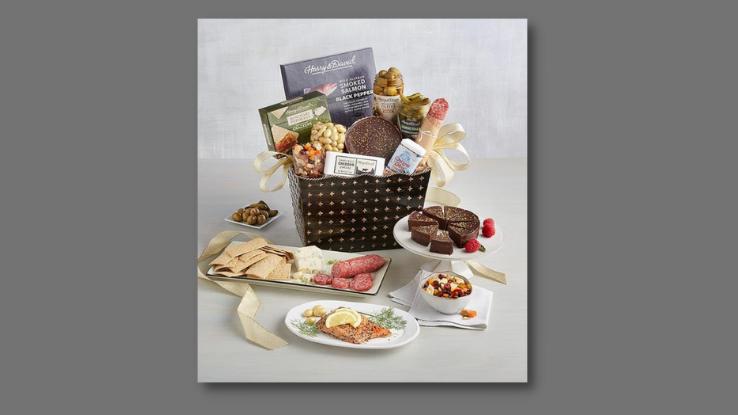 For the Chocoholic: Godiva Decadence Gift Basket
Sometimes, the best gift baskets in life are gold. Or chocolatey. Or both! If your confection-craving giftee prefers all things cacao, the Godiva Decadence Gift Basket is guaranteed to delight. This glimmering basket contains solid pure chocolate truffles in addition to several other chocolate-centric snacks and beverages. So, no matter what type of chocolate your pal enjoys — or how they prefer to enjoy it — they're bound to love this supremely satisfying array of sweet goods.