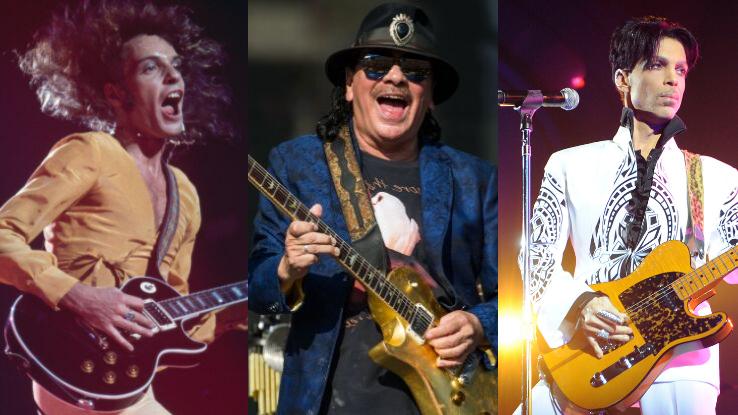 A simple chord progression or an epic guitar solo can make a song memorable. But it takes a truly gifted guitarist to develop a sound that's uniquely their own.
These guitar prodigies stand out for pioneering or exemplifying the power that a guitar can give a genre. Music wouldn't be the same without these talented artists, and in some cases, the world wouldn't be the same without their artistic achievements.
40. Stevie Ray Vaughan
Everything changed for Vaughan after the Montreux Jazz Festival in 1982. With his band Double Trouble at his side, Vaughan showed the world his blues/jazz guitar prowess. Immediately following the festival, Vaughan got calls to release an album.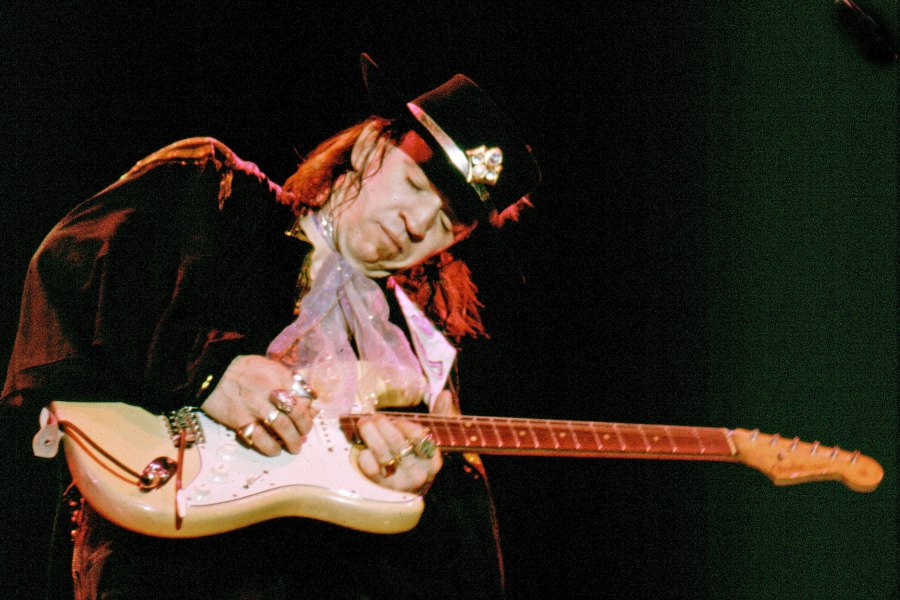 He also got a call from David Bowie, who requested that Vaughan's powerful style appear on his next album. Five glorious albums later, Vaughan's life was tragically cut short in a helicopter crash. 
Key Tracks: "Pride and Joy," "Texas Flood," "Let's Dance"
39. Kaki King
The youngest of the greats on this list, King brings an otherworldly blend of genres to her unique style of guitar playing. She's a composer, a fingerpicking virtuoso and an improvisational mastermind. Each piece quickly weaves through jazz, classical, trip-hop, flamenco and pop right before your eyes.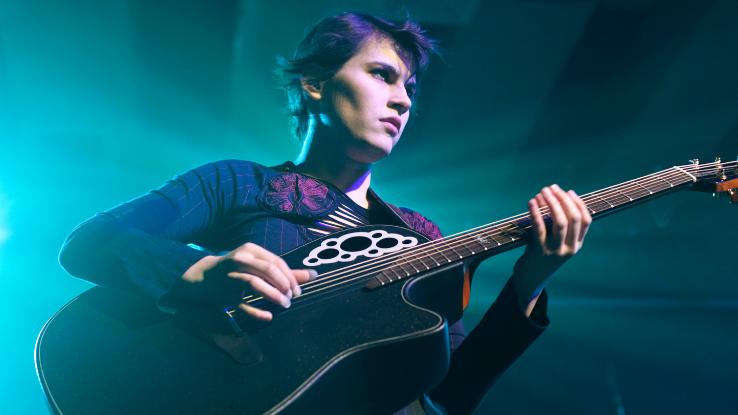 Her style takes guitar playing to the next level, where an instrument can offer more than what's originally intended. It's a unique style, for sure, but it's legitimate, and could be the future of professional guitar playing.
Key Tracks "Battle Is a Learning," "King Pizel," "Playing with Pink Noise"
38. Buddy Guy
A leading force in blues, Guy combined his Louisiana roots with Muddy Waters' Chicago sound. It's a unique blend of free jazz, soul and avant rock. His style influenced guitar greats like Jimi Hendrix, Keith Richards and Eric Clapton. 
Even at 83, Guy continues to perform at least 130 nights a year. You can catch him in Chicago, of all places, at his own club – Buddy Guy's Legends.
Key Tracks: "Stone Crazy," "Mustang Sally," "Damn Right, I've Got the Blues"
37. George Harrison
As the Beatles' sound evolved, so too did George Harrison. Whether the band played pop, psychedelic rock or Indian classical, Harrison led the way. He was the Beatle in the studio, constantly exploring the latest technical innovations. But No matter how far their experimentation went, Harrison always stayed true to the Beatles' sound. 
Even when he collaborated with artists like Eric Clapton or John Barham, his sound held true. As a solo guitarist, his work with the slide guitar is what legends are made of. 
Key Tracks: "Got To Get You Into My Life," "Come Together," "I Saw Her Standing There"
36. Freddie King
King was an American blues legend. He based his unique guitar style on blues influences from Texas and Chicago. His best guitar work also incorporated vocal nuances by using Texas' open-string sound. He also stood out for avoiding the popular '50s style blues, opting instead for a more innovative, youthful edge. 
In the mid-1960s, King was the leading force for British blues revivalists. His sharpened-treble tone and curt melodic hooks influenced the likes of Jeff Beck and Peter Green.
Key Tracks: "You've Got to Love Her with a Feeling," "I'm Tore Down," "Going Down"
35. Robert Johnson
Little information exists about the Robert Johnson's life, except for the legend he once sold his soul to the devil to achieve musical success. That must have been a solid deal, because Johnson is regarded as a pioneer of the Delta blues. His life was tragically cut short at 27, but his 29 recordings built the blueprint for blues music around the world.
It wasn't until years after his death that Columbia Records released a collection of his music, catapulting his legacy to a wider audience. His expert guitar playing was so unique, fans can easily think they're hearing several guitarists at once. But it was only Johnson, and it was simply glorious.
Key Tracks "Cross Road Blues," "Sweet Home Chicago," "Me and the Devil Blues"
34. Kurt Cobain
Cobain's contribution to guitar playing goes beyond "grunge". With Nirvana's release of Nevermind in '91, Cobain slaughtered the sound of '80s hair metal. His aggressive use of feedback, fuzz and distortion furthered alternative rock's sound. It wasn't quite punk, blues or pop-rock, but a mix characterized by force and urgency. 
After the release of In Utero in '93, Cobain and Nirvana switched up their sound with MTV Unplugged in New York. It gave audiences the chance to witness his craftsmanship through a powerful, acoustic lens. 
Key Tracks: "Smells Like Teen Spirit," "Come as You Are," "Lake of Fire"
33. Thurston Moore
A veteran of independent and alternative music, Thurston Moore pushed boundaries from the very start of his prolific career. As a founding member of Sonic Youth, Moore and band member Lee Renaldo composed complex melodies by using unusual guitar tunings.
By modifying their instruments, Sonic Youth established their own unusual, droned out sound. Outside of Sonic Youth, Moore created several solo albums and added his flair to haunting film scores and big-name collaborations.
Key Tracks "Teen Age Riot," "Smoke Of Dreams," "Pretty Bad"
32. Tony Iommi
Iommi is an English guitarist and one of the founding members of the heavy metal band Black Sabbath. Many guitar aficionados have credited Iommi with creating the genre of heavy metal music. His aggressive riffs and compositions pioneered the genre's bombastic sound.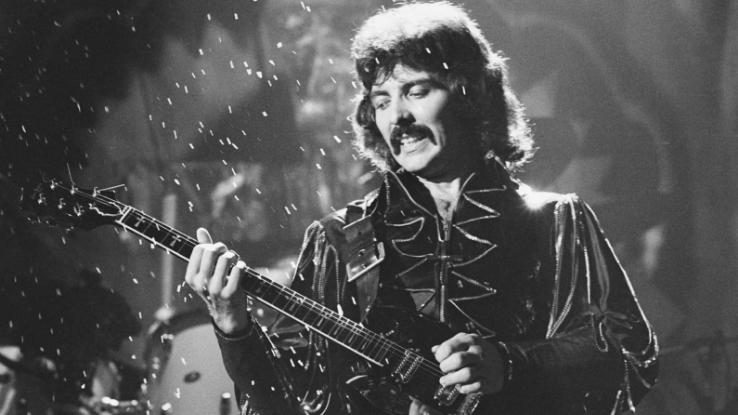 Other genres, like goth, industrial, death and doom are all composed of similar elements Iommi brought to Black Sabbath. Many successful guitarists, including Slash, Dimebag Barrell and Billy Corgan count Iommi as one of their leading influences.
Key Tracks "Paranoid," "Iron Man," "Children of the Grave"
31. Jeff Beck
The guitarist's guitar player. Beck was a pioneer in the rock music scene by launching bizarre solo attacks at full volume. Throughout his career, Beck's imagination helped him explore his technique and over-the-top approach to rock and roll music. His legacy as one of the most influential lead guitarists of all time is immortalized (twice!) at the Rock and Roll Hall of Fame.
His range between blues and hard rock carried him through albums made by some of rock's legends, including Morrisey, Stevie Wonder, ZZ Top, Rod Stewart, Kate Bush and plenty more.
Key Tracks "Because We've Ended as Lovers," "Hi Ho Silver Lining," "Goodbye Pork Pie Hat"
30. Bill Frissel
Bill Frisell helped pioneer the next generation of jazz guitar from his start in the late 80s. Frisell blended the pure, clean sound of jazz guitarists with the distortion and sound manipulation of rock and soul players. His sound is eclectic and versatile, and uniquely his own in the world of jazz guitar.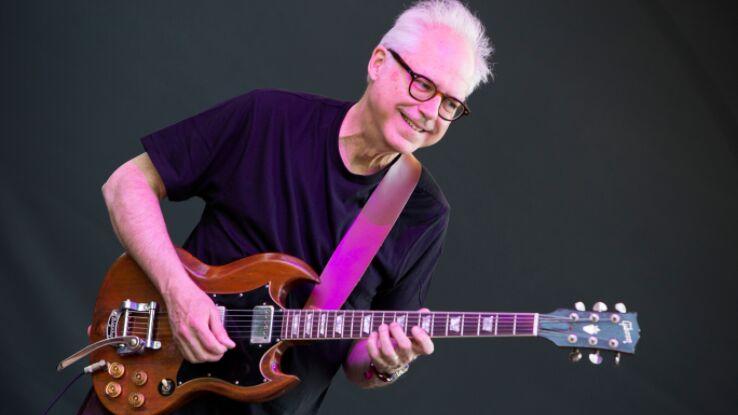 His genre-bending doesn't stop there. Frisell has also blended his sound with folk, country and Americana. It's his versatility that makes him one of the most influential guitarists of the modern era.
Key Tracks: "Raccoon Cat," "We're Not From Around Here," "The Pioneers"
29. Keiji Haino
Sometimes silence can be golden. So can noise. That's been Japanese musician Keiji Haino's blueprint for great guitar playing over his forty-year career. His work is influenced by psychedelic music, free improvisation and minimalism among countless other genres.
"Ma", the Japanese musical concept of silent spaces in music, has been a key factor in Haino's work. It's an attempt to defy the notion that you can't create something using nothing. What he's created (and continues to create) is a legacy that follows Jim Morrison's musical journey into the unknown.
Key Tracks: "My Whereabouts," "すきにやればいい," "Nijiumu"
28. Peter Frampton
Frampton is synonymous with his guitar playing, particularly with his signature talk box. A talk box is an effects unit that allows musicians to apply speech sounds to instruments. Frampton famously made guitar solos using a talk box that sounded like his own voice.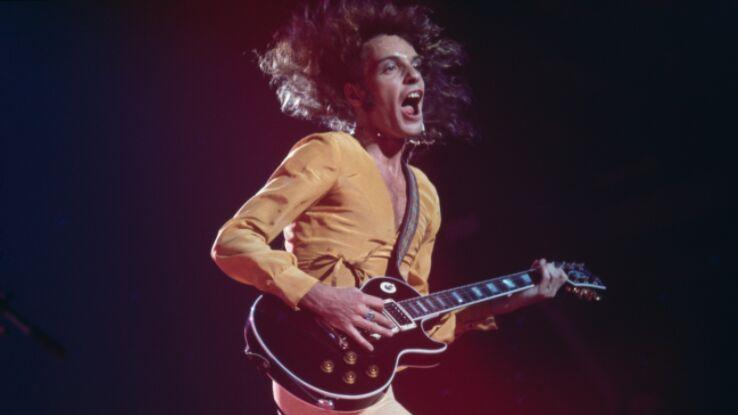 His solo work was critically acclaimed, particularly his record-shattering Frampton Comes Alive! album from 1976. Later in his career, he won a 2007 Grammy for Best Pop Instrumental Album for his work on Fingerprints.
Key Tracks: "Do You Feel Like We Do," "Show Me the Way," "Baby, I Love Your Way"
27. Tom Morello
Morello is best known for his music with rock bands Audioslave and Rage Against the Machine. He more than earned his spot on this list for his atypical incorporation of feedback noise, tapping, picking and heavy use of guitar effects throughout his career.
Morello delivers a sense of urgency and aggression with his guitar that has gone unmatched since he first combined forces with Rage frontman Zach de la Rocha. For a metal guitarist, these are all necessary skills to have, but no one has it like Morello.
Key Tracks: "Killing in the Name," "Bulls on Parade," "Guerilla Radio"
26. Ry Cooder
Ry Cooder has been a top-notch blues-rock guitarist since his start in the '60s. His catalog is made up of a diverse array of music that always incorporated his American roots sound. His exploration of world music later in his career led to the formation of the Cuban Buena Vista Social Club in 1996.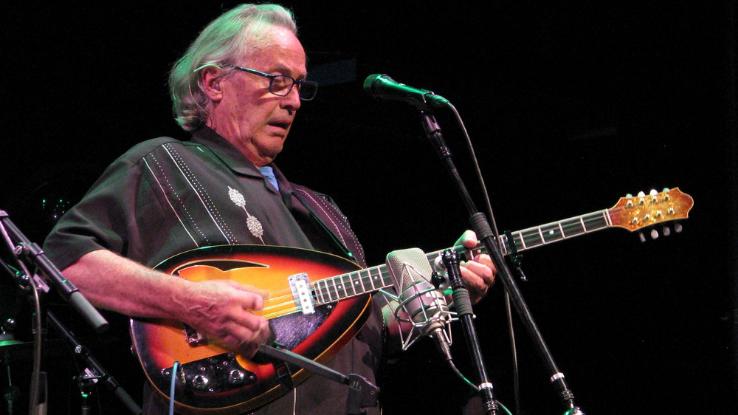 Known for his expert slide guitar work, Cooder has collaborated with some of the biggest names in the industry, including The Rolling Stones, Van Morrison, Neil Young and many others. He has also won 6 Grammys for his tropical Latin and world music collaborations.
Key Tracks: "Chan Chan," "Dos Gardenias," "Dark Was The Night (Cold Was The Ground)"
25. Glenn Branca
Guitar, avant-garde and classical orchestrations aren't normally bedfellows, but Branca was far from normal. As a 15 year old, Branca practiced the guitar while creating a series of sound art collages for fun. He later evolved into one of the most eclectic guitar composers of all time.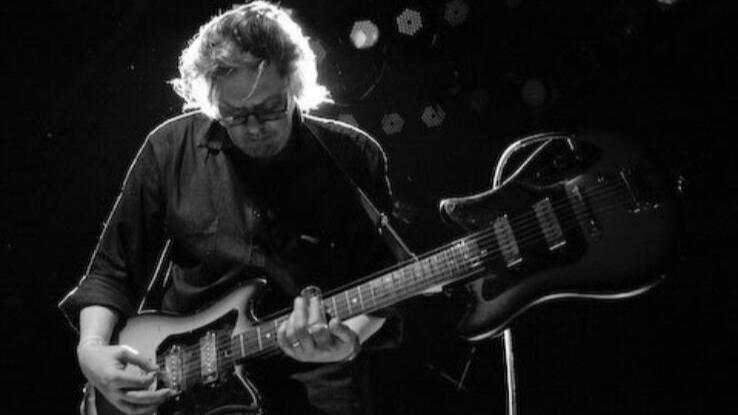 After dabbling in recording albums and experimental theatre, Branca started composing outrageous symphonies for orchestras of electric guitars and percussion. In his later years, Branca branched out into more traditional orchestral compositions, but made sure to incorporate his eclectic manipulations of the electric guitar.
Key Tracks: "Symphony No. 1, Movement 1," "The Tone Row That Ruled the World," "Symphony No. 6: Second Movement"
24. Jack White
White represents the guitar icon for the modern era. His signature, modern garage sound helped launch the rock revival of the early 2000s as a member of The White Stripes. He has since taken his signature sound to other bands, including The Dead Weather and The Raconteurs.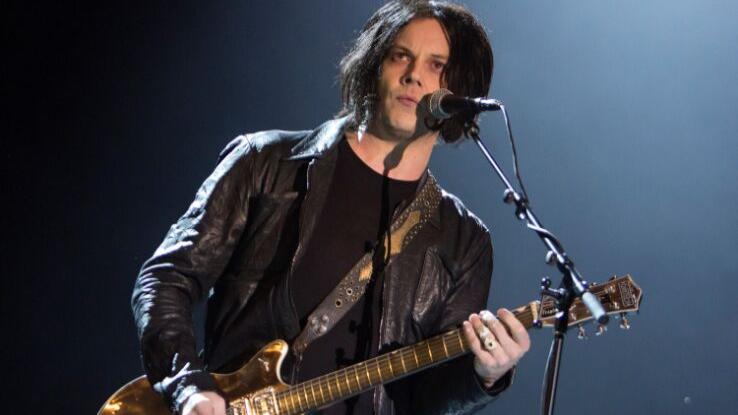 White also continues to release as a solo artist, where he has received wide commercial and critical acclaim, earning 12 Grammys along the way. The eccentric, private artist records his music in analog to ensure everything sounds authentic, especially in this technology-driven era.
Key Tracks: "Lazaretto," "Fell In Love With A Girl," "Seven Nation Army"
23. Kevin Shields
As the vocalist and guitarist of My Bloody Valentine, Shields pioneered the shoegaze movement in the late '80s and early '90s. By detuning the guitar's whammy bar, Shields used it in a new way, taking the sound in and out of tune.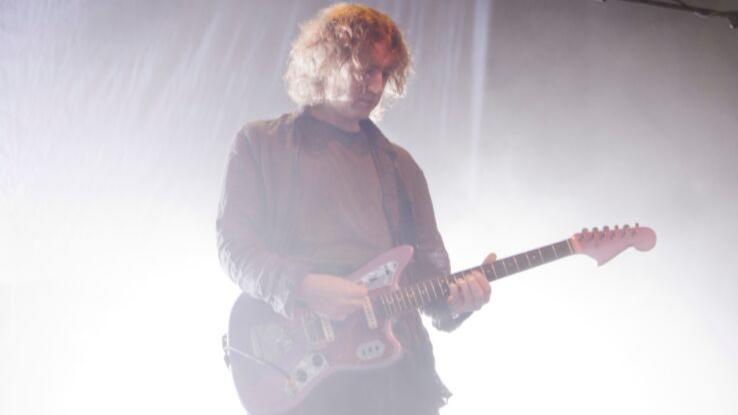 The "glide guitar" technique is Shields' signature sound. After his work with My Bloody Valentine, he continued to explore the punk and shoegaze genres with Yo La Tengo, Dinosaur Jr. and Mogwai.
Key Tracks: "Only Shallow," "When You Sleep," "To Here Knows When"
22. John Lee Hooker
Hooker took Delta blues, one of the earliest styles of blues music, and brought it to a new age. His electric guitar strumming was a distinct, new approach to blues music in the late '40s, incorporating more rhythm into his talking blues tracks.
Throughout his career, Hooker elevated blues music's presence on a global scale and got to collaborate with some of rock music's biggest names. His catalog has earned him the honorific title, "father of the boogie."
Key Tracks: "Boom Boom," "Dimples," "One Bourbon, One Scotch, One Beer"
21. Duane Allman
After seeing B.B. King live in concert, Allman and his brother Gregg knew they wanted to follow in King's footsteps. They immediately started practicing the guitar, but Duane stood out as the real talent. He eventually achieved legendary status for his electrifying slide guitar playing and outrageous improvisational skills.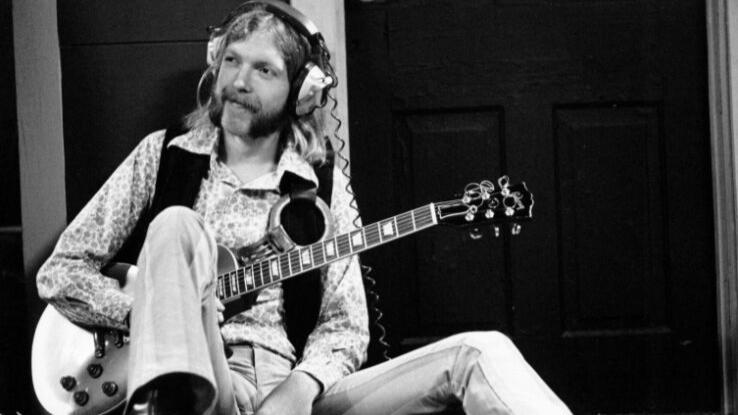 Even though Allman died at 24 from a motorcycle accident, his contributions to rock music are far from forgotten. His slides and improvisations exemplified the magic of the Allman Brothers band. And collaborations with acts like Eric Clapton solidified Allman's place in rock history.
Key Tracks: "Trouble No More," "Layla," "Whipping Post"
20. Chet Atkins
Atkins, also known as "The Country Gentleman" is widely recognized as the creator of the pop-heavy "Nashville sound". At a time when country music was facing a slump, Atkins' distinctive picking style became his signature move. It reinvigorated country music and created new generations of country music fans.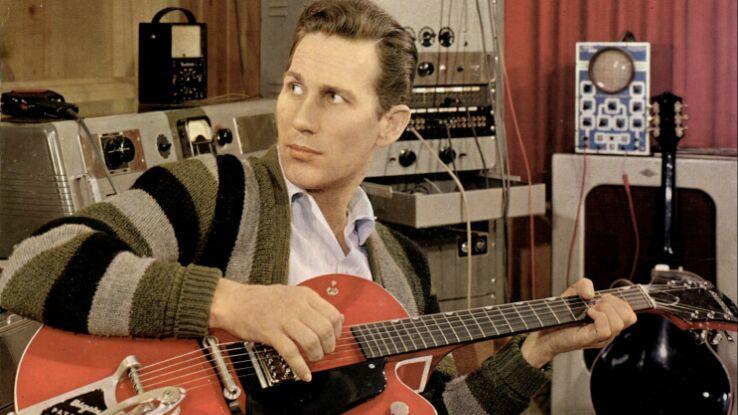 Over the course of his career, his contributions to the rejuvenated country music genre were widely recognized. Atkins collected 14 Grammy Awards, 9 Country Music Association awards and was inducted into the Rock & Roll Hall of Fame.
Key Tracks: "Mister Sandman," "Jam Man," "Yakety Axe"
19. Lou Reed
Reed first caught people's attention as the lead guitarist of the rock band the Velvet Underground. His signature style of experimental guitar playing and laid back delivery made for a glamorous, ethereal combination. Outside of the band, Reed released twenty solo albums and achieved mainstream success.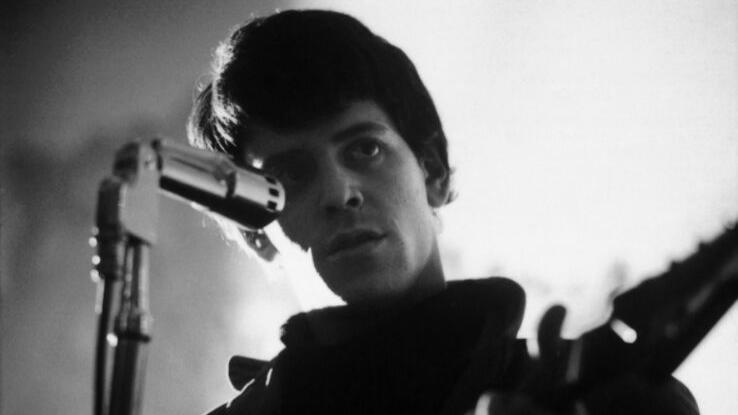 Throughout the high-profile points of his career, his serious focus on song making helped Reed maintain his indie songwriter credibility. Reed, the smart cynic, the rebel, will go down as guitar's coolest performer.
Key Tracks: "Walk on the Wild Side," "Perfect Day," "Satellite of Love"
18. Django Reinhardt
Reinhardt, the Belgian-born guitarist, was a jazz talent to emerge from France in the '30s. His band, Quintette du Hot Club de France, was unique at its time for featuring the guitar so prominently as a jazz act. But with a guitarist and visionary like Reinhardt, it was hard to hide his expertise.
The mixture of bebop, Romani music and jazz became his signature sound, allowing him to break through Europe into the global market. While his life was short, his collection of almost 100 songs have left a lasting impact on the world of jazz guitar.
Key Tracks: "Minor Swing," "Belleville," "Brazil"
17. Paco de Lucia
Paco de Lucía was an incredibly gifted and influential flamenco guitarist from southern Spain. He's often credited for incorporating classical and jazz influences into his sound during the 70s. This Latin jazz fusion helped revolutionize the new flamenco style.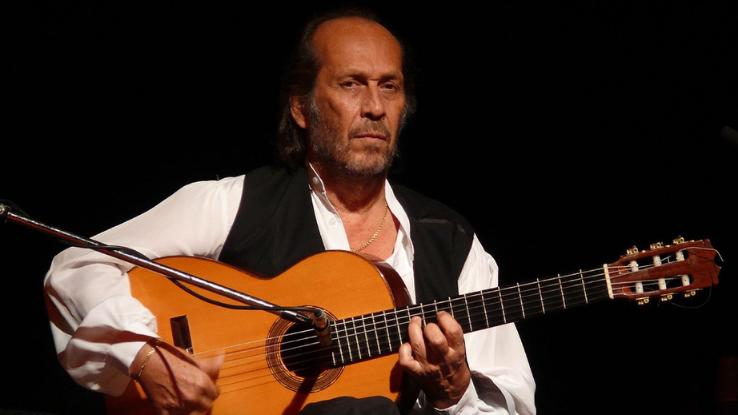 His fast, fluid picados (fingerstyle runs) are a dazzling display of precise craftsmanship. While his moves were fast, he knew when to juxtapose fast runs with more traditional rasgueados (flamenco strumming). These picados and rasgueados are what built his legacy as a flamenco icon.
Key Tracks: "Rosa Maria," "Mediterranean Sundance," "Concierto De Aranjuez: 2. Adagio"
16. Les Paul
His name is synonymous with the solid-body electric guitar, but Paul was also a wildly innovative guitar player in the '40s and '50s. His licks, trills and fretting techniques came to define the jazz, country and blues music of his era.
The Gibson Les Paul guitar is currently one of the best-known electric guitars in the world. Thanks to Les Paul's input and endorsement, the guitar took the electric-guitar world by storm. It takes a legend to change the guitar world forever.
Key Tracks: "How High The Moon," "Smoke Rings," "Vaya Con Dios"
15. "Mother" Maybelle Carter
On the country guitar, no one compares to "Mother" Maybelle Carter. As a member of the historic Carter Family act in the '20s and '30s, she dazzled the folk scene with her new techniques. Her creative touch helped invent the thumb brush style, the church lick and her famous 'Carter Family' picking.
Carter used her thumb to pick a tune on bass strings while strumming rhythms on the higher strings. It was a style uniquely her own at the time, but country and funk music wouldn't be what they are today without her ingenious techniques.
Key Tracks: "Give Me Your Love and I'll Give You Mine," "Georgia Buck," "Black Mountain Rag"
14. Prince
Prince had the versatility of Hendrix mixed with the delicacy of Santana. He could play a power ballad like no one else with "Purple Rain," get funky like Nile Rodgers on "Kiss" and shred on "Get Off." It's this blend of versatility and beauty that makes Prince's guitar playing so legendary.
It also helps that he brought showmanship to heights never seen before. Take a look at his 2007 Super Bowl Halftime Show, particularly when he plays "Purple Rain" during an actual rainstorm totally unbothered. Legends never die. Prince lives forever.
Key Tracks: "Purple Rain," "Kiss," "When Doves Cry"
13. Yngwie Malmsteen
Swedish guitarist Yngwie Malmsteen is a rare performer from the rock genre to blend neoclassical metal with heavy metal. His lightning-fast fingers conducted speedy classical symphonies while shredding his Stratocaster. It makes sense that he credits Bach and Paganini as his musical influences.
Over the course of his 40-year career, he has performed for metal bands and in front of symphony orchestras. He also released a whopping 20 albums, full of his outrageous genre-blending.
Key Tracks: "Rising Force," "Black Star," "Far Beyond the Sun"
12. Peter Townshend
Townshend doesn't earn his spot on this list because he was the first to destroy a guitar on stage. No, that's an added bonus. But it is a testament to his punk mentality that he brought to his guitar playing.
As the visionary, rhythm-guitar player behind The Who, Townshend employed jazz and arthouse sounds with big ringing chords. His work from back in the '60s paved the way for future bands like Led Zeppelin, Green Day and Oasis.
Key Tracks: "My Generation," "Who Are You," "Behind Blue Eyes"
11. Elizabeth Cotton
In Chapel Hill, North Carolina, a young Elizabeth Cotton taught herself the guitar. She learned using her brother's, which was strung for a right-handed player, but Cotton was a leftie. As a result, she taught herself how to play upside down, creating her own unique style of guitar playing.
Her swift, fingerpicking style required her to play bass lines with her fingers and the melody with her thumb. Her unique style and attention to detailed improvisation has had a direct influence on modern folk and blues guitar music.
Key Tracks: "Freight train," "I'm Going Away," "Here old rattler here/Sent for my fiddle"
10. Jimmy Page
Jimmy Page is the guitar prodigy from the '60s English rock band The Yardbirds and the hard rock '70s band Led Zeppelin. Drawing inspiration from blues, psychedelia and folk, Page has some of the most powerful guitar riffs in rock music.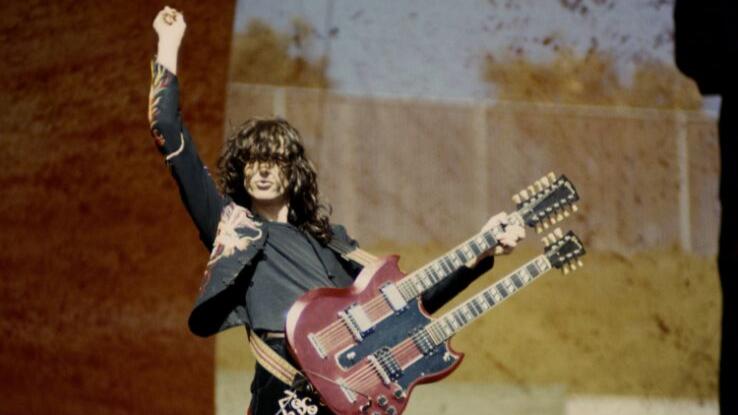 Page's direction for Led Zeppelin helped produce the hard rock sound that no band has come close to matching. His orchestral layering of guitars and arrangements have produced some of the most memorable rock albums of all time.
Key Tracks: "Stairway to Heaven," "Whole Lotta Love," "Immigrant Song"
9. B.B. King
Born on a cotton plantation in Itta Bena, Mississippi, King has become the most influential blues musician of all time. A true craftsman with a Gibson ES-355, King is influential for his expert shortened bursts, always executed with a sophisticated delivery.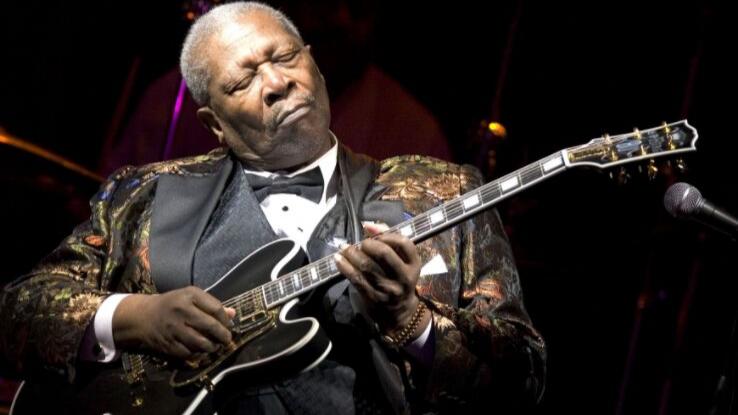 King performed as much as possible to showcase his craft, appearing at more than 200 concerts per year into his 70s. In one year alone, he reportedly appeared at 342 shows. His round tones, quick note changes, and slides cemented him as a blues legend.
Key Tracks: "The Thrill Is Gone," "Riding With The King," "3 O'Clock Blues"
8. Keith Richards
When it comes to riffing, no guitarist compares to Keith Richards. Throughout his catalog of superior guitar playing with The Rolling Stones, Richards played both lead and rhythm guitar. At times, he'd often play all the guitar parts while recording some of the band's most legendary tracks.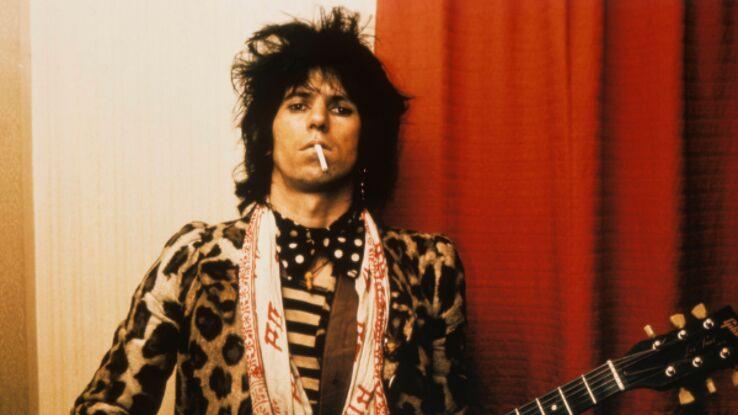 Richards always put his focus on chords and rhythms, avoiding the showmanship employed in other rock bands. While known for his expert electric playing, Richards never stopped playing the acoustic guitar as he thought it would cause him to lose his expert touch.
Key Tracks: "Paint it Black," "Sympathy for the Devil," "Ruby Tuesday"
7. Eric Clapton
Clapton has the distinction of being the only person inducted into the Rock and Roll Hall of Fame three times, and it's truly fitting. His contributions to rock and blues both as a solo artist and as a member of bands the Yardbirds and Cream are groundbreaking, to say the least.
His electric guitar playing and recording techniques were beyond influential. Not only did he change the way the electric guitar can sound on a record, but his excellent technique as a guitarist set a new standard for talented guitar players.
Key Tracks: "Layla," "Tears in Heaven," "Wonderful Tonight"
6. Sister Rosetta Tharpe
Gospel music can rock, and the world can thank Sister Rosetta Tharpe for that. Dubbed "the Godmother of rock and roll," Tharpe pioneered the blending of her gospel roots with blues, soul and rock and roll. Her voice had a sonic, emotional power that made it a breeze for her to dominate every genre.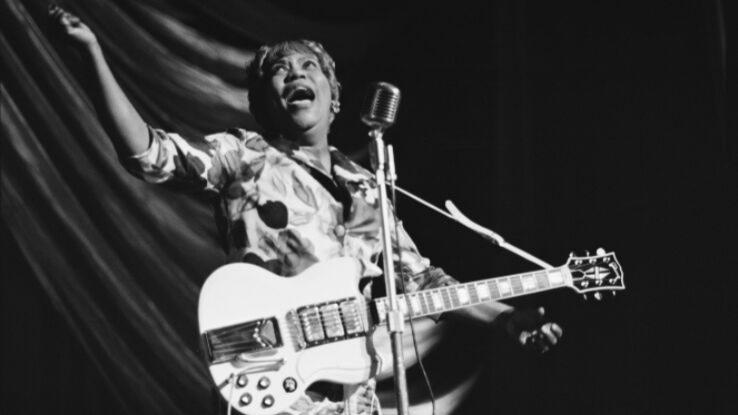 But it was her versatile way of incorporating her guitar prowess into every genre that inspired legends like Little Richard, Elvis Presley, Johnny Cash, Eric Clapton and plenty more.
Key Tracks: "Didn't It Rain," "Up Above My Head I Heard Music in the Air" "Strange Things Happening Every Day"
5. Carlos Montoya
Before Montoya picked up a guitar, flamenco music only played a supporting role to Spain's historic dance style. As he gained popularity in the '20s and '30s, his unique style caught more attention while angering flamenco purists. Although he was changing the sound of flamenco, he was popularizing it throughout the world.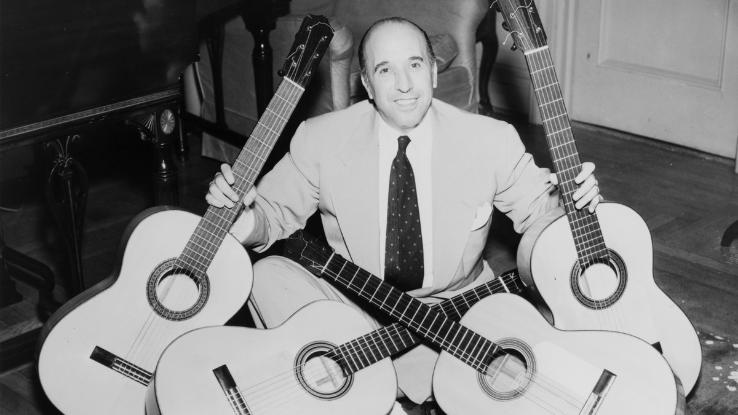 Montoya was the first flamenco guitarist to tour the world accompanied by symphonies and orchestras. His technically impressive pace changes at the speed of light, going from lightning-fast to a snail's pace. It's a beautiful tour de force with every listen.
Key Tracks: "Fandango De Huelva Y Verdiales," "Zambra," "Peteneras del Cafe de Chinitas"
4. Eddie Van Halen
Van Halen is widely regarded as one of the greatest electric guitar players in the world. His style includes two-handed tapping and the use of natural and artificial harmonics. Add his style to his rhythmic approach and you've got yourself a world class guitar player.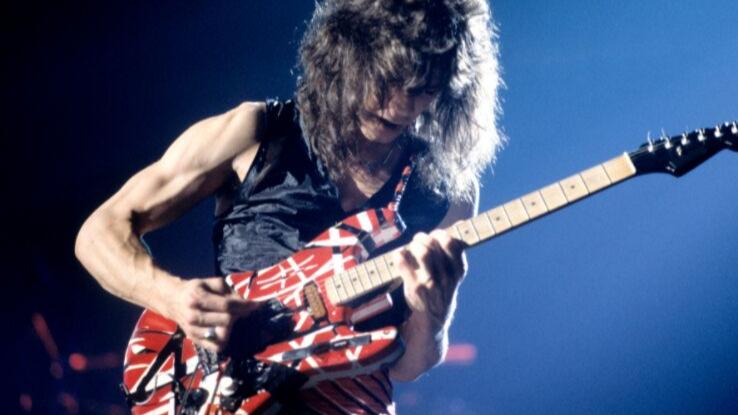 Van Halen's early records are widely considered to be blueprints for every great electric guitarist. The band has achieved massive success as a result of his expert guitar playing and song arrangement, ranking as the 20th best-selling musical act in the United States.
Key Tracks: "Eruption," "Runnin' with the Devil," "Ain't Talkin' 'Bout Love"
3. Carlos Santana
Mexican American guitar legend Carlos Santana came to prominence in the '60s and '70s with his band, Santana. His sound was a unique blend of rock and roll and Latin American jazz. His melodic, blues-heavy guitar would be the driving force in a band that blared Latin and African rhythms.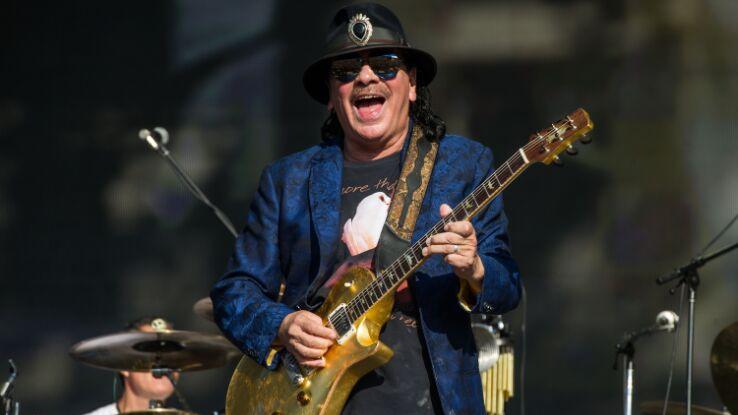 His career and signature sound has earned him generations of adoring fans and 10 Grammy awards over time. No song is complete without one of Santana's signature riffs.
Key Tracks: "Smooth," "Oye Como Va," "Black Magic Woman"
2. Chuck Berry
Berry's blend of rhythm and blues with a speedier guitar set the groundwork for rock and roll music. His fast guitar strumming paired with songs about "Johnny B. Goode" were the first songs about the experiences as one of the world's first rock stars.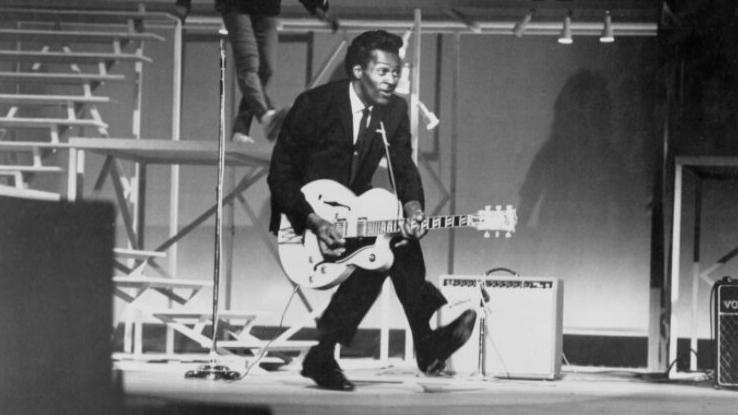 Berry wrote five songs about his rock and roll persona, 'Johnny B. Goode,' each featuring his signature guitar work. The slight increase in pace separated himself from any of his rhythm and blues contemporaries and solidified him as a guitar legend.
Key Tracks: "Roll Over Beethoven," "Johnny B. Goode," "Memphis, Tennessee"
1. Jimi Hendrix
His mainstream career lasted only four years, but Hendrix is often regarded as the most influential guitarist of the 20th century. The wah-wah pedal, amplifier feedback and stereophonic phasing effects are just a few of Hendrix's many contributions. His albums, and previously unreleased recordings, continue to sell years after his sudden death.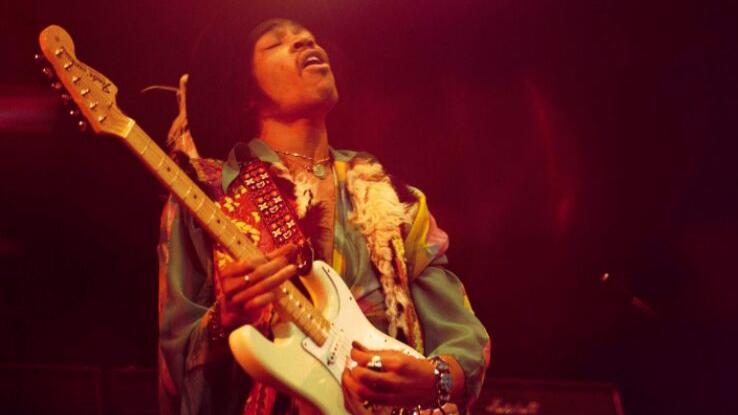 Throughout his short career, Hendrix blended blues, R&B, soul, psychedelic rock and jazz while maintaining his one-of-a-kind performance techniques. The Rock and Roll Hall of Fame biography summarizes his legacy well: "Jimi Hendrix was arguably the greatest instrumentalist in the history of rock music."
Key Tracks: "Purple Haze," "All Along the Watchtower," "Star-Spangled Banner (Live at Woodstock)"