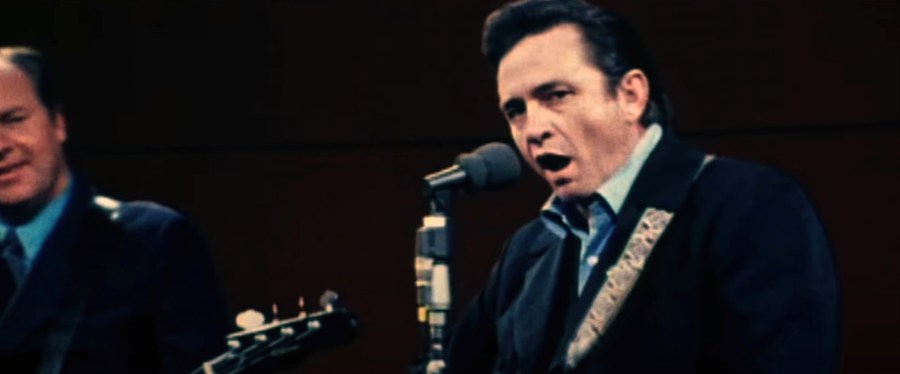 The legendary Johnny Cash was born on February 26, 1932 in Kingsland, Arkansas. Cash was known for his distinctive baritone singing voice and his eclectic musical style that blended numerous genres including country, rock, blues, and gospel music. During his storied career he went on to become one of the best-selling music artists of all time, with more than 90 million records sold worldwide. Throughout his career, Cash was known for his powerful and evocative lyrics that often addressed themes of love, heartbreak, and social justice. Let's take a look at some of the highlights of the Man in Black's career.
Hello, I'm Staff Sergeant Johnny Cash, United States Air Force
Johnny Cash really has been everywhere. Did you know that before his rise to musical stardom, Cash served in the United States Air Force as a Morse code operator? During his tour, he was stationed in Germany from 1950 to 1954, and it was during this time that he began writing and performing music. Cash later described his time in the military as a turning point in his life, saying that it gave him the discipline and focus he needed to pursue his musical ambitions.
Cash and The Million Dollar Quartet
Cash began his musical career in the 1950s, and his first single, "Cry! Cry! Cry!", was released in 1955. He went on to have a string of hit songs, including "I Walk the Line," "Ring of Fire," and "Folsom Prison Blues." After striking gold on the country charts, Johnny Cash wandered into Sun Studio simply to watch Carl Perkins perform at one of his sessions. What happened next is a thing of legend. On that day in 1956, Johnny Cash, Jerry Lee Lewis, Elvis Presley, and Carl Perkins recorded an impromptu jam session at Sun Studios in Memphis, which was later released as an album called "The Million Dollar Quartet." Although the session resulted from pure luck, it is considered a seminal moment in the history of rock and roll. The tracks from "The Million Dollar Quartet" include instrumental versions of standards like "Jingle Bells" and "White Christmas" nestled among hits like "Don't be Cruel."
Concert at Folsom Prison
Cash's famous performance at Folsom Prison in California in 1965 was a turning point in Cash's career, and it helped to establish him as a powerful voice for social justice and human rights. This concert was recorded and released as an album called "At Folsom Prison," and it is widely considered to be among the greatest live albums of all time. Cash's performance at Folsom Prison was part of a broader movement in the 1960s to bring attention to the harsh and often inhumane conditions in America's prisons. The concert was a powerful statement about the need for reform and a call to action for people to stand up against the injustices of the criminal justice system. The album was a huge success, and it helped to raise awareness about the issues facing prisoners and to spark a conversation about the need for change. Cash would later advocate for prison reform at a White House meeting with Richard Nixon in 1972.
The Johnny Cash Show?
Yes, it happened. From March 1969 until June 1971, The Johnny Cash Show was a variety television show airing on ABC in the United States. In fact, this is where his famous catch phrase "I'm Johnny Cash" originated, as he opened each episode delivering the phrase in his trademark baritone voice. Cash's show featured appearances by greats like Carl Perkins, Dusty Springfield, Kenny Rogers, Roy Obison, Rod McKuen, Joni Mitchell, and Bob Dylan. The show was not without controversy, though, as Cash invited Peter Seeger, who really caused a firestorm after performing his anti-Vietnam war song "Waist Deep in the Big Muddy" at another network. A DVD "The Best of The Johnny Cash TV Show" was released in 2007. It included over sixty performances from the original show.
Johnny Cash, T.V. Villain
In a 1974 episode of the hit television detective series Columbo, Johnny Cash took an unsurprisingly dark turn as a murderous gospel singer trying to make a double murder appear to have been solely the result of an airplane accident. The idea was positively diabolical: take the victims up in a small airplane, drug them, and then jump out with the plane's lone parachute. The scheme was going pretty good for the Man in Black until he broke his ankle upon landing with his chute. Imagine surviving a plane crash with just an injured foot. A miracle? Columbo is not so sure. Cash's performance as the murderous Tommy Brown might not have fooled Columbo, but it sent shivers up the spines of viewers.
Cash went wandering with U2
In February of 1993, and nearly four decades after his random jam session with The Million Dollar Quartet, Johnny Cash went to the studio in Dublin to record "The Wanderer," which had been written specifically for him. The song describes searching for God in a world nearly unfamiliar to the singer, which a younger Johnny Cash could not even have imagined, let alone sing about. The song, which was set against a desolate sonic landscape, had backing vocals and harmonies by U2's frontman, Bono.
Cash covered Nine Inch Nails and Depeche Mode
Musicians frequently cover one another's music, but it's not often that they cross genres to do so. Near the end of his illustrious career, Johnny Cash went to the studio to record several stunning covers of other artist's songs. Among them were "Hurt" by Nine Inch Nails and "Personal Jesus" by Depeche Mode. In retrospect, the marriage of Cash's bassy vocals with the darkly introspective lyrics of "Hurt" make perfect sense. Yet, Cash's powerful vocal performance revealed the depths of the singer's anguish over the pain he had brought others as well as his own self-destructive tendencies. Johnny Cash's version of "Hurt" not only transcended the original recording, but it helped to win him a generation of new fans.
In "Personal Jesus," the crooner feasted on the outlandish lyrics of the Martin Gore-penned 1989 Depeche Mode hit. Turning the previously keyboard-driven pop song into a guitar-heavy country number, Cash explored new territory with the line "pick up the receiver, I'll make you a believer."
The Man in Black
More than just a look, the "Man in Black" image was a profound statement. Indeed, Johnny Cash was particularly well-known for his all-black stage attire, and he was often referred to as the "Man in Black." He adopted this distinctive look early in his career as a way of expressing his solidarity with the poor and marginalized people of the world. Cash wore black as a way of making powerful artistic statements about the suffering of the downtrodden. It can be said that Cash did not let his fame go to waste as he used his music and performances to raise awareness about social and political issues.
Johnny Cash was a beloved musical icon and a powerful voice for social justice and human rights. Throughout his career, he blended country, rock, blues, and gospel music to create a unique and powerful sound that still resonates with audiences today.