In 2024, Hello Kitty will celebrate her 50th birthday, which is impressive in its own right. However, in addition to being an enduring icon since her inception in 1974, the adorable Japanese cartoon character has launched a multi-billion dollar franchise, second only to Pokémon as one of the most popular media franchises of all time.
Now, Hello Kitty has her own jets and hotels — in addition to an endless flow of merchandise. But how did Hello Kitty go from a cute cartoon to a global phenomenon? We're taking a deep dive into her origin story.
Hello Kitty's Origins
As you may know, Hello Kitty is part of Sanrio, a company that designs, licenses and produces products that fall into a part of Japanese pop culture that's known as kawaii — or the culture of cuteness. In short, kawaii, which can be translated as "cute" or "loveable," is a particular aesthetic that spotlights the charming aspects of humans, animals and objects. This might mean employing personification — a smiling stack of pancakes, for example — or simply leaning into a preexisting cuteness factor.
Sanrio was founded in the 1960s when Shintaro Tsuji noticed that he sold more rubber sandals when he painted small, cute flowers on them. With this in mind, he decided to employ this concept on a larger scale. Eventually, his merchandising endeavor led him to create Sanrio and hire cartoonists to decorate his products. One of these cartoonists, Yuko Shimizu, decorated a coin purse with a cute, bow-wearing bobtail cat. And, thus, a star was born.
Shimizu's creation proved to be a top-seller, so Sanrio decided the cartoon needed a backstory. In fact, Hello Kitty, whose full name is Kitty White, has her own family history. And, perhaps surprisingly, she's British. (Back in the '70s, British culture was popular in Japan.) Born to George and Mary of London, Kitty has a twin sister, Mimmy, who wears a yellow bow. Kitty even has a beau, Daniel Star — or Dear Daniel.
The Chief Designers Behind Hello Kitty's Success
In 1976, Hello Kitty came to the United States, but, just as Kitty's popularity swelled internationally, Shimizu decided to step down from Sanrio and focus on her family. Over the next few years, Kitty was overseen by Shimizu's former assistant, Setsuko Yonekubo, who very much stuck to the "if it's not broke, don't fix it" line of thinking. That is, she leaned into her former boss' templates, keeping the Hello Kitty products rather in line with the original intent and designs.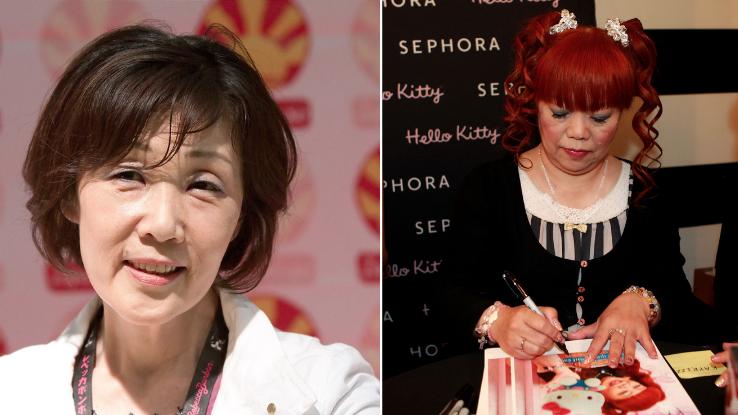 Around 1979, Kitty's popularity began to wane. Around the same time, Yonekubo decided it was time to retire, too. But, luckily, Sanrio wasn't about to let Hello Kitty fade into obscurity. Of course, finding the next lead designer was a tall order — so tall, in fact, that Tsuji held an in-house contest to see who could helm the project. In the end, Yuko Yamaguchi, a younger team member who'd joined Sanrio in 1978, won the contest and officially became Hello Kitty's chief designer in 1980.
Yamaguchi Takes Hello Kitty to New Heights
In the decades that followed, it would become abundantly clear that assigning Yamaguchi to oversee Hello Kitty would be one of Sanrio's best decisions. Later on, Yamaguchi revealed that part of the secret to her success was that she didn't come to the project as a huge fan of Hello Kitty. This, in turn, allowed her to look at the character objectively and, ultimately, take things in a new direction without feeling too beholden to the past.
For starters, Yamaguchi really delved into Kitty's backstory, which she wanted to make as relatable as possible. In order to tap into what fans would identify with, she searched Kitty's fanbase for advice. In addition to speaking to fans and consumers, she spoke with co-workers and vendors to get a deeper understanding of the character's strengths and weaknesses.
In 2000, Yamaguchi took a trip to the U.S. to study the international market and broaden Kitty's international appeal. While in the States, she met Paul Frank, the creator of Julius the Monkey. Ultimately, the two worked on a massively successful collaboration, which opened the door to more joint ventures between Sanrio and companies like Vans, DC Comics, Doc Martens, and more. Hello Kitty will collaborate with Barbie, Snapchat, and Freshly Picked for her November 2021 birthday month celebration.
When asked about her now decade-long relationship with Kitty, Yamaguchi once said, "In the 1980s, she was my friend; in the '90s, she was my alter ego. And since 2000, she has been my business partner." Together, the delightful illustrator (and the adorable cartoon character) have turned the Hello Kitty brand into an $84.5 billion franchise.
Kitty's Global Appeal
What's particularly impressive about Hello Kitty's success? Well, unlike most of the other top-grossing media franchises — Pokémon, Winnie the Pooh, Mickey Mouse and Star Wars — Hello Kitty shot into popularity without a successful video game, cartoon series, book, or movie. While she was eventually featured in a variety of animated TV shows, manga, and other media, she rose to success based solely on her image and merchandise alone.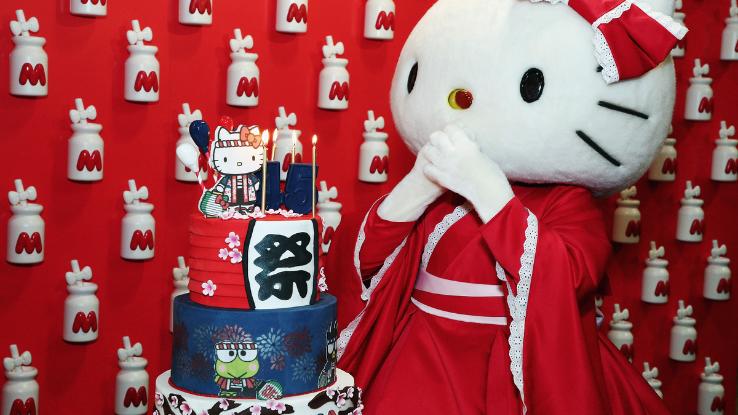 Over the years, Kitty has garnered a large number of celebrity fans, from Paris Hilton to Katy Perry, and she pulled in roughly $8 billion in 2014. In China, there's a Hello Kitty Theme Park; in North America, a fleet of Hello Kitty Cafe Trucks serve up themed food and drink; and, in Dubai, the fabulous feline has her own Beauty Salon and Spa as well as a Hello Kitty-themed jet that you can fly on courtesy of Eva Air. And to think: All of it started with a vinyl coin purse.
By taking the time to invest in Kitty's wide appeal, Sanrio has truly transformed the character into a global icon. In fact, Sanrio's long-standing motto is "social communication," so Tsuji wanted their premiere brand to reflect that, hence the titular greeting in Hello Kitty's name. One of the more interesting tidbits? Sanrio confirmed that their social communication ambassador doesn't have a mouth.
"People who look at her can project their own feelings onto her face," Yamaguchi explained in an interview with Time. "Kitty looks happy when people are happy. She looks sad when they are sad. For this psychological reason, we thought she shouldn't be tied to any emotion — and that's why she doesn't have a mouth."Sanrio has also provided multiple explanations for this choice, ranging from the fact that Kitty "speaks from the heart" to the fact that she's a symbol of friendship, first and foremost, and that she'll hopefully foster that all over the world.
When Yamaguchi stepped into the chief designer role, she wasn't sure if Hello Kitty would have an international appeal — and she didn't know if the character would be beloved by adults. In 2008, she predicted that in a decade everyone would know Kitty — and be proud to wear her image. "I want her to be a character that encourages people to become friends. Not rivals, but friends whose starting point for friendship is Hello Kitty," Yamaguchi said in the interview with Time. "I want her to be a link between all people around the world."