Horse racing is a worldwide phenomenon with roots dating back to antiquity. According to the archeological record, human beings first domesticated and rode horses over 5,000 years ago. Racing, it stands to reason, couldn't have been far behind; after all, people were involved in competitive running at least as far back as ancient Egypt. In some ways, racing, in whatever form, is the most pure expression of sport: you just line up and see who's faster. Of course, in reality, it's a little more complicated than that.
The most important event in horse racing in the U.S. is the Kentucky Derby — a.k.a. "The Run for the Roses," named after the red roses that get draped over the winner of the race. Every year, the race takes place at Churchill Downs on the first Saturday of the month of May (this year, May 7). The Kentucky Derby, much like golf's Masters, is an event full of pomp and circumstance. The Derby is also called "The Most Exciting Two Minutes in Sports" because for all of the hours of coverage and endless rituals involved, that's generally how long the race itself takes.
And don't get me wrong: the Kentucky Derby is exciting to watch. I'm not immune to the charms of drinking a mint julep — the Derby is currently sponsored by the bourbon brand, Woodford Reserve — and having an excuse to gather with friends and make a few wagers. Unfortunately, the Derby — and horse racing more broadly — has seen some troubling examples of animal treatment that deserve our attention and thought.
Dangers of Horse Racing Generally
One way of thinking about how dangerous horse racing can be for horses is to consider how dangerous it is for the jockeys who ride them. Jockeys get injured all the time — the average gets injured three times per year — and many of these injuries are the consequences of injuries to horses like collisions and broken legs.
Jockeys, at least, have some agency over the decisions they make about engaging in such a dangerous activity. The horses, however, are subject to the whims of their owners and the sport itself. Horses generally start training for racing when they are so young that their bodies aren't fully mature.
Patrick Battuello, who runs the nonprofit Horseracing Wrongs, tracks deaths of horses "on or at U.S. tracks." Looking at the list for the current year makes the problem start to feel very immediate — very real. According to an op-ed he wrote in the Washington Post in 2019, "Death can come in many forms. Cardiovascular collapse. Pulmonary hemorrhage, or bleeding in the lungs. Blunt-force head trauma from collisions with other horses or the track itself in a fall. Snapped necks, severed spines, shredded ligaments."
It's not easy to read that and feel okay about it. These dangers to horses are inextricable from horse racing itself, where horses run at speeds of up to 40 miles per hour in close proximity to other horses trying to race past them. To be sure, nearly all forms of competition carry risk. When the competition involves animals who can't be given the opportunity to decide whether or not they want to compete, it becomes even more important to consider whether the practices of that competition constitute cruelty to those animals.
Where Competition Goes Too Far
In 2014, PETA (People for the Ethical Treatment of Animals) released a video based on an undercover investigation into horse racing practices in the U.S. Much of what is in that report is involves animals being injected with drugs to make sure they're able to continue to race through pain and injury. These are extreme cases, presented in an extreme way.
Horse racing, however, does have cruelty built into the basics of the sport. The use of whips, for example, is standard in horse racing — in 2015, Kentucky Derby winner American Pharaoh was whipped between 29 and 33 times, which is generally thought to be excessive, but all the horses are whipped to some degree or other.
It's not just behavior during races that's a problem, either. According to PETA "10,000 'unprofitable' or simply unwanted Thoroughbreds from the U.S. are trucked to Canada and Mexico and slaughtered each year." Still, the industry "continues to churn out nearly 20,000 Thoroughbred foals annually." That's an alarming ratio, and it highlights the fact that many horse owners aren't seeing their animals through an entire lifetime of care.
The Kentucky Derby, Specifically
In many ways, what goes on in the context of the Kentucky Derby is just a microcosm of the culture of horse racing, at least in the U.S. In other ways, it's a different story. According to NPR, the state of Kentucky allows race tracks to keep deaths of horses confidential, and that's not a policy other states allow.
Bob Baffert, the legendary horse trainer whose horses have won the Kentucky Derby a record six times, is currently serving a two-year suspension from the Derby. He was suspended after the horse he was training last year, Medina Spirit — after winning the Derby — tested positive for a steroid called betamethasone. This, combined with Baffert's previous record of other testing failures, led to the ban. Medina Spirit, sadly, died in December of 2021 while training. The fact that the Derby had to take away what would have been Baffert's seventh win is a black mark on the race itself, though it does at least show what could be the beginning of more accountability in the sport.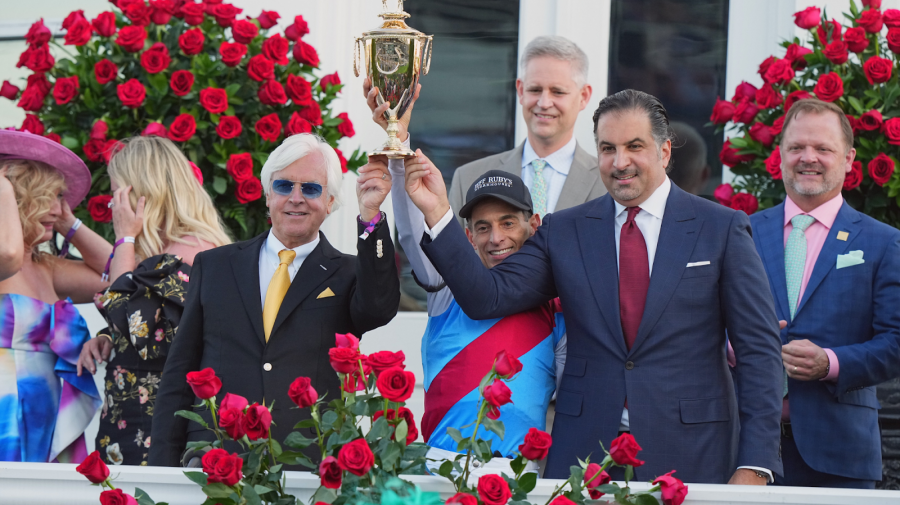 That would be, at least to a small degree, a step in the right direction. After all, as Larry Demeritte, a horse trainer whose horse was euthanized after an injury at Churchill Downs in 2019, put it in an interview with NPR, "I would like to see…people trust us more in the game. The more secretive you are…people always say, there's something shady about it."
It's true: secrecy is never a good long-term solution. Eventually, the truth gets revealed, as investigations like PETA's in 2014 make clear. On the other hand, transparency doesn't solve everything, either. It's possible that, culturally, folks in the U.S. are losing the stomach for enjoyment of a sport that involves whipping and pushing animals past their limits. After all, the Iditarod sled dog race in Alaska has been subject to similar scrutiny in recent years. It isn't enough that these cultural institutions have long histories. As we change, maybe they must change too.