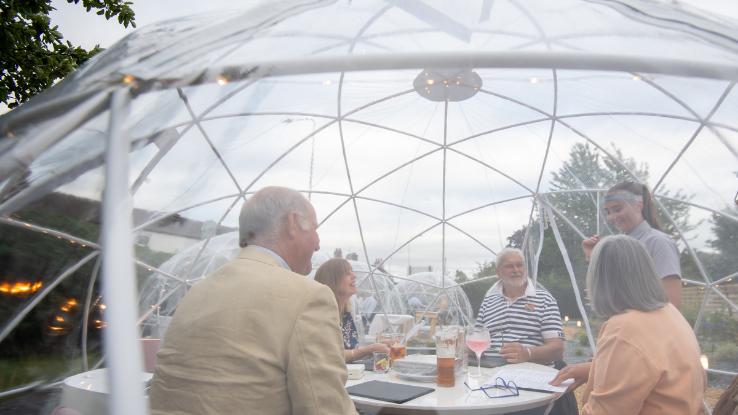 The world has been craving any type of normalcy since the COVID-19 pandemic changed life as we know it. Eating at your favorite restaurant may help you feel closer to normal — except the pandemic has thrown the restaurant industry into chaos. Over 110,000 restaurants and bars closed at some point in 2020 — whether temporarily or permanently — due to the pandemic, and countless others have tried to survive by reopening business outdoors by following local guidelines about maintaining social distancing. But is outdoor dining even safe? Before you head to your local restaurant or bar, learn what changes these establishments have implemented and what health recommendations the Centers for Disease Control and Prevention (CDC) has made.
Innovations That Establishments Are Adopting for Year-Round Operation
Many restaurants everywhere from New York City to San Francisco are now offering outdoor dining and following new safety measures to help curb the spread of the novel coronavirus. On top of enhanced sanitation, temperature checks and distanced tables, some restaurants have set up shop on sidewalks and in backyards to attract customers and keep them safe. Picnic tables and outdoor chairs are common items restaurants utilize to make outdoor dining possible. Using patio furniture is ideal when the weather's pleasant but it's more of a challenge to keep customers comfortable in the middle of a surprise thunderstorm or in chillier temps.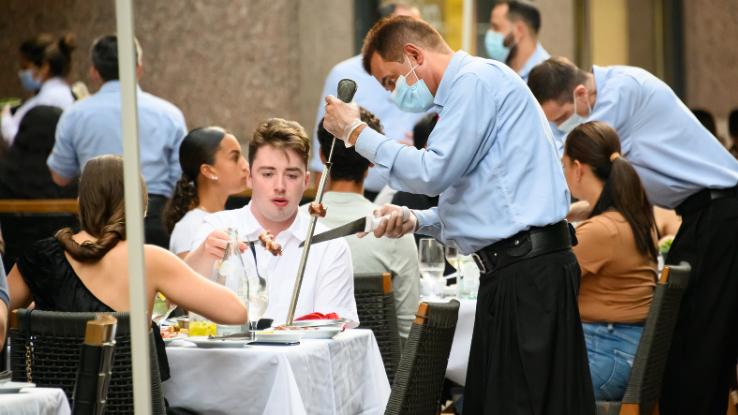 Some spots are investing in heated igloos, tents with sliding walls, warm cloths and fire pit seating to help customers remain comfortable outdoors year-round. For instance, Minnesota's ninetwentyfive restaurant installed 7-foot-tall heated igloos with tops that keep the space warm. In Philadelphia, Italian restaurant Le Virtù set up infrared heaters in its outdoor area.
Keeping diners warm is hospitable, but it might not keep them safe. According to Dr. Iahn Gonsenhauser, an internist for Ohio State University's Wexner Medical Center, a sealed igloo could be just as unsafe as an indoor dining room. He ultimately advised that if an outdoor space was made to keep diners warm instead of providing better airflow, that's a concern.
How Safe Are the Restaurant Modifications?
Outdoor dining is safer than indoor dining due to its greater air circulation. Health experts explain that the virus weakens in air movement, so more air circulation is better. In an outdoor setting, "there's a lot of ambient movement of air and dispersal of the droplets or the particles. So just by virtue of that, the risk is definitely lower in an outdoor setting," explained infectious disease expert Dr. Rekha Murthy.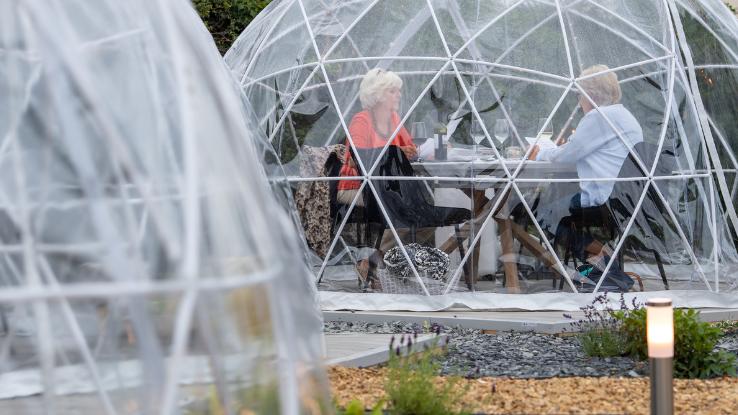 According to Anne-Marie Gloster, a lecturer at the University of Washington's School of Public Health, the stalls' sizes and openings are important to consider. "I think large tents with a top and open sides can still be called outside. In hotter climates and on sunnier days, the shade protection is necessary for comfort and sun protection. Air can still circulate freely in those environments," Gloster said. This makes spacious pods and tents more suitable options for restaurants when the weather turns cold and damp. The risk is higher when a capsule's room is cramped, however.
Despite these extra measures restaurants have implemented, the CDC is still concerned about the spread of the virus when people eat at establishments.
Why Health Experts Are Worried About Outdoor Dining
Although COVID-19 transmission is less likely to occur in outdoor settings, the risk isn't zero. According to the CDC, outdoor seating is considered a "more-risk activity," even if a restaurant has limited seating capacity and enough space between tables. The risk grows when both indoor and outdoor seating is available on-site. The highest risk? When there are no limits on seating capacity and tables aren't spaced at least 6 feet apart.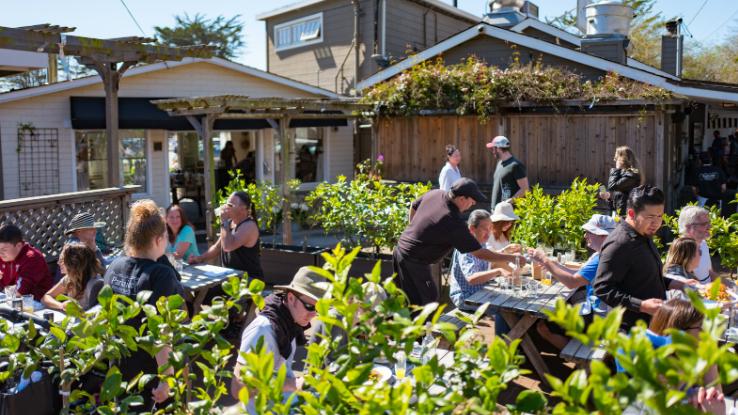 Dining out is also potentially dangerous because you must remove your face mask to eat or drink around others who aren't wearing face coverings, and this increases the likelihood of transmission. However, the CDC does outline actions patrons can take to reduce their chances of contracting or spreading the virus.
What diners can do to minimize the risks in outdoor settings:
Research restaurants to find those with outdoor seating, plenty of fresh air, space between each table and limited capacities.
Don't choose dining options that are self-serve due to shared utensils and other high-touched surfaces.
Contact the restaurant and ask about the face mask policy. Avoid places that don't require staff or customers to wear face coverings.
Only dine with people in your household or a trusted social bubble.
Wear masks as much as possible, even when you're 6 feet apart from other diners or when you're not consuming anything.
Wash your hands or use a hand sanitizer containing at least 60% alcohol when entering and leaving the establishment.
Despite these recommendations for patrons to stay safe, diners can still catch the virus. As reported by the CDC in September, "adults with positive SARS-CoV-2 test results were approximately twice as likely to have reported dining at a restaurant than were those with negative SARS-CoV-2 test results."
If you're fully vaccinated, guidelines remain somewhat similar. The CDC advises that it's fine to visit other fully vaccinated, low-risk people in private settings without the need to wear a mask and that it's okay to travel domestically and internationally without the need for quarantining or testing. However, you'll want to continue taking the recommended steps we've been practicing throughout the pandemic in various situations. This means that you should keep avoiding crowds and poorly ventilated spaces — both of which you'll have a higher likelihood of encountering at a restaurant or bar. The CDC notes that you should also continue wearing an appropriate mask and practicing physical distancing, particularly in public spaces or when you're visiting a household where people haven't been fully vaccinated. And, whether at a restaurant or elsewhere, you'll still want to avoid medium- and large-sized gatherings.
The best way to protect everyone and support restaurants during a pandemic? Stick to the lowest-risk activities — drive-through, delivery, takeout and curbside pickup.