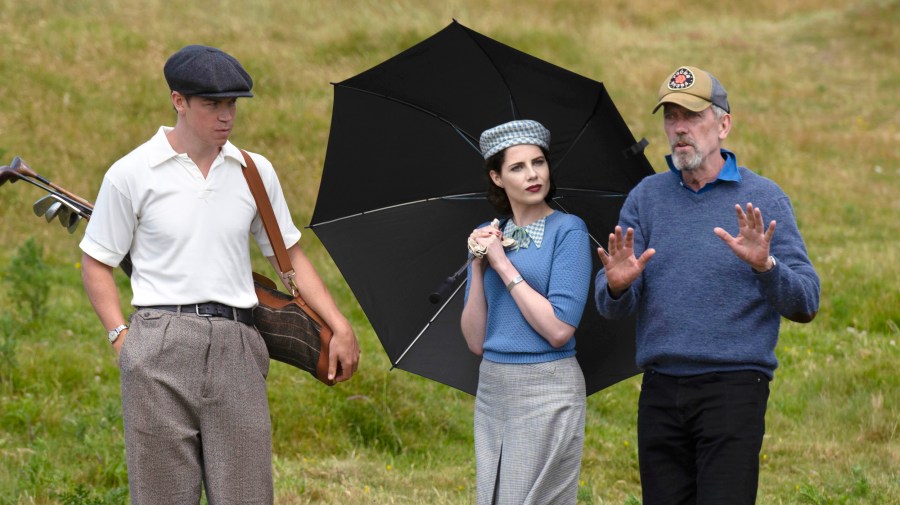 You can add writer, director and executive producer to the long list of Hugh Laurie's recent credits. The English actor — better known to American audiences as the Vicodin-popping Dr. Gregory House in the medical procedural drama House (2004–2012) — returns to TV once again after his hilarious turn on the political satire Veep (2015–2019) and his antagonistic role in the spy-thriller limited series The Night Manager (2016).
Now comes another turn, this time for the three-episode limited series Why Didn't They Ask Evans? This is not Laurie's first foray into screenwriting or even directing, but it marks a big commitment behind the scenes for the actor. Laurie adapted it from Agatha Christie's 1934 novel, directed, produced and even plays the role of the ominous Dr. James Nicholson. The show, which debuts on BritBox this Tuesday, April 12, also stars Will Poulter (We're the Millers) and Lucy Boynton (Bohemian Rhapsody) as Bobby and Frankie, childhood friends who reunite in their twenties. 
The show follows the two of them as they start investigating the circumstances leading to the death of a man discovered on the beach of a sleepy Welsh town. The man, found below a cliff, says the enigmatic words, "Why didn't they ask Evans?" before dying. Besides piquing Frankie and Bobby's interests in sleuthing, this cozy mystery also portrays the burgeoning romance between the two of them.
"There's something about the time in which they're set that is lastingly appealing," said Laurie during a Zoom press conference about how Christie's novels aren't timeless but very much about the interwar period. "There's something about that golden age of innocence — or a desire to recreate an innocence after the trauma of the first war. And in that world — that sort of beautiful, gentle world — nonetheless, terrible things can still happen."
Laurie talked about his double duty in front of and behind the cameras as well as the challenges of directing oneself, noting that he didn't necessarily do it. "There was a scene that Lucy and I had to do and I said: 'Look, there is no director here. I'm saying words. You've got to tell me if it sounds right to you," he explained with his characteristically dry sense of humor, adding that he gave very tricky notes and tiny adjustments to Boynton and Poulter, which the actors were always able to implement. "That was rather shaming, in a way. I felt I was giving instructions that I myself was not able to execute. But thankfully, they could."
Both Poulter and Boynton share palpable chemistry on-screen in Why Didn't They Ask Evans?. Poulter plays the vicar's son and is someone who's been doing odd jobs since serving as a naval officer. He's found work as a caddie at the local golf course but dreams of becoming a used car salesman with his partner and friend Knocker (Jonathan Jules). Boynton's character's a socialite with a very forward-thinking sense of style — and the one who first gets interested in the whole investigating endeavor.
The ensemble also includes Game of Thrones' Conleth Hill, Lovesick's Daniel Ings and two very special guest stars: Jim Broadbent and Emma Thompson, playing Lord and Lady Marcham, Lucy's parents. "Jim and Emma turned up with their clanking Oscars, because they actually bring them to set," half-joked Laurie referring to how impressive Boynton and Poulter were while working with the British legends. "Lesser actors might easily have been intimidated or thrown by this sort of history and status and all those kinds of horrible words," he added, noting the two young performers rose to the occasion and found a relaxed and easygoing way of working with Thompson and Broadbent.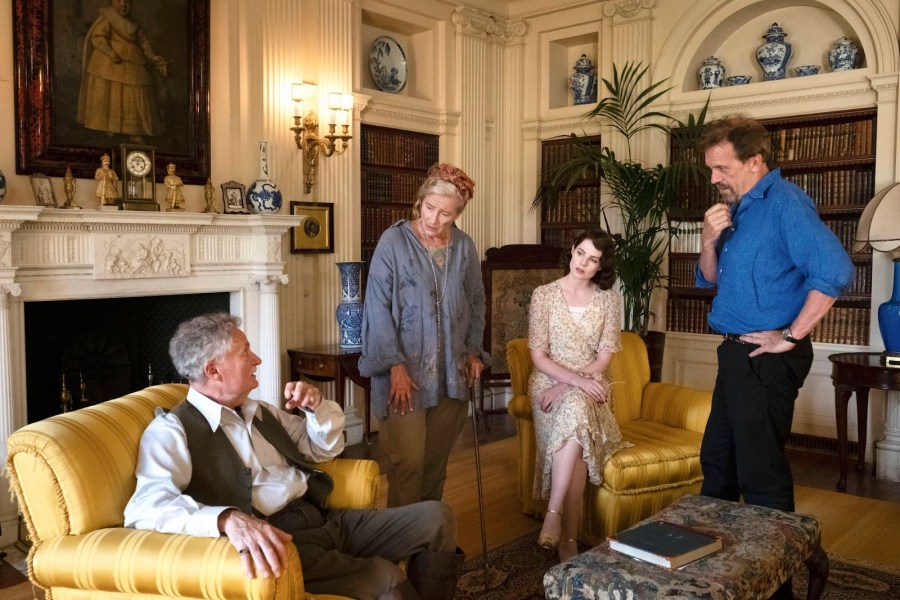 The Secret Ingredient to Adapting Agatha Christie
"When writing, I'm sort of partially acting as a reader. I'm just reading rather than writing. And when I'm acting, I feel like I'm watching as much as acting," Laurie explained of his approach to adapting Christie's novel for the screen. "You just have a sort of instinct of: 'That's not going to work here. Something else needs to happen. We need some other ingredient' […] And, as far as I know, there's no great theory to it. Or if there is, I didn't know what the theory is. I didn't read the theory, whoever wrote it," he added about that instinct that dictated to him whether he needed to add something scary or funny to the script to get the right rhythm.
Laurie talked about reading Why Didn't They Ask Evans? for the first time when he was quite young. "I remembered it very, very clearly. I particularly remember the way there's the sort of question — why did they ask Evans? — the meaning of the question is revealed in a stroke of absolute genius," he said about Christie's writing style. "She was unique in the way she constructed the way she paid out the information very, very gradually with such a sort of perfect sense of timing. So that at the exact moment she could just flip over the card and you go: 'Oh my god! That's been right in front of me all this time that I never saw it. It's just so good."
But mystery aside, for Laurie, the most satisfying part of adapting this novel he'd dreamt of for so long was watching Frankie and Bobby's relationship develop in the flesh.