Rating: 6/10
Even if you're not a fan of musicals, you probably enjoyed Lin-Manuel Miranda's Hamilton either live in a theater or as the filmed version of the play that debuted on Disney+ last summer. I know I loved it in both instances even if I don't particularly like it when people just break into song and dance. 
Debuting simultaneously in theaters and on HBO Max on June 10, 2021, In the Heights is the movie adaptation of Miranda's first Broadway play. The show had an off-Broadway run and it debuted on Broadway in 2008, where it ran for almost 1,200 performances and earned 13 Tony nominations. Now it makes its Hollywood premiere. Unlike Hamilton, this movie isn't a filmed version of the play but an actual adaptation. Miranda serves as producer and wrote the music and lyrics. Pulitzer Prize-winning playwright Quiara Alegría Hudes (Water by the Spoonful), who penned the book of the theater version of In the Heights, takes care of the screenplay adaptation here. And Jon M. Chu (Crazy Rich Asians) directs.
In the Heights tells the story of Usnavi (Hamilton's Anthony Ramos). He's a bodega owner in the northernmost Manhattan neighborhood of Washington Heights, where gentrification is creeping in and pricing out its Dominican-American community and other longtime Latino residents. Usnavi has a sueñito (little dream) of buying back his dad's bar on the beach in the Dominican Republic, moving there and starting his labor of love instead of just surviving, as he does in New York. For Usnavi, the Caribbean country is synonymous with beach, merengue, Carnaval and summer all year round.
Miranda, who grew up in Washington Heights himself and whose dad is from Puerto Rico, wrote about the United States' inception in Hamilton. With In the Heights the author broaches his own inception but also tackles what constitutes the fabric of this country. The movie is an unapologetic tale about immigrants and their children — and their children's children. It makes a case for them not being invisible and not being powerless.
From the Stage to the Screen
While being very specific about the community it portrays — the film was shot on location in Washington Heights — this immigrant story actually represents the dreams and frustrations of so many more than the Dominican Americans, Puerto Rican Americans, Cuban Americans and Mexican Americans represented here.
At the beginning of In the Heights we get to meet all of its main characters in a vibrant musical performance inside of Usnavi's bodega that overflows to the surrounding streets. As a viewer, it takes you a few minutes to get used to the fast rap lyrics of the song "In the Heights." It sets the tone of this musical the same way that the first Hamilton theme did it and introduces us to the soundscape of the film.
Through its tunes we also meet the hardworking Kevin Rosario (Jimmy Smits), who's sold half of his taxi business to pay for his daughter's tuition at Stanford. But Kevin's daughter, Nina (Leslie Grace), feels alone at Stanford; there's no community there. Then there are Benny (Corey Hawkins), Nina's ex-boyfriend; Claudia (Olga Merediz), Usnavi's abuela who isn't actually his grandmother; and Sonny (Gregory Diaz IV), Usnavi's cousin. And we can't forget to mention Usnavi's crush, Vanessa (Melissa Barrera), who has dreams of pursuing a career in fashion.
"In these blocks, you can't walk two steps without bumping into someone's big plans," mentions Alejandro (Mateo Gómez), a friend who's helping Usnavi with his big plans and little dream. All of those goals and aspirations are the foundation of this story.
I'm sure In the Heights succeeded in hitting all its marks and delivering a powerful message in its theatrical version, but cinema doesn't always seem to be the perfect fit for it. For one, this is a 143-minute-long movie that drags from colorful musical number to lively musical number with just a few spoken — as opposed to sung — dialogues in between. And while Cho employs a lot of visual weaponry to make this a cinematic tale, the uncomplicated plot that holds it together doesn't justify such a long runtime.
In the Heights is still captivating. The production had a reported $55 million budget, and you can see the money on screen. There's vigorous underwater choreography in a packed public swimming pool, a salsa-infused sensual dance inside of a music club, a melancholic theme sung inside of the New York subway, a romantic song impossibly danced through the façade of an iconic brick building that required a lot of CGI, multiple aerial shots, and a couple of choreographed routines in Washington Heights' streets with several dozen dancing extras.
The movie rightfully employs the use of English sprinkled with Spanish in the same way many bilingual Latinos are used to doing. It references the very rich culture from an array of different Latin American countries that are seen through the lens of the U.S. immigrant experience. We learn about coffee with condensed milk, about the Puerto Rican shaved ice dessert called piragua. And we're reminded of a few relevant Latinas whose work should be told for Hispanic Heritage Month. We're talking about Chita (Rivera), Rita (Moreno), Frida (Kahlo), Celia (Cruz), Dolores (Huerta), Isabel (Allende), Sandra (Cisneros), Julia (Álvarez), Rigoberta (Menchú), the Mirabal (Sisters), plus the Boss (Sonia Sotomayor).
But the movie falls short in finding the magic it so zealously tries to capture.
The "Hamilton" Easter Eggs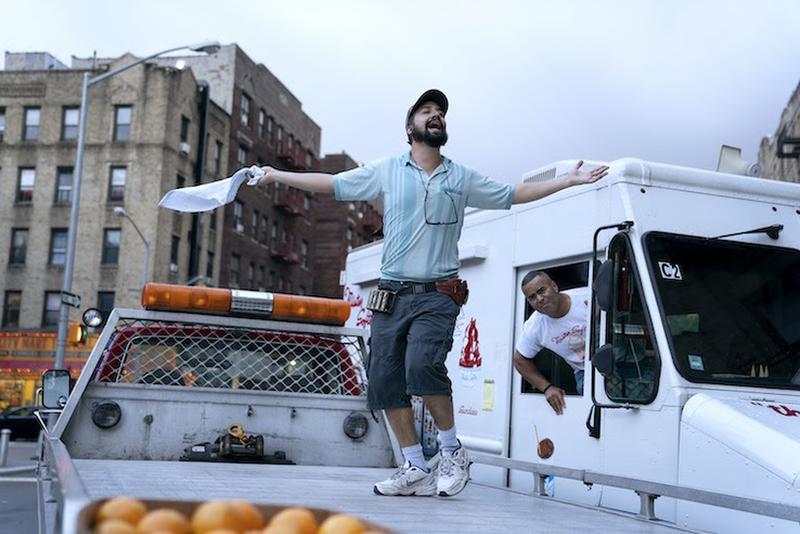 I recommend Hamilton even to the nonmusical lovers out there. But I think In the Heights is a movie that will probably only please genre fans. It'll also satisfy hardcore Hamilton aficionados, of course.
Miranda, who in the original play performed the role of Usnavi, has a cameo performance here as the piragüero, the guy who sells flavored shaved ice out of a cart. His character has a turf war with an ice cream vendor played by Chris Jackson, who was George Washington in the original Hamilton production. Stay tuned till the end of the movie for a post-credits sequence with the two of them.
The winks to Miranda's hit don't end there. You'll recognize an instrumental version of King George's leitmotif when Smits' character is on hold on the phone. He looks mildly exasperated by it.
It's difficult not to see the parallels between In the Heights and Hamilton's soundtracks. While In the Heights definitely has mambo, merengue and salsa influences — a Latin flavor that Hamilton lacks — both productions share a lot of common musical DNA: the rapping of dialogues, the hip-hop tunes, the pop melodies, the sung conversations. I don't necessarily guarantee that you're going to be humming the In the Heights tunes for days after having watched this movie — as you may have done after watching Hamilton — but you may find yourself wanting to reminisce and listen to In the Heights' and Hamilton's Original Broadway Cast Recordings after this.