Since 1990, November has been known as Native American Heritage Month in the United States. The commemorative month aims to highlight the contributions of Indigenous people; share their perspectives; and reiterate the importance of reflecting on America's dark, colonialist past (and present). But you shouldn't confine your self-education to November. From the Land Back Movement and the call for Indigenous sovereignty to the various fights for climate justice and the preservation of water, Indigenous activists and politicians are shaping our collective future — one that extends beyond invented borders.
While education and knowledge-gathering are just first steps when it comes to being an ally or accomplice, everyone starts somewhere. All year round, commit yourself to being an active accomplice in the fight for Indigenous rights and climate justice. How can you start? Familiarize yourself with the Indigenous leaders who are creating crucial change — and ensure that the dominating narrative doesn't erase their contributions and stories.
Activist Madonna Thunder Hawk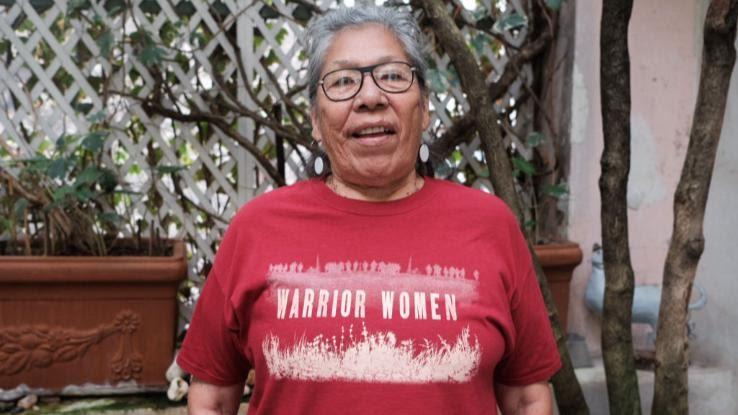 A member of the Oohenumpa band of the Cheyenne River Sioux Tribe, Madonna Thunder Hawk is the co-founder of the Women of All Red Nations (WARN) and the leader of the American Indian Movement (AIM). Born on the Yankton Sioux Reservation in South Dakota, she also serves as an organizer and tribal liaison for the Lakota People's Law Project.
Today, Thunder Hawk remains a leading voice in movements like the call for Indigenous sovereignty and the fight for climate justice. Notably, she organized against the Dakota Access Pipeline and took part in historic protests, including the 1969–1971 Occupation of Alcatraz, which aimed to secure Indigenous self-determination; the Wounded Knee Occupation, which was not only an effort to impeach a then-tribal president, but a means of advocating for equitable treatment from the U.S. government; and several occupations of Mt. Rushmore, a monument to colonialism that was carved into the sacred Black Hills.
Secretary of the Interior Deb Haaland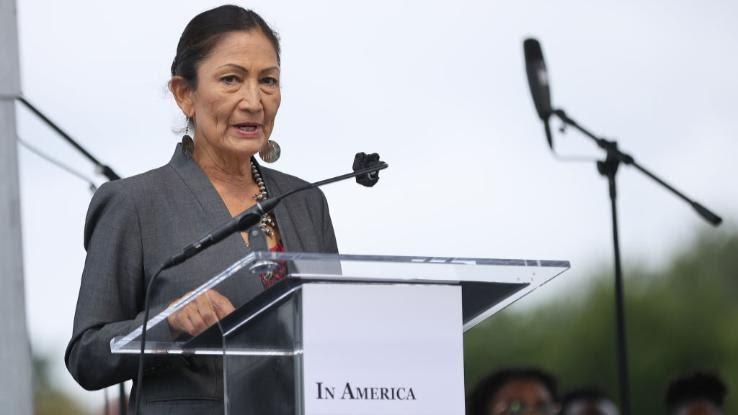 When Deb Haaland became the United States Secretary of the Interior, she made history as the first Native person to serve as a cabinet secretary. A member of the Pueblo of Laguna and a 35th generation New Mexican, Secretary Haaland previously worked as a tribal administrator at San Felipe Pueblo, operated her own small business, and became the first woman elected to the Laguna Development Corporation Board of Directors.
Secretary Haaland ran for New Mexico Lieutenant Governor in 2014, becoming the first Indigenous woman to lead a State Party. She was also one of the first Indigenous women to serve in Congress, where she advocated for missing and murdered Indigenous women and environmental justice. As the head of the Department of the Interior (DOI), Secretary Haaland is a leading voice when it comes to the management and conservation of public lands, cultural heritage and natural resources.
While the DOI has previously been responsible for working with tribal governments, Alaska Natives and Native Hawai'ians, Secretary Haaland has worked harder to center Indigenous communities and activism; she has also used her platform to bring visibility to the displacement of Native communities, the horrific boarding schools of the past, and the destruction of ancestral lands and sacred sites by colonists. "We never want to repeat the bad parts of history, right?" Secretary Haaland said in an interview with HISTORY.com. "In fact, it makes sense for the Interior Department to correct bad history where we can and move our agency and country forward."
Activist Winona LaDuke
Indigenous activist, author and economist Winona LaDuke has devoted her life to the fight for Indigenous rights and the environment, from working on tribal land claims to advocating for greater preservation and sustainability. While working as a principal, LaDuke prioritized activism, helping to found the Indigenous Women's Network in 1985 and working with Women of All Red Nations.
Although she is a member of the Ojibwe Nation, she didn't live at White Earth Reservation until later in life. Now, she helms the White Earth Land Recovery Project (WELRP), a grassroots effort that aims to recover land for the Anishinaabeg people (Anishinaabe) at White Earth in Minnesota. LaDuke is also the co-founder of Honor the Earth, a Native environmental advocacy organization that played a big role in the 2016 Dakota Access Pipeline protests, and continues to support Water Protectors in the effort to Stop Line 3 today.
Activist Oren Lyons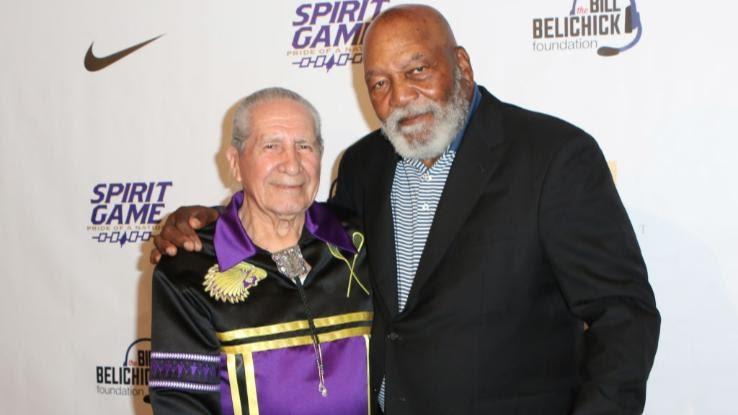 Oren Lyons, Faith Keeper of the Turtle Clan of the Onondaga Nation, has devoted his life to documenting the experiences of his people — and, later, clarifying them to the dominating white perspective that shapes American culture and society.
He attended Syracuse University on an athletic scholarship and was later elected to the Lacrosse Hall of Fame. Lyons is the current chairperson of the Iroquois Nationals Lacrosse Team and serves on the Global Forum's Executive Committee and Parliamentary Leaders on Human Survival. Lyons also authored several books, all of which draw on his vast experience with helping to build the Working Group on Indigenous Populations at the United Nations.
Representative Sharice Davids (D-Kansas)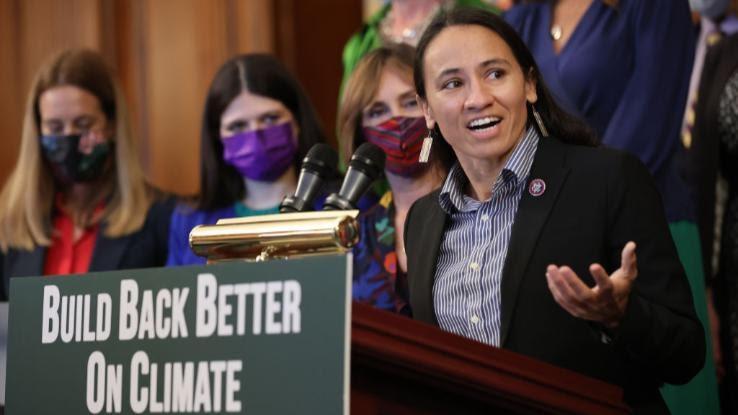 During the 2010s, Representative Sharice Davids was a professional mixed martial artist, but, by the end of the decade, she made history with her political career. Since 2019, she has served as a U.S. Representative for Kansas' third congressional district; in fact, she was the first Democrat elected to represent a congressional district in Kansas in a decade.
But, in terms of representation, that was not her only landmark moment. That is, Davids, a member of the Ho-Chunk Nation, is the first openly LGBTQ+ Indigenous person elected to Congress as well as the first openly lesbian person elected to Congress from Sunflower State. While Davids and Secretary Haaland became the first two Indigenous women elected to Congress several years ago, Davids is currently the only Native Democrat in the House. A first-generation college student, Davids holds several degrees, including a law degree from Cornell University. After working at a law firm, Davids was a White House Fellow under President Barack Obama.
"Just being able to share some of the stories… that… Native communities have shared with me, has made a pretty big difference," Representative Davids said in an interview with Native News Online about her recently published children's book. "Especially in a body like Congress, if I can change like five members of Congress' minds about something that could be the difference between passing or not passing a bill."
Representative Kaiali'i Kahele (D-Hawai'i)
The second Native Hawai'ian to serve Hawai'i as a U.S. Representative, Kaiali'i Kahele began his political career in 2016 after he was appointed to fill a seat left open by his late father, Gil Kahele, in the state senate. Representative Kahele, an 18-year Hawai'i Air National Guard, used his campaign platform to advocate for Indigenous rights and focus on environmental justice and affordable healthcare.
Activist Cierra Fields
A Cherokee Nation citizen and melanoma survivor, Cierra Fields has used her lived experiences and passion for activism to work to improve tribal health facilities and make healthcare — and health knowledge — more accessible to Indigenous communities.
Fields has also been a vocal sexual assualt activist and, as a journalist, she has used her voice to contribute to the Indian Country Today Media Network. A young adult herself, Fields wants to empower other Native youth. Currently, she's on the board of directors of the National Urban Indian Youth Alliance.
Other Indigenous Activists You Should Know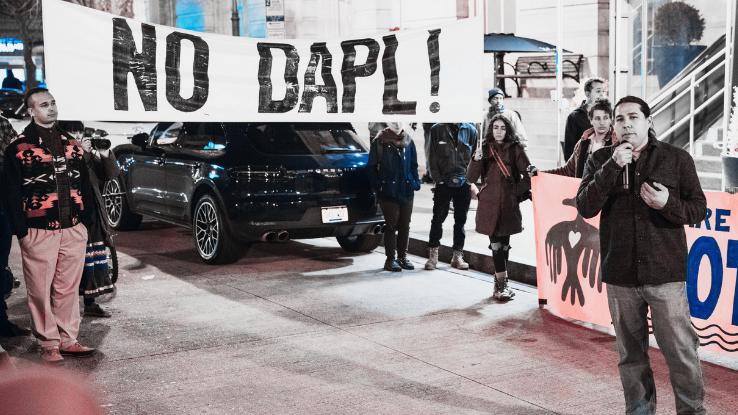 Sarah Deer: A citizen of the Muscogee (Creek) Nation of Oklahoma and a University Distinguished Professor at the University of Kansas in Women, Gender, and Sexualities Studies, Deer addresses sexual violence and rape culture in much of her writing, which is undergirded by Indigenous feminism. Several years ago, the then-attorney general appointed Deer to chair a federal advisory committee centered on sexual violence in Native communities.
Adrienne Keene (@nativeapprops): As an academic and activist, Keene has authored several articles and a book, but her most well-known writing is found on the blog, Native Appropriations, which analyzes the way Indigenous peoples are represented in popular media and how non-Native people appropriate Indigenous fashion, music and art. A member of the Cherokee Nation and professor at Brown University, Keene also co-hosts the podcast All My Relations.
Native Power Rangers (@native_power_rangers): Self-described as "Indigenous park rangers working to Indigenize federal, state, and public lands!" Aiming to decolonize the land, our language, and the approach we take to spending time on public lands, Native Power Rangers is a must-follow on Instagram; the folks that run the account delve into racist terms or phrases you might not think of as problematic and underscore that we are all on Native land — even when your hiking app tells you to go off trail (and, likely, through ancestral sites).
@lilnativeboy: While not all of your support and activism can necessarily be done online, @lilnativeboy is a must-follow on Instagram for those looking to support mutual aid funds that center Indigenous people as well as those who want to learn more about why the fourth Thursday in November is a day of mourning, among other topics.
Hāwane Rios: Rios is a kanaka 'oiwi (native Hawai'ian) singer and songwriter from Waimea, Hawai'i who champions the healing power of music. An advocate for protecting the Earth from degradation, she's been vocal about protecting Mauna Kea from further development projects and performed at marches and demonstrations.
YoNasDa Lonewolf (@queenyonasda): An Oglala Lakota and Black activist, organizer, speaker, rap artist and writer, YoNasDa Lonewolf has said that she was "born with my fist up." For her, YoNasDa — 'Queen' — isn't "just a word, it is a calling."
Jordan Marie Daniel: Self-described as "Kul Wicasa Lakota — a citizen of the Kul Wicasa Oyate, also known as the Lower Brule Sioux Tribe in South Dakota," Jordan Marie Brings Three White Horses Daniel is a community organizer and activist perhaps best known for running for justice. With Rising Hearts, Daniel aims to "dismantle white supremacy and racism, rebuild a better future and elevating Indigenous, Black, Brown, Asian, Immigrant, Muslim, Jewish, Two Spirits, LGBTQ+, & Non-binary voices and relatives with disabilities."
Dallas Goldtooth (@dallasgoldtooth): While you might recognize Dallas Goldtooth (Mdewakanton Dakota & Dińe) for his comedic work in Reservation Dogs, he's also the leader of the Keep It in the Ground Campaign of the Indigenous Environmental Network. A journalist, poet, emcee, artist and comedian, Goldtooth uses social media as a platform for organizing, activism and mutual aid. He also co-founded the Indigenous comedy group The 1491s and was one of the Water Protectors at Standing Rock/Oceti Sakowin Camp.
Tara Houska (@zhaabowekwe): Tara Houska (Couchiching First Nation) is a tribal attorney, a Mide, sundancer and Land Defender. The founder of giniw collective, an Indigenous womxn and Two-Spirit-led resistance group, Houska has been a leader at the Stop Line 3 protests and, previously, fought against the Dakota Access Pipeline. She also co-founded Not Your Mascots, a nonprofit organization that aims to undo the harmful, racist stereotypes that permeate American sports and entertainment.
Project 562, Photographer Matika Wilbur: A member of the Swinomish and Tulalip tribes, Wilbur is a podcast co-host (All My Relations) and photographer who started Project 562, an effort to document at least one contemporary Indigenous person from each one of the 562 recognized Tribal Nations in the U.S. Wilbur, a former educator, came to the idea after realizing that there was a lack of positive and modern-day imagery of Indigenous people in educational materials.
Joshua Lanakila Mangauil: A Kumu Hula of Halau Kua Ulu in Honokaa, Mangauil was recently featured on an episode of HBO's We're Here and performed in drag. Mangauil shared the experience of being a kanaka māhū ('in the middle'), a term that refers to people who, prior to colonization, were esteemed teachers and spiritual leaders in their communities. Today, the identity can refer to a variety of genders and sexual orientations.
"For me, my identity as a kanaka māhū isn't probably the norm for the typical LGBTQ American perspective. It comes from a much different place," Mangauli said (via Hawai'i Tribune Herald). "We have seen drag culture in many cultures. The mahus push the borders, the realms." While the show may have given Mangauil an opportunity to share the experience of being kanaka māhū with a larger audience, the activist and Mauna Kea protector has long been a leader in the fight against the construction of a giant telescope on dormant Mauna Kea, one of the most sacred sites in Hawai'ian culture.