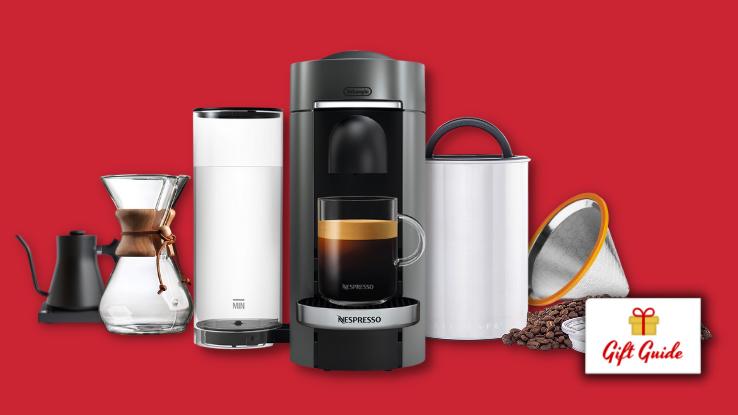 As the COVID-19 pandemic continues to impact our daily lives, it's becoming clear that many of us won't be going back to the office anytime soon. But just because you're trading your morning commute for a daily telecommute, that doesn't mean you have to deprive yourself of that perfect cup of coffee you enjoyed on the way to work. If you want to kickstart your day in style, these items can help transform your kitchen into every wannabe-barista's dream coffee bar.
1. Fellow Stagg EKG Electric Pour-Over Kettle
These days, pour-over coffee is all the rage. Although this used to be a cost-effective way to brew a cup of Joe at home, the method is finding a hipster following due to the ability to brew each cup individually — and to perfection. There's quite a bit of science behind brewing the perfect coffee, and one of the most important variables you'll want to account for is the temperature of the water.
The Fellow Stagg EKG Electric Pour-Over Kettle is perfect for connoisseurs and newbies (brewbies?) alike. "The bean, roast, grind size and brew method all factor into the temperature," the kettle's copy reads. "Heck, even the age of your beans matters." With this in mind, Fellow's stunning, minimalist product promises to be a barista's best friend. Not only can you control the temperature, but the kettle heats up water in a near-instant. Bonus: It's great for tea as well.
2. Chemex Pour-Over Glass Coffeemaker
If you're looking to get into the pour-over coffee scene, finding the perfect hot water kettle is only half the battle. You'll also need the actual "coffeemaker," which is refreshingly low-tech in a world filled with Keurig machines. Simple, timeless and easy-as-coffee cake to use, the Chemex Pour-Over Glass Coffeemaker is exactly what you're looking for in a pour-over coffeemaker.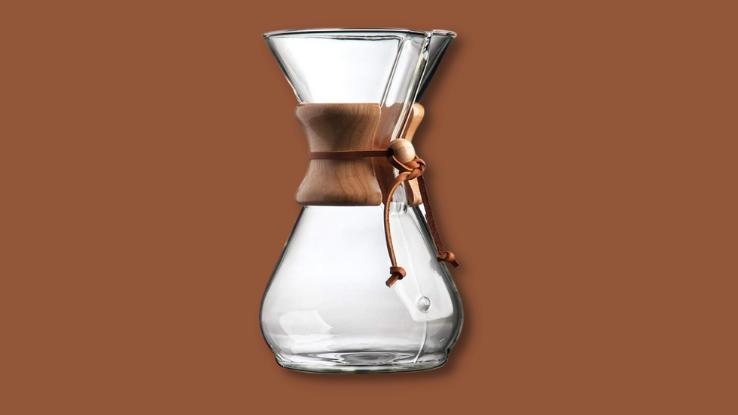 Essentially, you place a filter in the top half of the glass coffeemaker, scoop your grounds in and then pour hot water over the coffee, hence the process' name. Of course, this whole thing blends both science and art: You have to let the grounds "bloom," and getting that full flavor out of the coffee takes time. Luckily, Chemex provides all the tips and tricks you'll need to get started, so you too can brew a rich cup of Joe.
3. Pour-Over Coffee Reusable Filter
If you were sold on the Chemex Pour-Over Glass Coffeemaker, you're going to need (at least) one more item — coffee filters. Or, in this case, you just need a single filter. If you want to go green and get the most out of your pour-over coffeemaker, look into the Pour-Over Coffee Reusable Filter.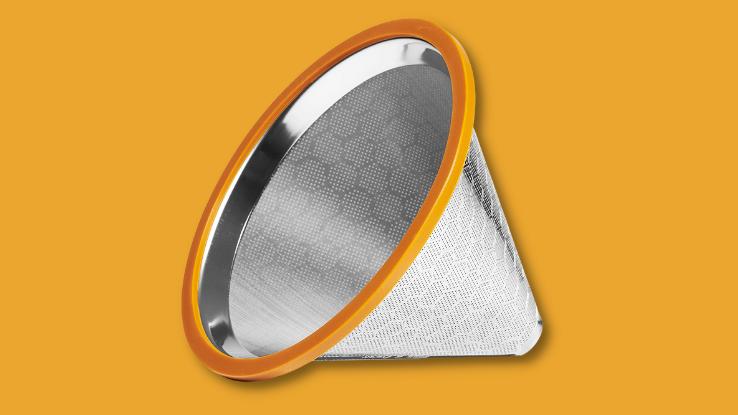 Although it's specially designed to work with the aforementioned Chemex model, this stainless steel cone dripper fits in most coffee carafes. Best of all, it doesn't scratch those beautiful glass coffeemakers, and it prevents grounds from accidentally slipping into your brew. As a bonus, the high-quality mesh filter is easy to clean and eco-friendly, eliminating your reliance on one-time use, disposable filters.
4. Espressione Professional Conical Burr Coffee Grinder
For a coffee lover, nothing smells better in the morning than freshly ground coffee beans. (Sorry, eggs and bacon.) However, there's a big debate over which sort of coffee grinder does the best job. Some folks prefer a manual hand-grinder, while others insist that an automated grinder can churn out a finer roast.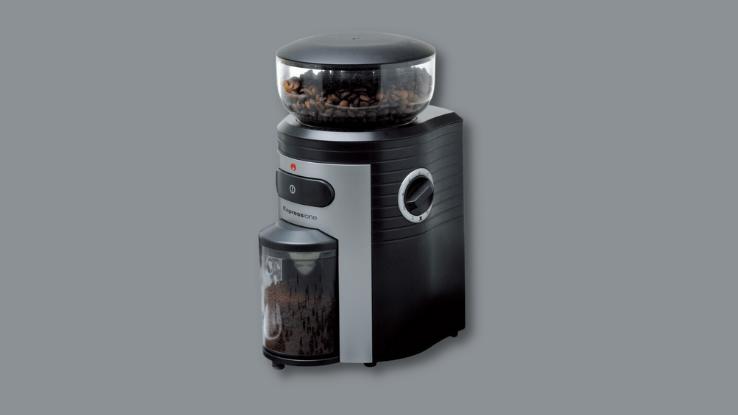 One of the most popular grinders out there is the Espressione Professional Conical Burr Coffee Grinder, and we believe it also gives you the most bang for your buck. This commercial-grade grinder has 15 grind settings — from super fine to fairly coarse — allowing you to find exactly what you need from cup to cup. The only thing easier than cleaning the Burr grinder is operating it: just fill it up with beans and press a button. It's perfect for those of us who need a caffeine fix before tackling more complex tasks.
5. Bodum Chambord French Press Coffee Maker
There are plenty of ways to brew a delightful cup of coffee, so if the pour-over method isn't quite your style, this one's for you. If you've ever been out to a fancy brunch, your waiter may have delivered a French press to your table. Perfect for individual use or the whole table, the Bodum Chambord French Press Coffee Maker is the way to go in French press models.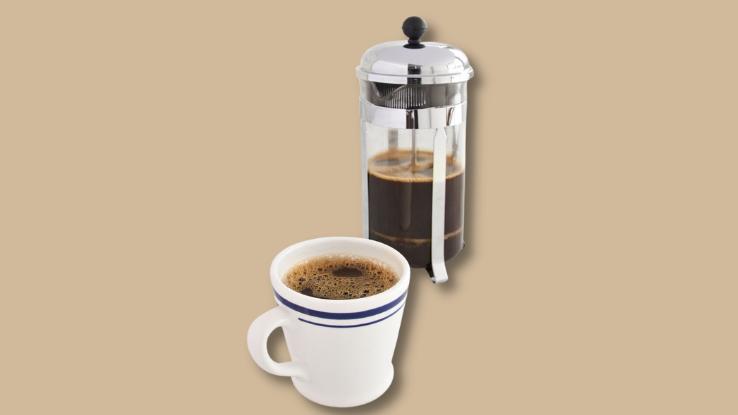 Just add coarse ground coffee, hot water and give it a press. According to the experts over at Bodum, pressed coffee provides the best flavor because the process extracts the right balance of essential oils and acids, making for a rich and strong brew, without being overly bitter. The product comes in a variety of sizes and colors, so rest assured, you'll find something that fits perfectly in your kitchen.
6. HOKEKI Airtight Coffee Canister
Quite a bit goes into brewing the perfect cup of coffee. From getting the water at the right temperature to making sure your beans are ground well, so much can impact the taste of your morning Joe. A lot of these factors boil down to the quality of your coffee beans, so making sure they stay nice and fresh is essential.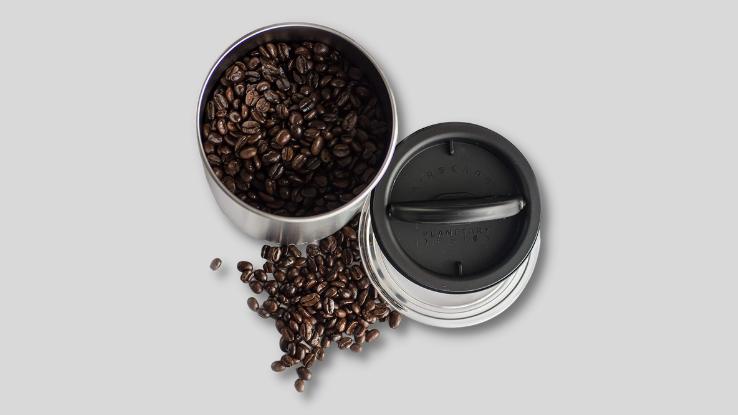 Although it may not be your first impulse to purchase an item for coffee storage, we highly recommend the Airscape Coffee and Food Storage Canister. The airtight, vacuum-sealed canister is made from stainless steel and offers the perfect way to house everything from coffee beans and tea to flour, sugar and herbs. To prevent waste, you can actually set an expiration date on the canister's lid. Fancy, right?
7. Long Handle Coffee Scoop by Heihox
Sure, we all have spoons and measuring cups and all sorts of gadgets in our kitchen, but sometimes it's nice to have items that perform one specific function, especially when it comes to the art-science known as coffee-making. Spending a little extra on a nice measuring spoon just for coffee makes the whole brewing process feel special — and complete.
Our favorite is the Long Handle Coffee Scoop by Heihox. A simple tool? Yes, but nothing beats this handmade scoop. Wrought from black walnut wood, this eco-friendly scoop ensures you get every measurement just right — and do so in style.
8. Zevro KCH-06079 Ground Coffee Dispenser
Speaking of getting all your coffee measurements just right, this next item goes above and beyond in that department. The Zevro KCH-06079 Ground Coffee Dispenser may seem like an extra luxury, but once you incorporate this product into your coffee-making process, there's no going back.
Airtight to preserve your coffee's freshness, this handy gadget stores your ground coffee, when you're ready to brew, you simply squeeze the handle to dispense a perfectly measured tablespoon of grounds. There's nothing like consistency, especially when you're finding your barista groove. To make matters even better, this dispenser won't take a toll on your wallet.
9. Nespresso Aeroccino 4
While many of us still reach for traditional drip coffee in the morning, some days require a little extra something. Whether you're making a latte, a cappuccino or a flat white, you'll need coffee's best pal, frothed milk, to complete the order. While some espresso machines feature a frother, standalone models are a great option for folks who want to save on counter space.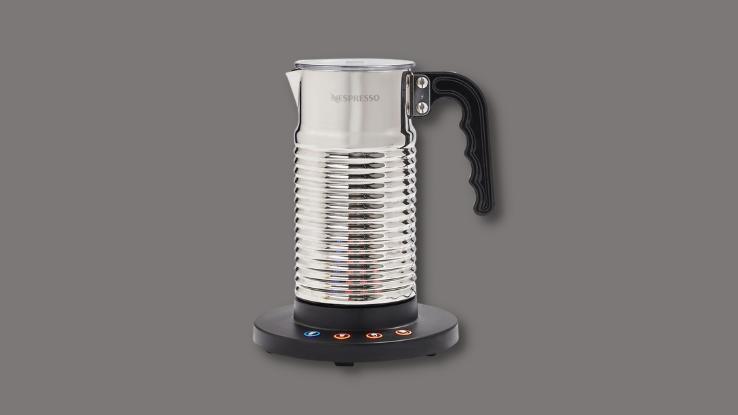 The Nespresso Aeroccino 4 produces perfectly frothed milk for all your espresso-based drinks. Fast and quiet, the Aeroccino 4 can froth both hot and cold milk in about a minute — and at the push of a button. Dishwasher-safe and easy to use, this cafe-quality milk frother is an essential for every barista-in-training. However, if you're looking for something a little less fancy, the handheld Aerolatte Milk Frother is an affordable, functional option.
10. Nespresso VertuoPlus Deluxe Machine by De'Longhi
Of course, if you're eyeing the milk frother, you'll also need the perfect espresso machine. Buyer beware: There are countless options — so many your head will spin — but far and away, our favorite espresso machine on the market is the Nespresso VertuoPlus Deluxe Machine by De'Longhi — and, as a bonus, this model comes with an Aeroccino milk frother.
As the name implies, this De'Longhi-made machine uses Nespresso pods. You know how Americans use the imperial system for measurements, and the rest of the world uses metric? Well, imperial is to metric as Keurig pods are to Nespresso pods. This sleek, versatile automatic coffeemaker brews single-serving coffee in a variety of sizes and lets you scratch your espresso itch.
Best of all, adding ice and milk (and flavored syrups) to your barista-grade espresso means you can make a variety of Starbucks-level iced lattes. Long story short, you'll never want to pay for coffee drinks on the go again!