There's nothing quite like a music festival. They're immersive, energetic experiences that give you a chance to see your favorite bands live, discover new artists, explore exceptional food and so much more. (It certainly doesn't hurt that they tend to be in beautiful, vibrant destinations.)
Whatever you listen to, this is already shaping up to be a banner year for concertgoers. Take a look at the music festivals we can't wait to attend in 2023!
Bonnaroo
Bonnaroo is a four-day musical festival running from June 15 through June 18, 2023, in Manchester, TN. Expect exceptional performances from artists like Foo Fighters, Kendrick Lamar, ODESZA, Paramore and Lil Nas X, among many others.
It just wouldn't be Roo without camping, so be sure to spot on-site and do your homework about all of the plazas, late night parties and pop-up shows that will be happening throughout the weekend.
Tickets are available now, with four-day passes starting at $320, though you can get single day tickets for $175. Plus, you can put your ticket on layaway for as low as $25, giving you additional time to cover the total cost.
BottleRock
If you love music, food and wine, BottleRock is the festival for you. Located in beautiful Napa Valley, you can kick off your summer here from May 26 through May 28, 2023. There are some attention-grabbing headliners this year, including Red Hot Chili Peppers, Post Malone, Lizzo, Lil Nas X, The Smashing Pumpkins and Duran Duran.
ADVERTISEMENT
322166814/iacpl-test.www.ask.com/Ask_Desktop_Feed_Center1_728x90_Top
But BottleRock is so much more than the music. From the outstanding culinary stage to the silent disco, there's plenty of entertainment. Plus, the food and drink is top-notch, and there's even a spa for some relaxation.
Three-day tickets to this year's BottleRock festival are already sold out, but there's still time to get single day tickets for this amazing event!
Adjacent Festival
For some Memorial Day weekend fun, why not head to the Adjacent Festival in Atlantic City? Blink-182 and Paramore are headlining, but the undercard boasts a serious who's-who of alternative music that includes Turnstile, Japanese Breakfast and Jimmy Eat World. Great tunes and a beach-side venue; what more could you ask for?
ADVERTISEMENT
322166814/iacpl-test.www.ask.com/Ask_Mobile_Feed_Center2_300x250
ADVERTISEMENT
322166814/iacpl-test.www.ask.com/Ask_Mobile_Feed_Center3_300x250
Single-day tickets and weekend passes are available now. Can't afford to pay all at once? Fortunately, Adjacent Festival offers payment plans, making it easier to cover the cost of your ticket while ensuring you can reserve yours right away.
Shaky Knees
Shaky Knees goes down on May 5-7 in Atlanta, and this year's lineup is outstanding. Celebrate the fest's 10th anniversary with The Killers, Muse, and The Lumineers, plus some of this summer's highly anticipated reunions – Be Your Own Pet and The Walkmen.
ADVERTISEMENT
322166814/iacpl-test.www.ask.com/Ask_Desktop_Feed_Center2_728x90
Tickets are already on sale, including one-day and three-day passes. It's best to buy early, as certain tickets may run out surprisingly quickly.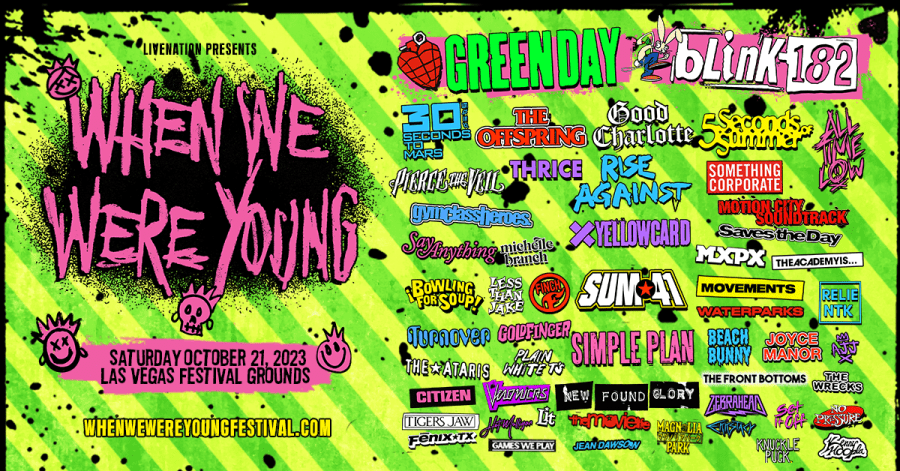 When We Were Young
After dominating our social media feeds in 2022, When We Were Young returns to Las Vegas on October 21, 2023. This year's lineup features Green Day, Blink-182, The Offspring and loads of other bands from the golden age of pop punk.
ADVERTISEMENT
322166814/iacpl-test.www.ask.com/Ask_Desktop_Feed_Center3_728x90
While tickets are already sold out, you can join the waitlist in case any become available. You'll need to choose your ticket type and submit a request. Just know that your card is automatically charged if a ticket comes open, so make sure the cash is available to cover it!
High Water Festival
Scheduled for April 15 and 16, in North Charleston, South Carolina, the High Water festival features a pair of alternating stages, outstanding southern cuisine, and local merchants selling crafts, leather goods, and more. It's all happening along the riverfront, too, so the backdrop is stunning.
ADVERTISEMENT
322166814/iacpl-test.www.ask.com/Ask_Desktop_Feed_Center4_728x90
The eclectic lineup features fantastic artists like Wilco, Beck, Rainbow Kitten Surprise, Father John Misty, Big Boi, Orville Peck, and more.
Tickets are on sale now. You can reserve your spot for as little as $25 down, giving you time to save up the rest if needed.
Rolling Loud
The ultimate hip-hop festival, Rolling Loud's California edition takes place March 3-5. Headliners include Playboi Carti, Travis Scott, and Future, but the lineup goes deep with special guest Lil Wayne and rising stars like Lil Baby, Ice Spice, City Girls and more. Tickets to the California festival are on sale now, though they're running out quickly!
If you can't make it to Inglewood, check out Rolling Loud's other events in Thailand, The Netherlands, Germany, and Portugal. The lineups and ticket prices vary by location, so check the website for details if you're thinking about making the trip.
ADVERTISEMENT
322166814/iacpl-test.www.ask.com/Ask_Desktop_Feed_Center5_728x90