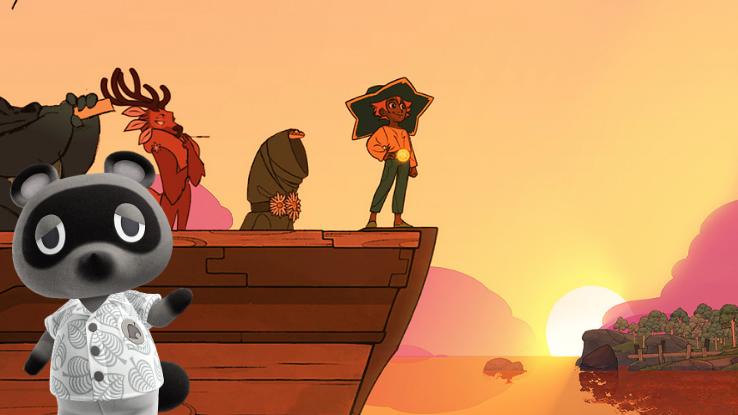 The ongoing COVID-19 pandemic, and the subsequent stay-at-home orders, seem to have set the perfect stage for the beyond-successful launch of Nintendo's Animal Crossing: New Horizons, an escapist game that's been giving players a sense of routine during a turbulent time. Since it hit shelves in March 2020, the game sold a staggering 22 million units in fewer than four months and, according to Eurogamer, boosted sales of the Nintendo Switch console by a whopping 166% increase year-on-year.
Has paying off your debt to a raccoon "entrepreneur" got you feeling fatigued? Well, whether you were one of the many folks who scooped up a Switch for the sole purpose of joining the Animal Crossing craze or if you're a longtime gamer simply looking for a change of pace, we've got a few must-play recommendations that serve as great alternatives to Nintendo's best-selling life sim.
And, don't worry: You can always return to your Animal Crossing island home after some time apart. Well, as long as you don't mind picking a bunch of weeds…
Best Animal Crossing Alternative | Stardew Valley
If you're looking to replace Animal Crossing: New Horizons with something similar, we recommend Stardew Valley. This open-ended, country-life role-playing game (RPG) puts you in the shoes of a soon-to-be-farmer who inherits their grandfather's plot of land and, armed with some tools and a few coins, sets out to start a new life.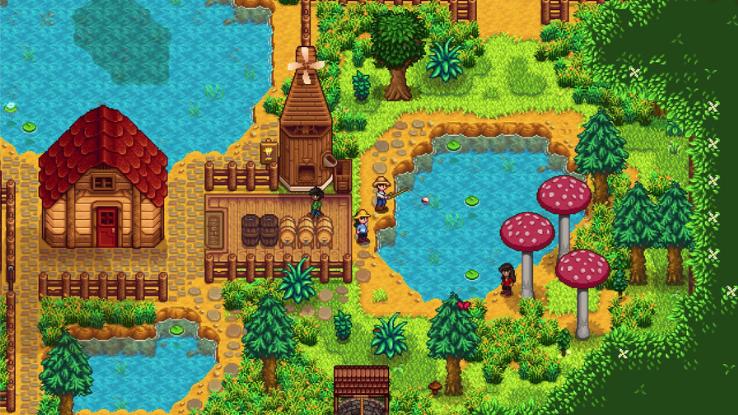 Developed by Eric "ConcernedApe" Barone back in 2016, Stardew Valley has since taken the gaming world by storm as a sort of spiritual successor to the popular Harvest Moon series. If the seemingly ponderous tasks in Animal Crossing got you hooked on gaming, then you'll love this farming sim, which takes things to the next level. From growing crops and raising livestock to mining ore and romancing a partner, Stardew Valley is an engrossing, methodical escape that lets you live out a second, 16-bit life.
Best Game About Animals Crossing (Over) | Spiritfarer
Need to lay your Animal Crossing obsession to rest? Try Spiritfarer, a game that's about letting go — and helping animals to, er, literally cross over. Into death. Yeah, you read that correctly. Thunder Lotus, the folks behind the title, bill it as "a cozy management game about dying." As we've learned from Animal Crossing, managing things — even the mundane — can be extremely cathartic.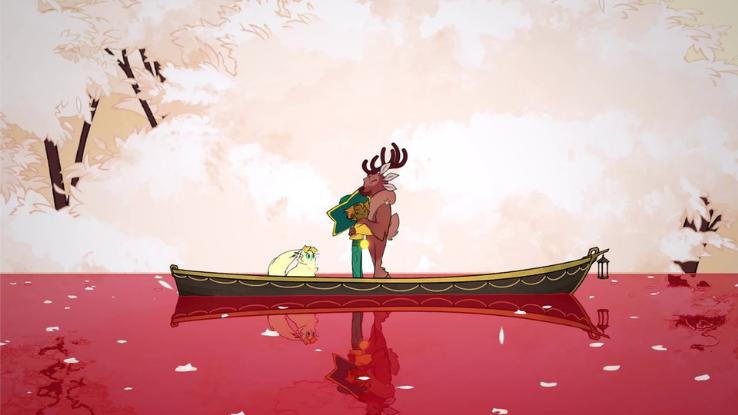 Players take control of Stella, a ferrymaster to the deceased. Stella builds a boat to explore the world with so that she can befriend and care for the spirits of animals before they transition into the afterlife. Relax with your passengers. Make memories. And then… hug them goodbye. The mechanics are simple, but the grief is tough. Honestly, a game so centered around embracing feels especially therapeutic during this pandemic.
Best Quirky Shooter | Oddworld: Stranger's Wrath
The title says it all. If you're looking for something offbeat, but with some familiar mechanics, Oddworld: Stranger's Wrath is worth a purchase. While it may seem like a big leap from catching bugs and fish in Animal Crossing, hear us out. In this quirky Western, you play as Stranger, a fearsome bounty hunter who captures outlaws for moolah (no, not Bells).
Instead of paying off debt, Stranger's goal is to earn enough to pay for a mysterious operation. One of the most memorable elements of the game? Stranger loads his crossbow with "live ammunition," a.k.a. ammo made of living creatures and insects. This action-adventure shooter switches between third- and first-person perspectives and features a good deal of platforming and RPG elements too. While the gameplay differs greatly from Animal Crossing, the game has a lot of quirk and charm — and a "checklist" of sorts — that might just resonate with you.
Best Casual Game | Untitled Goose Game
One of the best parts of Animal Crossing is how inviting it is no matter your experience level. That is, it's great for hardcore and casual gamers alike. In many ways, Untitled Goose Game, which went viral last fall, has that same "pick up and play" vibe. In this puzzle-meets-stealth game, players control a goose whose sole purpose seems to be terrorizing the inhabitants of a small English village.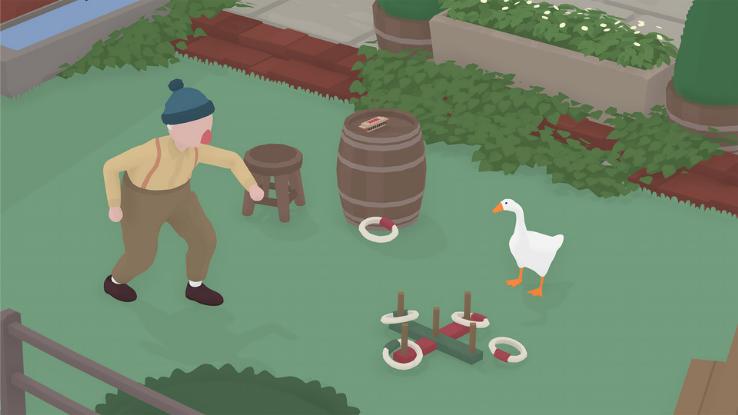 The idea for this straightforward yet highly engrossing game came from a stock photo of a goose — one that sparked conversations about geese among the employees of developer House House. Inspired by the unlikely combo of Super Mario 64 and Hitman, Untitled Goose Game is full of humor and originality — so much so that it became a hit meme and sold over 1 million copies in just a few months.
Best Role-Playing Game(s) | Pokémon Sword and Pokémon Shield
If it's the methodical, oft-repeated tasks that you love about Animal Crossing — they're cathartic! — then you might enjoy the well-ordered progression of an RPG. And there's really no better Nintendo RPG to start off with than one of the entries in the long-running Pokémon series. For the unanointed, the main entries in the franchise follow a kid's journey to become a Pokémon Trainer (and, later, Pokémon Master).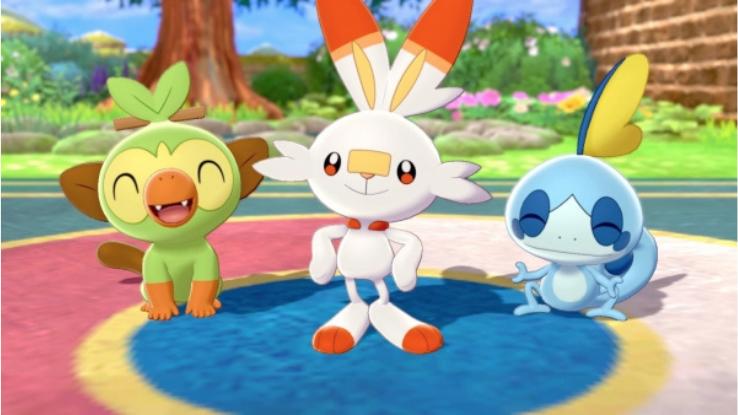 What does becoming the very best involve? Trainers travel the world to collect badges from trainers at "Gyms." To collect those badges, you've got to battle these Gym Leaders, and, to do that, you'll need to capture and raise pokémon, all of which have different elemental alignments and abilities. If you've been living under a Geodude and somehow missed the Pokémon craze completely, you might want to start with Pokémon: Let's Go, Pikachu! or Let's Go, Eevee!, remakes of the Game Boy classics. On the other hand, if you want to keep up with the times and try the latest installments in the beloved franchise, pick up either Pokémon Sword or Pokémon Shield.
Don't want to "catch 'em all" these days? No sweat. Forcing cute creatures to fight for sport isn't everyone's thing. In that case, try the equally awesome fantasy epic Fire Emblem: Three Houses, the latest installment in the much-loved tactical RPG series.
Best (Adorable) Action-Adventure Game | The Legend of Zelda: Link's Awakening
If you're new to the wonderful world of Nintendo, you might've been told to pick up a copy of the Switch's (arguably) best game, The Legend of Zelda: Breath of the Wild. Praised for taking the long-running series' traditionally linear structure and giving it the open-world treatment, the epic game can be cathartic in its own way. But, despite all of the fun inherent to its exploration mechanic, Breath of the Wild's lack of structure might prove tricky for casual gamers who want a more rigid, goal-oriented experience.
If that's the case for you, we recommend kicking off your Zelda foray with The Legend of Zelda: Link's Awakening, a remake of the 1993 Game Boy hit. The (adorable) 3D remake doesn't feature some of the series' mainstays — no land of Hyrule, Princess Zelda or Triforce here — but, instead, sees protagonist Link defeating monsters, solving puzzles and scouring Koholint Island for eight musical instruments that will awaken the all-powerful Wind Fish deity. Bonus: The "retro-modern" art style and diorama-like level designs will undoubtedly resonate with fans of Animal Crossing's cheerful aesthetics.
Best Cross-Genre Game | Paper Mario: The Origami King
Want to get your Mario fix in but don't know where to start? If something as expansive as open-world platformer Super Mario Odyssey seems too daunting, try the cross-genre Paper Mario: The Origami King. Although he's armed with a trusty hammer, a cast of supportive allies and a penchant for puzzle-solving in lieu of his renowned jumping skills, this flatter version of Mario is still the same character we all know and love.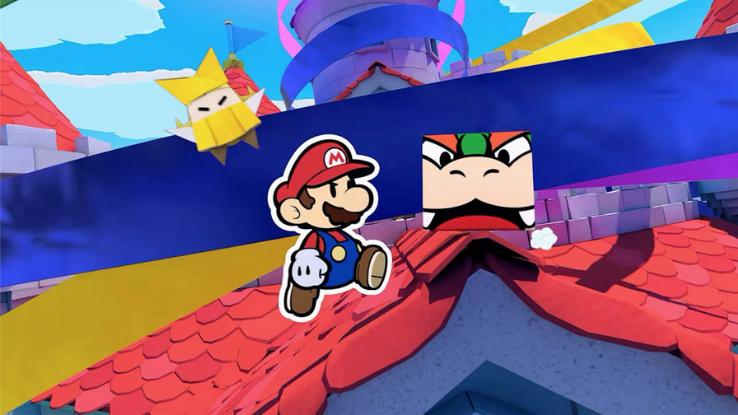 The sixth installment in Nintendo's beloved Paper Mario series sees everyone's favorite red-hatted plumber fighting off the Origami King and his evil army of Folded Soldiers in order to protect the Mushroom Kingdom. What we love most about this one is the ingenuity and innovation: The series has always leaned into its aesthetics, making them more than just fun gimmicks, and, for those wanting more variety in gameplay, Origami King features elements of RPGs, platformers, puzzlers and action-adventure games.
Best Multiplayer for Shooter-Averse Players | Star Wars: Jedi Knight—Jedi Academy
While games like the kid-friendly Splatoon 2 and the worldwide phenomenon Fortnite might dominate the multiplayer sphere, not all gamers want to delve into shooters or hyper-competitive titles. If you're looking for something a bit more casual, Star Wars: Jedi Knight—Jedi Academy is a Force to be reckoned with.
Although this game does feature a story mode that ties into the Star Wars Legends universe, the real highlight here is the multiplayer, which allows you to select a character — even one who isn't canonically Force-sensitive — and equip them with either Jedi or Sith abilities and, of course, a lightsaber. When it first launched in 2003, it kind of felt like a fan-made game — in the best way. After all, who doesn't want to just run around with a lightsaber? That's really all this game is and, for a very low price point, this port is well worth the purchase.
Best Old-School Point-and-Click Game | Kentucky Route Zero
Developed by Cardboard Computer and published by Annapurna Interactive, Kentucky Route Zero is a point-and-click adventure game. It takes cues from choose-your-own-adventure novels as well as some of the earliest narrative-driven video games from the '70s and '80s, including the first-known work of interactive fiction, Colossal Cave Adventure. What sets Kentucky Route Zero apart, however, is its atmosphere — and its poetry.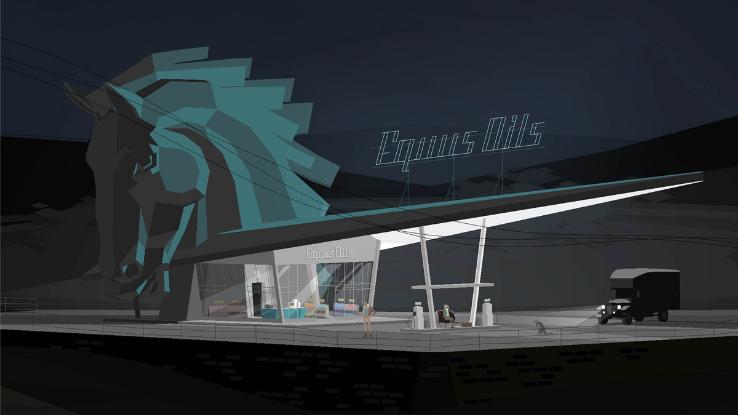 The magical realist adventure game centers on a truck driver named Conway, who's making his final delivery to an address that exists along The Zero — a secret highway running through the caves beneath Kentucky. Filled with mysterious characters, Kentucky Route Zero pulls you into its strange, somber world. Much like a play, it's split into five acts, and each is punctuated by interstitials that reveal the world's larger backstory and add to the sense that the game is not just a work of art, but a work of art interested in exploring the very nature of storytelling.
Best for Fans of Detective Stories | Blacksad: Under the Skin
Sure, there isn't much mystery-solving when it comes to Animal Crossing, but a good caper game, which often involves sidequests, methodical tasks and tons of exploration, can check some of the same boxes — but with a gripping story to boot. If you're also dead-set on keeping the whole "anthropomorphic animal" thing going, then Blacksad: Under the Skin is definitely a must-play game.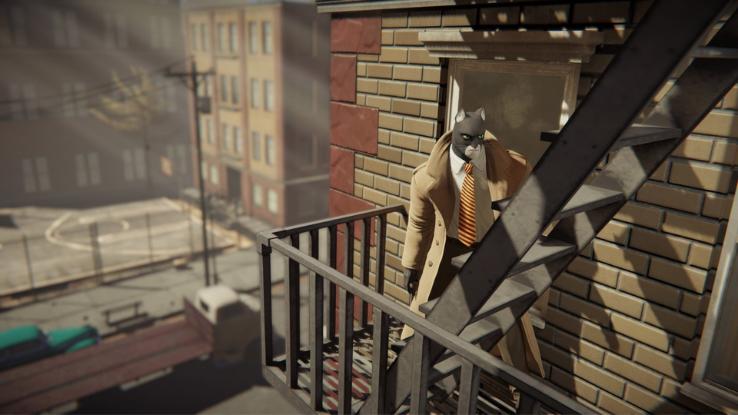 Based on the Eisner Award-winning Blacksad comic series, a noir-inspired strip created by Juan Díaz Canales (writer) and Juanjo Guarnido (artist), the game centers on the titular character, an anthropomorphic black cat who works as a hardboiled private investigator post-World War II. The game's story isn't based on any of the volumes, opting instead for a completely new yarn. That said, new fans will be in good paws here.
Best Time-Consuming Epic | Final Fantasy XII: The Zodiac Age
Although Final Fantasy VII Remake might be dominating the summer for PlayStation 4 owners, another title in Square Enix's long-running RPG franchise is well worth delving into, especially if you're a Switch person. Originally released back in 2006, Final Fantasy XII now comes with a new subtitle — and a completely remastered look. For newbies, FFXII is set in the fictional land of Ivalice, where the small kingdom of Dalmasca is caught in the middle of an endless war between the empires of Archadia and Rozarria.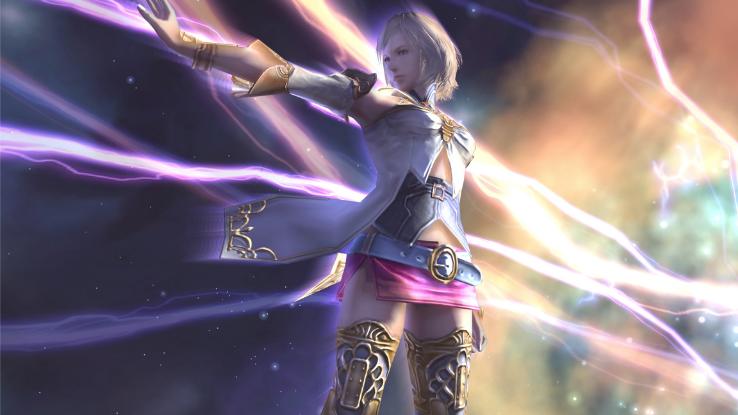 The ensemble cast includes princess-turned-rebel-leader Ashe, wannabe sky pirate Vaan and a whole ragtag crew of allies. Not only is the story epic, but FFXII also introduced quite a few exciting innovations to the franchise, including a more open world, a seamless real-time battle system (that is, no random encounters) and a feature that allows the player to control AI characters in fights. That is, it did away with the static, turn-based system popularized by other FF titles — all without sacrificing its gripping Dune-like narrative.
Best Cinematic Experience | Hellblade: Senua's Sacrifice
Looking for something that feels like the polar opposite of Animal Crossing in every way? Try Ninja Theory's Hellblade: Senua's Sacrifice, which has been heralded as a work of art by critics. In terms of gameplay, this dark fantasy action-adventure title blends elements of a hack-and-slash game, puzzlers and psychological horror. Moreover, the breathtaking visuals and nuanced voice acting help Hellblade capture a kind of emotional rawness.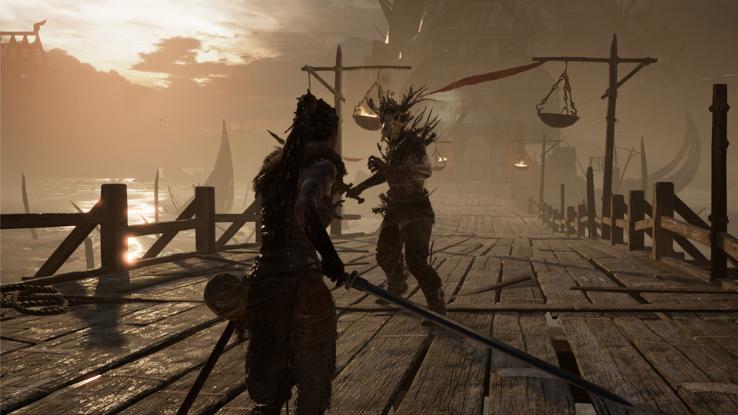 The game centers on Senua, a Pict warrior who defeats the otherworldly minions of the goddess Hela on her quest to rescue the soul of her dead lover. Throughout the game, Senua tries to manage her psychosis, a condition she believes is caused by a haunting entity called the "Darkness." Developers worked closely with neuroscientists, mental health specialists and folks who experience psychosis in order to represent it accurately on screen. The result? A harrowing sensory experience that IGN likens to "a beautiful, dark, tense visual novel."
Advertiser Disclosure: When you purchase through links on our site, we may earn an affiliate commission.