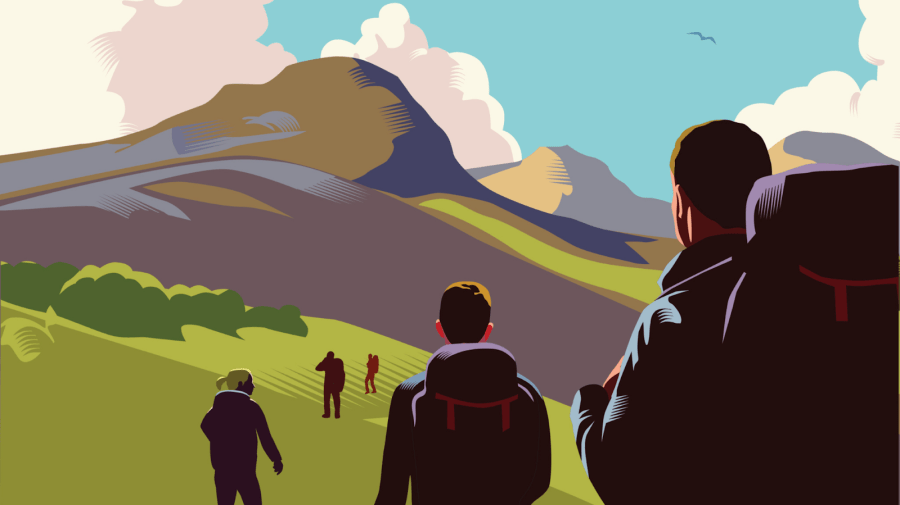 Maybe nature is just outside your door, but that isn't the case for everyone. Even if someone does live near green space, they might not feel welcome in National Parks or other outdoors spaces for a variety of reasons. Often, hiking and other outdoor activities aren't accessible, for example. And groups that might otherwise get folks out on the trails often cater toward a very specific type of outdoorsy person. 
Thankfully, there are organizations working to undo these issues and, in doing so, truly make the outdoors more inclusive and accessible for everyone. Whether you're interested in supporting these groups or benefiting from their work, here are 16 of those essential organizations.
52 Hike Challenge
52 Hike Challenge is an organization that inspires individuals to go hiking once a week for the whole year. By hiking once per week, you'll discover the physical, mental and emotional benefits that physical movement and being outdoors provide. On the group's website, you'll find resources and tools so that you can find nearby trails, fellow 52 Hike challengers and more.
Adaptive Adventures
Serving community gyms, parks and rehab hospitals in the United States, Canada, and Puerto Rico, Adaptive Adventures supports disabled children, adults, and veterans with. Regardless of your disability or income, Adaptive Adventures will help you enjoy your local green space. They also provide customized activities and helpful resources, ensuring that you can help make your community and public spaces more inclusive, too.
Adventures Without Limits
The mission of Adventures Without Limits is to provide everyone the opportunity for adventure, regardless of their ability, socio-economic status, age or ethnicity. They offer custom programs designed to help participants reach their goals. Located in Oregon, their activities include white-water rafting, snowshoeing, hiking, rock climbing and more.
Big City Mountaineers
Big City Mountaineers (BCM) believes that creating a better future starts by inspiring people to believe in their own self-worth and skills. With this in mind, the group focuses on supporting students in under-served or historically marginalized communities by taking them on backcountry trips. Thanks to its high-quality programs, BCM has been recognized by MENTOR, a nonprofit organization that aims to amplify change and personal growth.
Disabled Hikers
Disabled Hikers is a disabled-led organization that seeks to facilitate outdoor experiences for disabled folks and others who feel the outdoors isn't a welcoming space. The group is committed to inclusion, access, and justice — and Disabled Hikers works with organizations, brands and parks to challenge the narrative of what someone can and can't do — of what an "outdoorsy" person looks like.
The group also rates hiking trails with a spoon rating system — inspired by the spoon theory — and trails are rated between one and five spoons based on the group's criteria — length, angles, surface type, navigational ability and wheelchair accessibility.
Environmental Learning For Kids
Environmental Learning for Kids, or ELK, is a nonprofit organization with a goal to reach underserved youth living in urban areas and help them develop leadership skills through outdoor education and experiential science programs. Located in Colorado, ELK has spent more than 26 years building a community of environmental stewards. The organization values inclusiveness and diversity as well as lifelong learning.
Fat Girls Hiking
Fat Girls Hiking is an outdoor community that wants to take the shame and stigma out of the word "fat" and create a space for folks who may not have been considered "outdoorsy" in the past based on their body types. The community rules state that there's no body shaming, bigotry, or discussion of diets or weight loss — and that goes for both their online spaces and IRL meetups. All group hikes are led from behind, so nobody feels pressured or forgotten.
A documentary film called Fat Hiking Club tells the story of how the founder of Fat Girls Hiking, Summer Michaud-Skog, created the organization. The Fat Hiking Club helps to bring the idea of body-positive fitness to everyone and reminds people that just because they're heavier doesn't mean they can't get out and hike.
Indigenous Women Hike
Indigenous Women Hike came about in 2017 when Jolie Varela, a member of the Paiute and Tule River Yokut Nations, wanted to help fellow Indigenous women reconnect with their ancestral lands. She decided the best way to accomplish this was through hiking trips. In 2018, she traveled with a group along the Nüümü Poyo — which has been called the John Muir Trail by others — as a symbolic way to reclaim cultural and historical ties to the land.
Latino Outdoors
Committed to breaking down perceived and actual barriers to the outdoors, Latino Outdoors is an organization focused on connecting and engaging Latino communities through volunteer-led activities. Moreover, Latino Outdoors is a welcoming community where people can gather in-person and online to share and celebrate culture, stories and knowledge.
Native Like Water
Native Like Water focuses on cultural conservation as well as outdoors conservation by offering programs for adults and teens. The organization uses music, travel, food and surfing to support members' mental health. They also offer retreats centered around these various activities. Additionally, the InterTribal Youth program has a culturally relevant writing module that helps Native Like Water members embrace their agency and voice, all while honing their academic writing skills.
Outdoor Afro
Outdoor Afro celebrates and cultivates Black leadership and Black folks' connections to nature by inspiring people to take better care of their communities, the planet and themselves. They prove that there's a space for Black people to swim, bike, hike, and partake in all outdoor activities.
Outdoor Asian
Inspired by Outdoor Afro, Christopher Chalaka launched Outdoor Asian in 2016 with the goal of creating an inclusive community for Asian Americans and Pacific Islanders (AAPI). Since 2016, Outdoor Asian has grown beyond Washington state and now has chapters in other states too, including Vermont, Oregon, California and Colorado.
Outdoor Outreach
Outdoor Outreach believes in the transformative power of the outdoors, whether it's through climbing, paddle boarding, mountain biking or another activity. While connecting youth to nature, they also teach environmental stewardship and civic engagement as a way to help youth reach their full potential.
People For Mobility Justice
People For Mobility Justice operates in Black and Brown communities to transcend systems of violence and oppression. By focusing on solidarity and accountability, People for Mobility Justice works to make transportation more accessible; it all started when the founders noticed that there weren't many people of color guiding sustainable transportation infrastructure projects and, thus, those communities weren't being considered when it came to transportation.
Venture Out Project
The Venture Out Project enriches the lives of queer and transgender people by providing a welcoming space and facilitating wilderness trips centered on the LGBTQ+ community. Regardless of a queer or trans person's finances or outdoors experience, Venture Out will help them access day camps, backpacking trips and more.
Unlikely Hikers
Unlikely Hikers is an ironically named nationwide hiking group for people who are plus-size, fat, queer, trans, disabled, neurodivergent and/or people of color. The group believes that there's been a very narrow view of what makes someone an outdoorsy person — someone who is cis straight white able and thin — in the media for far too long. In addition to undoing that harmful narrative, Unlikely Hikers provides the support folks need to enjoy the outdoors and feel welcome doing so.