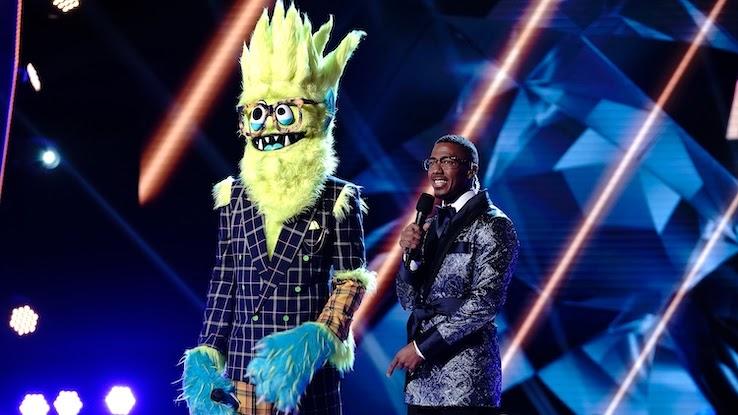 In the United States, we can't get enough of reality TV and all of its sub-genres. In particular, ever since the advent of hits like American Idol and Survivor, live competition shows have seemingly dominate TV screens across the country. Sure, Idol, The Voice, and Dancing with the Stars still bring in big audiences, but they're perhaps been dethroned thanks to a surprise hit — The Masked Singer.
When the show first aired on Fox in 2019, it quickly captivated audiences across the country. The part-performance competition, part-guessing game, which has run for five seasons now, has boasted incredible talent — and, as the show's name suggests, all that talent is hidden in spectacular masks and costumes. The dramatic unmasking of contestants, coupled with wild guesses from celebrity panelists, has helped add something new to this music-based reality show. 
But how did it become such a fan favorite seemingly overnight? We're digging into the origins of The Masked Singer and, well, unmasking what, exactly, makes it so appealing. 
An International Favorite Comes to the States
The Masked Singer actually originated in South Korea, where it's known as The King of Mask Singer. However, the format remains the same. Celebrities sing in full costumes and a team of panelists tries to guess who's performing based on a clue package. Each week, viewers vote online for their favorite contestant and the one who receives the least amount of votes is unmasked.
The U.S. version is hosted by Nick Cannon — though Niecy Nash stepped in for five episodes in the fifth season after Cannon tested positive for COVID-19. The show's panelists include music producer Robin Thicke, media personality Jenny McCarthy, singer-songwriter Nicole Scherzinger, and comedian/actor Ken Jeong. Cannon, who hosted America's Got Talent for a time, and the panelists all bring their own unique personalities and flair to the show, making for a rather entertaining viewing experience even when a masked singer isn't performing.
The Mystique of the Show Keeps Audiences Tuned In
When The Masked Singer first aired in the U.S., the premiere brought in an incredible 9.4 million viewers. Since then, each season that's aired subsequently has been the highest-rated non-sports program amongst adults ages 18 to 49. That says a lot about the format of the show — as well as the mystery component. The concept is so different from other singing competitions on television, so, even if you just catch a few minutes of it initially, you can't help but get sucked in.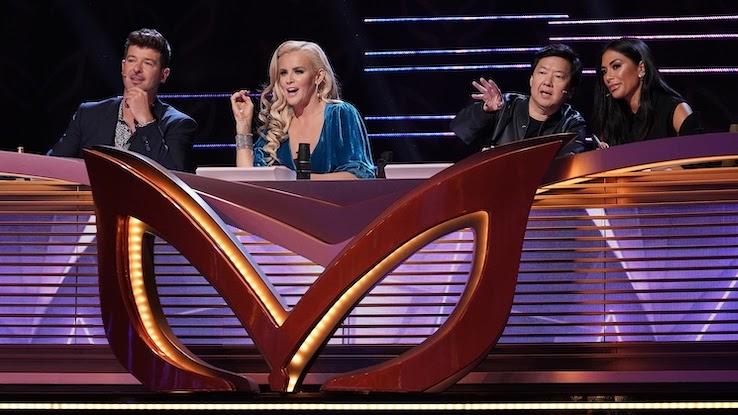 Producers of the show are very protective about the identities of talent that participate each season. In order to prevent identities from being revealed before the episodes air, the crew uses code names, disguises, non-disclosure agreements, and, yes, even security guards. 
For their part, the contestants practice singing in their jaw-dropping costumes, all of which match their persona for the show. In fact, head designer Marina Toybina has won multiple awards for her work, including a Costume Designers Guild Award and a Creative Arts Emmy Award. Since the contestants don extravagant costumes, the panelists and viewers are given clues throughout each episode so that they can more accurately guess who's beneath each of the masks. The clues often pull info from the singer's career, hardships, and personalities, all of which can be helpful for viewers who enjoy guessing.
The Talent on the Show Is Absolutely Unbelievable
Beyond the mystery of the show, the talent that hits the stage each week keeps viewers tuning in. Even though the singers' identities and speaking voices are kept secret until the day they're each finally revealed, their singing voices truly stand out. Singers cover songs from a multitude of genres, including pop, country, R&B, and more. Moreover, the performances, complete with custom sets and background dancers, are always fun, vibrant, and exciting.
Best of all, the contestants aren't always known for being singers. Some are actors, YouTube stars, athletes, or TV hosts who wanted to try something fun and new. However, many do have the vocal chops to stun audiences with week after week. For many contestants, the show gives their careers a major boost, especially they've put music on the back burner for some time.
Spoilers Ahead!
For example, season one winner, rapper and singer T-Pain, is known for using autotune in his music. However, his raw vocal talent shined on this show, which was the reason he signed up in the first place. "I have people that just been doubting me my whole career and things like that because I've put some different aesthetic on my vocals than everybody else," T-Pain shared at the time with The New York Daily News. "It just turned out to be a great opportunity to really show another side of me, and kind of gave me a second coming."
The Competition Heats Up More & More Each Season
The Masked Singer may currently be television's biggest guessing game, but it's still a competition. Each week, someone has to go home, and the panelists, in-studio audience, and viewers are glued to their seats, eager to see who will be revealed. With the talent pool growing each season, it's been tougher to determine which character will go home — or ultimately win the competition. 
So far, contestants have included everyone from (Spoilers!) legendary singers Gladys Knight and Chaka Khan to surprising celebs, like Dr. Drew and Kermit the Frog. Just recently, the show unmasked the first band to compete on the show: '90s boy band (and real-life brothers) Hanson. (End of spoilers — we promise.)
Ultimately, the show is good, one-of-a-kind fun, making it the perfect escape from the stress of our daily lives. "It's an hour for America to sit back and play a big guessing game, and for the families to come together. I really believe that's the hidden secret in our show," executive producer Greg Plestis shared with Entertainment Weekly. "I'm online every time our show airs, just seeing what people are saying about it so I can learn how to do it better, and my team is as well, and the majority of the responses are 'Thank you, Fox and the producers, for putting on a show that we can watch as a family.'"
Due to its mystique, humor, and fun factor, The Masked Singer's success (and audience) continues to grow. In fact, at least 9 million viewers watch the show each week. In 2020, even amid the COVID-19 pandemic, the show still showed a 25 percent increase in viewership among adults 18 to 49, as well as a 26 percent increase in average total viewers. All of this said, it's clear that The Masked Singer is going to be a positive, creative force in television for many more seasons to come.