No matter what you're into, there's a podcast out there that will capture your attention. From true crime to video game history, the possibilities really are endless. But, time and again, we find ourselves drawn to podcasts that come at pop culture from unique angles.
These podcasts not only have lenses that are fresh and engaging, but their hosts make you feel like you're in the room with them, listening in on a conversation. From entertainment-focused comedy pods to incisive cultural critiques, insightful interviews and top-notch investigative journalism, these pop-culture podcasts never fail to be bright spots each and every week.
Keep It
If there's one podcast that mixes incisive political and cultural commentary with pop culture references and ever-Tweet-able quotes, it's Keep It, a show started a few years ago by writer Ira Madison III. Flood Magazine describes the origin of the podcast's title best, noting that it's "named after a cheeky phrase Ira coined with his prodigious Twitter presence, always in reference to some film, book, collab, political candidate, act of artificial wokeness, or anything, really, that he simply doesn't have time for and would rather not exist." Honestly, we can relate.
What really elevates Keep It is the conversational energy its charismatic, witty, and consistently laugh-out-loud funny hosts bring to each episode. Joining Madison are pop culture-, Oscars- and Karen Carpenter-enthusiast Louis Virtel and comedian and Big Mouth writer Aida Osman, who just celebrated a year on the podcast in 2020. From insightful interviews with entertainment greats and truly relatable tangents to the correct take on Shape of Water (2017), Keep It has it all.
Back Issue
New York Times writer Sandra E. Garcia called the Back Issue hosts' "encyclopedic memory of pop culture moments…a balm in trying times." Each episode, hosts Tracy Clayton, best known for hosting Netflix's Strong Black Legends, and Josh Gwynn, a Pineapple Street Studios producer, take a look at some of the biggest badgering questions that crop up in pop culture history. For them, it's all about investigating why certain moments stick — or why certain words, trends and moments became so popular — because "nostalgia is more than just a feeling."
In addition to the hosts' clear chemistry and a slate of great guests, Back Issue stands out because, unlike other pop culture podcasts, it never centers a discussion on current entertainment offerings. Speaking to Garcia about the podcast's focus on nostalgic pop culture versus new releases, Gwynn noted that "There is a reason these moments stuck with us and why they are so fundamental." In many ways, pop culture shapes us, but it can also have the same calming effect as a hot cup of tea. And that kind of comfort was invaluable during a challenging year like 2020.
Las Culturistas
If you're searching for pop culture consultants, look no further than Las Culturistas. Hosts Matt Rogers and Bowen Yang (of Saturday Night Live fame) traverse the wide world of pop culture to find the things that have shaped us — and them — most. That is, if Celine Dion's hit song "My Heart Will Go On" became a cultural touchstone for you or if you remember where you were when Kanye West interrupted Taylor Swift on stage, then Las Culturistas is for you.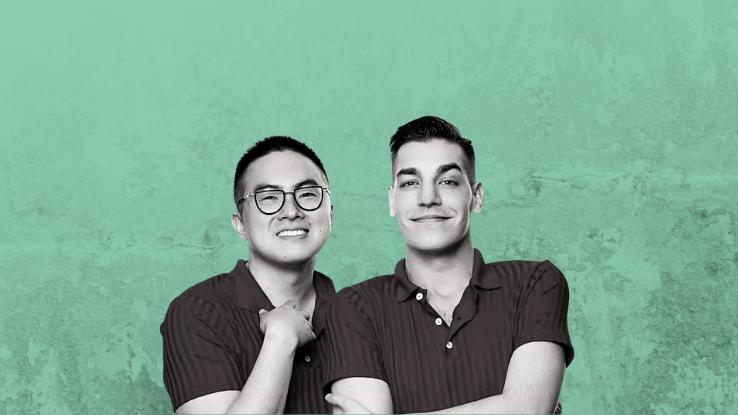 From the hottest viral moments happening now to formative cultural experiences of yesteryear, the podcast covers it all. But Yang and Rogers do more than just comedically recall these moments — they also delve into how pop culture molds us, or how it intersects with current events. As the podcast's tagline encourages, "Honey, come and get your life."
Hysteria
Another Crooked Media gem, Hysteria is a weekly podcast that sees political commentator and comedy writer Erin Ryan — and her "bicoastal squad of funny, opinionated women," including folks like Ziwe Fumudoh and Alyssa Mastromonaco — taking on politics, current events and pop culture happenings. Without a doubt, Hysteria shines in a sea of political, news-centric podcasts. Why? Well, writing for Cosmopolitan about the show, Hannah Smothers notes, "The smartest thing Crooked Media's male founders have done: hire so many women and let them do their thing."
Yes, that seems obvious, but, at the time when the show first launched, Crooked didn't really have any women-helmed podcasts. And whether Hysteria is centering on trending news stories or rom-com tropes, the host and her colleagues are looking at topics that impact women and filtering them through their own lived experiences. "It's not about impressing the people you're having a conversation with if you're doing a podcast," Ryan explained in that Cosmo article. "I really wanted Hysteria to be a show that made our listeners think that talking about politics was something they can and should be doing, even if they're not professional political-opinion-havers."
Code Switch
"The fearless conversations about race that you've been waiting for" is how NPR describes its popular podcast, Code Switch. Although the hosts of Code Switch have spent years interrogating race and how it impacts everything from pop culture to history, the podcast reached a few significant milestones just this year. That is, the show hit No. 1 on Apple's charts, and, in June, there was a 270% surge in downloads.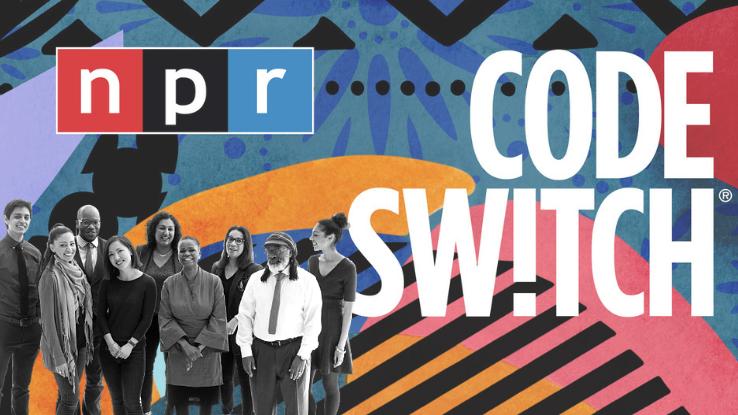 For co-host Shereen Marisol Meraji, who leads the podcast alongside Gene Demby, the success was conflicting because it came in the wake of the murders of George Floyd, Breonna Taylor and Ahmaud Arbery. On the whole, however, Meraji, Demby and the show's rotating contributors are glad that the show has resonated — and reached such a wide audience. "We're talking to people who have been marginalized and underrepresented for so long," Meraji notes, "[people] who are so hungry to see themselves represented fully and with nuance and complexity."
Without a doubt, Code Switch is ever-relevant, funny and educational, but it also provides access to stories the mainstream media might not normally cover — told by folks who have lived those experiences. Now, it's up to listeners to keep supporting Code Switch, to keep confronting oppression and racism — not just when it's trending on Apple's charts.
Pop Culture Happy Hour
Afraid of missing out on the latest and greatest in entertainment news? Well, fear not. NPR's Pop Culture Happy Hour manages to cover all of your movie, TV, music, book and video game needs. Although the hosts often rotate — and the guests are aplenty — you'll often listen to takes from incisive art journalists, including Linda Holmes, Aisha Harris, Glen Weldon, Stephen Thompson and Audie Cornish.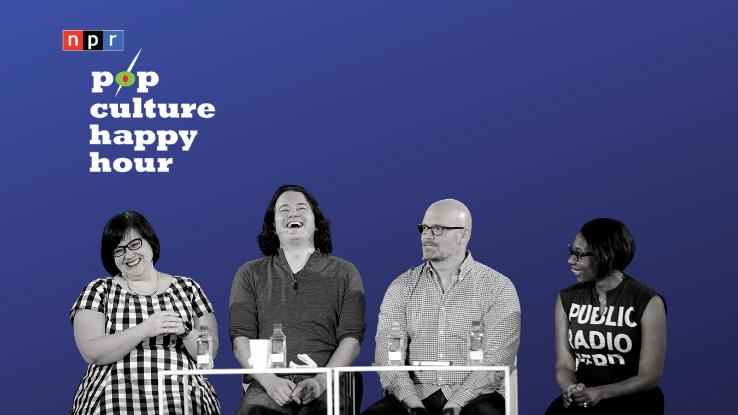 Since 2010, the podcast has been one of the leading voices in pop culture discourse. From hot takes on blockbuster films to deep-dives into the latest Netflix hits, there's something for every kind of entertainment lover. Best of all, the Pop Culture Happy Hour's chorus of voices allows for a real conversation peppered by insightful debates, laugh-out-loud jokes, and sharp witticisms. We really can't get enough of this one, which makes the podcast's recent change-up — it has gone from twice a week to daily — all the more exciting.
The Bechdel Cast
Named after cartoonist Alison Bechdel, the Bechdel Test is a way to measure the representation of women in fiction. Although Bechdel credits her friend Liz Wallace and the writings of Virginia Woolf with the idea for the test, it first appeared in the cartoonist's seminal work Dykes to Watch Out For (1985). The basic idea? In order to pass the test, two women must talk to each other about something other than a man. Ideally, the two women should also have names, because the bar is absolutely on the floor.
If those sound like easy requirements to hit, think again. Of 8,076 movies surveyed only 57.6% hit all the marks. And that's where something like the The Bechdel Cast comes in. Hosted by comedians Caitlin Durante and Jamie Loftus, the feminist comedy podcast takes a look at a different movie each week and delves into its depiction of women — among other things (and long-running in-jokes). "[It's] the symbiosis between Durante's scholastic, organized mind and Loftus's filthy, absurdist one that have kept afloat this silly-salty show…," Vulture's Sean Malin writes. "[…From] its inception [the show] has earnestly considered the representation of women in film while also talking sh-t about it."
Still Processing
Still Processing is a New York Times culture podcast that's hosted by Jenna Wortham, staff writer for The New York Times Magazine and co-editor of Black Futures, and Pulitzer Prize-winning Times critic-at-large Wesley Morris. Formatted as a discussion between the co-hosts — and often punctuated by interviews, guests' insight and soundbites from media — Still Processing takes on everything from current events to works of art and pop culture, and it does so with a tone The Atlantic called "sharp and intellectual, goofy and raw."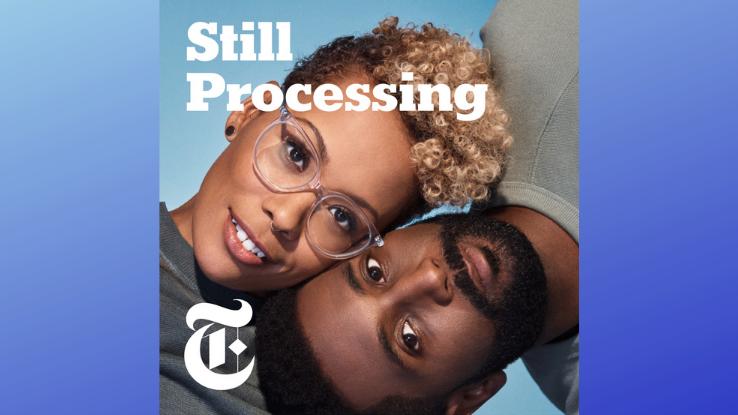 Whether the hosts are putting Toni Morrison's Beloved and Jordan Peele's Us (2019) into conversation or interrogating how works of dystopian and utopian fiction can help us imagine a better world, Wortham and Morris have a comfortable, energizing chemistry. As they get excited about where their conversation leads, you feel that, too. "Perhaps now more than ever," Thomas Curry writes in AnOther magazine, "Still Processing's return, with Morris and Wortham's blend of familiar intimacy and incisive criticism, is a welcome comfort."
R U Talkin' R.E.M. Re: Me?
You might be wondering why a podcast dedicated to R.E.M. is worth the listen, especially if the band doesn't really resonate with you. Look, we were in the same, hesitant boat. But we can now assure you that Scott Aukerman (Comedy Bang! Bang!) and Adam Scott's (Parks and Rec, Big Little Lies) R U Talkin' R.E.M. Re: Me? more than deserves a spot in your podcast queue.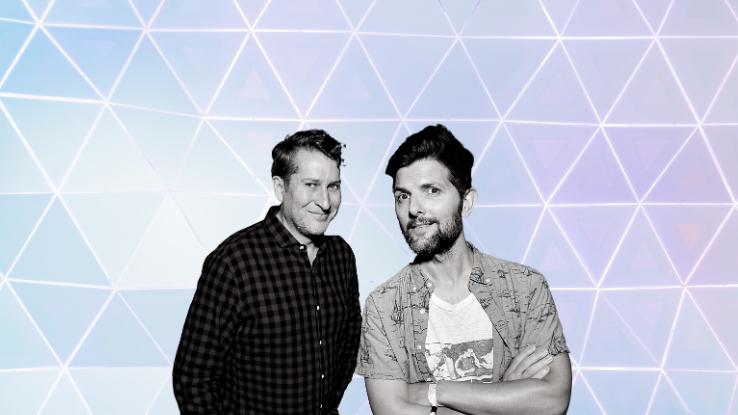 "[The podcast] sounds like an absurd bit of niche normcore satire, two white celebrities in their 40s discussing a musical act that peaked sometime in the mid-1990s," David Sims writes in The Atlantic. "It is that; it's also, somehow, so much more." Full of passion and hilarity, this digression-filled trip down the R.E.M. discography rabbit hole is a real joy to listen to no matter your knowledge of the band. More recently, Aukerman and Scott have delved into another beloved band in the podcast U Talkin' Talking Heads 2 My Talking Head.
Slayerfest98
Whether you're on your tenth Buffy the Vampire Slayer rewatch or finally getting around to the cult classic for the first time now, odds are you'll become a bit obsessed with it. While chatting with friends is fun, delving into a Buffy-focused podcast is a recipe for a very unique, exciting sense of virtual community. If this sounds enticing to you then Slayerfest '98 — a play on a Buffyverse event — is a must-listen.
Look, Buffy Summers said to beep her if the apocalypse comes. And, let's be honest, 2020 did feel apocalyptic in many ways. There's no better time to delve into a comfort show, but Slayerfest '98, a queer, Latinx run podcast, aims to more accurately reflect the Buffy fanbase, and discuss topics, themes, and characters that resonate most with listeners. These days, the podcast is covering Marvel's The Falcon and the Winter Soldier — or, as the pod's bio puts it, "everything nerdy and/or gay."
Can't get enough of Buffy in particular? We also recommend Buffering the Vampire Slayer and its companion podcast, Angel On Top, for more on Sunnydale's Scooby Gang.
Fake Doctors, Real Friends with Zach and Donald
Speaking of comfort shows, remember Scrubs? That's yet another show of yore you might've found time to rewatch over the last year. And, if that's the case, you're in luck. Scrubs costars (and real-life pals) Zach Braff and Donald Faison launched a weekly comedy podcast that walks listeners through the series, episode-by-episode.
"You know what's long, tedious and boring? Surgery," the podcast's copy asks. "You know what isn't? This new podcast!" If you're a Scrubs fan, there's no doubt that the behind-the-scenes stories and anecdotes will bring you a lot of laughs — and a lot of joy. Plus, the duo have queued up some great guest interviews with their former castmates.
And, if Fake Doctors/Real Friends makes you eager to relive some of your other favorite sitcoms via companion podcast, we recommend listening to Office Ladies, which follows a similar formula and is hosted by Office co-stars and IRL best friends, Jenna Fischer and Angela Kinsey.