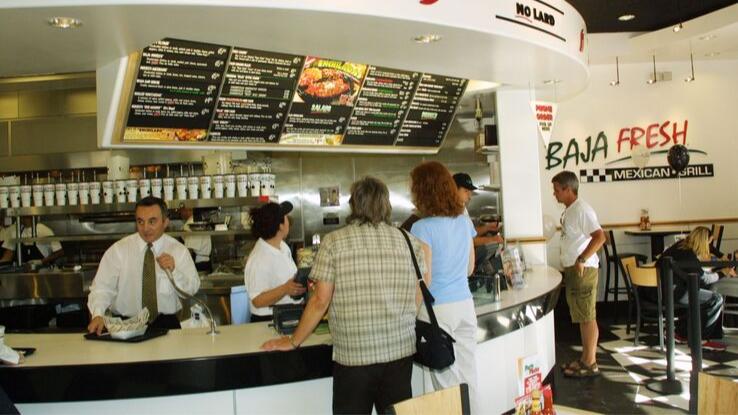 Fast-casual restaurants caught on in the '90s as healthier, tastier alternatives to traditional fast food. They don't offer full table service, but they tend to offer better ingredients than most over-processed drive-thru meals.
However, a study by Nation's Restaurant News compared 126 popular restaurants and found that several fast-casual joints earned low marks in customer loyalty. Check out how the worst fast-casual restaurants stack up against each other and learn which one is the worst of them all.
30. Hungry Howie's is the 11th largest pizza chain in the United States, with more than 550 locations. The chain is best known for its Flavored Crust Pizza, with options ranging from Butter Cheese to Sesame and Garlic Herb.
29. Popeyes enjoyed a resurgence in popularity in 2019, thanks to the introduction of its fried chicken sandwich. The first restaurant, which opened in 1972, attempted to compete with fast-food giant KFC. The brand has since carved out a lane with its signature Cajun spices and less focus on fast food.
28. Blimpie is a successful sandwich chain that started with three high school friends from Jersey City. They referred to their sandwiches as "blimps" because they didn't call sandwiches "subs." The original store was a hit, and now you can find a Blimpie in 25 countries.
27. Firehouse Subs first opened in 1994 in Florida by brothers and former firefighters, Robin and Chris Sorensen. They have expanded their empire to more than 1,100 sandwich shops across the country. In 2005, the owners created the Firehouse Subs Public Safety Foundation to provide aid to public safety organizations.
26. Togo's first started in a tiny shack in Beverly, Massachusetts. The restaurant was so small that only four people could fit inside at one time. The sign outside read "Sandwiches To Go" with "To Go" being the largest words on the sign.
25. McAlister's Deli is a sandwich restaurant with more than 400 locations throughout the country. Besides sandwiches, it's also known for "Texas-size" baked potatoes and boxed lunches. You can wash down the deli's meals with the Famous Sweet Teas, available by the glass or by the gallon.
24. It's time to step away from sandwiches and head into the chicken coop. With more than 900 locations in the Southern United States, Zaxby's is the place to go for fried chicken. The restaurant is best known for chicken fingers and dipping sauces with names like "nuclear" and "insane."
23. Baja Fresh is fast-casual's answer to Tex Mex. Each restaurant features a signature self-serve salsa bar with fresh ingredients. The chain's commitment to freshness helped it open up stores from California to Singapore and the United Arab Emirates. Baja Fresh ranked 54th on the NRN list, with a 43% customer loyalty rating.
22. Boston Market first opened in 1984 and sold rotisserie chickens with big side dishes. The concept caught on quickly, and the restaurant expanded its menu as it opened more stores. The popular chain currently has more than 460 stores and offers all sorts of deli favorites.
21. Charleys Philly Steaks first opened in 1986 on campus at Ohio State University. The juicy cheesesteaks have bizarre ingredients, including pepperoni, jalapeños and lots of bacon. With 600 locations in 17 countries, Charley's claims to be "the #1 Philly cheesesteak in the world!"
20. If you're hungry, but you're not sure what you actually want to eat, you should head to Golden Corral. These restaurants serve breakfast, lunch and dinner in an all-you-can-eat buffet format. You can literally serve yourself all three meals at once if you've got the appetite for it!
19. Potbelly Sandwich Shop has been selling sandwiches and other meals for more than 42 years. The signature sandwich, A Wreck, comes with salami, roast beef, turkey, ham, cheese and mayo. You know, the perfect ingredients to give you that signature potbelly.
18. Did you know TCBY stands for "The Country's Best Yogurt?" I didn't either. The frozen yogurt chain first opened in 1981 in Little Rock, Arkansas, but has since expanded to more than 470 locations, making it one of the largest frozen yogurt chains in the country.
17. Which Wich specializes in sandwiches and salads. The ordering system separates them slightly from the other fast-casual restaurants on this list. Customers use red Sharpie markers to select their meals on pre-printed sandwich bags. If you draw something unique enough, it might get hung on the wall of fame!
16. Corner Bakery Cafe knows how to separate itself from fast-food restaurants. The shops all look like upscale bakeries with checkered floors and comfortable seating. The cafe and bakery chain sadly ranked 66th in the Nation's Restaurant News' countdown, with a 42% consumer loyalty ranking.
17. Noodles & Company serves pasta dishes with recipes from across the globe. The Italian options include pesto cavatappi, while the Asian options include Korean beef noodles. With more than 450 locations and a wide array of noodle dishes, you would think the chain would know the recipe for success.
14. Smashburger first opened in 2007, making it one of the newest restaurant chains on the list. In only 12 years, it has expanded to more than 370 locations across the country. Why the interesting name? Smashburger comes from the way the cooks "smash" the never-frozen patties on flat-top grills.
13. Subway ranked 72nd on NRN's list, with a mediocre 42% customer loyalty rating. For a juggernaut like Subway to rank so low, it says a lot about people's perceptions of the restaurant. For one thing, no other restaurant smells like a Subway — and the smell is far from appetizing.
12. Au Bon Pain, which means "At the Good Bread" in French, is a café and bakery owned by Panera Bread. With a 41% consumer loyalty rating, the café doesn't appear to look very "Bon" to customers. The prices aren't too egregious, so the ranking is quite the "mystère."
11. Domino's Pizza first served up pizza pies back in December 1960. Through the years, the monster chain has expanded to more than 16,000 locations, thanks to a smart business strategy. The company sells pizza out of brick-and-mortar locations but also relies on speedy home deliveries to boost sales.
10. Taco John's first opened in Cheyenne, Wyoming, in 1969. 50 years later, the "West-Mex" restaurant operates in 27 states with almost 400 locations. The signature dish isn't what you might think. Potato Olés, which are deep-fried potato nuggets smothered with various toppings, are the main crowd-pleaser.
9. Del Taco sells American-style Mexican food — along with burgers, fries and shakes. By offering two different menu styles, the chain capitalizes on both markets in the Western United States. It's a solid business strategy that helped them expand to more than 550 restaurants.
8. Baskin Robbins is one of the longest-running ice cream shops in America. Even though it offers enough flavors to please most customers, it only has a 39% loyalty rating. The frozen treat empire ranked 85th in NRN's popularity poll, which sounds like two scoops of bad luck.
7. With more than 2,000 locations, Panda Express is the largest Chinese-American chain. Despite what sounds like success, Panda Express ranked 91st on NRN's popularity list. In fact, it's the lowest-rated Asian chain restaurant on the list, which is a pretty depressing fortune to find inside the company's fortune cookie.
6. Church's Chicken started from humble beginnings in Atlanta, Georgia, in 1952. The company has more than 1,000 locations across four continents but can't seem to consistently woo customers into returning. Perhaps it needs to say a little prayer to bring folks back to Church's.
5. Little Caesars is the third-largest pizza chain in the United States and offers two different kinds of pizza menus: HOT-N-READY and specialty. The HOT-N-READY items are available for immediate take-out — a cheap, popular concept — while specialty items include the "ExtraMostBestest" products. Grammar is clearly not their forte.
4. Steak 'n Shake opened 85 years ago in Normal, Illinois. The 24-hour restaurant is famous for its steakburgers, which are made of T-bone, sirloin and round steaks. With round-the-clock hours, the restaurant offers a menu with breakfast, lunch and dinner items.
3. Quizno's is a sandwich shop that specializes in toasted subs. Its founder, Jimmy Lambatos, was an experienced chef who styled his subs like the oven-baked sandwiches he grew up eating back in New York. According to Lambatos, "Heating the sandwich brings out the flavors."
2. Jimmy John's is a restaurant chain that offers quick service and delivery options. The menu is stacked with 20 creative sandwich choices, including the Gargantuan, which consists of five kinds of meat. The chain first found success when the owner hand-delivered orders to students at Eastern Illinois University.
1. Ah, Sbarro. Most people think of Sbarro as "the last pizza choice in a mall's food court." Sadly, NRN ranked Sbarro 119th on its restaurant popularity list, with only 34% customer loyalty. Sbarro is the pizza punch line of chain restaurants, and this ranking proves it.