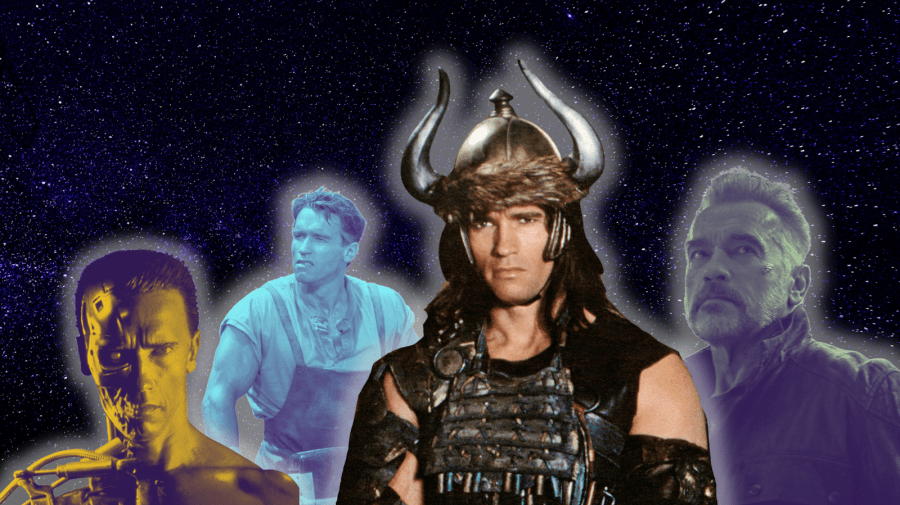 Nowadays, Arnold Schwarzenegger is perhaps most famous as a sometimes-actor who was, for a period of eight years from 2003 until 2011, the Governor of California. Today's Schwarzenegger feels like a far cry from the gigantic action hero of years gone by. He's promoting his newsletter, writing op-eds for The Atlantic about how we should stop complaining about having to wear masks, and speaking out about the war in Ukraine. He's a humanitarian; as he's gotten older, he's become downright gentle.
Of course, it wasn't always this way. Schwarzenegger got his start as a bodybuilder who became famous appearing in documentaries about the sport like 1977's Pumping Iron and 1980's The Comeback. It was in 1982's blockbuster action film Conan the Barbarian — a movie that had been through a long and arduous pre-production process dating back to the mid 1970s — that Schwarzenegger got his first major starring role in a scripted film. That performance served notice that Arnold Schwarzenegger would be a major force in Hollywood for the rest of his career.
Conan the Barbarian: Becoming a Movie Star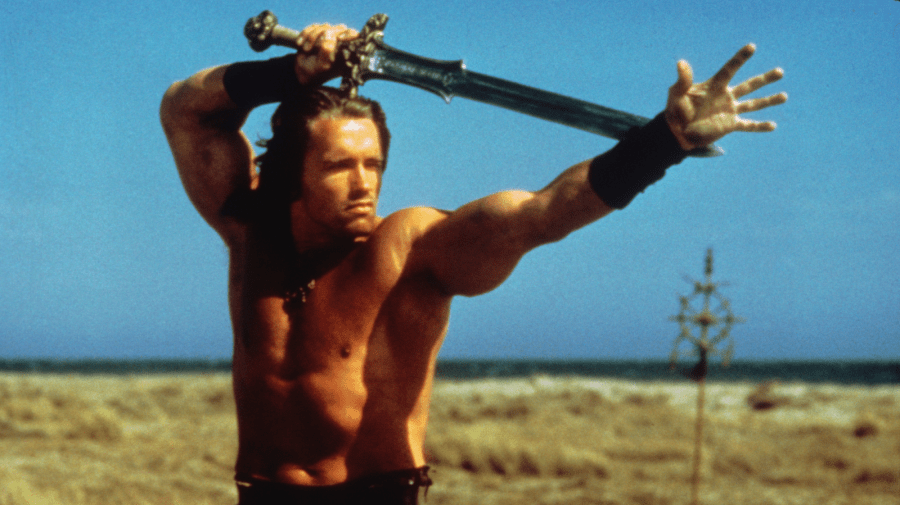 Although Conan the Barbarian didn't come out until 1982, Schwarzenegger had signed on to play the main character five years before that. Producers Edward R. Pressman and Edward Summer saw Schwarzenegger in Pumping Iron, and when Pressman became interested in building a movie around Schwarzenegger, Summer suggested Robert Howard's popular sword-and-sorcery Conan stories.
This may seem like an obvious progression in retrospect, but at the time it really wasn't. Conan-era Schwarzeneggerhad only appeared in a few roles, and most of them were forgettable comedies, like 1969's Hercules in New York, in which Schwarzenegger's speaking part had to be dubbed because of his thick Austrian accent. He'd had a few TV guest-starring roles, too, but he was not an obvious choice for a movie star.
Seeing the opportunity in front of him with Conan the Barbarian, Schwarzenegger sank his teeth in, literally — in a Reddit post, he admitted: "I had to bite a real dead vulture because in those days they couldn't make one that would look good in a close-up. So they soaked it in alcohol to kill bacteria and dried it out. It still had lice." He took the role seriously in other ways, too. Director John Milius told Schwarzenegger that he actually looked too much like a bodybuilder, so Arnold lost some muscle and gained some body fat. He worked on his accent with a Hollywood voice coach, and got tips from co-stars James Earl Jones and Max von Sydow.
The results were impressive. Conan the Barbarian didn't get perfect reviews, but it was a box office hit, becoming one of the top 20 grossing films of 1982 — ahead of hits like Tootsie, Friday the 13th Part III and Blade Runner. It also ended up spawning a sequel, Conan the Destroyer, which was actually Schwarzenegger's next movie.
From One Franchise to Another: The Terminator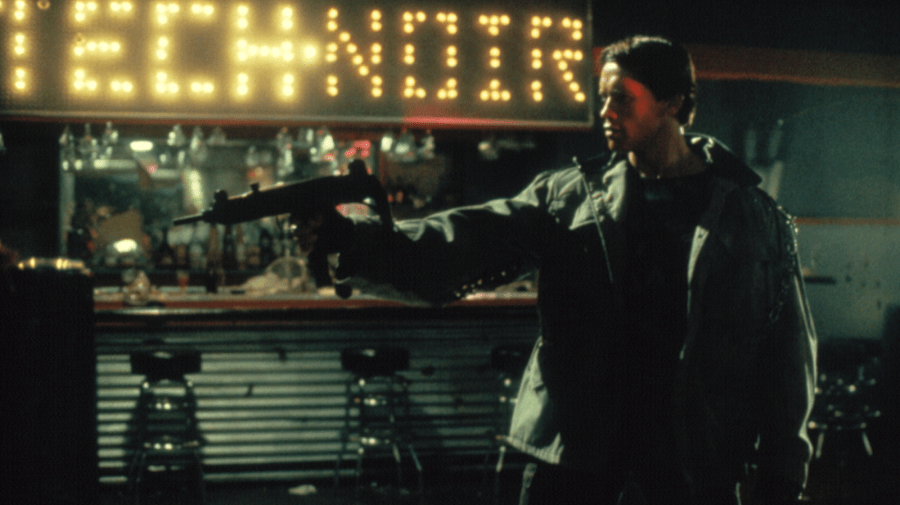 As if playing Conan wasn't iconic enough, Schwarzenegger's follow-up to Conan the Destroyer was the movie that would truly make him one of the greatest movie stars of all time: The Terminator (1984). Director James Cameron was originally considering Schwarzenegger for Kyle Reese — the good guy role — but, after meeting with the Conan star, Cameron felt Schwarzenegger would make an excellent Terminator.
In an interview with GQ in 2019, Schwarzenegger admitted that initially he didn't take the movie seriously, and that most of the people involved were thinking of it as an unserious B-movie. But after seeing a bit of what Cameron had shot, he realized it was quite serious and had a chance to be a hit. It was. In 1984, The Terminator made more money than Conan the Destroyer, and audiences immediately demanded a sequel. That follow-up film wouldn't come out until 1991, but when it did it ended up being the highest grossing film of that year by a huge margin.
When we think about Arnold Schwarzenegger's career, Conan and The Terminator are definitely the two characters that come to mind first. On the other hand, Schwarzenegger's long-term stardom might have more to do with the performances he gave after his break-out roles. Films like 1988's Twins and 1990's Kindergarten Cop gave Schwarzenegger a chance to flex his comedic muscles in ways that were incredibly charming.
Terminator 2: Judgment Day is when this all comes to a head. In addition to being the biggest movie of 1991, it's got everything you could possibly want from an Arnold Schwarzenegger performance. He's a powerful robot learning what it means to be a human. He's able to deliver funny, deadpan lines and blow stuff up. He does things that bring you to the edge of your seat, things that make you laugh, and — believe it or not — things that make you cry. It is, for my money, the finest performance of his now more than 40 year long career.
A Surprisingly Eclectic Career in Hollywood
It might be surprising to think of Arnold Schwarzenegger as a serious actor, and maybe I'm just the product of too many years of watching his movies too many times, but I think he deserves a lot of credit for his screen presence. Part of it is pure charm. Unlike many of the muscular action stars of his era, Schwarzenegger's presence always carries warmth and humor with it. In many of his movies, he's legitimately funny. That's a kind of charisma that is mostly the product of pure talent, and the combination of that talent and the fact that he was literally a world champion bodybuilder is its own kind of rarity.
On the other hand, part of that credit is due to his choice to work with a series of interesting and brilliant directors over the course of his career. Over the course of the '80s and '90s, in addition to working with James Cameron and John Milius, Schwarzenegger worked with John McTiernan (Predator, Last Action Hero), Walter Hill (Red Heat), Ivan Reitman (Twins, Kindergarten Cop, Junior), Paul Verhoeven (Total Recall) and Joel Schumacher (Batman & Robin). These movies aren't all masterpieces by any stretch, but they are action movies full of interesting ideas and thoughtful performances — believe it or not.
I mean, I love ridiculous action movies as much as anybody, but I do think Schwarzenegger's career as a performer is worthy of our attention. Beginning with his iconic performance in Conan the Barbarian, he became a constant presence in our movie-watching regimen over the next 40 years. His recent work in 2019's underrated Terminator: Dark Fate shows that he's still got it, and I can't wait to see what's next.