Rating: 8/10
I started watching Conversations with Friends, Hulu's 12-episode limited series that premieres this Sunday, May 15, when I was halfway through reading Sally Rooney's 2017 book of the same name — her first novel. If I was going to write about this show, and even if I was only going to watch it really, I needed to read the book. The thing is, I've become a bit of a Rooney enthusiast.
I started the same way Winona Ryder did, by devouring the miniseries Normal People during the heat of the pandemic and becoming a little bit consumed and totally obsessed by it. I had the same reaction to reading Normal People once I finished the show. That's the thing with Rooney's stories: they make me slightly uncomfortable because they're just a slice of reality but I can't stop reading/watching them and feeling for her women protagonists.
If you too are a Rooney devotee and if you loved Normal People, this may be the closest to a second season or a sequel to the story of Marianne (Daisy Edgar-Jones) and Connell (Paul Mescal) you're going to get. Rooney serves here as an executive producer — she also did in Normal People, although she was credited as a writer there as well. Director and executive producer Lenny Abrahamson returns, as does screenwriter Alice Birch. So do Dublin and its university scene. Even intimacy coordinator Ita O'Brien is back. 
"I think there's a strong family resemblance between the two novels," said Abrahamson during a virtual press conference in front of the Television Critics Association (TCA), referring to Rooney's special voice and her ability to focus on small things that can have big effects. "And that does push towards a kind of intimate style of filmmaking, and we didn't want to just turn that on its head for the sake of it just to differentiate Conversations from Normal People. But on the other hand, it does have its own very distinct personality. They're cousins rather than siblings."
Like Normal People, this also is a coming-of-age story and the tale of a young woman who feels intrinsically alone for most of the show, but Marianne and Conversations with Friends' Frances (newcomer Alison Oliver) are very different.
Frances is a 21-year-old university student and aspiring writer. Her best friend Bobbi (Sasha Lane) also happens to be her ex. They both perform spoken word. Frances is the poet, Bobbi the muse. Melissa (Jemima Kirke), a sophisticated writer in her late 30s, meets the two young women at a bar after a performance and can't resist the urge to befriend them. Almost instantaneously Bobbi develops a crush on Melissa. While Frances has a crush on Nick (Joe Alwyn), Melissa's husband and dashing semi-famous actor.
Through Frances' attraction to both Bobbi and Nick, the show explores bisexuality and what every member of this quartet of protagonists feels should constitute a romantic relationship. Frances, a young woman figuring out both love and life, also faces the desire to become a professional writer even if she dismisses Melissa's published work.
Conversations with Friends focuses a lot on Frances' face with frequent close-ups of her unsmiling expression and nothing else on the screen. Through those shots, the show depicts more clearly than in the book the almost-constant feeling of solitude weighing on Frances' shoulders. It also shows how much the young poet is still hung up on her friend and former romantic partner, Bobbi.
"I'm trying to remember if this level of narcissism is normal for someone your age," Melissa tells Frances at one point. And you can see how all those vacant looks into the void are also part of Frances' teenage self trying to find her grown-up place in life.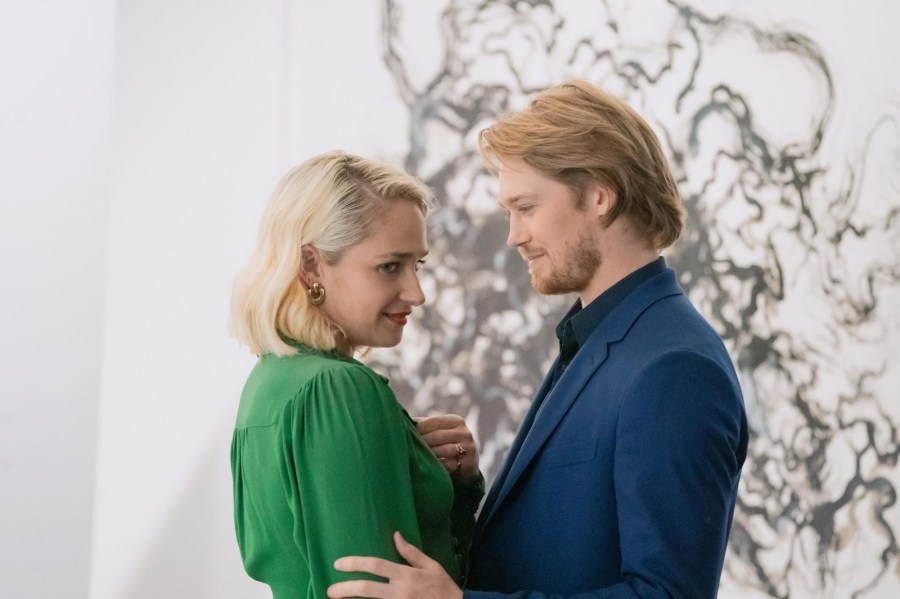 Like with any other Rooney story, there's a lot of sex in Conversations with Friends. But other than the perfectly choreographed intimate-yet-realistic sequences between Alwyn and Oliver, and Oliver and Lane, where this show will really provoke you is in its exploration of coupledom. Watching it you may not be able to resist the idea of thinking that these people are almost too civilized in their approach to open relationships.
"It just feels very stupid to have to love someone unconditionally sometimes. Maybe there have to be conditions," Frances says, questioning monogamy and conventional romantic partnerships. "Would it depress you to sleep with someone who loved someone else?" she asks Bobbi. "Not if they loved me too," Bobbi answers. "People can love and have [other] meaningful relationships."
Melissa, Kirke's character, in particular, is judged by Frances — Melissa is the writer who compromised and is now seeking the gainful path for her art. She has a beautiful posh house just off the seafront; she has friends who left stand-up comedy only to make a living as lawyers, marry and have children. Melissa herself has gone the married route with Nick.
The team of Conversations with Friends doesn't necessarily seem completely sold on the idea of open relationships though. "The nature of the open relationship thing seems like it's just a lot of talking," said Kirke during the TCA press conference. "You just have to do so much talking with your spouse or whatever, maybe on a, like, weekly basis about what's okay and what's not okay. And then now we have to re-establish the gray areas. I mean it's just exhausting."
"I love the idea, but as you get older, who has the energy?" joked Abrahamson.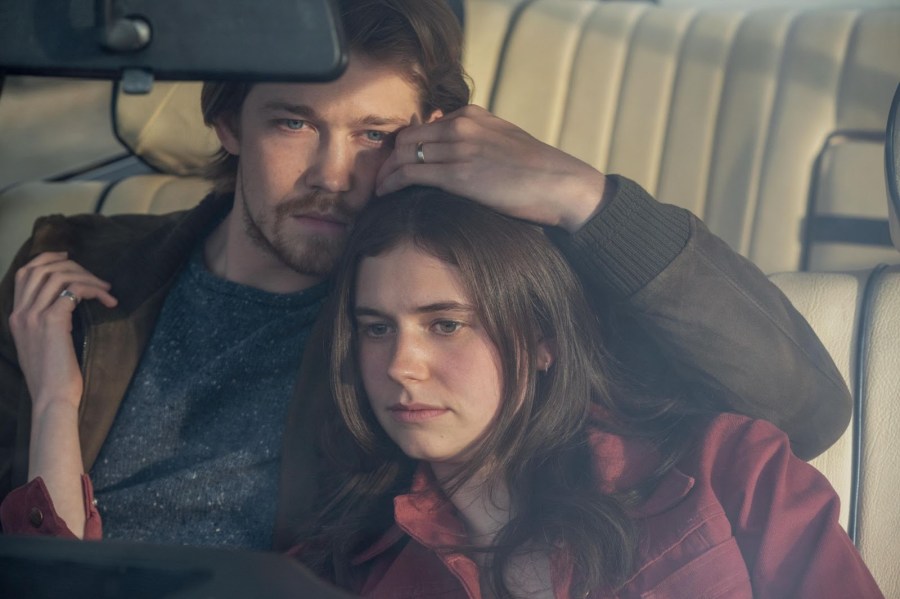 There's something else in Conversations with Friends worth mentioning. Throughout the show we see Frances dealing with extremely painful periods that make her faint and go to the hospital. She's later diagnosed with the gynecological condition endometriosis. It's estimated that in the United States it affects approximately 11% of individuals between the ages of 15 to 44. It's difficult to diagnose — Frances' journey to get an answer isn't easy — and it can lead to fertility issues. And even though it's quite common, we don't see it that often portrayed on screen.
I may not have liked Conversations with Friends as much as I did Normal People — I feel it shows it's based on Rooney's first novel and I have personally connected more with the author's two subsequent books. I still enjoyed Conversations with Friends a lot. It stands out with its realistic portrayal of our society as well as its depiction of our relationship with phones. We're tethered to them and communicate differently via text message. "Are we still having an affair?" Frances texts Nick at some point during the show — I feel that's the kind of thing she would have never asked him in person.
Now that I've watched all the episodes of this show — and, since Hulu is debuting all 12 of them at the same time, you can go the binge-watching route as well — I'm all but ready for the miniseries adaptation of Beautiful World, Where Are You and/or Rooney's next novel.