David Bowie at 75: Little-Known Facts About Everyone's Favorite Starman
When David Bowie suddenly passed away in 2016, his departure sent the world into mourning. The glamorous, gender-bending, glam-rock icon was one of the most influential names in the history of music, evolving seamlessly through multiple eras of changing soundscapes.
January 8, 2022 marks David Bowie's 75th birthday. We're honoring the Starman by sharing several little-known facts about his musical talents, his eccentric personas, and the bizarre behaviors which cemented his place in rock star history.
"Space Oddity" – Bowie's Origins
David Bowie has long been a household name, but he was originally called David Robert Jones. Bowie changed his name to suit his glamorous profile and to avoid getting confused with another major superstar: Davy Jones. The lead singer of the Monkees was already wildly popular in the 1960s, so a young David Jones created the moniker that we all know and love.
There are a variety of reasons why he chose the name "Bowie", chiefly its correlation to the all-American Bowie knife. In a 1974 interview with writer William S. Burroughs, Bowie shared: "I was into a kind of heavy philosophy thing…and I wanted a truism about cutting through the lies and all that." The abnormal name was also a way for him to separate himself from his pre-famous self. In a 1976 interview with People, he said, "I have no confidence in David Jones as a public figure."
Bowie's mystical eyes lent him an incredibly distinct appearance. Many fans believe that he had a condition called heterochromia, where one eye is a different color than the other. However, Bowie actually had an ocular condition called anisocoria, which permanently enlarges the pupil. He developed this condition when he was 15 years old; his friend, George Underwood, slugged him in an argument about a girl, slicing his pupil with his fingernail. Fortunately, the duo made up and remained friends into adulthood.
"All The Madmen" – Bowie's Personas
Ziggy Stardust is possibly David Bowie's most notorious persona. The androgynous, glamorous, lightning-faced ethereal being glistened in the spotlight from 1972 to 1973 as Ziggy Stardust and the Spiders from Mars went on tour. But this persona gradually overwhelmed Bowie, prompting him to denounce Ziggy at the end of the tour. He felt that Ziggy was an unhealthy presence in his life, sharing, "my whole personality was affected…I really did have doubts about my sanity."
The next persona that Bowie adopted was the Thin White Duke, which he presented from 1975 to 1976. Unfortunately, this persona correlates to a period when Bowie's mental sanity and physical health severely declined. Bowie became reclusive in Los Angeles and his sanity slipped away as drugs, depression and paranoia became prevalent parts of his everyday life.
Bowie's relationship with Major Tom was comparatively much healthier than his past with Ziggy or the Duke. "Ground control to Major Tom!" literally launched his career into space, turning him into a superstar overnight. Moreover, Bowie understood the significance of this character and featured him in several other tunes. He references Major Tom in "Ashes to Ashes", the Pet Shop Boys' remix of "Hallo Spaceboy", New Killer Star", and "Blackstar".
"Fame" – Bowie's Cultural Impact
"Space Oddity" is possibly David Bowie's most notorious tune. The haunting ballad isn't the type of song that would typically propel a singer like Bowie to fame, but thanks to the BBC, he became an instant star. The landing of Apollo 11 in 1969 was the event of a lifetime. The BBC accompanied the remarkable footage of the moon landing with Bowie's stellar track. Within hours, fame hit him like a brick wall.
Like many great rock stars, Bowie was flamboyant, glamorous and gender-bending. He pushed the boundaries of gender and sexual expression despite dissenting opinions from certain audience members. Bowie knew of the discourse surrounding his identity and wished to quell any lingering rumors. In 1972, a mere five years after Britain legalized homosexuality, he came out as gay and then bisexual.
David Bowie's cultural influence was so prominent that the Queen of England offered to knight many years into his career. However, he respectfully declined the honor. In 2003, Bowie told The Sun, "I would never have any intention of accepting anything like that. I seriously don't know what it's for. It's not what I spent my life working for…Am I anti-monarchy? I'd only have a serious answer to that if I was living in this country."
"Oh! You Pretty Things" – Bowie's Friends and Family
Many of Bowie's childhood friends had a significant impact on his future. George Underwood (who gave him his dilated pupil) designed several of his album covers, and he became close friends with future guitar legend Peter Frampton at Bromley Technical High School. They often spent breaks in their school day jamming to rock and pop tunes, never realizing that kids in the future would do the same to their music.
Elton John was still Reginald Kenneth Dwight, he met David Bowie, who was still David Jones. Both were teenagers who frequented coffee shops and gay clubs and soaked up the evolving English rock and pop scenes together. Unfortunately, their friendship fell apart as their careers blossomed. After Bowie died, Elton John shared, "We started out being really good friends…but I think we just drifted apart. He once called me 'rock 'n' roll's token queen'…which I thought was a bit snooty. He wasn't my cup of tea. No, I wasn't his cup of tea."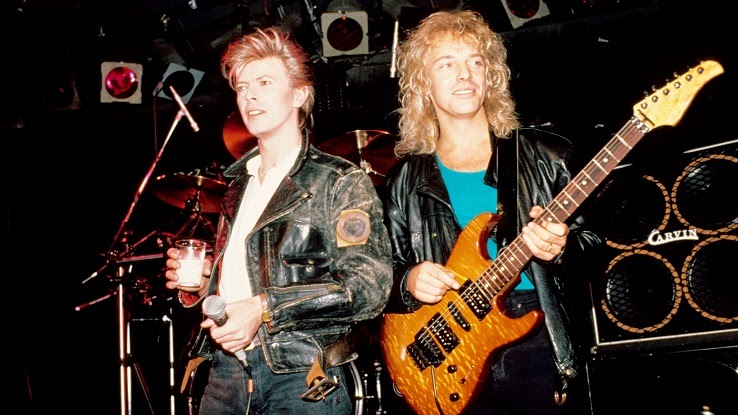 In terms of blood relatives, Terry Burns was a major force in Bowie's career. Burns was Bowie's half-brother, and their relationship inspired a plethora of the Starman's most insightful songs and lyrics, such as "All the Madmen". Today, David Bowie is survived by his son Duncan Jones and his daughter Alexandria Zahra Jones. Moreover, Duncan Jones has two children with his wife Rodene Ronquillo.
"Rock n' Roll with Me" – Bowie's Music Career
Although Bowie was a glam-rock pop star, he wasn't initially drawn to that genre. In fact, one of his favorite early music genres was jazz. When he was 12, someone gave him a saxophone, and he began to binge on jazz artists like Charles Mingus with his jazz-loving brother. His interest in jazz music remained a central influence in his evolution. Although he found his own style, he remained deeply enamored with the genre. He even shared a dance with Princess Diana to the stylings of George Melly.
Bowie was primarily a solo act, but he frequently formed, joined and performed with numerous other musicians over the years. He was a standing member in 10 bands, including The Hooker Brothers, The Manish Boys, The Lower Third, The Buzz, The Riot Squad, The Konrads, The Hype, The King Bees, Tao Jones Index and Tin Machine. Despite the success of each group, Bowie always finished what he started when it came to tours and shows.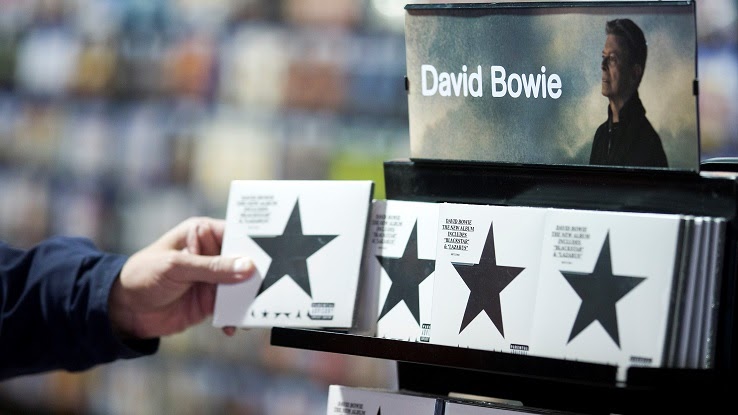 David Bowie's 25th album was released a mere two days before he passed away. The timing of his final body of work was haunting, to say the least; audiences across the globe were shocked to learn of his death, as Bowie — suffering from liver cancer — had kept his illness hidden from the public.
His producer, Tony Visconti, described Bowie's final album as his farewell in an emotional Facebook post. "He always did what he wanted to do…and he wanted to do it the best way. His death was no different from his life — a work of Art. He made Blackstar for us, his parting gift."