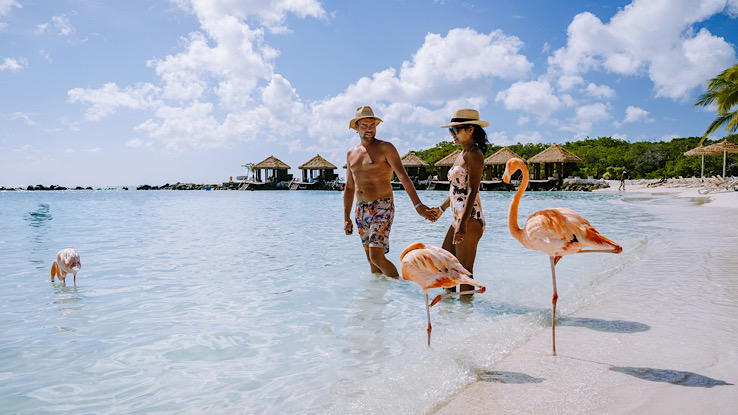 The ultimate vacation package for an all-inclusive resort on Aruba's fascinating and exotic island delights travelers of all types and ages. Families, singles, adventure-seekers, and tour groups enjoy luxurious accommodations, endless activities, and top-rated entertainment during their stay. The many dining options and friendly bars and lounges offer inviting venues for delicious food, refreshing drinks, and relaxation. Read on to learn more about the best all-inclusive hotels in Aruba.
Advantages of Staying in an All-Inclusive Hotels in Aruba
You can enjoy many advantages and conveniences when booking a vacation at an all-inclusive resort & hotel in Aruba. Aruba is in the mid-southern region of the Caribbean Sea, approximately 80 kilometers northwest of Curaçao.
Reduce the stress of planning: Aruba's all-inclusive travel packages eliminate the stress of planning your trip while enabling you to save both time and money. There are plenty of activities and events and excellent dining and exotic drinks. Travelers of all ages and types favor Aruba as a favorite travel destination that offers outstanding value to its visitors.
Pay a single fee to stick to your budget: An all-inclusive travel experience enables you to budget for your vacation and pay only a single fee. This fee includes almost everything imaginable to ensure an ultimate-quality stay. Your single charge for a fascinating, thrilling, and delightful visit covers many activities and adventures.
Multiple restaurants and food choices: It also includes different restaurant and cuisine choices, from beach grills to the most luxurious fine dining venues at hotels in Aruba all-inclusive. Of course, you will get countless glasses of rum punch, Aruba Aribas, and other delightful beverages as a perk of many all-inclusive packages in Aruba.
Travel options: The majority of these all-inclusive resorts and hotels welcome families, offering endless activities and events to keep everyone entertained as a benefit of your package to Aruba all-inclusive. Yet if you and your travel buddies feel a need to escape family life, Aruba is also home to a variety of all-inclusive stays at attractive adults-only resorts.
Riu Palace Aruba
You will find the true magic on well-known Palm Beach, often in numerous all-inclusive Caribbean packages. You will understand why it is famous as a beach lover's paradise. At the majestic Hotel Riu Palace, you can enjoy 24 hours of the leading all-inclusive benefits and perks for complete rest and relaxation at this fine example of all-inclusive packages in Aruba.
Try out the two freshwater swimming pools, the contemporary-style gym, and Renova Spa. Here you can enjoy true elegance and the best activities, entertainment, events, and diversions. Be sure to visit the casino as well. After a delicious dinner in the evening, join other guests for some dancing and fun in the discotheque at Hotel Riu Palace Antillas.
Additional appealing features and facts concerning this leading Caribbean resort hotel as one of the most charming hotels in Aruba include the following:
Accommodation and Cost
Riu Palace Aruba has 450 guestrooms and suites, including standard rooms, suites with ocean views, suites with jetted tubs and ocean views, and more. They do allow requests for various bed sizes.
Queen Suite: generally $989 per night, but has been seen as low as $594
King Suite (Jetted Tub, Ocean View): are $1,197 but can be found as low as $743 per night.
Amenities
Two Spacious Pools, Spa, Free WiFi, Parking, Air Conditioning, Breakfast Included. All Rooms and Suites have Satellite Channels.
Dining
In addition to buffets, there are other restaurants like:
Krystal Fusion Restaurant
Sayuri Japanese Restaurant
Milano Italian Restaurant
Why You Should Stay Here
This resort hotel is well-loved by guests of all ages. It is a favorite venue in many all-inclusive Caribbean packages. There are various water sports, activities, entertainment, and social events for everyone, from kids to grannies. It's a family-friendly vacation haven, and guests delight in the pristine white sand and clear azure-blue ocean. Even small children love the ambiance and varied activities and entertainment here. The entire staff wins a high rating for very friendly, helpful, and courteous service.
Manchebo Beach Resort & Spa Aruba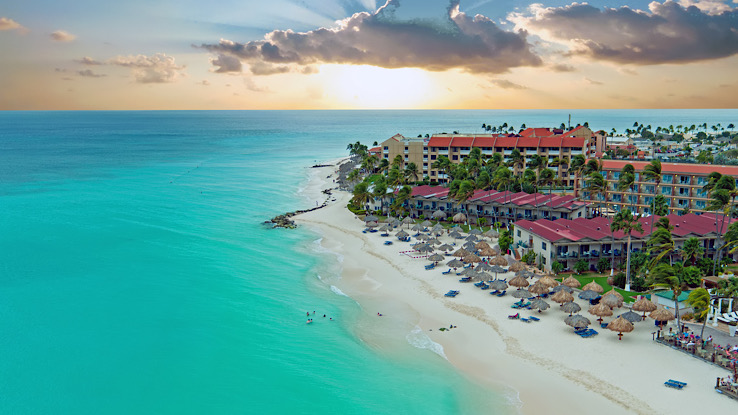 With its intimate boutique accommodations and beautiful, peaceful setting, Manchebo Beach Resort & Spa Aruba offers a favored ocean view hideaway as a favorite venue of all-inclusive packages in Aruba. Its stunning location on Eagle Beach, Aruba's widest stretch of pristine sand, is the ideal spot for this quiet, serene paradise retreat. Unique among Caribbean island resorts, this luxury hotel is only a five-minute drive from Palm Beach and Oranjestad, the capital of Aruba.
Additional features and details concerning this attractive resort include the following:
Accommodation and Cost
The intimate resort's 72 lavishly decorated deluxe rooms are always cool and inviting. The different rooms are the deluxe room, deluxe garden-view room, and deluxe ocean view room. The bath's waterfall shower is a symbol of the soft, rejuvenating serenity of this lush, gorgeous location. Cost of rooms sometimes are discounted and can be found as low as:
A deluxe garden-view room is as low as $246 per night
Deluxe ocean-view rooms are as low as $486 per night.
Amenities
Pool, Free WiFi, Air Conditioning, Parking, Contactless Check-in, Pet-Friendly Atmosphere. They also offer daily yoga and pilates classes available for guests. Spa del Sol, a luxurious Caribbean-Balinese spa, is nearby on the beach.
Dining
This highly appealing resort hotel features three a-la-carte restaurants, including:
Ike's Bistro has a Mediterranean inspired menu
The Chophouse at Manchebo is a French steakhouse
Omakase Japanese Sushi Bar
Pega Pega Beach Bar & Grill offers quick bites and lots of cocktails
Why You Should Stay Here
Many guests praise this quiet, sedate, and stunning beach hideaway as the ideal place to unwind, relax, and rejuvenate. This location's calm, quiet luxury with its gorgeous ocean views is like a natural spa retreat in an exotic, health-promoting setting. This is the perfect getaway for busy, active travelers seeking a place to relax completely, meditate, reflect, and revitalize.
Divi Aruba All Inclusive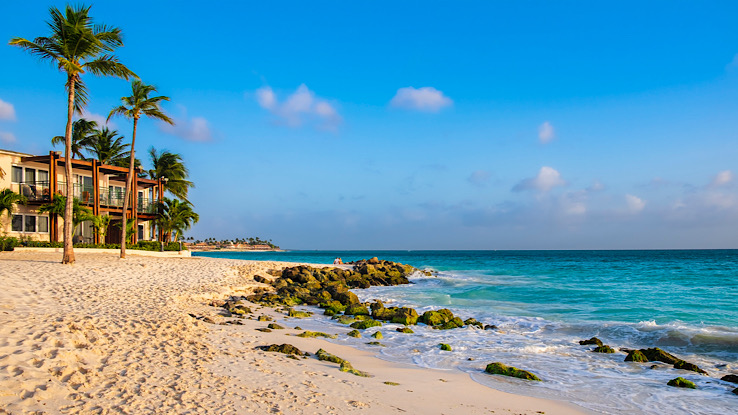 The Divi Aruba All Inclusive has breathtaking ocean views on the beach in Oranjestad, Aruba's capital city. It is home to the Aruba Aloe Museum and Cosecha Aruban Draft Design & Heritage. Fort Zoutman, California Lighthouse, and other landmarks are visitor attractions.
Water adventures at this resort include scuba diving, parasailing, and water skiing, and ecotours are popular visitor highlights. Children love the nearby Butterfly Farm.
More luxury features and facts about this appealing travel haven include the following:
Accommodation and Cost
The resort has 265 guest rooms with balconies or patios, safes, coffee makers, refrigerators, and TV satellite channels. This elite-style resort is within a short distance of the airport by car for your added convenience when you arrive and depart. Room types include standard rooms with a garden view, rooms with an ocean view, and rooms with a pool view.
Standard suites with a garden view are about $562 per night
Suites with an ocean view are about $786 per night
Amenities
This upscale resort has three elegant swimming pools and a luxurious full-service spa. They also have free WiFi, parking, and air conditioning.
Dining
Red Parrot is the signature fine dining restaurant
Pure Lime with Mexican cuisine
Pelican Terrace live cooking and entertainment by chefs
Coco Grill & Bar when you need something light and quick
Sandpiper Bar
Why You Should Stay Here
Guests report a wonderful beach getaway experience here. The many cultural sites and highlights are attractions, and the entertainment for kids is another popular feature. A variety of water sports are also available here, including parasailing.
Choosing Your Favorite All-Inclusive Hotels in Aruba
Selecting the very best all-inclusive resort hotel in Aruba is not easy. Each attractive resort venue offers different attractions and amenities for guests. Many people favor the cultural attractions and landmarks for guests to visit while staying at the Divi Aruba All Inclusive. Other travelers are attracted to the calm, quiet serenity of the unique hideaway that Manchebo Beach Resort & Spa Aruba provides for guests. Think about what is best for your and your trip. Enjoy your trip!