Considering they are at the center of the public eye, many celebrities prefer to develop their own iconic looks and styles — possibly as a diversion, possibly to steal the spotlight. In some cases, the bold facades boldly define stars' identities, but, in other cases, they conceal them.
For some of the most outrageous stars, stripping them of their signature style makes them completely invisible to even their biggest fans. Don't believe it? Check out these 30 celebrities who are unrecognizable without their distinguishing style.
Kesha's Glittery Persona
Kesha's early career was characterized by glitter, wild hair, glitzy makeup, funky fashion choices and other elements of the party-girl music era that ruled the mid-2000s. Her videos were all about angst and rebellion, and her image in them was impulsive and carefree. When she decided to redefine her persona in 2017, she became unrecognizable — but not in a bad way.
Kesha released her Rainbow album in 2017, stunning old fans with a fresh, smooth sound. Her new album's lyrics promoted messages of healing, forgiveness, acceptance and recovery from personal trauma. Her new style also seemed to reflect a newfound sense of peace and maturity. She even dropped the signature "$" from her name.
Marilyn Manson's Corpse-Like Style
In the best way possible, Marilyn Manson hardly looks alive most of the time. Sporting pale foundation, thick eyeshadow, dark lipstick and gothic accessories, Manson has looked like he walked straight out of a Tim Burton flick for most of his career. Everything from his contrasting contacts to his dark-toned clothing has given him the spooky image that his fans adore.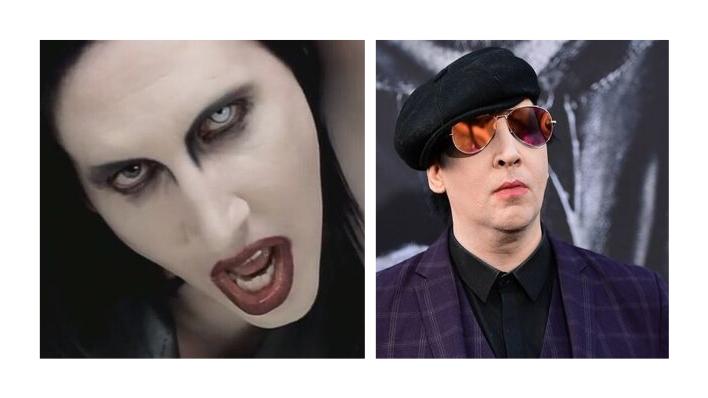 Why does the singer want to sport a signature look that is so corpse-like? Inspired by the likes of KISS and David Bowie, Manson told The Fader, "I suppose my fascination with makeup comes from me having a great imagination and not being able to contain it to just a piece of paper or a piece of music."
Ralph Fiennes' Ghostly Role
This actor had to completely transform his facial features to morph into his most famous role: Voldemort. Whether you know any of Fiennes other work or not, it's almost impossible to identify him in Harry Potter. Voldemort's image is completely inhuman. His look includes a bright white head, chunky veins and a nearly nonexistent nose.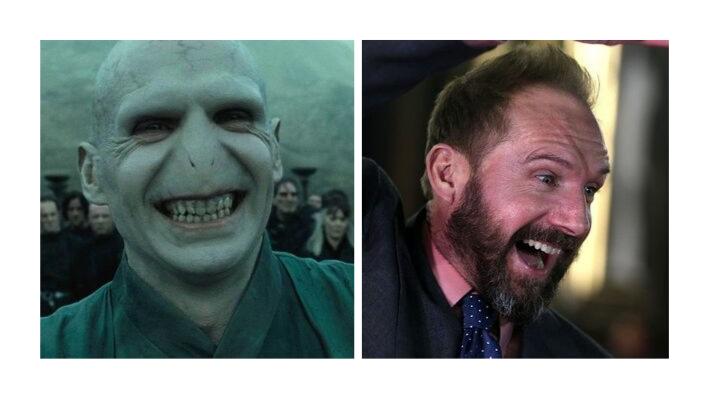 The makeup crew was restricted in terms of time, so turning Ralph into Voldemort had to happen in about two hours each time. In digital editing, they flattened Fiennes' nose and removed his eyebrows. The veins covering his head were all temporary tattoos. These small details made Fiennes' onscreen character recognizable, but his real face? Not so much.
Robbie Coltrane's (Literal) Massive Transformation
Get ready for another incredible Harry Potter transformation: Robbie Coltrane. The British actor/comedian plays Rubeus Hagrid — Look at the eyes! — the friendly groundskeeper who lives at Hogwarts. Oh, and he's part-giant, of course. In the film, Hagrid is taller, wider and thicker than any non-magical human could ever be. To get Coltrane to look like the character, they had to fashion several unique costume pieces for him.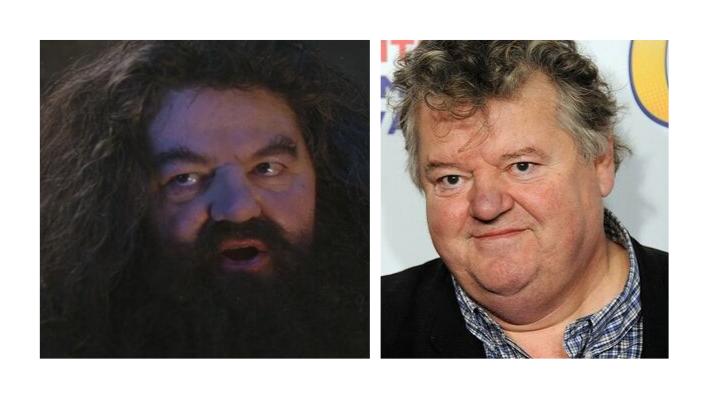 To make him seem more massive, they built a costume that expanded his body up and out. To help with making Coltrane, who is 6'1", seem to be Hagrid's height of 8'6′, they sometimes brought in a taller body double. Although Coltrane has acted in projects besides Harry Potter, most fans wouldn't recognize him as Hagrid if you saw him walking down the street.
Adele's Glamorous Appearance
She may be the biggest female voice to come out of Europe in the last century, but Adele's image is just as recognizable as her voice. The superstar has long been identified by some of the more notable features of her style and appearance, such as her bright-colored lipsticks and her glamorous updos that seem to suspend themselves.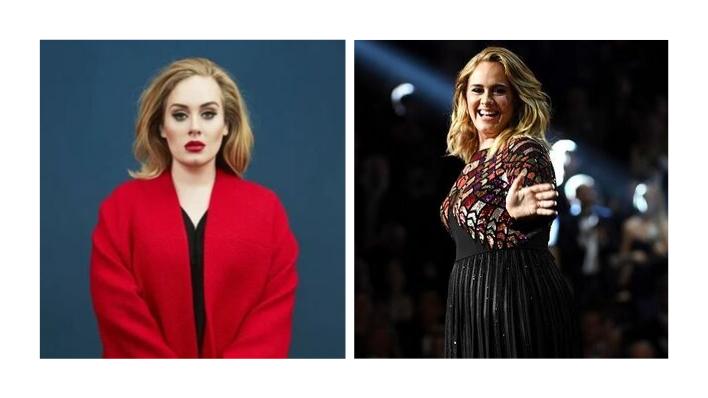 Without her cat-eye makeup and bumped-up hair, Adele blends into the crowd. However, she has worked to transform her style across the last few years, while still holding on to little pieces of her original appearance — bold lipstick, stunningly-styled hair and subtle yet killer makeup.
The Blue Man Group's Blueness
There aren't many people who could confidently identify a member of Blue Man Group when he isn't painted blue. Performing since 1991, Blue Man Group is a trio of musical and artistic performers who color themselves electric blue for every show and public appearance. You certainly can't accuse them of false advertising.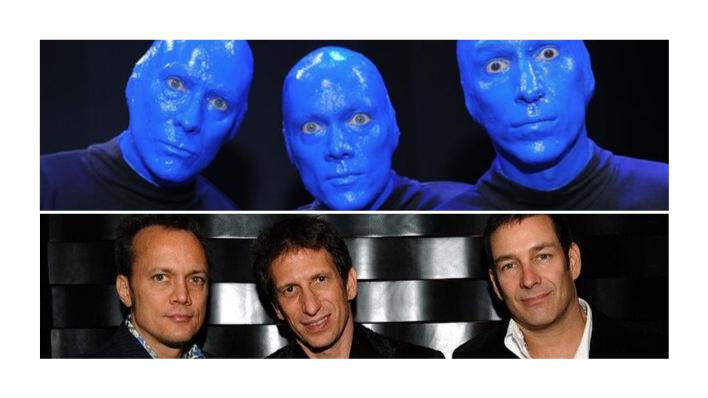 Why do they go blue for their audiences? "There really isn't an explanation," Matt Goldman told Stifel Theatre. The members all feel that the Blue Man has been an integral part of their lives since they met. They have been subtly expressing themselves as "blue" since the late '80s/early '90s, and it's uncommon to catch them out without their blue skin.
Bill Skarsgård's Clown Costume
If you're a fan of Sleepy Hollow, you may recognize Bill Skarsgård on the street. However, many newer fans know him for his role as Pennywise the Dancing Clown in Stephen King's new It film adaptations. The character requires the handsome actor to transform into a horrifying, killer clown, resulting in an appearance that will spawn your worst nightmares.
The costume for Pennywise terrified everyone onset, including the adult cast. A towering red wig, striking makeup, buck teeth — which caused Skarsgård to drool throughout the film — and a vintage clown suit are a few features that lend to the character's awful appearance. Outside of the costume, Skarsgård doesn't resemble Pennywise in the slightest, thank goodness.
Taryn Manning's OITNB Role
The hit show Orange Is the New Black is stacked to the brim with an assortment of odd, hysterical and unique characters, all played by a handful of adaptive actresses and actors. One of the most notable roles is Tiffany Doggett (played by Taryn Manning), a bigoted hillbilly who antagonized Piper in season one.
To get into character, Manning didn't just have to enter the mind of someone with backward views. She had to completely alter her appearance. Doggett's look included rotting teeth and dyed, tangled hair. Manning also created her own accent for the role. In real life, Manning cleans up like a supermodel, so OITNB fans would probably never recognize the star out of character.
Lady Gaga's Extravagant Outfits
If you look back at Gaga's early career, you won't find a boring outfit, a pedestrian hairdo or too many bare-faced photos. Gaga has long been defined by her unique image, from her meat dresses to her bubble skirts to her extravagant and haunting makeup choices. Up until very recently, Gaga's style remained fairly consistent: bizarre, eccentric and outlandish.
Her newer image began to appear around the time she released her Joanne album. Additionally, her breakout acting performance in A Star Is Born — which earned her numerous awards and nominations — was one of the only performances in which Gaga has ever sported a bare face and casual clothing (and she rocked it). Without her over-the-top costumes, Gaga looks much less like a high-profile celeb, but the result is awesome.
Daft Punk's Robot Helmets
The boys of Daft Punk, a French musical duo who specializes in electronic bops, practically live in their robot suits. Even at public events and concerts, you're unlikely to find the band's members, Guy-Manuel de Homem-Christo and Thomas Bangalter, without the helmets and gloves that make them look like highly-functional A.I. beings. They have rarely appeared in public without their masks.
It's hard to know why the duo only makes public appearances in full costume, because they are often silent when in costume. See the dilemma? They have even accepted Grammy Awards without muttering a word. A desire for privacy may play into their decision to remain anonymous. Plus, they probably think the whole robot-human persona is too mysterious to ruin the intimate magic with reason.
Boy George's Giant Hats
Musician Boy George is known for one signature type of clothing: massive hats. As in extremely massive, like large enough to store a medium-sized dog or small mini-fridge underneath. His hats are a major part of his public image, so when he steps outside without one, he blends right into the crowd.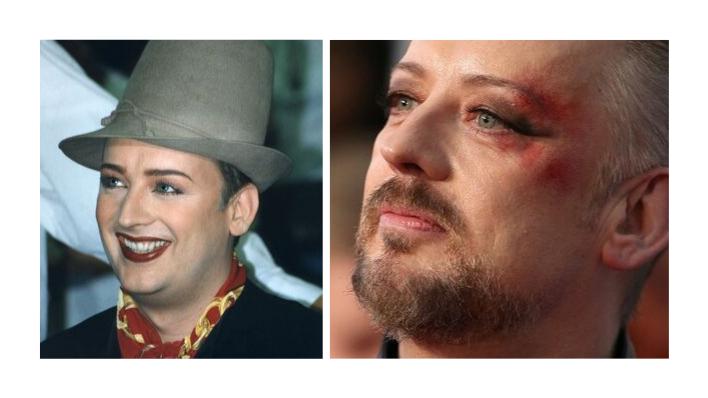 In 2017, Boy George told Us Weekly, "I have around 200 hats. Some I get made, and some I get from a store in London called A Child of the Jago." With such a large collection of headwear, it's rare to see the star without a hat. He can certainly rock a bare head, but he looks like any other pedestrian when he does it.
Elton John's Killer Costumes
Just as Boy George is defined by hats, Elton John is defined by his sunglasses — and a million crazy outfits, of course. His absurd styles, quirky outfits and bejeweled sunglasses are what helped transform him from a good singer into a megastar. His costumes across his career are beloved by designers, fans and the singer himself.
No one can forget the glittery Dodgers uniform, the Minnie Mouse costume, the sequin suit, the Red Queen outfit or any of his other killer looks across the years. His costumes — again, typically paired with glamorous sunglasses — helped him create the persona of Elton John. If you saw the singer in jeans and a T-shirt, you probably wouldn't do a double-take because you wouldn't even recognize him.
Zach Galifianakis' Facial Hair
This starring actor in The Hangover (2009) and Masterminds (2016) is one of the funniest people that present-day Hollywood has in its arsenal. To his audiences, he is known for his onscreen charm and hilarity. However, there's another part of his persona that everyone associates with him, even if it's subconsciously: his facial hair.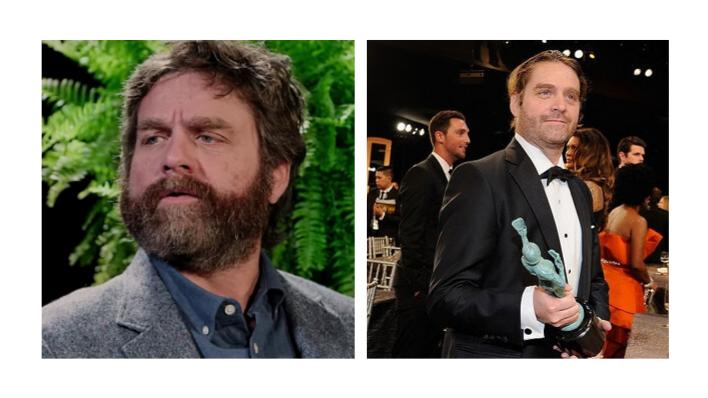 The scruffy beard is simply part of Galifianakis' character in most cases. In many of his most popular roles, he has totally rocked the attention-grabbing facial hair. When he shaves his beard, he becomes nearly unidentifiable to fans. If he ever wanted to go incognito, hacking his facial hair off just might be all the disguise he needs.
Ruby Rose's Androgynous Appearance
It's hard to imagine Ruby Rose as anything other than the androgynous figure she is today. The model and actress — who identifies as gender fluid — makes audiences swoon with gorgeous features and a powerful presence in front of the camera. Can you believe that Rose once had locks down past their shoulders?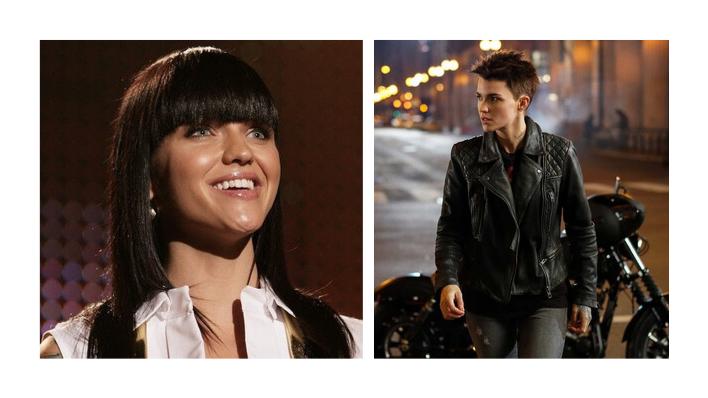 There was a time when Rose wore her hair much longer than she does now. The decision to chop it off completely altered her style, giving her the androgynous appearance she was ultimately more comfortable sporting. If she decided to switch back to long hair now, it would certainly throw fans for a loop.
Naomi Grossman's Gnarly Role
Any true fans of American Horror Story are certainly fans of Pepper. The character — who appeared on two seasons of AHS — is a young woman with microcephaly who is a circus performer in one season and a resident of Briarcliff Manor, an insane asylum, in another. Pepper's physical appearance is atypical, but the actress who plays her is gorgeous enough to make you doubt she's in the role.
Naomi Grossman is the lovely woman behind Pepper's character. Her real-life appearance doesn't mimic Pepper's in the slightest. That being said, a ton of makeup and costuming is necessary to transform her into character. It can take anywhere from two-and-a-half to three hours to fashion Naomi with all the gear required to morph her face into Pepper's.
"Weird Al" Yankovic's Curly Hair
"Weird Al" Yankovic defined the musical adolescence of an entire decade of children, producing parody-based hits like "White & Nerdy" and "Party in the CIA." Besides the many hilarious costume pieces that were designed for his quirky music videos, Yankovic's public appearance is heavily dependent on a major facet of his image: long, curly hair.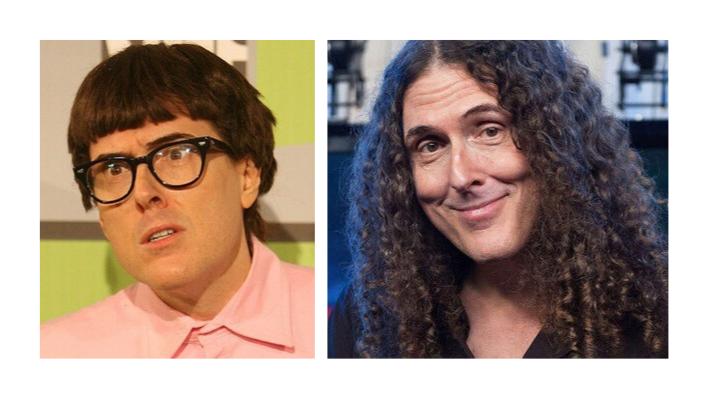 Although long hair is typically a part of his everyday persona, there have been times when Yankovic has shortened his hair. Without his long locks, he looks like a regular dude — nothing like the bizarre, comedic musician that you know and love. Fortunately, his hair has remained long for quite a while, and hopefully he won't make any drastic changes to his hairdo anytime soon.
deadmau5's Mouse Head Helmet
Even if you don't vibe with electronic music, you've probably seen the signature mask of producer and musician deadmau5. The Canadian techno-electro artist always takes the stage for his performances wearing his famed mouse-head helmet. The smiling, big-eared rodent mask has brought character to deadmau5's public performances since the start of his career.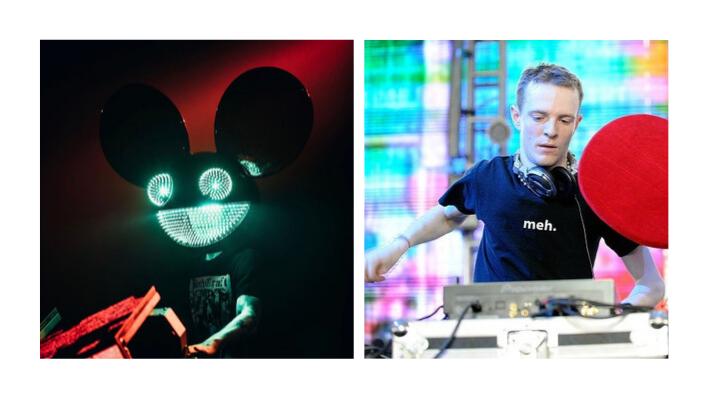 Beneath the helmet is Joel Zimmerman, a smiling 38-year-old with a passion for his artistic craft. You probably wouldn't recognize Zimmerman if you saw him wandering around without the rodent head. The mouse mask came to be as a way to disguise himself from fans and add a punch of uniqueness to his shows.
Katy Perry's Pop Star Brand
A major part of Katy Perry's pop star brand is rooted in her appearance. In the past, her funky costumes, colorful makeup and bold hair have given her a stylistic edge. She frequently rocked wildly-colored locks and kooky costumes in her videos. You really can't beat the "California Gurls" flick featuring literal cupcake bikinis.
These days, Perry's hair is far shorter and dyed a natural color. She also seems to have retired many of her career's wilder costumes. Without makeup on, it's hard to distinguish her from any other androgynous young star. Who knows how much she will look like her "Teenage Dream" self at the end of her evolution?
Nick Offerman's Bushy Mustache
The Parks and Rec star's stern-faced character is completed by the caterpillar-like fuzz over his upper-lip. Offerman's mustache may seem irrelevant, but it's a distinguishing feature on the actor, so much so that he could become unrecognizable without it.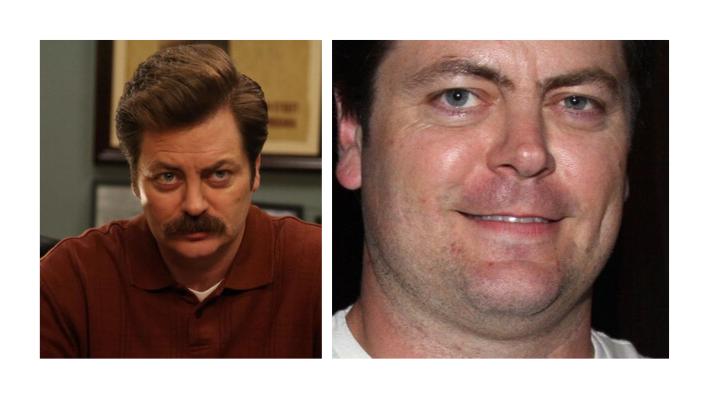 The well-styled 'stache is a fan-favorite trait of Offerman's. In fact, the bushy feature is so important to his fans that when he showed up without it for an interview on the Today Show, the interviewers threw a fit. Although Offerman doesn't love his mustache as much as his fans, he dabbles in woodwork and has designed a fabulous mustache comb.
Taylor Momsen's Gothic Style
When she starred in early seasons of Gossip Girl, Taylor Momsen sported only a thin layer of performance makeup. However, just like her character Little J, she went through a goth phase — and didn't come back out. With all the angst of early-2000s Avril Lavigne, Momsen adopted the gothic rock star look with frightening ease.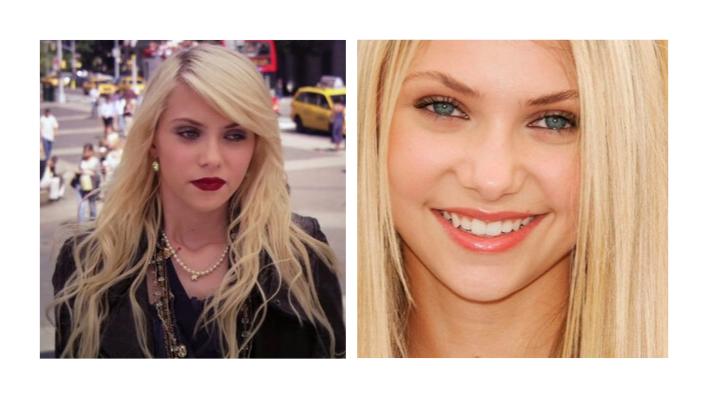 These days, you aren't likely to see Momsen without her smoky eye shadow, thick eyeliner and dark lipstick. Although she was heavily critiqued when she first adopted her hardcore style, it certainly seems to suit her image. It's hard to remember what she looked like before she dove into her gothic persona.
Tilda Swinton's Striking Hair
Tilda Swinton is one of the most notable, dynamic, androgynous actors in the film industry. With her striking facial features, piercing eyes and pale hair, Swinton is a breathtaking pioneer in gender-fluid acting and has taken on roles ranging from the Ancient One in Doctor Strange (2016) to the White Witch in The Chronicles of Narnia (2005).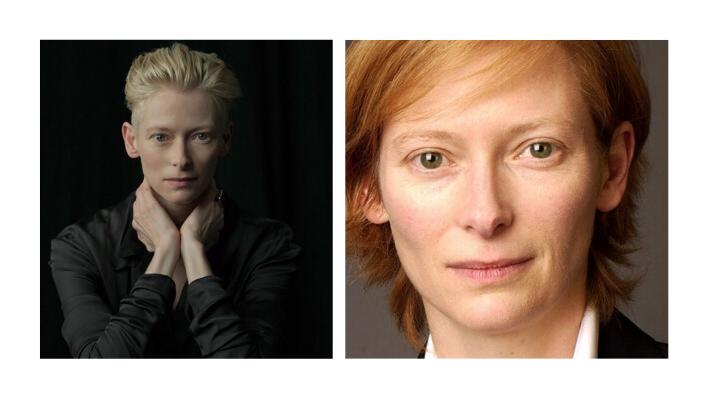 Besides her uniquely non-gendered facial features, Swinton's short hair allows her to perform in a plethora of roles rooted in mainstream androgynous identities. So, when she played the long-haired character of Dianna in Trainwreck (2015), many audiences struggled to recognize the artist. The makeover required for the role certainly tossed her signature style out the window.
KISS' Incredible Face Paint
For anyone who grew up listening to KISS, this one is obvious. Still, it's worth noting the ways this group spearheaded — and continues to encourage — anonymity in rock music. Through their wild, well-designed black and white face paint, KISS created a unified image, all while hiding their identities as individuals from fans. In recent years, they have shown their faces more frequently.
However, for many fans, most of the band members are hard to recognize without their killer makeup. (Gene Simmons would be the exception.) Simmons, Paul Stanley, Peter Criss and Ace Frehley all rocked long hair and the unique face paint during all stages of the band. If they cut their lengthy locks off to go with their clean faces, would you recognize them?
Marshmello's Unique Mask
A fairly new presence in the mainstream music industry, the electronic DJ Marshmello has been making waves on international music charts since 2016. What makes this persona so unique? Well, the artist conceals his identity with — you guessed it — a humongous marshmallow helmet during performances, at public events and in music videos.
As Marshmello has gained traction in his career — working with acclaimed artists like Khalid and Bastille — many fans have made efforts to uncover his identity. In an emotional statement on Twitter, Marshmello shared, "I don't take my helmet off because I don't want or need fame. I'm genuinely trying to create something positive for people to connect with."
John Lehr's Caveman Look
The Geico caveman is an utterly iconic commercial role, and John Lehr is one of the main men behind the character. Appearing most frequently as the Geico caveman, Lehr spends quite a bit of time in the hair and makeup department to get his costume fully assembled, especially since he looks nothing like the primitive caveman in real life.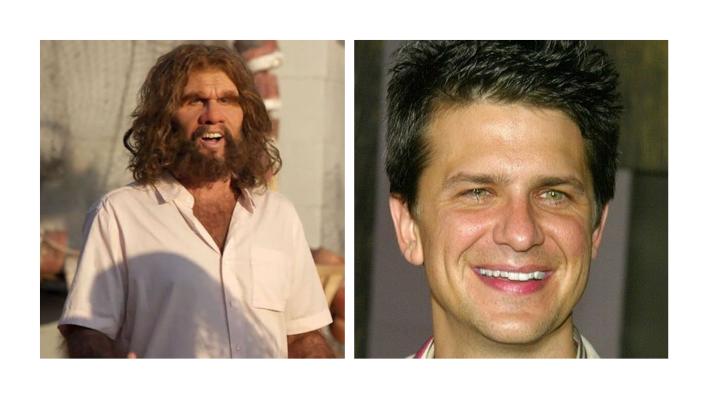 In reality, John Lehr is an attractive actor with a killer smile. He has scored a number of roles in television shows, commercials and films across the course of his career. If you've seen any of his other acting projects, you probably wouldn't flag him as the man behind the Geico character. Can you believe this hunk is the caveman?
Ariana Grande's High Pony
Ariana Grande's style, performance and identity have certainly evolved across the years. From her start with thick, curly hair in 13 the Musical on Broadway to her present-day dyed and straightened locks, her gorgeous hair has grown along with her. For performances, she typically pulls it back into a high ponytail, wound tightly at the back of her head.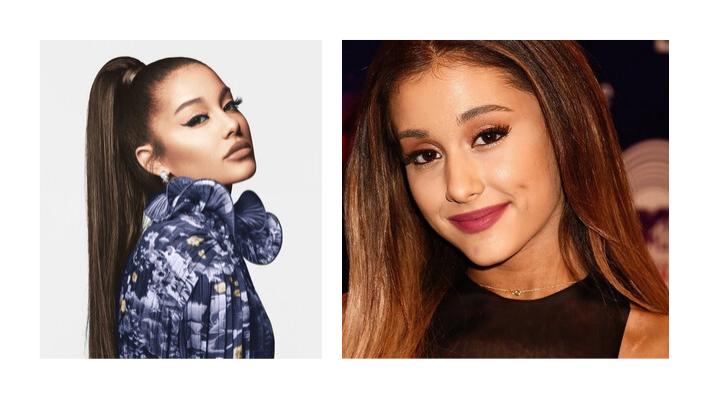 Without her high pony, Grande's appearance drastically changes. It's hard to believe that simply letting down her hair can accomplish so much in terms of altering her appearance. With her hair untied, her image's youthful charm is replaced by a mature beauty. She seems to leap forward in time each time she takes down her pony in public.
Adam Lambert's Rock Star Energy
Adam Lambert has always looked exactly like what he longed to become: a rock star. The world met Lambert on season eight of American Idol in 2009. Despite coming in second place in the final round, he dominated the season with a plethora of stunning and crowd-pleasing rock performances. After the show's conclusion, he held strong to his rock style.
Lambert's early image consisted of punk haircuts, dark clothing and bold performance makeup. After American Idol, the personality of his image only grew stronger, especially as the world became more LGBTQ+ friendly. Now, Lambert wears fierce makeup for shows and red carpets and rocks attention-grabbing outfits that are fit for superstars. Without his signature style, the rocker would look like a stranger.
Gwen Stefani's Crimson Lips
Gwen Stefani is stunning with or without makeup, but one of her go-to fashion choices is her electrifying red lipstick. Although facets of her appearance have changed across the years, her love for crimson lipstick has remained fervent. If you catch the star without her red lipstick, it might take you a moment to realize that it's Stefani.
In a 2017 interview, she told Marie Claire, "Everyone always thinks that I'm never without a red lipstick — that I even sleep in it…I love red lipstick so much because it feels like such a classic, but it's still so personal. There are so many different ways to wear it."
Zooey Deschanel's Bangs
Zooey Deschanel has starred in the popular sitcom New Girl for the last several years. Just as her character does, Deschanel rocks a quirky set of bangs and stellar eyeliner. Believe it or not, these two facets of her image are extremely important to her style. When her hair or makeup are altered, she looks like a different person altogether.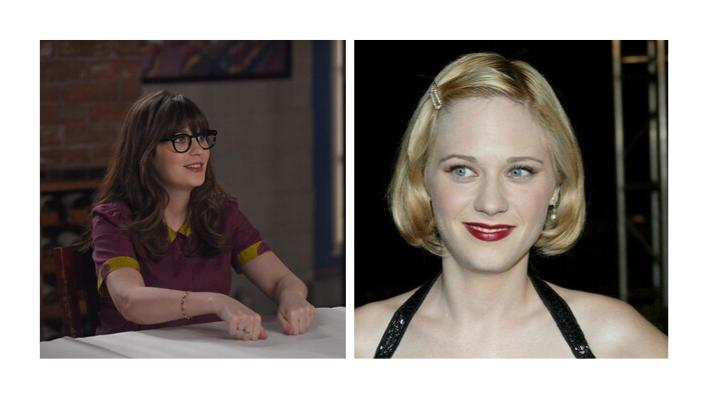 Without bangs or eyeliner, Deschanel becomes a gorgeous stranger on the screen. Who knew that hair and makeup were so significant in making such a major celebrity recognizable to fans? A lack of bangs isn't the only hair-related alteration that has thrown her fans off track. Her abnormally blonde locks in Elf (2003) and other films also had audiences Googling for her identity.
Avril Lavigne's Emo Makeup
Things with Avril Lavigne aren't as complicated as they used to be. The majority of fans know Avril's appearance from her early days in the spotlight, which was angsty, grungy, emo and dark. She was known for the heavy eyeliner that gave her a hard rocker's flair in the world of emo-pop music. What happened to the gothic version of Avril Lavigne?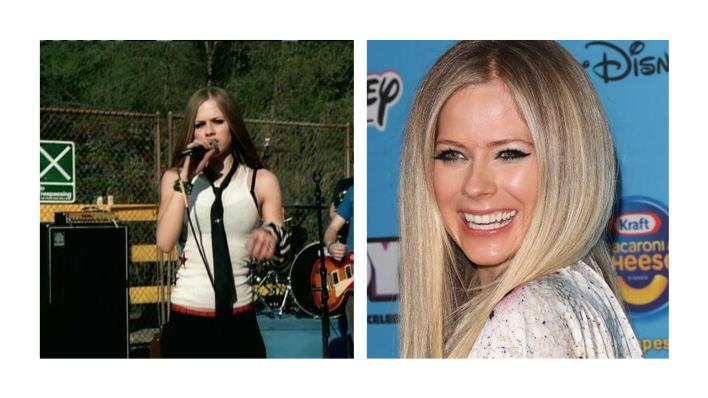 These days, Lavigne has grown up quite a bit. Her image is brighter and more optimistic than before. With glowing blonde locks, cleaner eyeliner and a pearly smile in recent photos, the still-young star definitely seems to have left her angsty teenage years behind. The transformation is almost unbelievable. Did someone hit a reset button?
Sia's Massive Wigs
You won't catch this famous singer without one of her mammoth blonde, black or split-tone wigs on her head. She equips them with long bangs and bows that cover her face, allowing her to conceal her identity from her fans. Why doesn't the stellar pop star/songwriter want to be recognized?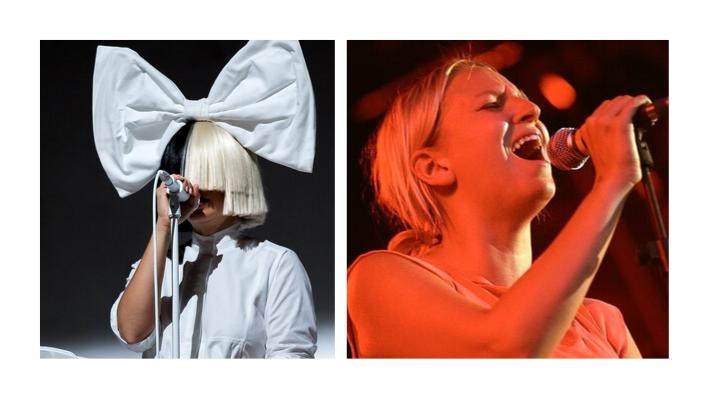 Sia wants to experience privacy that isn't typically afforded to celebrities. She told Ellen DeGeneres, "Well, it's just so that I can go to Target and buy a hose if I want to." You can't blame the megastar for wanting to keep her real identity under wraps. She has only made a handful of public appearances out of costume.