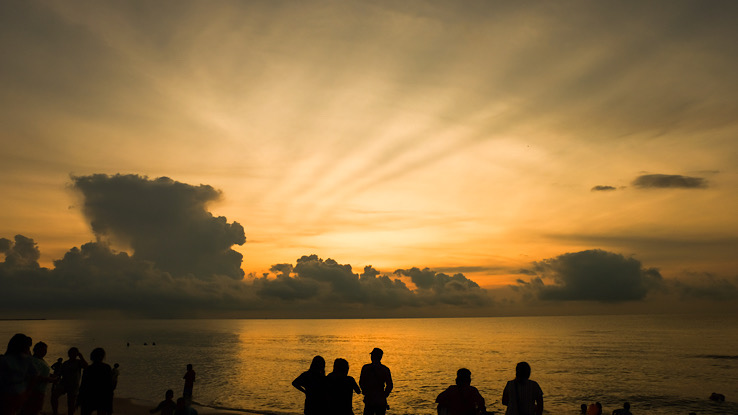 We all chase beautiful sunsets. Maybe you're hoping to impress your Instagram followers with a sunset picture. Or perhaps you just need a moment to bask in the earth's beauty. Regardless, location matters if you want to catch the most beautiful sunsets.
From the seductive haze of the south to the brisk but brilliant skies of the Pacific Northwest, the United States hosts numerous locations to appreciate the sun's descent. But not all sunsets are created equal. Five locations stand out when it comes to passing time gazing up at the sky. But before we get started, how can you predict when you'll see one of the most beautiful sunsets the sky offers?
Predicting the Most Beautiful Sunsets
Have you ever planned a romantic sunset picnic only for clouds to shroud your evening in muted gray? To catch a beautiful sunset, you need optimal conditions.
Close your eyes and imagine when day fades to dusk, beautiful sunsets travel through the sky and stun us to silence. Each evening, the horizon entrances us with cloud formations animated by rays of soft lavender, baby blue, gold, vermilion, and tulip pink. This is what we hope to see when thinking of beautiful sunsets.
Bruce Wunderlich, a professional photographer, shared five ways to predict pretty sunsets. If the area has at least three of the following, you might be in luck:
Mid to high-level clouds
30–70% cloud coverage
Good air quality (below 50 Air Quality Index)
Low humidity (below 40%)
Calm winds (under 12 mph)
While you can gauge the first two by observation, the last three require data. You can find this information on the majority of weather apps.
There happen to be five locations in the U.S. with regularly outstanding sunsets, even if the weather isn't optimal. Let's check them out.
Blacks Beach, La Jolla, California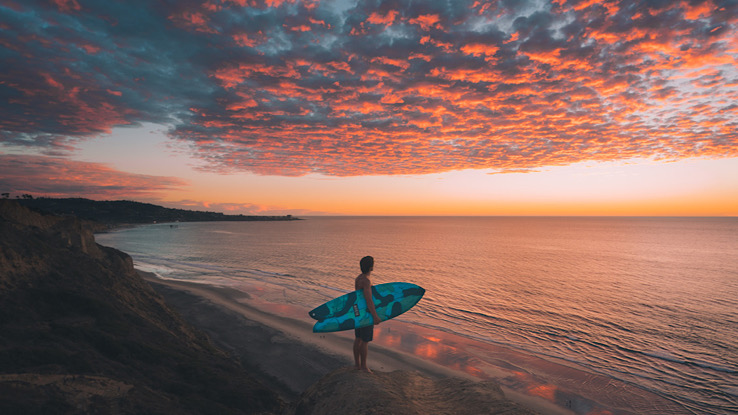 View of a beautiful sunset at Blacks Beach.
It might be predictable to start with California. But can you blame us? Southern California skies melt into the ocean, scattering light over the waves. The beaches, the bluffs, the piers. Most coastal cities in California offer an awesome view of daylight as it vanishes. After all, a beautiful sunset reflected in water is basically two beautiful sunsets.
So what makes Blacks Beach in La Jolla special? For starters, La Jolla sits just north of San Diego, and its name translates to "the jewel." While most watch La Jolla sunsets from the famous cliffs of Torrey Pines State Park, the best spot to enjoy the sun's descent happens to be hidden adjacent: Blacks Beach.
Locals know this secret beach for its stellar surf and draw-dropping views. Plus, you can avoid the crowds you'd normally see at more popular beaches, like Pacific and Mission Beach.
How to Get There
To reach Blacks Beach, you have to hike down a one-mile trail into a canyon. The steep downhill requires proper footwear. And don't forget, you'll have to climb back out. The Ho Chi Minh Trail, sometimes referred to as The Saigon Trail, The La Jolla Trail, or The San Diego Trail, begins in a residential neighborhood. Put in 9883 La Jolla Farm Road to get directions. Just across from this address, you can find the trailhead sign between two fences. Check out this blog for more details on parking, finding the trailhead and more.
Watch the beautiful sunset from a towel on the beach, or clamber up a side trail for a view from the cliffs. Oh, and did we mention? Parts of the beach are LGBTQIA+ and clothing-optional.
Cape Hatteras, Outer Banks, North Carolina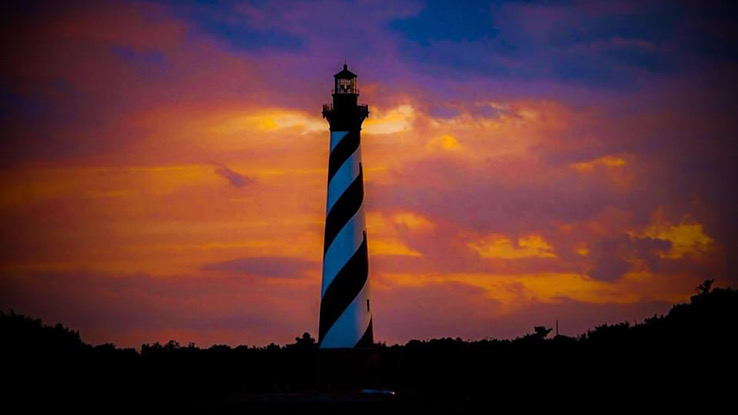 No, not the show. Sorry! But fans of the Netflix original know sunsets in the Outer Banks don't disappoint. For those who don't know, the Outer Banks are barrier islands off the coast of North Carolina. These islands boast a spectacular coastline, which translates to pretty sunsets.
From the nature trails to the panoramic views, Cape Hatteras is the perfect place for your Outer Banks sunset experience. Cape Hatteras Lighthouse, the tallest brick lighthouse in North America, has stood for over 150 years.
How to Get There
You'll need to climb more than 250 to reach the top. So you can check off your exercise for the day. Climbing tickets cost $8 for adults and $4 for all others, including senior citizens and children. Be sure to get there early since ticket sales close before sunset.
Not excited about a lighthouse? Cape Hatteras National Seashore has over 70 miles of coastline, stretching from Bodie Island to Ocracoke Island. You can watch the sunset from any number of locations.
While you're there, check out the charming Hatteras Village, known as an Outer Banks fishing epicenter.
Lake MacDonald, Glacier National Park, Montana
You don't need an ocean for a beautiful sunset. Anyone who's visited Montana's Glacier National Park knows that. It's easily one of the most breathtaking of our national parks, with clear skies made for beautiful sunsets. You've probably seen pictures of the lake's colorful pebbles and glassy waters on Pinterest.
Beware of its popularity! Especially in summer, when families flock to the lake for recreational activities like canoeing, kayaking, paddle boarding, boating, and more. If you want a more remote, tranquil experience, visit during shoulder season or winter. The colors of sunset flicker over the snow-capped peaks. When the orange glow dips below the mountains, a dazzling sea of stars emerges.
Who said beautiful sunsets could only exist in summer? Just bundle up and be prepared for less-than-friendly weather.
How to Get There
You can find Lake MacDonald inside the park's west entrance. Entering Glacier National Park requires a fee per vehicle, and it changes according to the season. You can find the current rates on the national park website.
For the best views of Lake MacDonald's sunset, head over to Apgar Campground, located adjacent to Apgar Village. The campground is only a short stroll to the beach.
Mallory Square, Key West, Florida
It's undeniable that the west coast is fantastic for sunsets (the sun rises in the east and sets in the west). But the Florida Keys might be an east coast exception. Where better to watch sunrise and sunset on the same day than the Florida Keys? With shores situated on both the east and west, the Florida Keys is your oyster when it comes to catching the most beautiful sunrises and sunsets the U.S. has to offer.
But what sets Mallory Square apart from other sunset locations is the revelry. The Key West Sunset Celebration began in the 1960s and continues today, heralding the coming of the night with a plethora of debauchery and entertainment. From tropical waters and palm trees to fun cocktails and jazz bands, you won't want to miss the beautiful sunsets Mallory Square celebrates each evening.
How to Get There
If you choose to fly in, Mallory Square is only three miles from Key West Airport. Driving across the Overseas Highway from the mainland takes about 2 hours and 30 minutes. And the views of the sunset (even from your car) are unbeatable.
Access to Mallory Square is free! Arrive two hours before sunset for the beginning of the festival. Worried you won't have enough to do? Aside from the views, the drinks, and the music, Mallory Square also hosts vendors, local artists, magicians, jugglers, and more. Don't leave without trying the food. It's the closest you'll get to enjoying Cuban cuisine without actually visiting Cuba.
Visit Mallory Square's website for logistical details (including the evening's projected sunset time).
Orcas Island, San Juan Islands, Washington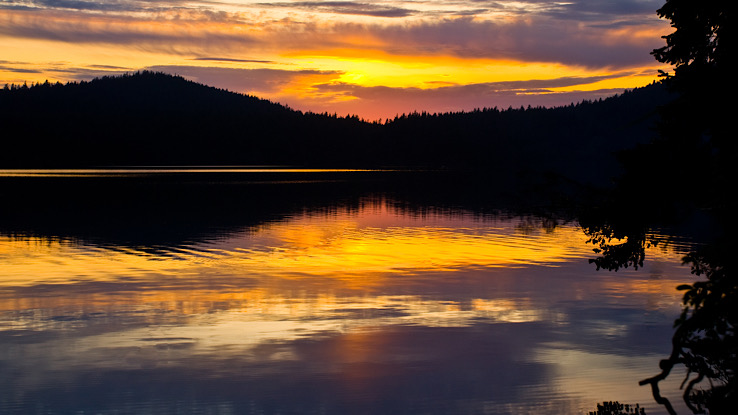 What could rival beholding an orca surfacing before your eyes? A beautiful sunset in the background. You're guaranteed to catch a glimpse of these magnificent whales from April to October.
So how can you watch the sunset with orcas swimming in the foreground? A whale watching tour. Look into Outer Island Expeditions for an unforgettable experience. They offer private charters and personalized, small group tours of 6-30 people. They also guide kayaking tours on Orcas Island.
Not excited about being out on the water? Try catching the sunset on North Beach for accessibility or Turtleback Mountain for adventure.
How to Get There
North Beach serves up views of Saturna, Sucia, and Maria Islands. During the evenings, at low tide, you can wade out into the water (or swim out!) to see Mt. Baker in the east. To reach the beach from Eastsound, head north on North Beach Road. Less than a mile past the airport, you'll find a small parking lot. Summer sunsets are the most beautiful at North Beach.
For a panoramic sunset, you can hike up Turtleback Mountain, which you'll find on the island's west side. Mt. Constitution also has stunning views, but it's heavily trafficked. You can enjoy the array of bright colors falling into the Puget Sound and hovering behind the Olympic Mountains in solitude. Check out this map for directions and trail routes to various peaks.