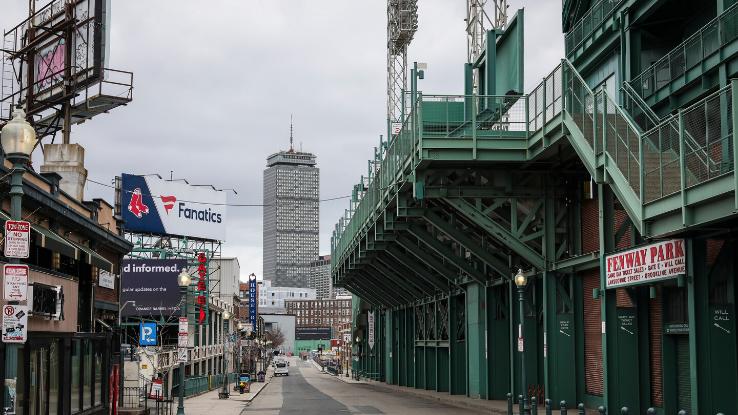 As colleges closed in March amid growing concerns over the COVID-19 pandemic, the National Collegiate Athletic Association (NCAA) also called it quits, ending various sports seasons early — and just before March Madness. Apart from busting brackets, the novel coronavirus caused the National Basketball Association (NBA) to blow the whistle on the rest of the 2019-20 season. When March 26 rolled around, baseball parks remained shuttered, even though it was meant to be Major League Baseball's (MLB) Opening Day.
All of these measures were for the best: Several NBA players tested positive for COVID-19 and, moreover, as this news was breaking, officials at the Centers for Disease Control and Prevention (CDC) were insistent that folks shouldn't meet up in groups — let alone stadium-sized crowds — as that would only help spread the threatening virus. Of course, not seeing live sports, in-person or via broadcast, is a small price to pay when it comes to mitigating and slowing the spread of the novel coronavirus. Nonetheless, it's strange to flick on ESPN and see, well, reruns. If you're missing competitive sports — and can't keep arguing with your quarantine buddy about if Dottie dropped the ball on purpose or not in A League of Their Own — we have a few recommendations to help fill the sports-shaped hole in your viewing schedule.
1. NASCAR Goes Virtual With iRacing
After the National Association for Stock Car Auto Racing (NASCAR) was forced to postpone races amid the novel coronavirus pandemic, the association took a quick left turn into well-charted — but perhaps lesser-known by the general public — territory. Enter the eNASCAR iRacing Pro Invitational Series.
"Until we have cars back on track, the entire NASCAR community has aligned to provide our passionate fans with a unique, fun and competitive experience on race day," NASCAR vice president of racing development Ben Kennedy announced. "Our long-time partners at iRacing offer an incredible product, and we are excited to see how many of our best drivers will stack up in the virtual domain of competitive racing." Not only do those "best drivers" include racers currently at the top of their sport, but NASCAR legends like Dale Earnhardt Jr. and Bobby Labonte are involved, too.
So, what exactly is iRacing? Although it might seem like a logical jump to call it a video game version of racing, those in the field would probably balk at the comparison. Instead, the venture is meant to be more of a simulator than your standard Gran Turismo PlayStation game. NASCAR drivers have called the platform "extremely realistic" due to the way it relies on the same mechanics a real car would. If you have the proper equipment, you can try out iRacing for yourself. Launched back in 2004, the online motorsports simulation platform has had a longstanding relationship with NASCAR and broadcasting partner Fox, which meant that, unlike other sports, NASCAR and its racers were quick to find a solution amid the COVID-19 social distancing and shelter-in-place directives.
In fact, exhibition races kicked off on March 22, and, as of now, races are scheduled through May 9, the initial postponement end date NASCAR gave back in March. Those initial exhibition races drew in nearly 1 million visitors, making it the highest-rated eSports TV program in history. Despite all of that success, eNASCAR races aren't without their fair share of controversy: Recently, driver Kyle Larson was suspended after using a racist slur during an iRacing event. Apart from NASCAR, other racing associations have leveraged iRacing to their advantage, including IndyCar and F1.
Broadcast on FS1 and Fox, upcoming eNASCAR events include the Geico 500 (Talladega) on April 26, a Cup race at Dover on May 3 and a Cup race at Martinsville on May 9.
2. eSports and "Let's Plays" Bring a Competitive Edge to Your Screen
For the unanointed, the Amazon-owned Twitch is a live-video streaming service that hosts a variety of content, though the bulk of it is video game-related. Thanks to 2014's viral sensation Twitch Plays Pokémon — a crowd-sourced gaming social experiment of sorts that garnered 1.16 million participants and over 55 million views — the once-niche site eclipsed YouTube Gaming. By 2017, Twitch became the leading live-streaming service for video games in the U.S.
Like YouTube, Twitch hosts a variety of gaming streams: traditional walkthroughs or "Let's Plays," which allow viewers to watch other gamers play through any given game either for entertainment or to learn more about a given game; speed-run and challenge playthroughs, which set restrictions on how the streaming gamer plays through a game; and, of course, eSports leagues. Back in 2014, Twitch took its first big steps into the eSports world and acquired GoodGame Agency, an organization that owns eSports teams Evil Geniuses and Alliance. By 2017, Twitch had signed a two-year deal with Blizzard Entertainment to be the sole broadcaster of their eSports championship events, and, later, Twitch became the exclusive broadcaster of Overwatch League, a professional eSports league dedicated to Blizzard's ever-popular team-based first-person-shooter Overwatch.
Needless to say, the very nature of eSports gels infinitely better with social distancing than traditional contact sports do, so why not get your competition fix online? Perhaps unsurprisingly, the most popular eSports leagues center around first- and third-person shooters, like Overwatch, Fortnite, Counter-Strike: Global Offensive and the Call of Duty series, or other combat-focused titles like the Super Smash Bros. series and League of Legends, a multiplayer online battle arena game that's perhaps the most famous eSport game in the world. For 11 years, League of Legends has hosted over 2,400 events and awarded millions in prize money. If fighting isn't your sport of choice, try tuning into FIFA 20. As one of the most successful sports eSports, the game will help you get your soccer fix, and, better yet, its ePremier League is partnered with the actual Premier League.
Looking for a way to fill that Olympics void? Fire up your Nintendo Switch for (or find a stream of) Mario & Sonic at the Olympic Games Tokyo 2020, which allows you to pit everyone's favorite turtle-stomping plumber against Sega's blue blur in events like fencing, archery and hurdles.
3. Reality TV Shows Bring the Spirit of Competition (With a Side of Drama)
Like any genre of television, reality TV's quality varies greatly, but, unlike other genres, this one certainly has a less-than-stellar reputation. Commonly made on smaller budgets than narrative-driven shows, reality TV is often about everyday people making fools of themselves or giving viewers a spectacle to mock and bemoan. However, these days we're all hard up for a little competition-centric viewing and, as the saying goes, desperate times…
Believe it or not, there are quite a few sports-adjacent reality TV shows out there that aren't terrible. In fact, some are not only watchable, but are actually entertaining. From Hard Knocks, HBO's show that chronicles an NFL team from training camp through the end of the preseason, to WWE Tough Enough, an elimination-style show about aspiring wrestlers who live together, there's some highly entertaining fare out there. In the way of well-produced reality TV content, HBO also offers Mayweather vs. Ortiz 24/7, a series about the titular boxers in a leadup to their match, and Pens & Caps 24/7, which follows NHL rival teams the Pittsburgh Penguins and Washington Capitals.
If you're looking for something even more reality TV-leaning, Bleacher Report suggests Baseball Wives (think Real Housewives but about women who have partnered with MLB players), which the site calls "refreshing" in that it "bring[s] together a group of loosely connected women who feed on human misery and provide[s] them with enough liquor to increase the spectacle" — and doesn't shy away from that gleefully trash-TV premise. And, of course, we'd be remiss not to mention Survivor, which has aired for a staggering 40 seasons and celebrates its 20th anniversary this year. Like any sport worth its salt, this reality show is about physical prowess as much as it is about being a tactician and, currently, Survivor: Winners at War (or, as it's colloquially known, Survivor 40) is still airing weekly, since it was filmed in 2019. Filmed in Fiji, Survivor 40 consists of winners from past seasons, which makes it fun for new and returning viewers alike. Best yet, the winner is set to receive quite the payday: The winnings are the largest cash prize in American reality TV history since The X Factor, meaning that a whopping $2 million is on the line.
4. The MLB Breathes New Life Into "Fantasy" Baseball
If you're missing the MLB, you aren't alone. Sportscaster Joe Buck, who has served as the World Series play-by-play announcer since 1996 (with few exceptions), is certainly in the same boat. In late March, Buck took to providing commentary on ad hoc sporting events that amateur athletes — including two young members of the Hackney family, who played a nail-biting tennis match on a "carpet court" — have been recording in their homes during the shelter-in-place directives. While the resulting videos are sure to put a smile on your face, they're only a quick remedy for that feeling that something is missing.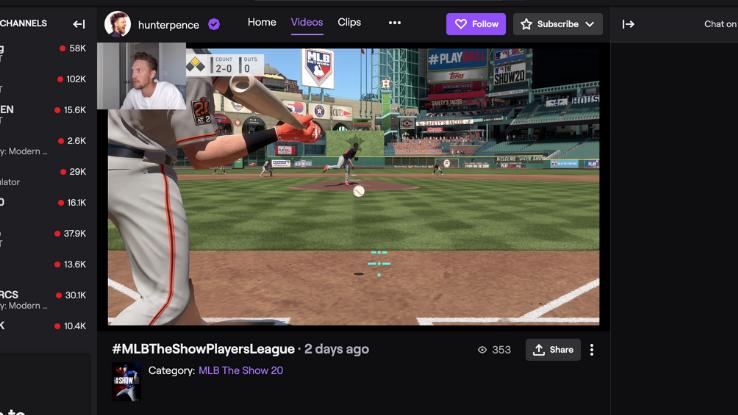 In late April, MLB announced a tentative plan to kick off the 2020 season in Arizona, Florida and Texas — the states known for their Spring Training facilities — to limit cross-country travel. Unsurprisingly, this testing-of-the-waters has been met with quite a bit of criticism from players and viewers alike. For one, the Players Union must agree to the idea, and it's not clear if the players' safety could truly be accounted for — not to mention, many players have spoken out, unwilling to leave their families or endanger them for the sake of playing a game. Additionally, this kind of action sets a strange precedent: At a time when the average American can't be assured a COVID-19 test — and at a time when health officials haven't confirmed when the general population can safely return to non-pandemic practices — watching well-paid athletes play ball in an empty stadium probably wouldn't sit well with fans who don't have the same sort of privilege or access to quality healthcare.
Needless to say, MLB has found some creative workarounds, namely a virtual, video game league that has big-name baseballers playing against each other in MLB: The Show. From Juan Soto of the Washington Nationals and Gavin Lux of the Los Angeles Dodgers to the San Francisco Giants' very own video game enthusiast Hunter Pence, the MLB: The Show Players League sees some of the sport's greatest captaining virtual squads. Fans can watch as players duke it out to clinch a spot in the league's Top 8. Regular play culminates in a playoffs round, which will see these Top 8 teams facing off for a spot in the best-of-five Championship Series. While "regular season" play can be streamed on Twitch or YouTube, the playoff games will actually be broadcast on ESPN, ESPN2 and FS1 starting May 1. Currently, Joey Gallo of the Texas Rangers sits atop the Players League leaderboard with an impressive 23-4 record.
5. You Can Always Count on "Reruns," Sports Docs and Talk Shows on ESPN and CBS
After the NBA suspended play, MLB and the NHL followed suit, as did Major League Soccer (MLS) and the NCAA, which, in addition to regular play across all sports, canceled its highly popular March Madness basketball tournament. Despite being a non-contact sport, golf was nixed too when the PGA Tour canceled the Players Championship after one round. In the wake of these season suspensions, networks like CBS Sports and ESPN have scrambled to find engaging programming.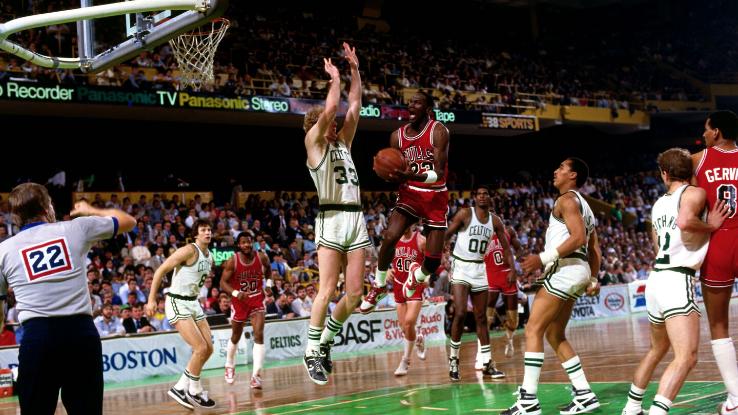 ESPN's popular "30 for 30" sports documentaries, which are often used to fill airtime during weather delays, have been pulling double duty, and the network has offered some fun "reruns" by way of pulling from its extensive library of thousands of classic games. In late April, the fully virtual 2020 NFL Draft amassed a record number of viewers over three days with a staggering 55 million football fans tuning in. And, amid the March Madness cancellation, CBS cleverly filled the void by offering up a slew of classic games from the annual tournament, including Michael Jordan's memorable game-winner against Georgetown.
Speaking of Jordan, ESPN has been making waves with The Last Dance, a docu-series that definitively chronicles Michael Jordan's career and the Chicago Bulls. Most excitingly of all, it even includes unaired footage from the Bulls' 1997-98 season, which marked Jordan's last run with the team. Although it isn't the conclusion to the 2019-20 NBA season, some fresh footage and familiar faces bolster the mini-series. ESPN's The Last Dance airs on Sundays, from April 19 through May 17, 2020.