Set amid the beauty of the Blue Ridge Mountains, Asheville has become one of the more popular towns in North Carolina. The city's thriving art scene, historic architecture, and natural beauty serve as major draws for tourists from all over the country. If you're thinking of visiting, check out this handy guide to learn about some of the best ways to spend your vacation in Asheville. 
Explore the Beauty of the Blue Ridge Mountains
Asheville sits in the heart of the Blue Ridge Mountains, one of the most gorgeous sections of the Appalachian Range. That makes it the perfect place for indulging in a bit of outdoor exploration. From tranquil waterfalls to stunning mountaintop views, you'll find plenty of beautiful natural sights spread across the thousands of hiking trails that wind through the wilderness.
Asheville also has plenty of bike rental businesses if you'd prefer to go mountain biking or traverse the city on an e-bike. Want to spend a day on the water? When it comes to water sports, Asheville has plenty to offer, too, from kayaking and rafting to water tubing and paddle boarding. It's even possible to take in plenty of scenic beauty by car with a drive down the Blue Ridge Parkway, which has been dubbed "America's favorite drive."
If you're in the mood to mix things up a bit, plan a day trip to the Great Smoky Mountains, which are an easy 1.5-hour drive from Asheville. Whether you're in the mood for camping or horseback riding, you'll find plenty of opportunities to try both the Blue Ridge and Smoky mountain ranges. 
Take In a Local Sporting Event
Sports fans will find plenty of things to do in Asheville, given the city's many local sports teams. Head over to McCormick Field, where you can spend the day watching the Asheville Tourists play a minor league baseball game. You might also check out an amateur soccer game played by the Asheville City SC, or cheer the Bulldogs college basketball team to victory at UNC Asheville. 
In the mood for something a little rowdier? Look no further than the Blue Ridge Roller Derby. An official member of the Women's Flat Track Derby Association (WFTDA), the team quickly established a local cult following after its founding in 2006. 
See Asheville's Most Famous Attractions
If you only have time to see one attraction while you're in Asheville, you might want to head to the famous Biltmore Estate. The Renaissance-style castle was built by George W. Vanderbilt in the 1890s and still stands as one of America's most treasured architectural masterpieces. 
The sprawling mansion features 250 rooms and is situated on 8,000 acres. The estate's gardens are truly breathtaking and also feature a winery as well as shopping and dining venues. Additionally, the Biltmore often hosts various events and interactive experiences.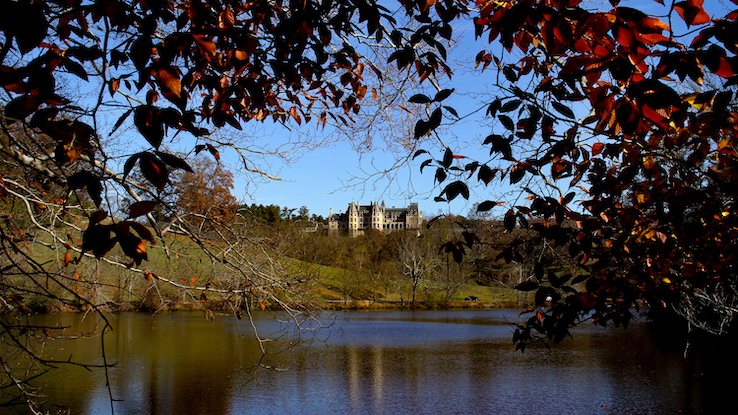 Be sure to plan a trip to the North Carolina Arboretum, a 434-acre public garden that's quite possibly one of the most beautiful places in the United States. Not only does this arboretum offer up plenty of breathtaking blooms, but you'll also have access to hiking and biking trails and plenty of live special events. 
Enjoy Asheville's Quirky Cultural Gems
Asheville is home to its fair share of wonderful cultural draws, such as the Asheville Art Museum and the Asheville Museum of Science. But many visitors are even more enticed by its array of fantastically random museums, such as the Moogseum, an interactive facility dedicated to the legacy of electronic music pioneer Bob Moog.
You'll also find museums dedicated to things such as pinball machines, hands-on exhibits, and chair caning. If museums aren't your thing, you can always embark on a ghost tour or spend the day trading books at the Battery Park Book Exchange and Champagne Bar. 
Asheville never hesitates to play host to whimsical events such as the National Gingerbread House Competition, a mouthwatering November bake-off that's exactly what it sounds like. You also have the opportunity to spend a day communing with artists in Asheville's River Arts District. No matter what you're into, Asheville truly has something for everyone. 
Asheville's Epic Gastronomy Scene
Rest assured that you'll be spoiled for choice when it comes to Asheville's culinary offerings. Asheville has ranked as the number one top city for foodies multiple times, and it won't take you long to find out why.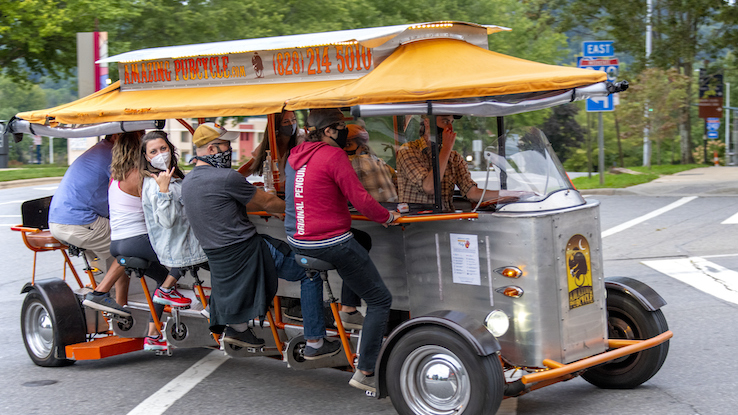 Enjoy the best that Southern cooking has to offer at the Tupelo Honey Cafe, or enjoy a romantic Mediterranean feast at Zambra. Visit the "Paris of the South" at Bouchon, Asheville's authentic French Bistro, or find out why Plant is known as one of the best vegan restaurants in the United States. 
From upscale gourmet meals to charming local hot spots, Asheville has a diverse array of international dining options. Beer fans will find themselves in a virtual paradise amid Asheville's thriving craft beer scene. Embark on a tour of some of the city's best breweries with a Brews Cruise or aboard a hilarious pedal-powered Pubcycle to get some fresh air with your hops.
Whether you're in the mood to explore local cultural gems, indulge in food-fueled fun, or experience plenty of outdoor adventure, Asheville has you covered. With an eclectic mix of natural beauty, history, and culture, this western North Carolina town offers fun for the entire family.