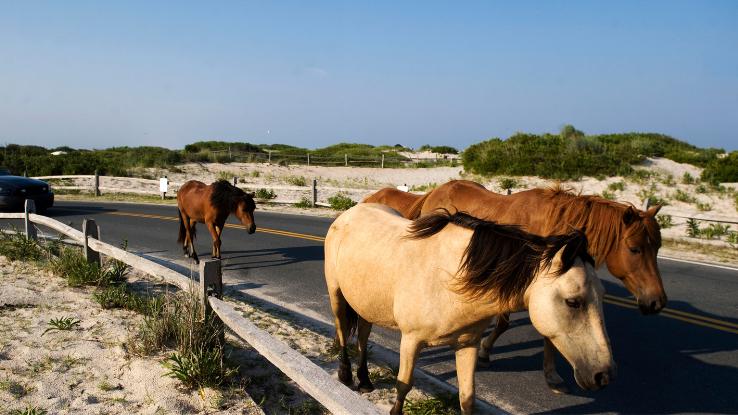 When vacation season comes around, it's tempting to dream about far-away destinations; to pull out your piggy bank and see if you've saved enough for that once-in-a-lifetime trip. And while these trips can be truly amazing, it's also typical to return home feeling like you need a vacation from your vacation, and noticing that your piggy bank feels very light. Sometimes the destinations in our own backyard actually make for the perfect vacation— relaxing, affordable, and without all of the jet lag.
Across the United States, there are plenty of truly extraordinary, must-see spots — national parks like Yosemite and Acadia come to mind — as well as some hidden gems. Falling somewhere in between those two poles is Assateague Island. Perfect for adventurers, Assateague Island National Seashore is located off the coasts of Maryland and Virginia.
The big draw? The U.S. National Park Service (NPS) has done its part to preserve the island's incredible wildlife — including wild, beach-roaming horses. From fishing to hiking, there's plenty to do, so let's delve into what makes Assateague Island such a special vacation spot.
There's So Much History & Scenic Beauty on Assateague Island
Assateague Island was once connected to Delaware's Fenwick Island, but a storm in August 1933 opened an inlet between a part of Ocean City, Maryland and the newly formed Assateague. Later, it was fortified, creating the island we know today.
Even before the land split, there were a few small villages and farms on the now-island. After the storm, there were plans to make the new island into a resort town called "Ocean Beach." However, another storm ripped through the land, halting plans to develop the land. Instead, the federal government purchased the land and dubbed it Assateague Island.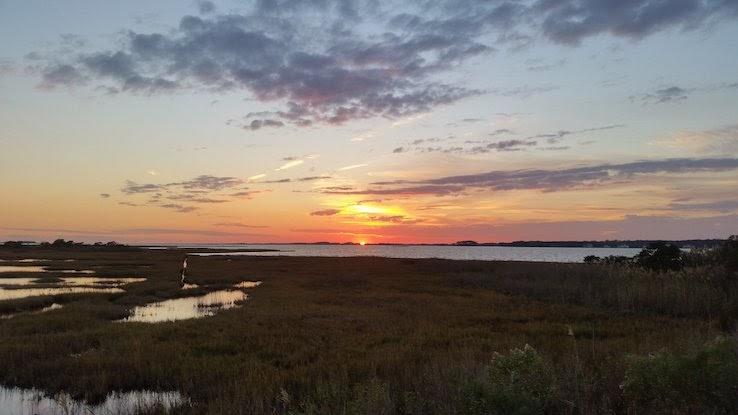 In 1965, the Maryland side of the island was declared part of the National Seashore by the NPS, and, soon after, a bridge was built to connect the island with the preexisting Chincoteague National Wildlife Refuge, which is located in the Virginia district.
Now, over a million people visit Assateague Island annually. Those visiting the island can purchase a seven-day pass that provides daily entry. Currently, the admission price points are $25 per vehicle, $20 per motorcycle, or $15 for an individual traveling alone. Eighty percent of the revenue from these entry costs goes toward the upkeep of the island, while the rest benefits other national parks throughout the country. And with all that can be done on the island, it's certainly worth the cost of admission.
Camp Under the Stars — and on the Beach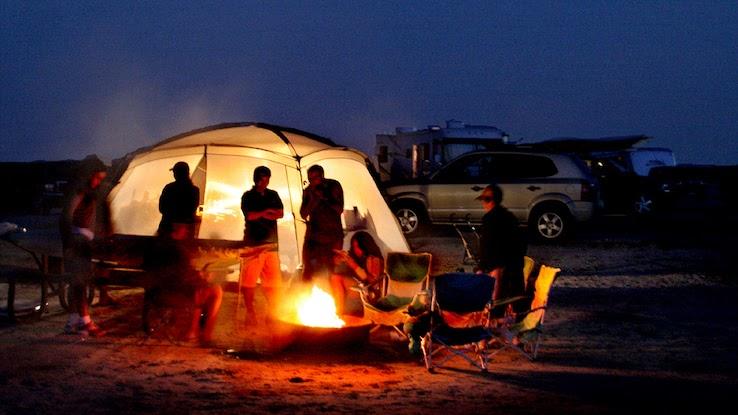 Camping at the Assateague Island State Park, Maryland's only oceanfront campsite, is a popular activity for visitors. No matter your surroundings, camping is always fun, but being right by the beach, especially during the summer months, is optimal. Of course, Assateague Island is a unique place, which means prospective campers should be aware of a few things. For one, campers must buy firewood locally. In addition to sunscreen, the NPS recommends visitors bring insect repellent, screen tents for shade and insect protection, and long tent stakes to anchor your shelter in the sand, no matter how windy it gets.
The camping sites on the beach are available for $30 per night. Reservations are required from March 15 through November 15. Since the island is so popular — and not all that big — sites are liable to book up quickly. For this reason, prospective campers can start booking up to six months in advance by calling the toll-free reservation line: 1-877-444-6777 (10:00 AM – 10:00 PM EST), or by visiting www.recreation.gov.
Capture Incredible Photos of Wildlife
If you love wildlife, Assateague Island's wide variety of animals will be a delight. Alongside various birds, the white-tailed deer, sika deer, and Asian elk have all made a home on the island. However, the island is best known for its wild horses, which roam the beaches and meadows of the park. As the "wild" implies, these horses are untamed. But the island does allow you to bring your own horse to Assateague if trotting down the shore is of interest.
"These feral horses roam freely over the Maryland portion of the island and within fenced areas of the Chincoteague National Wildlife Refuge located on the Virginia end of the island," the NPS explains. "The horses spend most of their days grazing, sleeping, or moving slowly in small bands from one feeding area to another. They feed primarily on saltmarsh cord grass, but will also eat beachgrass, greenbrier, bayberry, poison ivy, and many other types of vegetation."
The NPS recommends admiring all the island's wildlife — particularly the wild horses — from a distance. This allows these creatures to live peacefully, without feeling threatened or defensive. While observing and taking photos, visitors should stay quiet and as still as possible. (That means no sudden movements!) The best time to spot most of the wildlife is either at dusk or dawn.
Go Fishing and Crabbing For Your Dinner
Surf fishing is a popular activity on Assateague Island. Most people fish in the late spring and throughout the fall. It can certainly be a challenge at any time, but anglers get better with experience — and there's no more scenic place to practice than the island. It's important to note that a saltwater license is required and state regulations on size, seasons, and limits are enforced.
For those who don't want to fish, crabbing is also a fun activity, particularly for seafood lovers. In fact, the blue crab is one of the most sought-after catches on Assateague. Crabbing can be done during the open season, which runs from April 1 through December 31 each year. Luckily for summer vacationers, June through September are the best months to go crabbing. If you're a crabbing beginner, try spotting the crustaceans when the tide is moving out.
Hike and Bike For Miles Across Assateague Island
Hiking and biking across the island's paved and unpaved trails is another activity that visitors enjoy. However, it can be quite challenging, especially if you're not used to the climate. For those who prefer walking, there are 37 miles of beach to explore. Of course, during the summer, humidity, insects and storms might cause some trouble. No matter the activity, the National Park Service suggests wearing sturdy walking or hiking shoes, a hat, sunscreen, and sunglasses. And, of course, always keep a bottle of water handy.
Since the island is (thankfully) not developed, you'll want to be aware of the forecast — and what time the sun's going down. After all, you don't want to get caught in an unfamiliar spot after dark or during inclement weather. At times, certain parts of the island are closed on a seasonal basis, often due to nesting birds, resource protection initiatives, or overwash.
As you can see, there's plenty to do on Assateague Island, which makes the area perfect for visitors looking for a quick getaway! Families and friends will definitely enjoy the time spent away from technology — and among the wild horses.